Slideshow creation is something we all do on regular basis. Whether family or vacation pictures are turned into slideshows for sharing with family and friends or an info graphics bar chart slideshow is created for a professional presentation, slideshow creation is commonplace today. We have lined up ten great free slideshow creation services online which help make slideshows without any fuss. SO have a look:
PhotoPeach is a great free web based slideshow creation service which allows creating, sharing and embedding slideshows online for any type of content which you want. A sign up is required to use the service.
myPicPals enables slideshow creation and sharing on websites which support Flash as well. This free service is geared towards social networks and has support for many including MySpace, Facebook, Xanga, Blogger, hi5, TypePad, Friendster etc.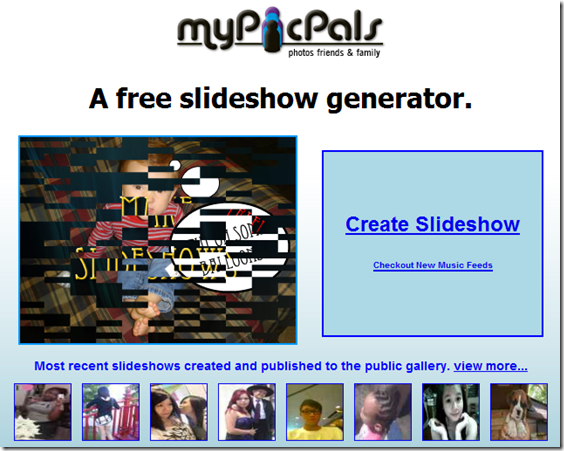 WithKioza's slideshow creation service, text and audio/video clips can also be added to slideshows and it also allows burning slideshows to DVD via its premium service.
Smilebox works seamlessly in creating slides shows which can then be instantly e-mailed and uploaded on Facebook for your family and friends to view. It has a large collection of slideshow templates available as well.
Picturetrail features a photosharing and image hosting service as well along with standard slideshow creation and claims to have the largest collection of slideshow templates online. Try it out and see if its really true.
Slide offers a multitude of skins, themes, backgrounds, effects, sizes and a lot more to customize the slideshows you create with its service. Creating slideshow is easy and can be done in as many as three steps only.
Quite popular service, Roxio provides free online slideshow creation along with cool musical backgrounds matching to the pictures depicting inside. Also, slideshow sharing is fun and easy with Roxio.
The name might confuse you, MySpace slideshow isn't an official slideshow creation service from MySpace social network, but that doesn't hides the fact how good it is. With MySpace Slideshow you can upload multiple MySpace photo albums in a single slideshow. It also allows an unlimited number of pictures per slideshow along with resizing and direct access to Photobucket.
Scrapblog lets one create multimedia scrapbooks featuring photos, videos, audio and other elements. You can share your scrapblog online with friends. Once a slideshow is created, it can be turned into high-quality photo books and DVDs.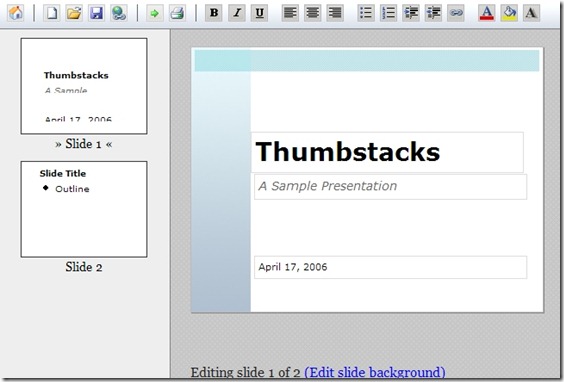 With Thumbstacks, presentations and slideshows can be created right in the web browser with Word-like rich-text editing controls and with images and drawings. Created slideshows and presentations can be shared with friends via a single unique URL for each one.