Eltima Software is running a contest, where 5 licenses of SyncMate Expert Edition are givingaway. Well, you guys know what is SyncMate? Let's say it once again for n00bs.
With SyncMate you can sync data between your Mac and various devices and accounts within one app. You don't need to install many apps to achieve that – just one SyncMate.
SyncMate will sync data in your Mac with:
1. Mobile phones (Android, Windows Mobile and Nokia S40 devices).
2. Other computers (PC or one more Mac, doesn't matter, they will be synced with your Mac)
3. iOS devices (iPhones, iPods Touch, iPads).
4. Online accounts (Dropbox, Google accounts; SyncMate also offers online storage for backing up your personal data).
5. Any mounted storage devices (Mac partition, portable USB storage, any locally connected disk, FireWire hard drive disks, devices connected via USB, etc.).
6. iPod Nano and Sony PSP.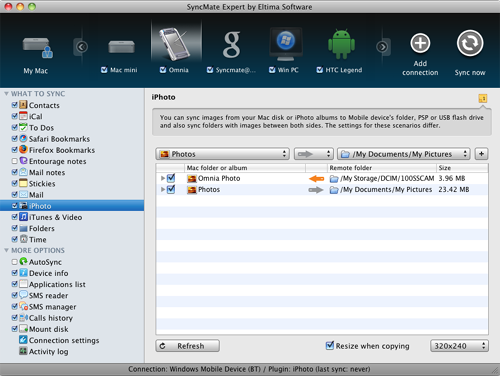 SyncMate lets you sync Address Book, iCal, iTunes, iPhoto, Safari and Firefox Bookmarks, Entourage and Mail Notes, ToDo's, Mail, Time, Stickies and separate folders (sync options depend on the device you are syncing).
SyncMate also offers AutoSync option which lets you set various parameters of automatic sync for any of supported device.
With Expert Edition you can create, send, delete, search and export text messages from Android, Win Mobile or Nokia on your Mac.
You will find detailed list of sync options available here for each device.
SyncMate is compatible with mac OS X 10.5 and higher.
This contest will run from November 28, 2011 to December 4, 2011 and we will select the winners randomly by running MySQL query. Result can be announced any day before  December 15, 2011 so keep visiting here or subscribe to our rss feed to get the latest updates. To participate in the contest and win Expert Edition of SyncMate from Eltima Software, All you have to do is:
1. Just leave a comment.
2. Use valid email ID in the email box.
3. Make sure that you are following @SyncMate and @SmashingApps on twitter and subscribe our rss feed to track this contest and for future updates.
4. And that's it!
So, what are you waiting for now? Let's participate in the contest and good luck!
SmashingApps.com participates in various affiliate marketing programs and especially Amazon Services LLC Associates Program, which means we may get paid commissions on editorially chosen products purchased through our links to any of the linked sites from us.