Most people do not know how technology has added style in our life. To better understand this change adding style in life, we must shed a light on best alexa devices. An Alexa Devices is an Alexa-connected accessory that interacts with compatible Amazon Echo devices over Bluetooth.
By using the Alexa Gadgets Toolkit, you can: Access your gadget from an Alexa skill – Your skill can trigger gadget behaviors, and act on information it receives from your gadget, yes it is just simple like this to change your home to smart home.

Why do you need to have best alexa devices at your home?
Apart from, What are the Best Work From Home Accessories for 2022, this collection of wide variety of best alexa devices for your home or office will work like a charm for you to change your lifestyle comfortable and smarter than ever. Wherever you would be, you can control your home and most of its devices from anywhere with just your smart gadgets. Either it will be electrical appliances, kitchen accessories, security camera, door lock or whatever it would be. You will be found the great peace of mind by having these smart pieces of best alexa devices.
This smart light switch control your lights, ceiling fans, and other fixtures from anywhere with the HS200. The smart switch replaces any standard light switch, and connects to your home Wi-Fi in no time through the free Kasa app. Kasa also lets you manage connected fixtures with your smartphone or tablet, including setting schedules, timers and countdowns. For added convenience, you can use your voice to control the HS200 when paired with works with Amazon Alexa, Google assistant and Microsoft cortana.Input Voltage: 100 – 120 VAC, 50/60 Hz, 15 A. Shop Now
It's sleek design and elevated comfort meet impactful energy savings. It will help you to save up to 23% annually on heating and cooling costs with ecobee3 lite, the smart thermostat that helps you live smarter and save more. Get a new handle on control and convenience. Manage your comfort from anywhere with the ecobee app on your iOS or Android mobile device. Compared to a hold of 72°F. Occupancy detection manages temperature automatically. Shop Now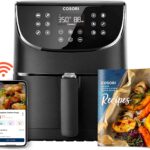 Try the COSORI smart Air Fryer powered by Vesync App! You'll be able to control it on your phone. It also works with Alexa and Google Assistance. Experience more smart features. With this Air Fryer, You can cook your food up to 50% faster than a traditional oven and reduce your food's oil content by up to 85% than traditional deep-frying, giving it the same crispy taste without the health drawbacks. Shop Now

You can lock and unlock your August smart lock from anywhere, right from your smartphone. August Smart Locks work with Alexa, the Google Assistant, and Siri to lock/unlock your door, check the status of door, and pair with other compatible smart home devices. Simply slide the faceplate of your choice into position for effortless coordination with any entryway. Shop Now
Vacuuming that fits seamlessly into your life. The i7+ learns your home and navigates to where the messes are, right when they happen—so you can effortlessly keep your floors clean. Just say to Google Assistant or Alexa voice assistant, "Tell Roomba to clean under the kitchen table" and consider it done. After each cleaning, the i7+ empties itself into Disposal bags that hold up to 60 days of debris so you can forget about vacuuming for months. Personalized cleaning recommendations and seasonal suggestions help keep floors clean year-round, and 10x the Power-Lifting suction* paired with self-emptying convenience help make life a whole lot easier. Shop Now
Control lighting and other appliances from anywhere with the Kasa Smart Wi Fi Plug. Schedule connected devices turn on when you get home, then power down when you go to sleep. Control each outlet individually or as one, set schedules or scenes, even use voice commands with Amazon Alexa, Google Assistant, or Microsoft Cortana. Shop Now
See what's happening at home no matter where you are with the Blink app using HD live view and infrared night vision. Two-way audio lets you hear and talk back – it's like being home even when you're not. You can create customized motion detection and privacy zones so you only see the movement you care about. Shop Now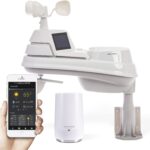 Monitor actual hyper-local weather conditions in your own backyard anytime from anywhere, giving you the information you need to make better decisions, every day. More accurate and reliable than weather reports from across town, you can connect to your outdoor environment from anywhere using your smartphone, tablet, or desktop browser. My AcuRite free Apps and software display your weather information on an easy-to-read Dashboard, giving a quick, intuitive view into trends and current details about the conditions that matter most to you, including temperature, humidity, wind speed, wind direction, rainfall, and barometric pressure. Shop Now
You can use the Tile app to ring your Tile when it's within Bluetooth range, or ask your Smart Home device to find it for you. Shop Now
The Lenovo Smart Clock Essential is the ultimate smart clock for any room. With its big & bold display, you can check the time from across the room. Just ask Alexa for help around the home, control your smart home devices and more. When it's pitch black in your bedroom, our auto-dim display darkens so you won't perceivelight coming from the screen. And yet you'll still be able to see the time whenever you look. You can even turn off the screen with the Alexa app. Shop Now
This is a great fit for 1-2 bedroom homes, this kit includes one base station, one keypad, four contact sensors, one motion detector, and one range extender. You can put whole-home security at your fingertips with Ring Alarm, a do-it-yourself alarm system. Shop Now

Extend your Smart Home to the outdoors with the Kasa Smart Outdoor Plug EP40 with landscape lighting, swimming pool pumps, holiday lights, or other appliances. Use the sunrise/sunset offsetting to better schedule your connected device. The Kasa app contains not only all the feature you expect from TP-Link Kasa family include smart actions, but also guidance for you through each step of the installation to connect your smart plug with your home Wi-Fi, Alexa or Google assistant. Shop Now
This 3 in 1 alarm is also powered by First Alert's intelligent smoke and carbon monoxide protection, and warns you about danger in your home and its location with an 85 decibel alarm plus voice alert. With First Alert's free Onelink Home app, Safe & Sound can also remotely notify you of a smoke or carbon monoxide emergency in your home via your phone or tablet. Safe & Sound installs just like a standard hardwired smoke alarm, so you can easily replace existing alarms. Shop Now
Rachio 3 is the only controller equipped with hyperlocal Weather Intelligence Plus and Rachio Wireless Flow Meter compatibility. The Rachio 3 Smart Sprinkler Controller automatically creates watering schedules that lower your water bill and ensure a beautiful yard, while the mobile app lets you manage your sprinkler system from anywhere. Shop Now
1080p HD video doorbell with enhanced features that let you see, hear, and speak to anyone from your phone, tablet, or PC. You can receive mobile notifications when anyone presses your doorbell or triggers your built-in motion sensors. Shop Now

The natation personal weather station lets you measure key data about your indoor and outdoor environment. Pull up your weather Details any time, any place using your Android or iOS smartphone, tablet or computer. The smart weather station features a unique set of sensors that let you track your indoor environment as well as the weather outside. Data on temperature, barometric pressure, humidity and CO2 concentrations are sent to your smartphone seamlessly and wirelessly. Monitor and measure your environment and your weather any time, any place, intuitively and effortlessly, indoors and out. We spend 90% of our time indoors. The natation weather station CO2 sensor warns you when you need to air out your home. The weather station lets you monitor indoor air quality, obtain real-time information on official pollution levels and choose the best time to get outside. Shop Now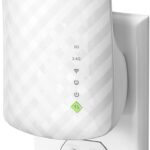 This is ideal for extending Wi-Fi to Echo/Alexa devices, WeMo & TP-Link smart plugs, TP-Link smart bulbs, The iPhone 7, Samsung Galaxy S7, iPad 4, PlayStation 4 and more . It will work with any standard router or gateway, High speed mode allows for the most ideal experience. It has dual band speeds up to 750Mbps. Shop Now