Working in the Internet as a freelancer or a web designer can be great, but if you are working full time on the Internet for a living- you must find out prospective job opportunities. You may be a web developer, coder, graphic designer, freelance writer or a blogger, you must prepare yourself to find new job leads and interesting projects to work with.
That's when you need job boards to find recruiters and good employers – so that you can involve yourself in more projects and earn a handsome salary every month. It goes way beyond working for your friend's company, you can use job boards to find high paying employers very easily.
Sensational Jobs is an impressive job board which features some of the latest design and development job leads, meant for both job seekers and employers. What separates the portal from the rest of the job boards is the quality of available jobs or employees, not just adding every other job available on the planet and populating the pages with unknown companies.
The interface is very user friendly, there aren't any obtrusive advertisements, flashy banners or popups. If you are a job seeker, you can easily find available jobs in different categories, while employers can hand pick the right candidate according to their requirements.
For Job Seekers
Live Job Search: The Live Job search feature allows job Seekers to find jobs quickly, just type in relevant keywords and the website will show you search results as you type.
You can then click through a link to visit the job posting page where you will find more information regarding the listing. This includes the type of job, your role, the profile of the company and what the recruiter is looking in the desired candidate.
At the end of the job listing, you will find a "How To Apply" section where you will be shown the contact details of the employer.
Not all job boards provide the functionality to directly contact the employer, I think Sensational Jobs makes it very easy to quickly find the jobs you are interested in and moving forward.
Related Jobs: The related jobs section is shown on every job listing page – it shows you links to other jobs in the same category that matches with the keyword of your search. This is very handy, when you want to have a look at similar job postings and get them all at one place.
Bookmarking Jobs for later reference: If you want to bookmark a particular job for later reference, simply click "Add to favorites" and it's done. You can also tag jobs and save a quick private note – this will come in handy when you want to add your own notes / points to any job listing.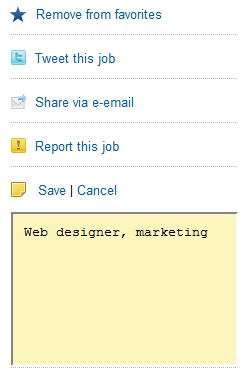 You can also send the details of a job listing to anyone via Email or Twitter, just use the links in the sidebar on a page where the job details are listed.
Get Job Alerts: This is the most impressive part about Sensational Jobs. You can type specific keywords and create customized job alerts to suit your needs. The alerts can contain specific keywords, type of the job, location etc and the listings that match with your criteria will start to appear in the Alerts section of Sensational Jobs.
You can choose to receive these alerts directly in your email inbox or subscribe to the alerts via an RSS feed. Hence, you can receive job alerts without having to visit the website, which is excellent.
For Employers:
If you are an employer and looking for freelancers, web designers or employees for your work or projects, there are a number of good reasons why you should prefer SensationalJobs.com to find the preferred candidates.
100 % Money Back Guarantee: If you are not satisfied with the performance of a Job posting, you can claim a 100% refund of the money you have invested to post the job. This is very good for organizations with a limited recruiting budget – you need not pay for listings that don't work.
No Registrations required: No registrations are required to post a new job listing. The posting procedure is insanely quick and completes in just 3 easy steps. When you post a new job listing – a unique URL is sent to your email address. You can visit this URL at any time and edit the details or description of the posted job.
Automated Invoicing and secure payments: When you complete a new job listing – a PDF copy of the invoice is sent to your email address. You can pay the fee using Paypal – the most secure service to manage online payments.
Quality Candidates: The website gets thousands of visitors from affiliate links and widgets from partner sites. So be rest assured that targeted candidates are viewing the job post listed by you and you will surely get a good number of responses.
Recruiters can visit the Post Job page to find more information about the rates and other features. A complete troubleshooting guide is also available at the Frequently Asked questions page on SensationalJobs.com
Join the Affiliate program
If you are a blogger or a webmaster, have a look at the Sensastional Jobs.com's affiliate program. You can refer candidates to Sensational Jobs and earn 50% cash for every successful conversion. That's up to $147 on a full-time listing with all the upgrade options and up to $67 on a fully loaded freelance listing.
Once you have signed up as an affiliate, the website will give you specific ID's, widgets or banners which you can display on your website. On every successful conversion, you make money and the money earned through your commission is instantly deposited to your Paypal account
Overall, SensationalJobs is one of the best sources to find new jobs about web development, graphic design, freelance and more. There are no sign-ups or registrations required, and lots of recruiters are hiring every single day.