If you own a creative or tech service business, you know how difficult it can be to manage projects, staff and your clients. You have to keep your team organised, manage and assign tasks to staff, distribute information, keep clients up to date on progress and ensure quotes and invoices get sent out on time. The most important aspect of this is that you need a communication channel where your team and your clients can collaborate on projects and tasks.
Many online workers rely on their email account and perhaps a spreadsheet to keep track of their projects and communicate with the other members of the team. However, as soon as you start managing more than a handful of projects and clients or have to work whilst on the move then emails and spreadsheets aren't going to cut it. You will inevitably start looking for some form of robust project management software.
ProWorkflow is an online project management software tool which allows you to manage all of your projects from a central location. ProWorkflow is currently helping many thousands of customers globally to optimize their business processes, manage staff resources, track projects, tasks and time and keep on top of it all!
Let's see the features of ProWorkflow.com in full detail:
Features of ProWorkflow.com
When you first login to ProWorkflow, you will see the following dashboard:
The dashboard consists of 4 main expandable sections – Projects, Tasks, Time and Invoicing. Then there is a navigation sidebar which contains many more options to manage your projects, create or assign tasks and perform other activities.
The "Search" section, placed at the right top of the screen lets you search for projects, tasks, companies, contacts and notes. This is handy, when you quickly want to know the details about a particular project, task or client.
The "Recent Items" column lists all the recent activity of your account. It shows the projects and tasks you were recently working on so you can save valuable time by jumping straight to the item you need.
The Projects Section
The projects section allows you to create and manage your projects. You can access the Projects section from your dashboard or from the sidebar.
Clicking "New Project" opens a new browser pop up window where you can add all the details regarding your project. This includes adding a title, client, specifying a category, choosing priority, adding deadlines and more. There is a WYSiWYG editor which lets you add a description to your project.
In addition you can add more staff to your project and choose a project manager. Staff added to your projects will automatically get an email notification that they have been assigned to upcoming project or task.
When you have finished adding all the details, you can start adding tasks from the "Project Details" page. You can also enclose a variable in the task name to help better identify tasks.
Adding time to tasks is easy. Just click the time link next to any task to add time, either manually or through a start/stop time tracker.
The recorded time is attached to the task and added to the total time spent for the project. In addition it's added to the user's weekly timesheet. There are plenty of time summary reports you can access later if needed.
One of the great time saving features is the 'Edit All Tasks' screen where you can bulk edit your project's tasks. Use this screen to assign tasks to staff, add start and due dates, allocated times and a task description:
I particularly liked that most information on the "Project Details" page could be edited by inline editing – double clicking where the fields show green:
Send Messages to Your Team Members
The "Message" section lets you send quick messages to all or some of your Team members. To send a message, click "Add" under the Message panel and this will open a WYSIWYG editor where you can type the message and send it to selected staff.
The messages sent can be set as private or public and there is an option to send an email as well as just have the message appear on screen. The messaging in ProWorkflow is a great way to collaborate on a project as all project members are on the same page, literally! Conversations are stored and archived with the project so there's no more hunting around or missing emails.
Upload Files and Documents to Share with your Team Members
The "Files" section lets you create folders and upload files from your computer. You can upload images, documents or any other file which you want to share with other members working on the same project. Files can also be uploaded to individual tasks.
The File sharing feature is useful for two reasons. First, your uploaded files can be organized in folders and sub-folders so you can quickly share a folder with any team member and let him view or download any files that he may need. Second, all the uploaded files are kept safe in your ProWorkflow account and you don't have to use third party websites for uploading your files.
Project Timeline
The Project timeline lets you list all the projects and tasks which are assigned to a particular day of the work calendar. The timeline is similar to a gantt chart and can be a great help with planning workflow. You can also use the timeline to see the workload for a particular staff member, project or client.
The project timeline is a very easy way to know how much work is pending, how much progress has been made and what tasks may be due or needing work done on a particular day.
Create and Manage Invoices
You can create invoices from ProWorkflow's "Invoicing" section and manage the billing. An Invoice can be made from a quote, from a project's tracked time, a date range of time tracked or manually. Here is how the invoice panel of ProWorkflow appears: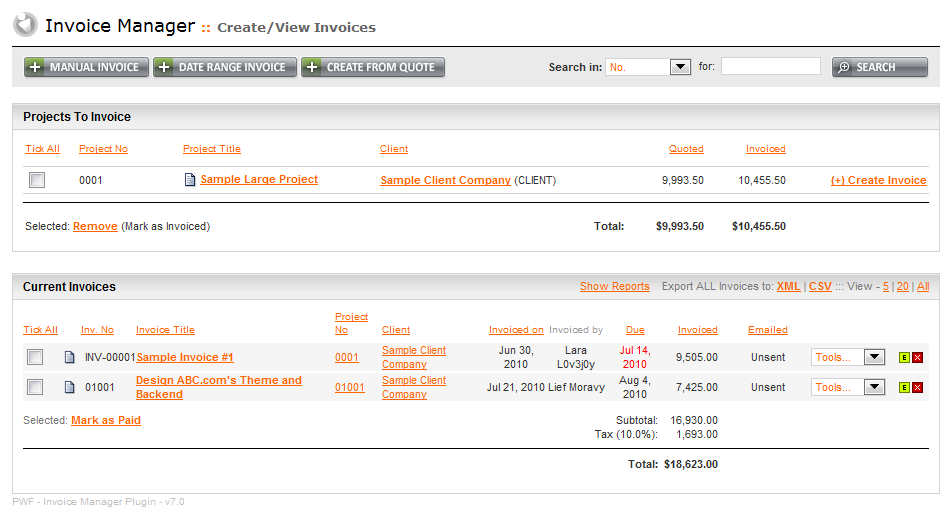 We've only scratched the surface of what this powerful application is capable of. To find out more and try for yourself, sign up for a ProWorkflow account here or get the free 14 day trial account here
Why Use ProWorkflow for Project Management?
Although there are a lot of web based project management applications, here are a few reasons why you should choose ProWorkflow for managing your projects:
1. You can have unlimited projects, tasks, clients and contractors!
2. ProWorkflow is highly configurable, the look and feel of the application can be tailored to match your brand and a range of settings allow you to optimize ProWorkflow to suit your business. Administrators also have granular control of user permissions for both staff and clients.
3. ProWorkflow extends beyond its web application with iCal integration, a free iPhone app and desktop Time Tracker. They also offer a range of invoicing integrations as well as a fully featured API for custom development.
4. Projects, tasks, invoices and quotes can be easily created using templates.
5. There is a dedicated help center with video guides to help you get started with ProWorkflow and learn more.
The monthly pricing of ProWorkflow is as per industry standards and they have 3 different plans to choose from. You can view the complete pricing plans and feature comparisions at this page. ProWorkflow is a well established solution – in this competitive space it's good to know that there is a company that has been around for almost ten years.