A vocalist's voice is not always clear enough for us to understand exactly what words are being sung. If we like the song enough, we try finding out what is actually being sung by visiting one of numerous websites that host song lyrics. Recently however I discovered a tool that us view lyrics to a song as we played it. This tool was Lyrics Plugin and worked on Windows Media Player and Winamp.
Lyrics Plugin has been a wonderful tool for me and I wanted my Mac-using readers to have access to such a tool as well. I did a little online searching and found exactly what Mac users need: Get Lyrical.
Get Lytical is a free application for Mac systems that works as an iTunes plugin. Sized at only 725KB, users will have the application up and running in no time at all.
Unlike Lyrics Plugin (that presents lyrics to any song being played), we can specify which songs Get Lyrics will show the lyrics of by using one of three options.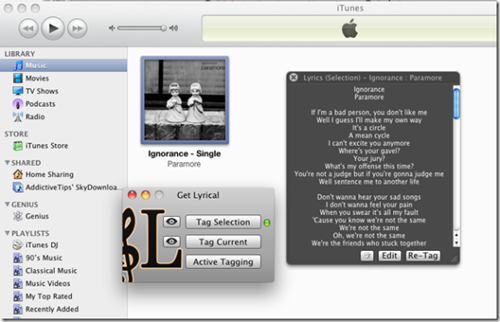 Tag Selection allows us to get lyrics for all the currently selected tracks. Tag Current tags the currently playing track, while Active Tagging monitors iTunes for all tracks that get played and updates them side by side.
Mistakes in the lyrics being shown are very rare. Although when they do happen, we can correct them by editing the lyrics.
The minimum requirements of Get Lyrical are a Mac OS X 10.5 running machine and iTunes 5 or later.