All computer users want remote access to their files; but remote access requires your computer to stay powered on and have internet access. If you do not want to leave your computer powered on all the time, then uploading your files on the web is the best solution. You could use file hosting websites but that would be impractical as you would have to save separate URLs for each file. There are a few web services out there that let you upload files and keep it organized but almost all do not provide storage capacity more than 1 GB. That is what sets Humyo apart from its competition.
Humyo is a web service that lets you upload your files and access from anywhere on the web. The site offers paid service but it has a great free package as well: opting for the free package will give you 5 GB upload limit for media files (videos and audio) and a 5 GB limit for non-media files, totaling the storage capacity to 10 GB.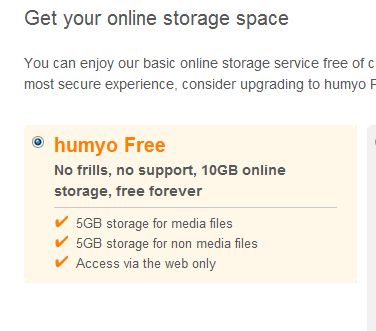 Apart from its massive storage, Humyo also features a great user friendly interface. Although it does not offer a desktop application, you can open up its Java app in your web browser and simply drag the files there to be uploaded. The Java app is in the bottom left of your dashboard.
With your files uploaded, you can sign into Humyo from a web browser on any computer and get access to your uploaded files.