When you set goals for your business this year, there's a good chance one of those goals was tied to growth. It's a common goal.  You have your eyes set on acquiring new customers. You're ready to take their business to the next level. The challenge, however, is getting to that next level. If you do a web search on how to grow your business with technology to the next level, you'll find more results than you know what to do with. It can be frustrating and overwhelming.
"When you can direct leads accordingly, it makes it easier to track and follow up with those leads, possibly increasing your sales and growth."
In this article, we're here to take away some of that frustration and share a few ideas on how you can use technology solutions to put together a growth strategy that works for your business, its needs and your overall goals. There are four areas that can grow your business with technology and really help it shines: automation, access, engagement and security.
Previously, we have already covered 7 Worth Trying Free Web Apps For Small Businesses
Ways to Grow Your Business With Technology
Automation 
There are automation tools that assist with everything from invoicing to customer service. One great example is the chatbot. Thanks to major strides in artificial intelligence (AI), chatbots are more useful than ever. All you have to do is plug one into your website, and it can handle a surprising amount of customer service issues. It can even direct customers and leads to real humans within your organization. When you can direct leads accordingly, it makes it easier to track and follow up with those leads, possibly increasing your sales and growth.
Amazfit Band 5 Fitness Tracker with Alexa Built-in with 15-Day Battery Life Shop Now

Having 9,000+ ratings, this Fitness band can help you automate lots of things in your life. It can help you track Blood Oxygen, Heart Rate, Sleep Monitoring, Women's Health Tracking and so much more information about you and your daily activities. Learn more about this product here >>>

Access 
Thanks to the cloud, you have the potential to access virtually any part of your business from anywhere, including your employees. This makes the remote work model (as well as the hybrid model) much easier to implement. Plus, if you back up critical data to the secure cloud on a regular basis, you never have to worry about losing that critical data. But the truly great thing about the cloud is that it's automatically scalable and fully customizable. The cloud grows with you, which means you save serious money
when you're no longer bound to traditional models of scaling.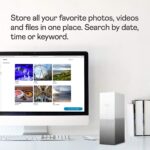 WD 4TB My Cloud Home Personal Cloud Shop Now

My Cloud Home is an easy-to-use personal storage device that plugs directly into your Wi-Fi router at home so you can save all your digital content in one central place. You can automatically back up the photos and videos on your phone, and wirelessly back up and sync all your PC and Mac computers and cloud accounts. Learn more about this product >>>
Engagement 
It may be wedding season, but we're not talking about a marriage – at least not in the "wedding bells" sense. Technology allows you to engage with customers and leads in a way you've never been able to before. Social media platforms especially give you tools to engage with customers. From Facebook to LinkedIn, these platforms have tools to connect with specific demographics. You can post videos, share content, and simply interact with customers and your community. These kinds of things put you and your brand out there in front of new customers.
Rosetta Stone Learn English Bonus Pack Bundle Shop Now

Having 250+ ratings and got a status of Amazon's Choice, This bundle is everything you need to learn English in one box plus with Rosetta Stone: Unlimited languages, you'll receive access to all 24 plus of our languages for life, that means you can switch between languages without any additional subscription fees. Learn more about this product >>>
Security
We saved this one for last because it's a big one that not everyone things about, but it's absolutely crucial. As your business grows, your IT needs grow and change too. You need to make sure your network is ready for the challenge of growth. On top of that, you need to be sure that your employees have the tools and resources they need to keep your business secure. There are a lot of threats out there, from the internal threat of hardware failure to the external threat of malware and cybercriminals. With more business shifting to remote or a hybrid work model, your IT security needs should be top priority.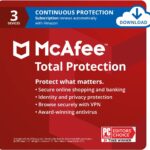 McAfee Total Protection 2022 for upto 3 devices –
1 Year with Auto Renewal Shop Now

Having 1980+ ratings, this Total Protection package can protect your devices without the wait, plus your subscription renews annually. Before it renews, Amazon will send you a reminder stating the term/rate then in effect thus providing you continuous protection from threats. Learn more about this product >>>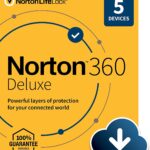 Norton 360 Deluxe (2022 Ready) Antivirus software for 5 Devices with Auto Renewal Shop Now

Having 9500+ ratings, this REAL-TIME THREAT PROTECTION Advanced security protects against existing and emerging malware threats, including ransomware and viruses, and it won't slow down your device performance as well. Learn more about this product >>>
Final Thoughts 
As you fold different technologies into your business, remember that you never have to do any of it on your own. If you need help or want to maximize the benefits of technologies you're using or interested in using, work closely with your managed service provider or IT partner. They are there to answer your questions and to help grow your business with technology to the next level.
Originally published at PC.Solutions.Net
SmashingApps.com participates in various affiliate marketing programs and especially Amazon Services LLC Associates Program, which means we may get paid commissions on editorially chosen products purchased through our links to any of the linked sites from us.