Workplaces can be boring especially if we finish our work early. Usually we turn to the internet to entertain us when the boredom gets too much to take. But the Boss's fear makes us tread cautiously. We need to keep an eye out for our superiors passing by. If they do pass by, we close our browser and resultantly lose all the tabs we had open. Finding those lost URLs can take a lot of time if there were many tabs open.
Presenting a solution to that predicament is PanicButton.
PanicButton is a browser extension for Chrome that provides us with a way to temporarily hide the websites we are browsing. After installing the extension you will notice a new icon in Chrome's address bar; the icon is a red circle with a white exclamation point at its center.
Whenever you feel that somebody is about to pass by and will be able to view your open tabs, to hide your tabs from this person, simply click on the extension's icon. Here is what happens to the icon:
Our tabs are closed with their URLs saved and our Chrome startpage is opened up. The extension keeps the URLs saved even if we close the Chrome window.
To restore our tabs we simply re-click on the icon which has now turned green and indicates the number of saved URLs. Note that when restored, our tabs get reloaded thus the function might not be best with websites containing content that changes on every visit. For other sites however, the extension should work fine.
The extension's options let us choose a hotkey (the ESC key) for the tab-hiding feature; through the options page we can also choose to set a password that will need to be entered in case we want to restore tabs.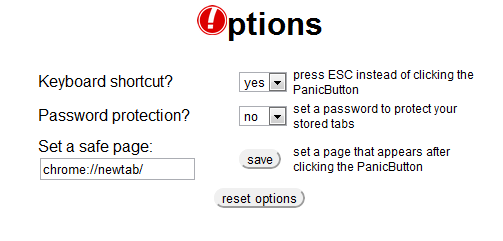 PanicButton is a simple to use extension that will help many Chrome users.