Most audio streaming websites offer the audio in MP3 format. Suppose you come across your favorite artist's page on a music site; instead of clicking on each song and streaming it individually, it would be more convenient to get a playlist of all MP3 files on the given webpage.
That is precisely what ExtensionFM does. ExtensionFM is a user friendly extension for Google Chrome.
After installing the extension, you find a newly placed icon in Chrome's address bar.
Before you go ahead and start using the extension, you will first need to create an account on the ExtensionFM website. This account will help in keeping the playlists saved even if you browse away from the songs page.
Having created the account, click on the extension's icon the next time you are on a webpage with songs. This will open ExtensionFM mini-window from the icon.
Alongside the icon you will see the number of songs detected on the webpage. From the mini-window you can play the found songs – this will transform Chrome into an audio player. You can optionally add the songs in the playlist to your ExtensionFM account. Your ExtensionFM library can be accessed by clicking on the Home button next to the playing controls.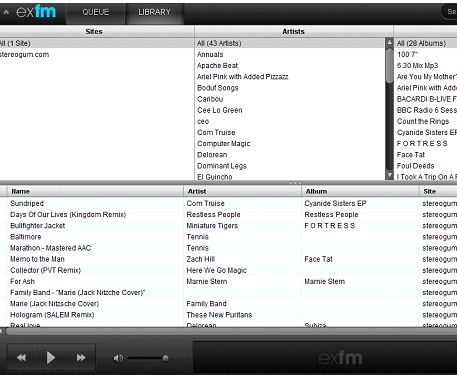 Your library contains information on each played song, its artist, and the website it was captured from.
ExtensionFM will appeal to all music loving Chrome users.
SmashingApps.com participates in various affiliate marketing programs and especially Amazon Services LLC Associates Program, which means we may get paid commissions on editorially chosen products purchased through our links to any of the linked sites from us.