Vizerra is a free software which allows you to visit famous historical and architectural monuments from your home. You will have an opportunity to go for a virtual walk through incredibly precise 3D models of the best landmarks in the world.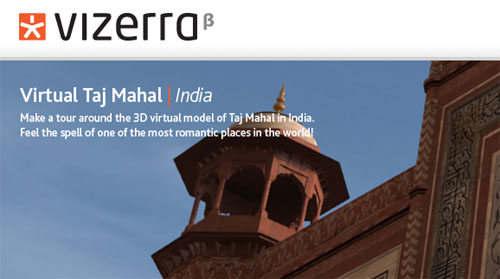 This is first of its kind 3D educational software application. It combines high quality 3D locations, full editorial description for every location, a fully functional map service all in one software application.
Vizerra client application has three main functions. First, it's an interactive world map where the places available for visiting are marked. Second, it's a virtual encyclopedia which contains information on locations and regions available for download. And, there are 3D models which enable you to explore the landmarks by yourself or with the help of a virtual guide.
Why is Vizerra.com useful for end users?
The project Vizerra.com is absolutely irreplaceable if you want to:
Distract your mind from the daily routine, take a break and relax, walk through precise virtual copies of the best sights of the world;
Know something new about the world, and obtain the information in a relaxed, easygoing manner;
Get your child interested in history, geography, architecture and art.
Who will benefit from Vizerra?
School children who will learn history and geography while wandering through the virtual world.
Parents whose children will study with pleasure.
Educational institutions which will be able to plan the course of lessons on the grounds of interactive models of world landmarks.
Travelers who will be able to see the places of future destinations beforehand, and to choose new interesting destinations.
Publishers of tourist guides which will help tourists to choose their destinations.
City halls and tourist councils which will be able to use our product to draw attention to local tourist attractions.
All people who are interested in 3D development and world-famous landmarks.
What does Vizerra allow?
Browsing 3D models of landmarks from all sides.
Access to interesting information about objects, provided by leading museums and art history specialists.
Visiting the most interesting locations with the aid of a video guide.
Plunging into the atmosphere of the place of your choice with the help of photo-realistic graphics and rich sound effects.