Modern photographers are not limited neither in technologies to use for creative process nor in tools to showcase and sell their works. With the tons of flash templates, WordPress themes, jQuery components and even specific content management systems available on the Web, any photographer has a possibility to create a unique online portfolio and make it an effective promotion tool. Today we'd like to show you some well-designed photographer portfolio websites and discuss some of the design trends in this niche.
If you want to share more photographer's portfolio so please comment about them below. Do you want to be the first one to know the latest happenings at  smashingApps.com just subscribe to our rss feed and you can follow us on twitter as well.
Among some obvious trends that can be observed throughout this compilation are the following:
Minimalist design with a focus on photographs
Being able to make a strong impact on the viewer, photography in itself is a powerful web design instrument. No wonder that on most photographer portfolios pictures take center stage. Besides, photos are literally the main content on any photography related website, so picture-focused photographer websites are sort of killing two birds with one stone. Minimum of visual cues, along with bold photos put against white or dark background, is a common practice in the photography website design. Large/fullscreen pictures is another popular trend.
Design of the Finnish photographer Antti Viitala is made in the way where nothing distracts a visitor from browsing photos.

Flash
Personal portfolio is a good area to use Flash. Smooth visual effects can add dynamics to a photography website and give it a spice. Modern flash websites are fast and SEO-friendly and when used wisely, Flash is a great option to create a unique website design, that will convey a photographer's personal brand.
Cute black-and-white flash animation makes this website special.
E-Commerce
Very often photographers sell their works directly from their personal websites. There is a wide range of e-commerce plugins and services available in the Internet, some CMS even come with a built-in shopping cart, so it's quite easy to make a portfolio work also as a personal store. Although this can hardly be the main source of income for a photographer (usually), it's a nice way to earn some extra money with no special effort.
Social Media Integration
Nearly every contemporary photographer has a page set up on Facebook, Twitter and creative networks, such as Flickr, DeviantArt and Behance. Thus, links to photographer's social network profiles can be seen on their portfolio websites. With the popularity of social networking and media interaction photographers naturally find it reasonable to get involved.
Neat social link bar allows the visitors to Pure Image Photography to find and follow the studio on Facebook, Flickr, Vimeo and Twitter.
Sharing and Teaching
Many photographers, especially the industry movers and shakers, are active community contributors and teachers. Creating a blog on a personal website, sharing professional experience and skills with budding photogs and peers makes for building a community-oriented and credible online presence.
The blog of the world-renowned photographer and book author David DuChemin is a great resource for beginner photographers and enthusiasts.
40 Beautiful Photography Websites
Now that we've looked at some of the trends of modern photographer portfolio websites, let's take a look at 40 elegant portfolios that show both exquisite design and stunning photographs.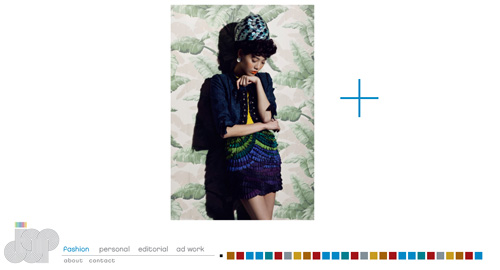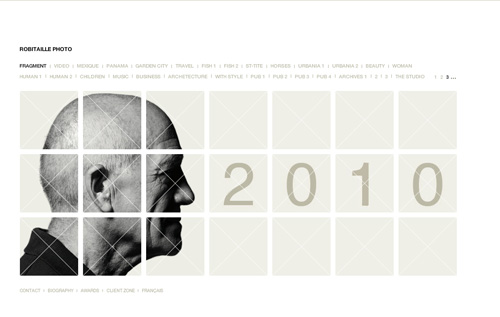 A guest post by Karen Myers who works for FlashMint. This is a leading provider of flash templates and flash CMS solutions. Karen will share useful information about implementing flash technologies, best flash website examples as well as creative inspirational showcases.