Even if you are running a small business you need a service that analyzes your finances and keeps the figures updated. Through this analysis you can view if there are any upcoming shortages or anything you should be alarmed about. By monitoring the financial health of your business you are able to better ensure its success. inDinero makes that possible.
inDinero is a web service that can be dashboard for your business's financial health. You start by creating an account on the website. The service offers a free plan and 2 paid packages.
After creating an account you need to import financial information through your bank, credit card, PayPal, or Web Apps. A number of banks and cards are supported. Remember that the site asks for your bank / card details only to import your financial data. The site has no features of moving money around. You are not able to make any transaction through the inDinero website.
After obtaining your financial information, inDinero displays it in an intuitive interface that provides you with comprehensive options.
In addition to displaying your data, the site always monitors your accounts for cash flow shortages and predicts the future of your finances through its propriety algorithms. The algorithm try to detect any trends in your finances.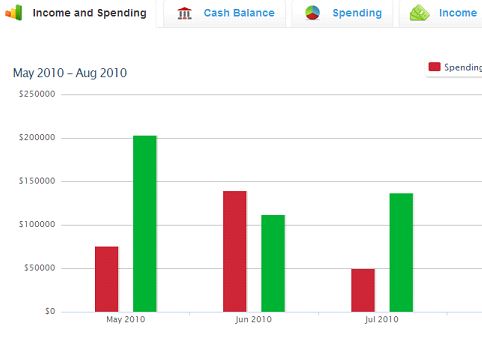 A monthly breakdown of your transactions is also provided for analysis.
To view details of transactions, you can enter the "Transactions" page where you can see all transactions that have taken place.
The site has already received a number of great reviews from eCommerce experts. Business owners cannot afford to overlook this great financial management website.