Thanks to all of the participants of contest in which SyncMate Expert (All-In-One Sync Tool) For Mac were givingaway. We ran the MySQL random query and selected these comments to give them SyncMate Expert for Mac.
Winners of SyncMate Expert (All-In-One Sync Tool) For Mac
Zee Patel
Hugo
Cheryl
Buddy
Jawor5
With SyncMate you can sync data between your Mac and various devices and accounts within one app. You don't need to install many apps to achieve that – just one SyncMate.
SyncMate will sync data in your Mac with:
1. Mobile phones (Android, Windows Mobile and Nokia S40 devices).
2. Other computers (PC or one more Mac, doesn't matter, they will be synced with your Mac)
3. iOS devices (iPhones, iPods Touch, iPads).
4. Online accounts (Dropbox, Google accounts; SyncMate also offers online storage for backing up your personal data).
5. Any mounted storage devices (Mac partition, portable USB storage, any locally connected disk, FireWire hard drive disks, devices connected via USB, etc.).
6. iPod Nano and Sony PSP.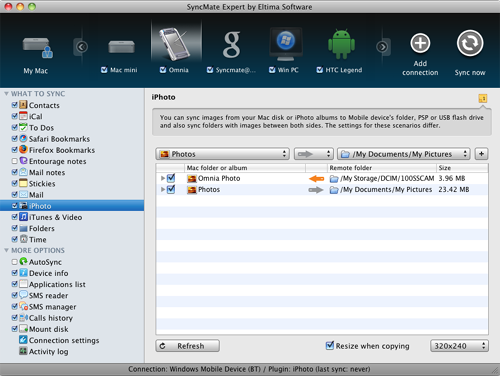 SyncMate lets you sync Address Book, iCal, iTunes, iPhoto, Safari and Firefox Bookmarks, Entourage and Mail Notes, ToDo's, Mail, Time, Stickies and separate folders (sync options depend on the device you are syncing).
SyncMate also offers AutoSync option which lets you set various parameters of automatic sync for any of supported device.
With Expert Edition you can create, send, delete, search and export text messages from Android, Win Mobile or Nokia on your Mac.
You will find detailed list of sync options available here for each device.
Thanks to SyncMate for sponsoring this wonderful contest at Smashing Apps.
If you want to conduct any contest at Smashing Apps just contact us and send us all the details.