Are you running a website? One of the best ways to attract more traffic is to personalize your website. Most site owners do this by adding an "about me" section. While this is fine, sharing your musical preferences with the visiting community will help them relate to you. This in turn, will form loyal site followers.
Now imagine sharing music by adding great quality songs in a web player on your website. Visitors can listen to the songs and purchase tracks / albums in this player widget. To make things even better, you get a percentage of each track / album sale. If it were not for BuyWidget, that scenario would have sounded too good to be true.
BuyWidget is a simple tool for your website that performs all the functions mentioned above. You sign for an account on the site, create a playlist of songs, and get the widget which should be added to your site.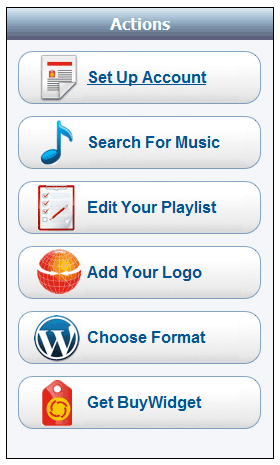 The playlist can contain as many songs as you want. You can add songs by searching for artist, genre, album, and song. Once a playlist has been formed you can always change it, make additions to it, and reorder the tracks easily. The code you obtain for the widget is HTML and can be placed wherever on your site, according to your preference.
Visitors can play the songs from the BuyWidget player and hear the best sounds because the songs are in MP3 format, at 296 kbps or higher. You get 7% of the sale of each track or album.
BuyWidget is an excellent concept that will satisfy a lot of site owners by adding a new source of revenue to their income. The best part about all of it is that you need not pay BuyWidget any signup or subscription fees. Click here to visit the site.