This is the post where we are listing out few great free apps for Mac Operating System, this is an exclusive post for our those readers who are the Mac users. But our other readers will also enjoy this post. Don't forget to bookmark this post for your future reference as it has few most useful and free application that will be helpful for you when you are on your Mac system. This is absolutely a great list of 7 Simple, Useful And Free Mac OS X Apps You Probably Want To Know.
You are welcome to share if you know more free mac apps that are really useful and our readers/viewers may like.  Do you want to be the first one to know the latest happenings at SmashingApps.com just subscribe to our rss feed and you can follow us on twitter as well.
Mactracker provides detailed information on every Apple Macintosh computer ever made, including items such as processor speed, memory, optical drives, graphic cards, supported Mac OS versions, and expansion options. Also included is information on Apple mice, keyboards, displays, printers, scanners, digital cameras, iPod, Apple TV, iPhone, Wi-Fi Cards/Base Stations, Newton, and Mac OS versions.
Remote Desktop Connection Client
With Remote Desktop Connection Client 2, you can quickly, simply and securely connect to Windows-based PCs to access Windows-based files, applications, devices, and networks from your Mac.
SMARTReporter is an application that can warn you of some hard disk drive failures before they actually happen! It does so by periodically polling the S.M.A.R.T. status of your hard disk drive. S.M.A.R.T. (Self-Monitoring Analysis and Reporting Technology) is a technology built into most modern hard disk drives that acts as an "early warning system" for pending hard disk drive problems. SMARTReporter can notify you of impending hard disk drive failures by sending e-mails, displaying a warning dialog or executing an application. The current status of your hard disk drives is always displayed through the customizable menu item.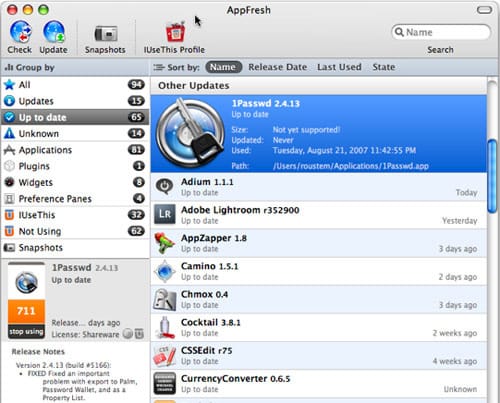 AppFresh helps you to keep all applications, widgets, preference panes and application plugins installed on your Mac up to date. All from one place, easy to use and fully integrated into Mac OS X. AppFresh works by checking the excellent osx.iusethis.com for new versions and lets you download and install available updates easily.
Growl
Growl is a notification system for Mac OS X. It allows applications that support Growl to send you notifications.  Growl is very flexible. Notifications can be emailed to you or spoken instead of displayed on the screen.
With Burn you can keep your files safe and burn your files to a disc so you can access them later on. You can choose different filesystems so you can share your files with people with different operating systems. It has many options to change advanced settings like, file permissions, the disc icon, file dates and more on the fly in Burns inspector.
The most simplest but really useful and comprehensive to-do list application available for mac.
SmashingApps.com participates in various affiliate marketing programs and especially Amazon Services LLC Associates Program, which means we may get paid commissions on editorially chosen products purchased through our links to any of the linked sites from us.