Have you ever missed a client deadline because you were too busy?  Ever had a client request a type of design that you don't offer?  One of the best kept secrets of successful designers and studios is 'designer-to-designer' outsourcing.  Designer-to-designer outsourcing involves one designer (such as a web design firm or graphic design studio) using another designer (often a freelance designer or sub-contractor) to help complete designs for their own clients. While there are scores of freelancers available (probably many in your own city), there are some emerging, and very powerful, online services that are setup specifically for designers seeking to outsource client projects.
For example, last month Entrepreneur.com featured DesignCrowd and its new Graphic Design Outsourcing Service that lets design studios outsource to other designers around the world.  Whether you use a service like DesignCrowd, or a freelance designer you find in a directory, outsourcing is an important part of a designer's toolkit.  Here's how design outsourcing works (using DesignCrowd as an example):
Once you acknowledge that, in general, outsourcing is useful – the main battle for a designer is selecting the right project or task to outsource and the right person or company to outsource to.  This post focuses on the situations that a graphic design studio or professional designer should consider outsourcing to another graphic designer as well as some of the resources designers can use in those situations.
7 Situations Designers Outsource to Other Designers
Here are 7 specific reasons or situations where graphic designers will often seek to outsource to other graphic designers:
1) Preventing Client Loss (due to capacity) – if you find yourself turning away clients because you're too busy – or (worst of all) find yourself taking on clients who become unhappy and then leave when you don't meet a deadline – then you need to increase your 'capacity' to take on client projects.  Outsourcing is a good option in this situation as it can add design 'capacity' to yourself, your team or your business with minimal setup time.  For custom design projects, we recommend using  DesignCrowd's online design outsourcing service. As DesignCrowd has around 10,000 designers and lets you use multiple designers on each project you run, essentially, they can provide access to unlimited capacity.
2) Up-selling / Value-adding – outsourcing can also help you expand the services you offer clients. For example, if you're a web designer and your client is a start-up business, up-sell them to a logo and then outsource it externally.  If that works, try offering them stationery design as well and maybe even some banner ad designs to help with marketing their website and business.  Doing this can help you offer services as a value add (and win clients that would've otherwise gone elsewhere) or simply make more money on each project by 'up-selling' (think the McDonald's famous 'would you like fries with that?').
3) Completing Repetitive Tasks  – often times, larger design projects involve detailed, repetitive design work.  For example, if a brochure design project involves picture clipping of 200 bicycle photos then use an online picture clipping service.  If you're a good designer trying to grow your business, your time is better spent selling to potential clients than doing time-consuming grunt work.  If you have a 50 page toy store website, and have the designs mocked up in Photoshop then a PSD-to-HTML conversion service like PSD2HTML.com is in order.
4) Meeting a Tight Deadline – this is a specific type of capacity problem.  If you've got that sinking feeling you're going to miss a client deadline, the solution might be a short term capacity boost – something to speed up that project.  If your deadline is 12 hours or less and you can't get an extension, consider buying a template design.  Alternatively, use one an online service with a pool of international as they will A) have designers available 24/7 and B) you can potentially take advantage of timezone differences.
5) Enhancing Creativity – another genuine reason to outsource will be to keep your clients (whether they be regular or new) happy with the level of creativity and originality you're producing.  If you, or your team, find yourself creating similar designs for multiple clients or similar designs for the same client maybe you need a third party to give you some fresh ideas or add some diversity to what you're delivering!  In this situation consider running a design contest through a service like DesignCrowd (that pays designers participation payments even if you don't use their design).  The design contest approach is particularly useful for projects that require concepts such as web page layout design and logo design projects.
6) Technical Work – if you're a graphic designer who's familiar with Adobe Illustrator and Photoshop but your project requires something technical (like website coding or Flash design), don't knock back the client, consider taking it on and outsourcing the technical aspect.  If you don't know someone who has the skills to do the work, consider using an online service like Rentacoder.com to find a provider.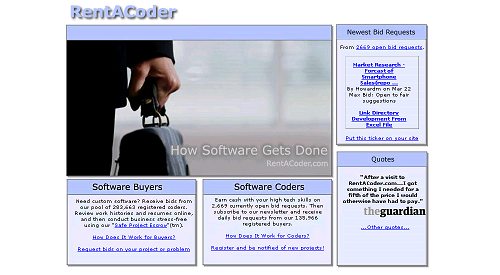 7) Outsourcing Components – where possible, consider outsourcing graphics components (such as photos, icons and buttons) of your broader design project.  Break it down your project as if it were a problem and solve it in parts.  There are loads of great stock photo and icon websites – Istockphoto.com is a good place to start.  If you need a custom design, consider one of the online services I mentioned above or look to use a freelance designer.
Summary: offer fries with that!
Designer-to-designer outsourcing can help you take on more projects and offer a broader set of services to your clients – both of which can help you earn more money.  The traditional approach to outsourcing design (using freelancers) can bring with it its own problems – for example, freelance designers can get busy with other clients; or they might be limited to a specific skill-set or style.  Graphic design services like DesignCrowd.com can help solve these problems and are great resources, not just for designers who are seeking work, but also for designers that need to outsource client graphic design work.  Remember, next time you're pitching to a new client, don't forget to smile and ask "would you like fries, a logo or a website with that?"