Below, we are sharing 7 amazing tools for you to help you identify fonts. These tools will be of special interest for the web designers. These tools will help them find out and identify any particular font that they have seen anywhere be it in shopping mall or on a billboard. Isn't it amazing? This will save their time and of course hassle that they will face in finding out that particular font.
So, here is the list of 7 amazing tools to identify fonts. All of these tools are easy to use so you do not have any problem using them. Use these tools to identify any of the font style that you love and want to adopt. So what are you waiting for? Dig into these tools and make your life easier. Drop in your comments below. Enjoy!
Seen a font in use and want to know what it is? Submit an image to WhatTheFont to find the closest matches in our database.
Identify a typeface by answering questions about key features. If your sample text is small you may find it helpful to use a magnifying glass or hand lens.
Need to know what font it is? Post your image here and Typophile's crack team of community experts will identify the font for you, usually within minutes.
Use this interactive Serif Font ID Guide to help identify serif typefaces using just twelve key letters.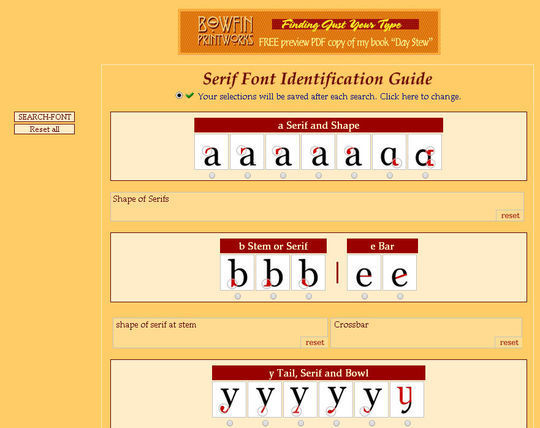 Flickr Typeface Identification
Post your found type and ask the local font snobs to help you ID the font(s) used.
Submit the image with the font you are looking for. Please note the text must be writen in one line and saved in jpeg, gif or png format.