Now that the iPhone 4S's Siri has been cracked, the rest of the smart phone world can indulge in their fetish for barking commands at their favorite Mobile piece of plastic.
For those wondering what a Siri is, it's Apple answer to the Personal Assistant of the future. Like a human PA, Siri can help with daily time management, scheduling meetings, correspondence,  note taking, answering questions, and perform actions by sending requests to an expanding set of online services.
Some claim It even delves into the realms of Spooky AI because the application, by default, can make recommendations; and over time (assuming you're one of those lucky people who actually can stick to a schedule fed into your phone/PDS) Siri can even go to extent of making dinner reservations or hiring a taxi cab.
Much as we were excited, however we at Smashingapps took a step back and asked ourselves "Do we really *HAVE* to wait for a hacked iPhone app to fulfill our Intelligent Knight Rider like needs ?" For all those Android(ers) out there, who crave to have something as cool as the 'Siri', we roll in a list of some of the best alternatives to make your Android handset look as smart as the Apple's iPhone.
Tagged as the best voice-powered Virtual Assistant on Android, Vlingo presents the perfect Siri-like functionality. Loaded with a great User Interface, your Personal Assistant (Vlingo) is always by your side to help you when sending messages, calling someone, opening Android apps, finding restaurants and businesses or performing a certain search. In addition, Android handset owners can use the app to update on social networks, including Twitter and Facebook.
A simple tap on "Speak It" would start the app's listening process and rest you can leave on Vlingo to perform. Whereas, Voice recognition is termed as one of the toughest technology to master on, we were very impressed with Vlingo's perfomance.
Furthermore, the app has the ability to read incoming text messages and emails while you drive via SafeReader component. The voice clarity is way above other apps, even when compared to Google's very own "Voice Actions" as it speaks with perfect punctuation. In a recent update, Vlingo InCar feature has been added to allow users to make hands-free call, send, reply to and receive text messages and email as well as search the web without the need to touch the phone.
Whereas Android phones come pre-loaded with some impressive voice command tools, for all those looking forward on taking this feature to the next level, Edwin helps you super charge your voice commands by giving verbal responses to your queries.
Power up Edwin from your home screen or using a hot key and get ready to have your queries answered. Get to know the outside temperature, premiere of a movie happening or a nearby theater, on-going promotions on the local store or identifying your location, Edwin is the perfect companion to help you on this.
Questions asked are responded out loud and in easily parsed text instead of long search results for you to filter.
In the early days there used to be planners, sticky notes, and various gadgets to keep up the daily appointments. With fast development in the mobile phone world, a great change has been witnessed. Your smart phone is now your handheld computer, a notepad, a GPS guide, a music library and much more, that too in a sleek device which fits your pocket.
Whereas your handset can perform on all these things, it lacked the feature to directly interact and follow your commands. Voice Actions for Android is the ultimate solution to control your Android handset using your voice. Call, text, email, search the web or complete certain tasks, all that can be done by just speaking into your phone.
One of the best thing I experienced while testing out the app, it helps you call a particular business, even when you have no information on it. Example, you need a cake for your manager's birthday and that too from a particular bakery. Instead of looking for contact information, all you do is "SAY IT" and it simply Google's the information and makes the desired call.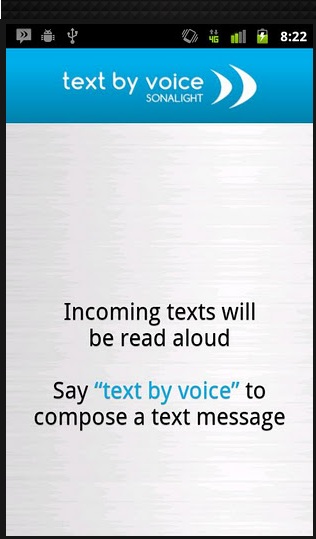 Every now and then, you would have found yourself messaging your friends and family while driving. Whereas this diverts your attention from the road, we have found the perfect app for safe driving as your texts are sent.
Sonalight's Text By Voice app is the perfect solution compared to others which require attention from your eyes and fingers while driving. Launch the app and simply shout, "Text By Voice", which will launch the feature and all you need to do is to follow the spoken voice cues to respond or compose texts.
One of the best thing I discovered while testing out the app, Text By Voice is always listening even when your phone is sleeping which means you can send out texts without the need to unlock your phone.
Yet another possible Siri alternative for Android, called Speaktoit Assistant. Having to test it out, the Android based app worked pretty much the same as the popular iPhone Siri.
Speaktoit Assistant for Android will launch apps, answer questions and connect with social networks including Facebook, Foursquare and Twitter. And this is not all it does, you can browser maps, search for news and images, weather updates, send emails, and much more.
The app presents an avatar allowing you to change his/her look to something like a street guy to an Asian girl.
This might be the 6th app I have tried out during my search for a 'Siri' alternative for android. Upon launching the app, you would be welcomed by a collection of buttons you can use to explore questions and tasks you can have Skyvi to perform.
Skyvi has the knowledge on almost everything from Local Businesses to a healthy meal. The app talks back to you with various jokes and remarks. Users can access and update Facebook and Twitter using voice instructions.
Might call this as the perfect 'Siri' alternative with ability to find and call places, load directions, define words, look for weather updates, search local businesses, access social networks and much more.
On lookout for Siri like apps for Android, bumped into 'Iris' with tech geeks calling it "Sort Of Siri for Android". This app allows you to search on various subjects including art, biology, history and more. Just ask on almost anything and it would reply with a paragraph from Wikipedia.
The app was completely designed in 8 hours by Android dev Narayan Babu and his team. Whereas designed in a record time, the questions you ask by voice are answered back in a smart voice. Although not as accurate as Siri, the results are surely amazing.