This is one of the very best list of its kind where you can find few of the useful online tools and could be very helpful for you when you want to get your work done. I hope all of you will like this list if you are office worker, designer, developer, a manager, a supervisor, a student, a home user, etc. Most of them are not very well-known, but they are really amazing in respect to their features. This is the list of 7 Apps That Could Be Really Useful At Work. Just take a look at them and share your thoughts here.
You are welcome to share more useful web tools that will be helpful for web designers and our readers/viewers may like. Do you want to be the first one to know the latest happenings at SmashingApps.com just subscribe to our rss feed and you can follow us on twitter as well.
Mockingbird is an online tool that makes it easy for you to create, link together, preview, and share mockups of your website or application.
The easy way to manage your projects online. You can organize tasks, issues, messages, and shared files with this secure and easy to use project management application.
Lockbin is a free service for sending private email messages. You can use it to send things like credit card information or confidential information.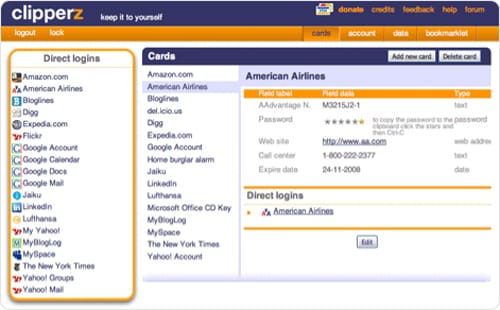 Clipperz is a free and anonymous online password manager. Local encryption within the browser guarantees that no one except you can read your data and there is nothing to install.
ShowDocument is a free service for online meetings with fully synchronized co-browsing of any document. It is a quick and simple way to share a document with other people at the same time. It is a web collaboration platform that lets individuals have a free online meeting. It is an alternative to various commercial desktop sharing applications. One can easily upload any file and during the session mark it up with a pen or a highlighter tool in addition to a text box tool and eraser.
DrawAnywhere is an online diagramming website, where you can draw, modify and share flowcharts and other diagrams, with the look & feel of a desktop application. It runs on any browser with Flash 9 installed. There is no need to download and install any custom software. It runs entirely on the web, and thus it is an always-on-access-anywhere solution. It meets all your diagramming needs without installing, maintaining and purchasing expensive software.
Go2Convert is a set of free web based tools that allow you to convert, resize a picture without having to install any software on your computer. It is not meant to be a complete Image editing software package. It is meant to be an easy to use solution to convert, resize your pictures and digital photos without the need to learn a complex software package. Once you convert, resize an image, you can choose to copy image's URL or download it directly to your computer – It doesn't get easier than that.