Today the internet plays an important role in the success of young businesses. By promoting your business on the online social media you can attract a lot of desired attention. Keeping that in mind, while you are coming up with a name for your business it is advisable to check for its online availability. Take Facebook for instance; it would be very difficult to promote your business on Facebook if there already are other groups and pages that have the same title as your business.
Many web services help you make sure that your business's name is not taken on social media websites. These services check the name's availability on various sites and display the results. If you are looking for such a website, read on our list of 6 free username availability checking websites. Try each one out and see which one suits your needs best.
You Might be Interested to Checkout These!
NameCheckList
NameCheckList asks you to enter your business's name without the spaces. It then checks its social media status – username availability on various sites – domain availability, and the number of search engine results generated on Google, YouTube, Yahoo!, and Flickr. These results are categorized as "Social Media Status," "Domain Availability," and "Search Engine & Media." With each set of results you get an availability percentage that indicates the "goodness" of your selected name. Visit NameCheckList @ http://www.namechecklist.com/
NameChk
NameChk's feature and usage is quite simple: it simply check for the available of the entered username across many social networking and social bookmarking websites. Check out NameChk @ http://namechk.com/
KnowEm
KnowEm will check for your entered username's availablility across many social media websites. Additionally it will check for the name's domain name availability. If you have created your profile on social networking sites, you can keep a track of them by adding them to your KnowEm profile. Visit KnowEm @ http://knowem.com/
Ud.com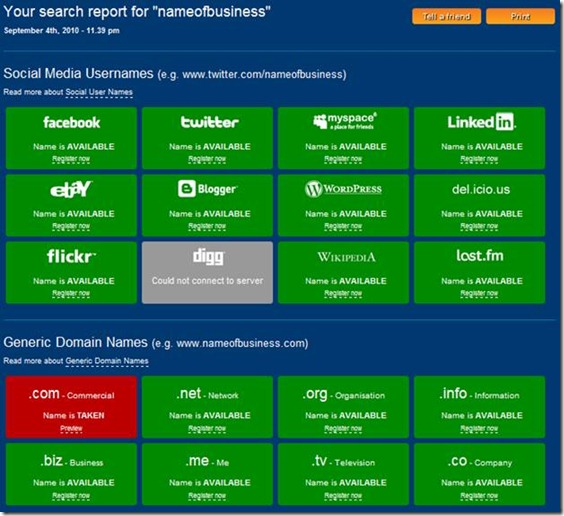 Ud.com will tell you the social media availability of your entered username. It also shows available country domains, available generic domains, and registered or available trademarks. Check out Ud.com @ http://www.ud.com
Username Check
Username Check will be the site most social media promoters will prefer. Through it, you can search for your entered name's availability in 50 of the most popular social networks. The search results can then be shared via email, copying the URL, or using the available Share button on the site. In case the entered name has been taken on a particular network you can visit the taken profile and have a look. Similar for unoccupied networks, you can quickly go to the signup page and create an account. Visit Username Check @ http://www.usernamecheck.com/
Usernamez
Just like the above mentioned websites Usernamez is another website that provides the same service and lets you search for your desired username availability across multiple social media networks with just a click of a button. All you have to do is visit their home page, enter your search query and hit "Check". Results will be shown on the same page with "Tick" mark indicating that the name is available and "Cross" mark for occupied names. http://usernamez.com/