From opening a new tab to restoring or saving our session, we perform various tasks in our internet browsers. Sometimes these tasks are present in the browser in an already convenient enough manner to make life easier for the user. But at other times, in the form of extensions and add-ons, third-party developers make these browser tasks easier for us.
Since I use Chrome most of the time, I gathered 5 browser extensions which I think most Chrome users will appreciate. These extensions facilitate users in different ways, from saving our browsing sessions and managing our tabs to letting us choose hotkey shortcuts.
Give the list a thorough reading, try out any extension you are interested in, and let me know in the comments how they worked out for you. You are welcome to share if you know more useful google extension which our readers/viewers may like. Do you want to be the first one to know the latest happenings at SmashingApps.com just subscribe to our rss feed and you can follow us on twitter and do not forget to become our fan on facebook as well.
Chrome, like all other modern browsers, supports the usage of multiple browser tabs. While this feature is mostly convenient, it can cause problems if the number of our tabs gets larger. The usual problem faced is finding the right tab when we cannot even view the favicon of the webpage, much less read its title in the tab. Too Many Tabs lets places an icon in our address bar which we can click to view our tabs as cascaded thumbnails; this view makes finding the right tab easier. Custom color schemes and interface designs make Too Many Tabs a great extension to manage tabs in Chrome.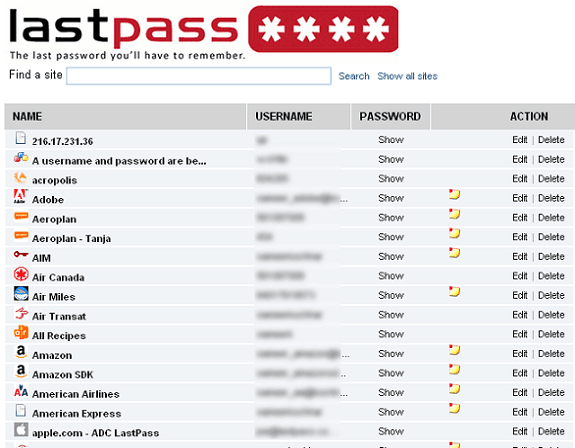 LastPass is a free password manager and form filler which comes in the form of an extension not just for Chrome but also for Firefox, Internet Explorer and Safari (Mac). While the standalone extension works fine in other browsers, in Chrome we need to download LastPass's complete windows installer (available here). This tiny extension lets us import and export passwords to and from numerous storage vendors. Supported vendors include RoboForm, 1Password, KeePass, Password Safe, MyPasswordSafe, Sxipper, TurboPasswords, Passpack, Firefox, and Internet Explorer's built-in password managers.
I personally found Session Manager to be more suited to my own needs. I often have a lot of tabs open when I get involved in a topic. I open up multiple web resources and references for that topic and end with a lot of simultaneously open tabs. Saving them all in the bookmarks will cause bookmark-clutter. Session Manager lets me conveniently save the entire session with a description to accompany it. I can save multiple sessions and restore them any time I want.
If you are looking for a session manager that will work across multiple computers, then FreshStart for Chrome is what will serve your needs best. With this extension, when we save our sessions, we can choose to exclude certain tabs. Our sessions are saved locally in the FreshStart bookmarks folder and synced to the cloud via Google Chrome's bookmark sync feature. This way we can access our saved sessions on any computer which has Chrome with FreshStart installed.
Shortcut Manager will benefit anybody wanting to set custom hotkeys to various Chrome tasks. We can change the browser default shortcut keys, and assign any bookmarklets or JavaScript actions to our hotkeys. Apart from built-in Chrome actions and the JavaScript actions which can assign, we can also capture the screen and insert our signature on a page.