Every designer knows how important and crucial color palette is in the success of any design. Knowing how to use color palette effectively is an essential part of a designer's workflow. Color management and experience of using right color in the right place give a website a unique shape and identity that helps it stand out among the rest.
Here, we are sharing some useful tools that help you choosing the most appropriate color palette for your design. Take a look at this collection. Your comments are always more than welcomed.
ColourMod allows the user to input a starting value and get an automatic conversion. Whether you start with RGB, CMYK, HSV or a Hex value you will get its equivalent in RGB, CMYK, HSV and Hex.
The color Wheel is an online application that lets you generate random color schemes.
Matching your web site colors isn't always as easy as it should be. Colors that look good to one person may look terrible to someone else. Color Match is a web site tool that helps you to easily find a perfect color scheme generated from a base color then displays the matching HTML color codes.
The application allows users to experiment with color combinations, examine them under the aspect of accessibility guidelines and to create custom color palettes.
This is a tool that will help you convert colors between RGB, CMYK and HSV color spaces.
The Color Wizard is a color matching application for anyone who wants to create designs with great looking colors.
With ColoRotate, you can work with colors in 3D, in real time, and in a way that matches how our minds process color.
Kuler™ — the web-hosted application for generating color themes that can inspire any project. No matter what you're creating, with Kuler you can experiment quickly with color variations and browse thousands of themes from the Kuler community.
Color Scheme Designer is very useful online tool to generate your own color scheme.
COPASO is an advanced color palette tool that helps you create the perfect color palette. If you're finding COPASO a bit too rich for your color creating tastes, you can always use our basic color palette tool.
Used alone or in conjunction with our other creation tools, Toucan gives you the features you need to inject color into your creative process.
ColorMunki is the industry's hottest all-in-one color solution that delivers unparalleled color control and color creation tools for photo and design digital workflows.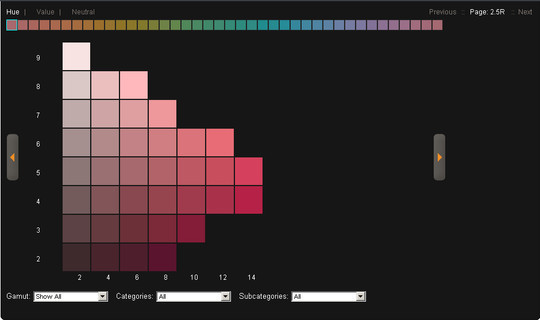 ColorExplorer is a free online toolbox for designing and working with color palettes.
Enter the URL of an image to get a color palette that matches the image. This is useful for coming up with a website color palette that matches a key image a client wants to work with.
It is a tool for checking foreground and background color combinations of all DOM elements and determining if they provide sufficient contrast when viewed by someone having color deficits.
GrayBit is an online accessibility testing tool designed to visually convert a full-color web page into a grayscale rendition for the purpose of visually testing the page's perceived contrast.
ColorPix is a neat little app that will let you grab the color values and screen coordinates at any pixel on your screen. ColorPix automatically translates any screen color into RGB, HEX, HSB and CMYK color values, and comes with a zoom-able magnifier built in!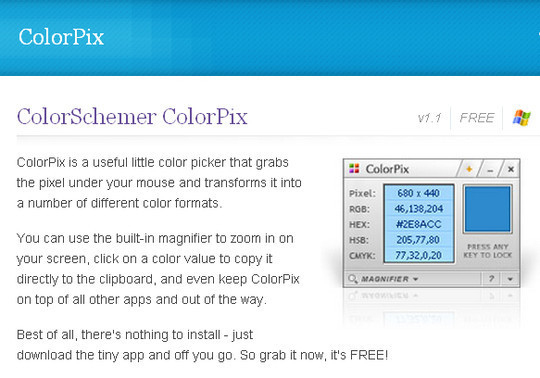 ColorJack is an online Color Scheme Generator used by Graphic Designers, Interior Decorators, and many other people from around the world.
The ColorBurn widget features a new color palette every day, along with its hexadecimal values for all you web geeks out there. If you're looking for some daily inspiration, some colors to steal, or simply another cool-looking widget to fill up your dashboard and impress your friends, here you go.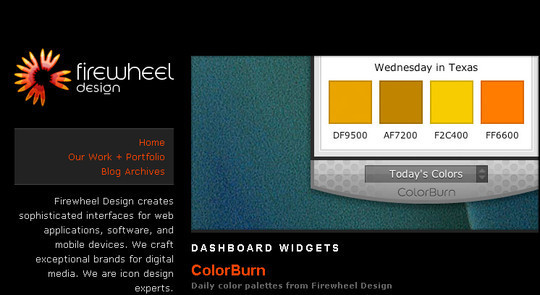 Advanced Eyedropper, Color Picker, Palette Viewer and other colorful goodies for your Firefox.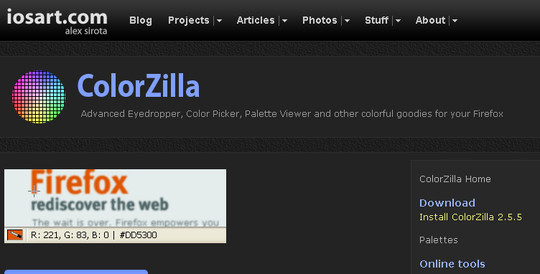 Krazydad is a Experimental Colr Pickr.
Generate a color palette from PNG, JPG or GIF image/photo. Receive color suggestions, download Photoshop swatches (.ACO)
A very useful online Color Scheme Generator
Type a URL of any online image below and our system will tell you the most used colours from that image, and as a result give you some inspirtation!
This is a great tool to use if you want to develop a matching color scheme for your site. Say you want your nav color to be #000066 (navy blue) and you want to know what colors would go best with it, this tool will help you.
Color Combinations and Color Schemes
A tool for web developers to test website color combinations, along with a library of pre-selected combinations.
Kolur is a simple and enjoyable way to browse color palettes.
Create and find color palettes made from images.
This color schemer is a simple tool to help you experiment with various color schemes for your next web or print project.
Upload an image to generate a color palette based on the image's primary colors. Useful for quickly grabbing a particular color within an image for inspiration.
Upload an image to generate a color palette based on the image's primary colors. Useful for quickly grabbing a particular color within an image for inspiration.
Takes two user-defined valid colors and creates a palette using a set number of points between the colors.
A very useful online color scheme generator.
Generate matching color schemes like never before.
Find matching colors for your web page.
A useful web color combinations testing tool for web developers.
Useful HTML Color Coordinator for your websites.
This application is a simple tool for generating 10 shades of a given color.
A very useful Free Color Matching Tool.
The ultimate tool for web 2.1 designers
Free online tool for color palette design and color matching.
The Colour Contrast Check Tool allows to specify a foreground and a background colour and determine if they provide enough of a contrast "when viewed by someone having color deficits or when viewed on a black and white screen"
This colour schemer tool helps you choose colour schemes for monochromatic, analogic, complimentary, split complementary, triadic, and double contrast. It's especially great for exploring color combinations easily and quickly.
Free tools for working with digital colors. Import, convert, match, analyze, and explore colors!
Peter Piper's Palette Picker is a very useulf online tool to get your color combination.
SmashingApps.com participates in various affiliate marketing programs and especially Amazon Services LLC Associates Program, which means we may get paid commissions on editorially chosen products purchased through our links to any of the linked sites from us.