There are plenty of tools and web services are available to check website uptime and downtime. However, it is quite difficult to choose which service or tool provides the most accurate results. Plus, not all of these services and tools are useful. In this collection, we have put together 30 useful web services and tools that can help you monitor website uptime and downtime. Monitoring a website round the clock is not possible. These tools help you determine your website downtime so that you can quickly fix things up when needed.
Here is the full collection after the jump. We hope that you will like this collection and find these web services and tools helpful for you. Do share your views and opinions with us via comment section below.
Pingdom offer website monitoring with the FREE version of the pro service including Real User Monitoring, reports, alerts, analysis and a lot more.
Be the first to know when your website is down.
50 Monitors, Checked Every 5 Minutes, Totally Free.
FREE Website Monitoring & Monitoring Software from Monitor.Us.
InternetSeer is the world's largest website monitoring service, providing accurate and reliable free hourly website monitoring to over 2.2 million websites worldwide.
Siteuptime provides website monitoring services. Receive instant email and SMS alerts when your website becomes unavailable. View detailed uptime statistics and performance reports for your website monitors.
Free website monitoring program for Windows. Monitor and log your website uptime with this 100% free software.
upPanel.com is a free website monitoring ser`vice that watches your websites and alert you if one becomes unavailable.
The cloud-based monitoring & troubleshooting solution for web services and IT infrastructure. Create your free account and get started.
Easy and free service to keep an eye on your website. Advanced technology watches your site form multiple locations across the country to ensure that your website stays up 24/7. It literally takes 20 seconds to implement, it's cost free and spam free.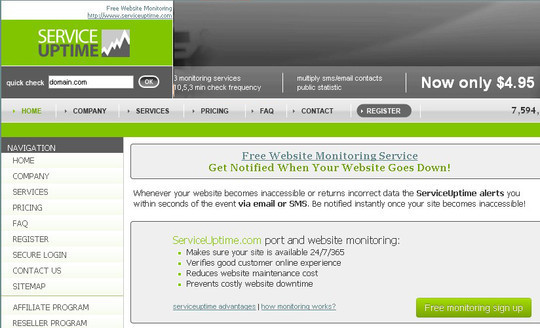 Web server and web site monitoring services. Instant alerts via pager, phone and e-mail. Make sure your eBusiness is functioning 24/7. Real-time web based statistics and performance reports. Global worldwide monitoring stations. Free service.
Free web site uptime monitor service server and network failure alerts.
A collection of scripts that allow a website to be monitored and/or tested. The monitor allows you to record pages by clicking through your site from your browser. These can then be periodically checked to ensure they are available and correct.
Zabbix is an enterprise-class open source distributed monitoring solution for networks and applications.
Free uptime monitoring service. Monitors availability of your website every 2 minutes 24/7/365.
Keep your site loading quickly and monitor its response times.
EZ Website Monitoring provides a free online tool for keyword tracking, uptime monitoring, and error checking for your website.
Through the use of modern technologies in the field of search engine optimization, MazeCore can effectively promote your website in the top search engine results with minimal cost in a short time.
Free Web Site Monitoring. Monitor your web site's availability 24 hours a day, 7 days a week with instant email alerts and weekly web site performance statistics.
Free service to watch your domain around the clock and ensures that your website is up and running.
Free server monitoring. Monitor server resources that impact application performance with New Relic Server. Runs on Linux and Windows.
Premium Tools
SIMPLE Website monitoring. When your websites go down, be the first to know.
checks the status of your website hourly, 24 hours a day, 7 days a week.
VisualSiteMonitor.com provides website monitoring services. Receive instant email notices when your website becomes unavailable and view detailed uptime statistics and performance reports for your website monitors.
100pulse Monitoring service is to monitor websites for downtime and response time. Keep in touch with your portal's status and responsiveness through our free and paid services.
Remote website, web server,server monitoring from worldwide locations with email, SMS and mobile push alerts.
AlertSite – Superior Website Monitoring. Receive up-to-the-second alerts and reports on costly Web, Mobile and API slowdown or outages. Start a free trial.
Free dedicated server monitoring and notification service.
Remotely monitor the performance and uptime of your network, servers and applications. Dotcom-Monitor Application Performance Monitoring (APM) SaaS.
Remotely monitors web sites and Internet services for availability (http, https, smtp, ftp, dns, pop, imap, smtp, nntp, tcp, udp, ping, mysql). Notifications sent via email and SMS. Monitoring centres in United States and Europe. Free service available.
Uptrends hosted website, server and transaction monitoring services. Receive alerts. Maximize uptime. Free 4 week trial.
Wormly offers server monitoring, website monitoring and uptime monitoring to keep you online and performing fast. Remote monitoring from outside the firewall alerts you when failures occur, while internal server health monitoring reveals problems before they cause downtime.
Opentracker is a competitively priced best-of-breed solution for Web Analytics, Mobile App Analytics, Website Lead Capture and other big-data traffic reporting. Our goal is to provide the best, most informative, and most straight-forward analytics solution available.
Free website uptime monitoring and alert service. Free email alerts, sms alerts, twitter alerts, multiple monitoring locations, and more.
Site24x7 offers both free & paid website monitoring services. Monitor websites remotely and receive instant email/sms alerts if your website becomes unavailable. View uptime & performance graphs of your website monitors.
Server monitoring, Website monitoring, Server-monitoring, Uptime monitoring – Alert via e-mail, SMS and telephone.
Free 15 minute, or paid 1 minute monitoring service – Website monitoring, Server monitoring, Email monitoring, router monitoring by BinaryCanary.com