As the time passes off, many business owners and entrepreneurs are making their great IT goals to take their smart move to protect their business. Most of these business owners will be focused on increasing profits or expanding growth, but it would be wise to focus on some IT goals or tech-related resolutions as well. Making sure that you are up-to-date on the most recent tech and security measures can go a long way toward growing and protecting your business.
While many companies make goals or resolutions that they hope to achieve as soon as possible to protect their business, plenty of businesses fail to meet these goals because they do not take the steps necessary to achieve them. It often takes time and determination to make these smart goals a reality, and business owners should not quit when the situations become stale or difficult.
Employee Security Training And Creating A Security Safe Culture
If your employees have not had any security awareness training, you should make it your focus to ensure that everyone is informed about potential information security breaches. Research suggests that human error is involved in over 90% of security breaches. By providing security awareness training to your employees, you will teach them how to avoid mistakes that could leave the business at risk. Not only will this help your employees be more aware of security, but it will make your customers feel more comfortable and confident when working with your company.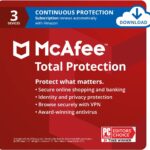 McAfee Total Protection 2022 for upto 3 devices –
1 Year with Auto Renewal Shop Now

Having 1980+ ratings, this Total Protection package can protect your devices without the wait, plus your subscription renews annually. Before it renews, Amazon will send you a reminder stating the term/rate then in effect thus providing you continuous protection from threats. Learn more about this product >>>

There are other benefits to holding security awareness training for your team, and one of the best is that you will be taking your first steps in creating a culture based around tech security. You will be introducing your team to the importance of information security, which they will effectively use to fortify your defenses. When new employees are brought in, set aside some time for them to have security awareness training so they are enveloped in the culture from day one. By putting together a plan where every employee is introduced to information security awareness, your company will be less at risk for breaches and threats made possible by human error.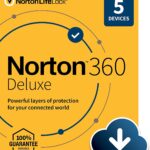 Norton 360 Deluxe (2022 Ready) Antivirus software for 5 Devices with Auto Renewal Shop Now

Having 9500+ ratings, this REAL-TIME THREAT PROTECTION Advanced security protects against existing and emerging malware threats, including ransomware and viruses, and it won't slow down your device performance as well. Learn more about this product >>>
Smart Home Security, Appliances, and Wifi Shop Now
If you are looking to improve the security of you home and office, then you might need to check out the amazing security cameras, and home automation products to convert your simple home to smart home. Learn and find more about this >>>
Utilize A Managed Services Provider 
The MSP industry has seen immense growth over the past five years. The market was valued at over $152 billion in 2017 and is expected to rise to $257 billion by the end of 2022. MSPs allow for predictable monthly costs and better security practices, but they truly have a plethora of benefits.
Amazon Home Services Shop Now
This is a simple way to buy and schedule professional services such as furniture assembly, electrician, handyman, plumbing and more professional tradesman services directly on Amazon.com. We've handpicked the best service providers in the U.S. Learn more about this service >>>
If your computer breaks or shuts down, MSPs have the ability to not only fix it but also go above and beyond the usual tech support. Some MSPs will work with your business to understand your goals and find better ways to achieve them. MSPs are also raising their tech game. Yes, they can help with problems related to e-mail, web and file searching, but they are also available for more advanced needs, like cloud infrastructure management. If you're still working with a basic IT service, look into using an MSP instead. They will help with your usual tech problems while also providing you with the resources needed to achieve your goals. 
Back Up Your Data
Data is an essential part of any business, and it's imperative that every business owner makes an effort to back up their data. If important files are damaged or deleted or a disaster causes your business to lose important data, data backups can prevent business interruptions. It becomes even more important when dealing with clients' information.
Tidy Up 5 Duplicate Finder for Mac
Shop Now
This is the new generation of duplicate finders and disk tidiness. It's the only fully-featured duplicate remover available on the market. Tidy Up is designed for pro users that need a modern and efficient tool.
Imagine that you're a customer who has been making transactions with a business for years. They may have your address, phone number, e-mail address and sometimes even your Social Security number, but one day, you call and they no longer have your information on file. You probably wouldn't feel too secure giving this company that information again if they already lost it the first time. This is how your clients will feel if they have to provide their information again after data loss that could have been prevented by backing up your data.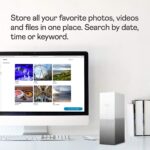 WD 4TB My Cloud Home Personal Cloud Shop Now

My Cloud Home is an easy-to-use personal storage device that plugs directly into your Wi-Fi router at home so you can save all your digital content in one central place. You can automatically back up the photos and videos on your phone, and wirelessly back up and sync all your PC and Mac computers and cloud accounts. Learn more about this product >>>
As you plan out your IT goals and resolutions to incorporate to achieve the technological success to protect your business, don't forget to include IT goals and tech resolutions as well. Not only will they save you money in the long run, but they will also grant you peace of mind. Make a plan, overcome any obstacles and don't lose hope if it looks like you need more than a year to accomplish your IT goals.