Few days ago, we have been requested to list down some beautiful photoblog themes for wordpress. Today, we are going to deliver the most beautiful collection of photoblog themes for wordpress. This is not the long list with all the available wordpress themes on the internet but this is an exclusive collection of free photoblog wordpress themes that are nice, simple and elegant looking and you may consider any of these themes as per your need  if you are searching for your photoblog.
You are welcome to share more wordpress themes for photoblogs which our readers may like. Do you want to be the first one to know the latest happenings at  smashingApps.com just subscribe to our rss feed and you can follow us on twitter as well.
You may be interested in these older posts
43 Really Useful Photoshop Tutorials For Excellent 3d Effects
17 Mind-Blowing Digital Painting Tutorials Of Beautiful Girls
31 Masterpieces Of Creative And Clever Advertising Concepts
23 Magical Photographs To Believe That Are Not Photoshopped
13 Premium-Like WordPress Themes That Are Free And Stunning
21 Really Stunning Photoshopped Photos For Creative Inspiration
43 Of The Extremely Creative Wonders Of Macro Photography
27 Best Places You Should Visit To Get Incredible Web Design Inspiration!
13 Simple And Elegant Free WordPress Themes
21 Extremely Vibrant And Creative Advertisements With Animals
39 Masterpieces Of Creative Advertisements
17 Digital Image Illustration Which You Probably Never Seen Before!
15 Digital Photo Manipulation From Flickr To Get Inspiration
23 Awesome Photos That Look Like They're Photoshopped But Are Not
PhotographerDream WordPress Theme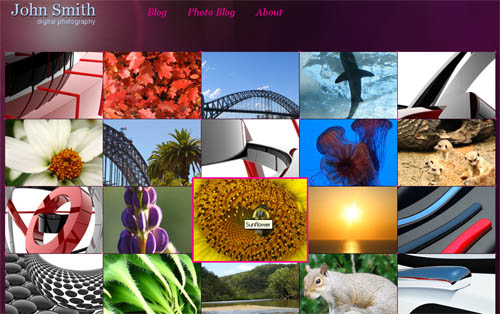 PhotographerDream WordPress Theme was build specially for photographers. Right from the main page visitor will see photographer shots. On the photo page image pan is used, so if the image is extra large user will drag it to view every pixel. Your blog visitors can also press control and drag photo to zoom the image.
AutoFocus is a WordPress theme specifically for photographers looking for a simple and elegant way to display their work online.
Grain Theme for WordPress is a fixed-width photoblog theme for WordPress 2.3+. To use it you have to additionally install the Yapb plugin; Recommended versions are 1.9 or newer. Grain comes with an administrative backend and relies heavily on CSS for it's styling. It uses a mosaic style overview page, has archives, can display exif data, browse to random photos etc.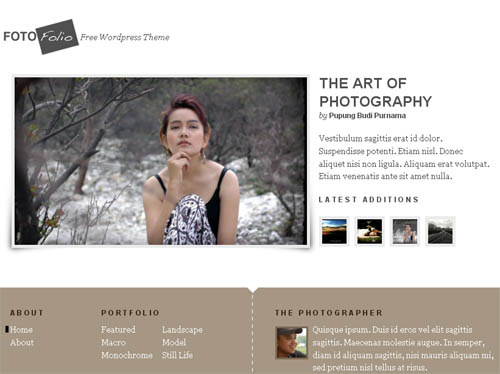 Fotofolio is a free wordpress template designed for easy creation online portfolio for Visual Workers; Photography, Graphic Design, Manga, Architect, etc.
WordPress Theme – Photo Blog is a simple WordPress theme. No widget and fix width. Huh! Important here it's simple, clean and easy to modify.
Wp Foto theme is single layout theme designed for photo blogger. It uses custom fields for displaying thumbnail in home page, archive page, category and tag page.
Sharpfolio is a WordPress theme designed to enable Web Designers, Graphic Designers, Photographers, Motion Designers, Artists or any creative professional to showcase their work in a simple, clean, beautiful portfolio.
The Unstandard is a split two / three column WordPress 2.6 or 2.7+ compatible theme. The home and archive index pages utilize photos rather than text. The latest update is completely optimized and stripped of any unnecessary code allowing for complete customization
Fotolog WP theme for photoblog is suitable for those who have huge interest in photography but have no specific template to showcase their high quality photos with wide dimension. It has 1 column, showing 1 photo for each page and showing maximum 800px width photo on main page (can be modified). Previous photo and next photo link on top and bottom of each page, this will help for better/faster navigation.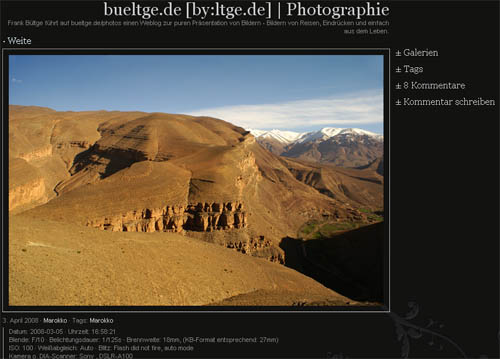 PhotoBlog Theme for WordPress uses the jQuery JavaScript-Framework, which has been included with the standard WordPress installation since version 2.1. The plugin uses the standard JS that is part of WordPress, meaning that it does not need to be installed separately. The decision to use jQuery was made on account of its very small file size (20KB)
Free Photo Gallery is a perfect theme for those photo bloggers who want to display bigger sized images. The simple web page has links to other pages like About and other images and comment section below the image.
Reflection is a simple, clean and elegant theme for running your photoblog using WordPress.
Photoblog Dark Portfolio WordPress Theme
Photoblog Dark Portfolio WordPress Theme is ajax content sliderDark style, online portfolio premium wordpress theme.
Grace is a stylish, minimalistic photoblog theme for WordPress. Grace's muted color scheme and big frame puts your photos right at the center of the blog making colors seem even more vibrant and beautifully complementing those in black and white.
iQ2 is a WordPress photoblog theme that fully integrates with the PhotoQ Photoblog Plugin. The main features of the theme consists Fixed width, Fully widget compatible, Built-in EXIF support etc.
Ascari is a very simple theme so it is perfect for portfolios of any kind. This will also post a coming soon image if you don't post a image yourself to keep the theme looking professional.
Spotless is a WordPress Theme designed specifically to be used for Photoblogs.  This is valid XHTML and CSS wordpress them. This is the most simplest free wordpress photoblog theme of its kind.
Linquist is a simple, portfolio oriented theme, without the usual blogging garbage. Inspired by and partially based on the fantastic Sharpfolio theme.
WP Pix Free Theme is not just another WordPress theme, it's more to it than meet the eye — it's a real photoblog/portfolio.
Photo-Biyori is a simple yet beautiful wordpress theme that can generate thumbnail automatically. This is widget ready theme with default picture size 500px.
Viewport Free WordPress Theme 
Viewport Free WordPress Theme is a 1 column grey photoblog WordPress Theme. This is very beautiful theme having attractive navigational structure for images.