We have been asked many time via email that we have to write a blog post about wordpress themes. So, this is the post in which we have listed down 21 Mindblowing Premium-Like Free WordPress Themes. This is not the long list with all the available wordpress themes on the internet but its an exclusive collection of free wordpress themes which are not less than premium themes and you may consider any of these themes as per your need before going to purchase any paid premium theme.
You are welcome to share if you know more premium-like free wordpress themes which our readers may like.
Outdoorsy WordPress theme is very unique, and quite graphics heavy and it's perfect for the individual who wants something slightly different from your usual standard free theme.
Upstart Blogger Minim is very clean and easy to read.Its lightweight, for speed and the columns are sized specifically to accept standard ad formats.
A CSS Gallery WordPress theme for webmasters who want to build CSS showcase or web gallery. Packed with built in Tagging, Google ads and a sidebar block with 125 x 125 banner ads. Theme is valid XHTML 1.0 transitional and valid CSS!
A grungy, two-column weblog theme, WordPress Fun is stylish and modern, and includes a neat featured posts list in the left-hand sidebar.
Mimbo magazine-style wordpress theme is a theme which makes extensive use of WP's template tag system to create a non-traditional layout. It contains no images and only minimal CSS styling. Mainly it exists as a clean, grid-based starter layout for designers to install and style to their own liking.
Spotless is a WordPress Theme designed specifically to be used for Photoblogs. Its a valid XHTML and CSS based theme.
The Unstandard WordPress theme comprised of a – grid aligned – images for forward facing pages, and clean textual presentation on the inner page.
Aspire is a valid XHTML and CSS free wordpress theme. This theme is widget ready, fixed width, 3 columns and works flawlessly in IE (6 and 7), Opera and FF.

WP Premium is an elegantly designed, 2/3 column, feature packed, widget ready theme that comes with three color-scheme options.
PerfecTOM WordPress Theme is optimized for all browsers and XHTML/CSS valid. Fixed width, 2 columns, light blue colours scheme and fast loading.
Indomagz Premium WordPress Theme is a magazine style, cross browser supported (tested on Firefox, Opera, Safari, IE7, IE6) Valid XHTML & CSS based free theme.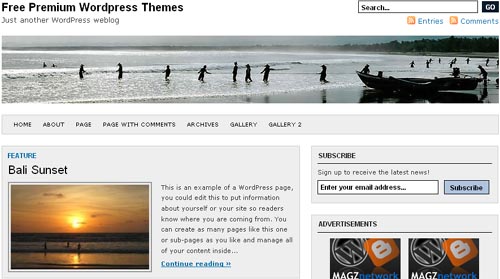 Brightness WordPress Theme comes up with these big features. It's magazine style, It's Free and It's noob ready.
Options WordPress Theme is free beatiful magazine style nice and attractive wordpress theme.
SubtlyMade is a free nice and beautiful wordpress theme.
WP-Gold is a free beatiful full CSS, widgetized and multiple sidebars theme. It´s called Conceditor WP Gold.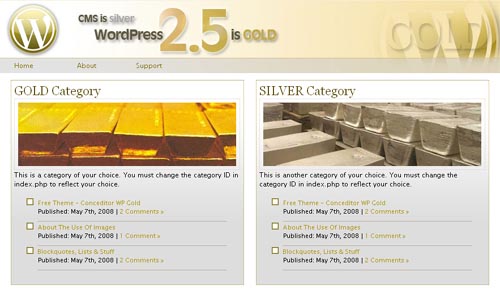 WP CODA WordPress Theme is a unique WordPress theme with a fluid slider providing navigation between key website pages, which could be useful for small business websites.
WP-Polaroid is a modern, funky design perfect for a personal website, with pink and blue versions. It offers widgetized sidebars and valid XHTML/CSS code
Monochrome Gallery is a free widgetized theme for WordPress packaged with an author archives page, AJAX slideshow, categorized posts with thumbnails on the homepage and a CSS framework to aid in customization.
Night Whimsy theme is definitely feminine and is great for Spring. It's customizable though, so if girly isn't your thing, or you don't like the colors – you can change the colors and images to something that better suits your taste.
Purple Fever is a fresh 2-column styled premium WordPress theme by WTM, created for sites that wish to establish a lasting impact with visitors. Users looking to maximize their Google adsense or affiliate revenue will also find this theme of great promise.
Notepad Theme is a simple, clean and sharp template designed for small business websites for personal branding that is ideal for personal coaches, consultants and independent professionals.
Porftolio WordPress Theme is a wordpress theme designed for web portfolios. It is coming with an Administrative Panel from where you can edit the head quote text, you can edit all theme colors, font families, font sizes and you can fill a curriculum vitae and display it into a special page.
BlueGrey WordPress Theme simple, clean and light wordpress theme for heavy traffic blogs.
SmashingApps.com participates in various affiliate marketing programs and especially Amazon Services LLC Associates Program, which means we may get paid commissions on editorially chosen products purchased through our links to any of the linked sites from us.