We all know very well that HTML5 comes with so many advanced and the latest features that give us awesome results and also make web designing industry more strong. This is the reason that every web designer and developer is talking about HTML5 and this year it becomes a hottest topic of discussion.
Another beautiful collection of free and useful HTML5 WordPress Themes for you is presented here. HTML5 WordPress themes make web designers or web developers work really easy for them and also save their precious time. One more thing that is well appreciated by web designers as well as web developers is that HTML5 WordPress themes are simple to handle and easy to use.
It is once again our pleasure to share with you what we have gathered from all over the web so to help you with your masterpieces. Click through and feel free to download these wonderful HTML5 WordPress themes. We hope that you will like this collection. Feel free to share your opinion with us. Enjoy!
Celestial Lite is a Bootstrap responsive theme incorporating a flexible grid system, crisp lines, Unlimited colours, post formats of: Aside, image, status, and quotes, plus you get a much better WP gallery style, HTML5, CSS3, Translation readiness, social networking, more than 12 widget positions, page templates, styled form elements, and more.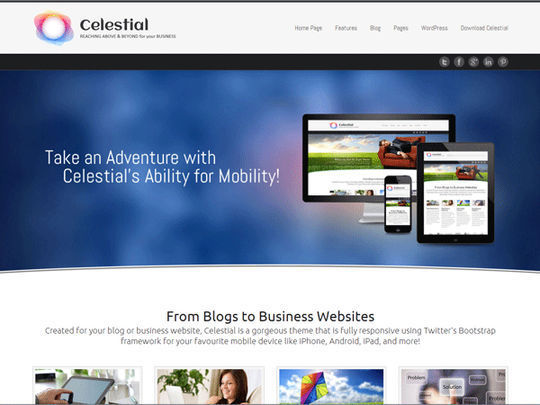 Fully Responsive Theme using Twitter Bootstrap with Metro Styled Accent. This theme is will make your website adaptable with mobile devices. Theme Features: Custom Homepage Settings, 3 Page Templates, Custom Background Support, Search Engine Friendly.
Responsive, Clean, HTML5, Simple WordPress themes.
Catch Everest is Simple, Clean and Responsive WordPress Theme which automatically adapts to the screen's size, ensuring that your content is always displayed beautifully no matter what device visitors are using. It is based in HTML5, CSS3 and very own Catch Themes easy to use Theme Options panel which makes this theme highly customizable and flexible. Make your beautiful yet professional website in no time.
Circled is extremely light, yet very robust providing many features that you need for showing off your work! The projects are displayed like you've never seen before, in perfectly round circles with beautiful captions.
Pinboard – HTML5 wordpress theme. The theme has a responsive layout optimized for the most common devices: desktops, laptops, tablets and smartphones.Pinboard has been designed with showcasing content in mind. It has several options for layout and the number of columns on which content is displayed and has a portfolio section if you wish to elegantly show your work.
Bunker is based on ZURB Foundation css thus making it fully responsive to mobile phone, tablet or just simply a smaller size of screen resolution. Bunker is just as easy as other theme to used. Just create a post and publish.
The Dandelion theme is highly flexible, so changing the color scheme is super simple and for the most parts you won't need an image editor. Dandelion theme is best suited for any business, portfolio, photography and personal sites.
Premium HTML5 Corporate WordPress Theme free download
Striking is an extremely powerful and flexible wordpress theme – actually a "Super Premium" theme as it has extraordinary features and coding that are not found in the normal premium WP theme.
SemPress is a highly semantic, HTML5 template, responsive and seo optimized. SemPress supports most of the new HTML5 tags, the new HTML5 input-types, microformats, microformats v2 and microdata.
A modern, minimalistic, accessible, super clean, WP theme built with the latest W3C standards (HTML5 and CSS3).
A dark, html5-based wordpress theme.