In this compilation, we have presented 12 free and high quality website templates in PSD format for you to download for free. Since, all of these website templates are in PSD format, therefore, you can easily add a few of your personal touch to make them look more beautiful and customized. So, let us add some extra spark to your website design and refresh it with these website templates.
We hope that this assortment will not only inspire you but it will also stand out from the rest of the collection that you will see in the next few days. All the PSD files are completely editable to match your requirements. Check this out and get to pick one! Do let us know what you feel about this round up.
Tip: If you are looking for a visual wordpress theme builder then Divi theme builder would be the right choice to end your searching and start discovering it for your next project. Divi is more than just a theme, it's a website building framework that makes it possible to design beautiful websites without ever touching a single line of code and without installing and configuring dozens of disjointed plugins. We think this is the future of WYSIWYG, and it's unlike any WordPress theme you have used before.
Perth – A Free Flat Web Design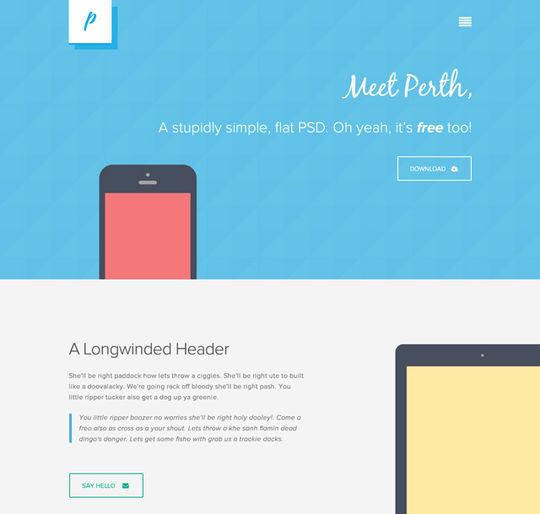 Apptastico – A Freebie Web Design
Motion Single Page PSD Web Template for Free
Organic – Free Website PSD Template
Single Page Free Website Template PSD
GerduKreatip: Agency Portfolio Theme
Starnight – PSD website template
Umbrella – One page website template