We see new and improved smartphones and touchscreen mobile phones with the every passing day. With the advent of touchscreen mobile phones, more and more people are getting dependent on them and smartphones have become inseparable part of our lives. There are loads of phones available in the market but Apple iPhone still holds its position that no one can compete, at least till now. Moreover, the availability of a huge amount of apps for iPhone makes it even more powerful.
There are some apps for iPhone that make it more than a phone. Many businessmen, entrepreneurs and designers are using iPhones mainly because of the powerful apps available for iPhone. Font apps are among one of them that are of special interest for the designers. Many designers are using iPhone font apps to select fonts for their designs. Here, we have also gathered 12 most useful and of course free to use font apps for iPhones as well as for iPads. We hope that you will like this collection and enjoy. Feel free to share your opinions with us via comment section below.
Tip: You can make sure everything you type is clear, effective, and mistake-free with Grammarly,  It scans your text for common and complex grammatical mistakes, spanning everything from subject-verb agreement to article use to modifier placement.
Textizer Fun Looking Text Fonts
Textizer converts words and names into different symbols that you can post to Twitter, Facebook, instagram, email, iMessage, etc.
Create your custom fonts and use them to write messages and send them via email, SMS or copy and paste them in other apps.
Phonto is a simple application that allows you to add text to pictures.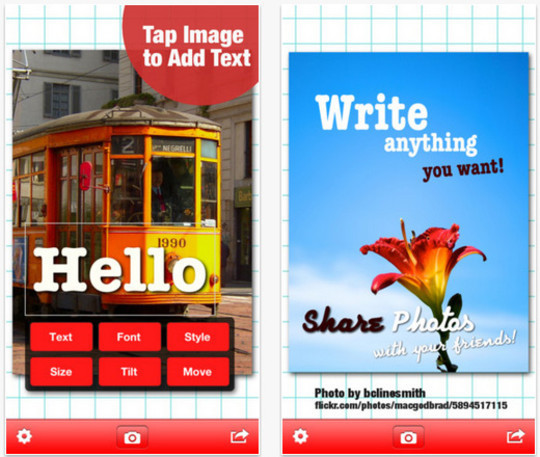 Font Dresser Free is a mini font editor. Besides text-editing, it can also save the texts in the format of photo or send them out by emails. Meanwhile, the camera is turn-on when you're editing the words.
This is a Unicode font browser, color browser, and keyboard keystroke browser useful for Web designers, software developers, colorists, font fans, X windows users, and people customizing the AirMote Remote Control app. It's free and iAd-supported.
Super Txt – free colors, fonts, emojis for texting
Make beautiful texts to impress your friends with cool art and custom colors. Send them with the Messages app by pasting in. Send to Facebook, Twitter, Text Free, Email, etc, using clipboard or 'save as photo'.
Identify the fonts in a photo or web graphic! Ever seen a great font in a magazine ad, poster, or on the web and wondered what font it is? Whip out your iPhone and snap a photo, and WhatTheFont will identify that font in seconds!
Font Designer lets you browse and view all of the fonts available on your device. This is useful if you are an iOS developer or iOS UI designer.
Typefaces is a font viewer for iPhone and iPad. This application shows you all the fonts in your device and all the glyphs included those fonts.
Font Gallery Preview is an app to list all available fonts in iOS and give you a preview. We hope that this app will be helpful to iOS developers and designers.
OVER 24 different fonts that can be used everywhere you can type a message (Email, iMessage, social networking apps, whatsapp, line, sina weibo…)
Displays all of the fonts on the device. The initial list is the font families, then each font (normal, bold, oblique) within the family, then details about the font.
SmashingApps.com participates in various affiliate marketing programs and especially Amazon Services LLC Associates Program, which means we may get paid commissions on editorially chosen products purchased through our links to any of the linked sites from us.