Google Chrome is a wonderful and very popular web browser. It is the most commonly used web browsers because it is faster and simpler. Developers and designers tend to prefer using Google Chrome for so many reasons and one of them is the huge plethora of available extensions that make Google Chrome an even more powerful web browser in the world.
For this compilation, we have picked up 12 excellent Chrome extensions for awesome new tabs experience. With these extensions, you can be more organized while working on multiple tabs. So, say goodbye to empty newly opened tab and have fun with these new extensions. Feel free to share this post with others on Facebook, Twitter and other websites. Enjoy!
Speed dial 2 is ultimate replacement of new tab page with quick access to your most visited pages, bookmarks and browsing history.
Replace new tab page with a personal dashboard featuring todo, weather, and inspiration.
A new start page for all your start paging needs.
See your tasks from 40+ other services on Chrome's new tab page. Asana, Basecamp, GitHub, Gmail, OmniFocus, Trello, Zendesk, more.
The default New Tab is not Google enough ? Try Cardboard, Now with more Material Design (plus nifty features)
Track your time and stay focused on your goals. Constantly be motivated to stay at your best.
A new, customizable start page for Chrome. Easily find your favorite bookmarks and closed tabs. Take notes as you browse.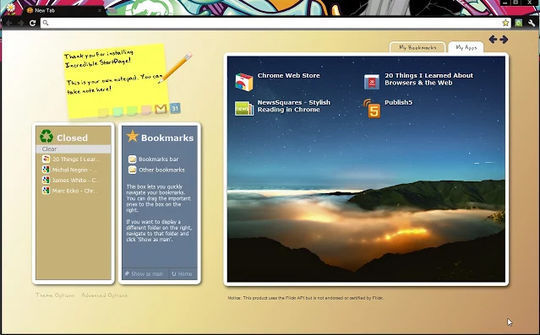 A new tab page to remind you of your priorities.
Personalized New Tab Page – Noosfeer
Your reading list with mind blowing images in your Chrome new tab page
Replace your New Tab page with a lightweight version of Wunderlist that lets you quickly add new to-dos to your lists.
Bringing you the most popular shots from Dribbble and latest news from Layervault Designer News.
See your Instagram feed right in your new tab