Here, we are presenting 12 effective Pinterest tools for the purpose of analyzing pins. Pinterest is another social networking website that is gaining popularity quite quickly. This website allows its users to 'pin' the things that they like on their 'boards'. Though, it has a huge user base but unlike other popular and widely used social networking website it lacks in some features that can for sure make it even better.
In this round up, we are presenting 12 most effective Pinterest tools for the analysis of Pins. We hope that you will find this collection useful for you. Do share your opinion with us via comment section. Enjoy browsing!
Repinly helps you find the most popular pins, boards, and pinners on Pinterest.
Url2pin is a free tool to help you share your websites on Pinterest: with url2pin you can share a screenshot of your website and not just a single image. More than 7 million users are waiting for you on Pinterest, have fun!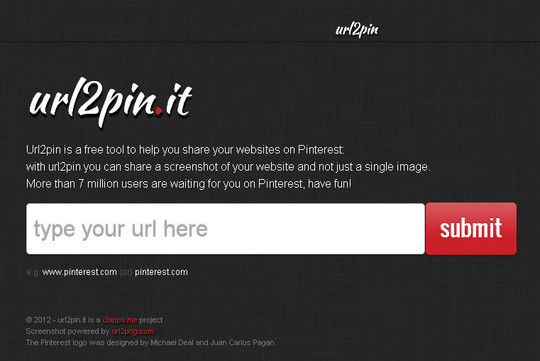 With Pinstamatic you can share so much more on Pinterest. It's time to say goodbye to photosharing and say hello to your visual social network.
Pinzy is a Chrome Extension that will allow you view the enlarged, full versions of the rich and lovely images simply by hovering over them.
Create and upload pins to Pinterest by right-clicking.
SpinPicks is a new application that brings you highly addictive one-click discovery of eye candy from a variety of visual platforms. SpinPicks filters content and doesn't pull spins from sites like Google.com, Bing.com, and other image search sites to help reduce the number of improperly attributed images, which helps ensure you're only seeing quality content that can be re-shared.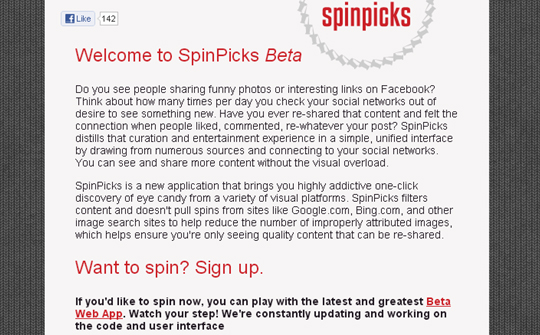 Pinspiration is the best way to browse and post to Pinterest on your Windows phone. Think of Pinterest as a virtual pinboard — a place to catalog and share the things you love. You don't need to have a Pinterest account to browse and share the amazing photos being posted here every day. Pinterest users can login to keep up with their stream then pin, like and repin photos to their heart's content.
Just enter a website address into the box above and click on the Snap! button to take a screenshot. To pin a website on Pinterest just use the dropdown on the right of the Snap! button and select either 'Pin to Pinterest' or 'Pin Full Page'.
Show your Pinterest boards and pins as a tab on your Facebook page.
Perform a Google Image Search on any picture on Pinterest.
The simplest way to market your visual content across the web.
Pinfluence is measure of your popularity on Pinterest and value of your each pin.