Here we are showcasing a wonderful collection of 11 free online tools that can make your day better than ever. These tools not only save your time but also let you work faster and save money as well. There are many tools available on the internet for different purposes and almost every professional is using some of them. These tools let us to be more productive and work faster as well.
Previously, we have also covered 4 Best Seat Cushions for Office Chairs to Solve Your Long Hours Seating Problems of Pain & Stress
Here is an improved collection for you. These free online tools that we have picked for this collection are not very common. These are the free online tools that not many people know about them but we hope that you will find these tools useful for you. Do let us know what you think about this compilation. Enjoy!
Free Online Tools
Drop the lengthy email threads, out-of-date spreadsheets, no-longer-so-sticky notes, and clunky software for managing your projects and get Trello, the easy, free, and visual way to organize your important stuff.
All-in-one software to create, deliver, and manage your team's quotes, proposals, contracts, and other sales collateral.
Import.io for Content Research
Turn the web into data, today. Transform any website into a table of data or an API in minutes without even writing any code with our free app
——————————————— You might be interested in ———————————————
ASUS Chromebook C223 11.6″ HD Laptop Shop Now
This Asus HD Laptop is an amazon's choice for 'chrome computer laptop' is reviewed by 980+ reviewers that is available at only $249.99. It is ready for productivity and performance while being on the go or travelling, with speedy performance, robust security, and convenience for the user. This laptop has Lightweight 2.2 pound body and with thin and premium metallic finish for a sleek appearance having 11.6 inch HD 1366×768 Anti-Glare Display. The machine is powered by the Intel Celeron N3350 Processor (2M Cache, up to 2.4GHz) for fast and snappy performance including 4 GB DDR3 RAM; 32GB eMMC hard drive; No CD or DVD drive with it. Learn more about this product >>>
Browserling for Cross-Browser Testing
Live interactive cross-browser testing in all web browsers.
Join.me for Soliciting Feedback
Instant screen sharing with powerful meeting tools and unlimited audio.
PowToons – Best Way to Create Product Videos
PowToon, free business presentation software animated video maker and PowerPoint alternative.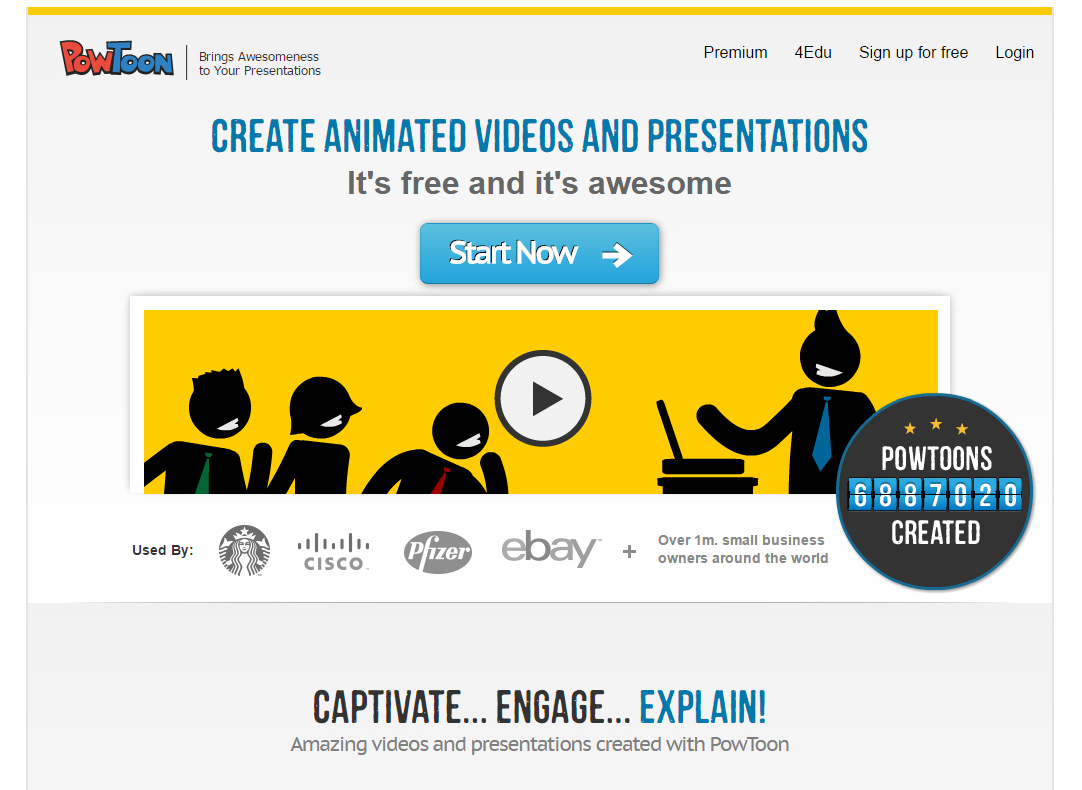 Wave Apps – Online Accounting and Invoicing Solution
Wave makes it easy to be your own boss. Just do what you're good at, and lean on Wave's smart online software for help with invoicing, accounting and payroll.
MailChimp – Boost your customer base by free email marketing
MailChimp is the best free online tool to design, send, and share email newsletters.
Dropbox is a free service that lets you bring your photos, docs, and videos anywhere and share them easily. Never email yourself a file again!
The web's only open collection of legal contracts and the best way to negotiate and sign documents online.
Create awesome online forms with Typeform, the FREE online survey tool that makes asking questions easy, human & beautiful. Sign up now and try it out!