In this assortment, we are going to showcasing 10 free and very useful software that guarantee delete files permanently. When you use these useful software you will find that all these amazing and superb12 software work on all SSD hard disk, SATA hard drive, USB Thumb Drive, Flash Drive, SD Memory Card, Smartphone removable microSD Card and more. So if you want to delete some useless files then you should try these wonderful software's.
One thing more, when you use these software, you will find some are running on Apple Mac OS X and Linux while most of the software run on Microsoft Windows XP, Vista, 7 and 8 (64-bit desktop). Hope you will like this collection.
WipeFile – Erases Files and Folders Secure and Fast
WipeFile erases files and folders secure and fast. WipeFile overwrites the information completely, so there is no way to undelete the files or reconstruct the file content. WipeFile supports 14 different wipe methods.
Hard Disk Scrubber – Secure Delete Utility
Summit's Hard Disk Scrubber is a Free secure delete program designed to help you permanently destroy sensitive data from your PC. Use Hard Disk Scrubber to overwrite free space on your Windows drives, or to permanently delete files so that they can no longer be recoverred.
Disk Redactor – Permanently Remove Data
Free program that will allow you to wipe your hard disks or flash drives from an old information, that can be restored by others.
Eraser – Internet Security and Privacy
Eraser is an advanced security tool for Windows which allows you to completely remove sensitive data from your hard drive by overwriting it several times with carefully selected patterns.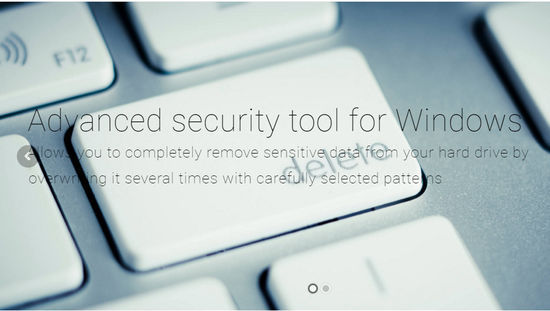 The main purpose of this program is to make impossible recovery of files and folders which was deleted in the past.
SDelete is a command line utility that takes a number of options. In any given use, it allows you to delete one or more files and/or directories, or to cleanse the free space on a logical disk. SDelete accepts wild card characters as part of the directory or file specifier.
Freeraser is an easy to use software solution developed to help users quickly and securely remove files from their computers.
HardWipe – Data Sanitization Security Tool
Hardwipe is the free data sanitization toolset used by activists, journalists, IT technicians and anyone needing to ensure that discarded, but sensitive, information can never be recovered by someone else.
Zer0 – Secured file deletion made easy
Zer0 is a user friendly file deletion tool with a high level of security.
With Zer0, you'll be able to delete files and to prevent file recovery by a 3rd person. So far, no user reported an efficient method to recover a file deleted by Zer0.
EraserDrop Portable is an easy-to-use secure data removal tool. It is a drop target (a floating icon on your desktop) that you can drop files onto to quickly erase them so they can not be recovered. EraserDrop does away with the standard Eraser Portable interface and is packaged as a portable app so you can easily delete files on the go.
Do you want to delete some top secret files? DON'T do that by only pressing DELETE, because the data would still be on your drive! Use Turbo Shredder and remove files by securely wiping them out.