There are still thousands of websites on the internet which many people don't know about and can be used to complete routine tasks. Users can share stuff, complete projects; communicate with people from around the globe and much more. Today, we have gathered a list of 10 useful tools which many people don't know about.
Manilla is a free online service which helps users manage all their household and financial accounts, travel rewards programs and subscriptions, all in one place.
With Crushaider, users can easily express their crushes online without any embarrassment. Your identity will only be revealed to the person with whom you have mutual crush match. The best thing about Crushaider is that it doesn't reveal your identity to the person you have crushed on unless there is a positive mutual match.
With Pencamp, users can easily build a basic web page with no special coding or designing skills. Its perfect for writing and sharing stories, jokes, poems and more.
With CloudContactForms, you can easily create captcha secured contact forms with no HTML or programming skills at all. The form created using CloudContactForm can be used on any website, blogs or anywhere on the internet.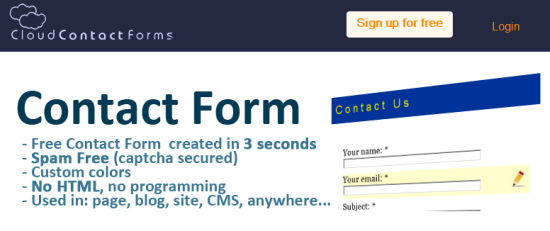 CanvasLoader Creator is a lightweight JavaScript UI library, which uses the HTML canvas element to draw and animate circular preloaders.
Zip2Fix is a free portable tool to extract undamaged data from damaged Zip archive. The undamaged files are extracted into a new zip file.
With Conceptboard, users can create virtual whiteboards which can be used to jot down ideas and can be shared with friends, family or colleagues. Users can be added to whiteboards through there emails addresses and they can comment on the whiteboard and much more.
Ambient Mixer is an online community which offers its users with some unique quality sounds with different atmospheres for relaxing. Users can further effectively mix and create your own sounds absolutely free, with no software installations required.
With Usaura, users can easily create click test which will be send to different people. You can even create tests to help other developer and designers who are looking for feedback on their designs.
Chatbox is an excellent collaboration tool which enable users discuss and comment on different files stored in Dropbox. All you have to do is install the application and start having conversations with the people you have shared the folders with.