Are you a developer looking for a great online tool to create buttons? If yes, then I have got a great list for you. Below you will find my collection of 10 best online button creators. Buttons are an important part of our website's interface and these tools will help you create brilliant buttons.
Give each entry a read and a thorough try. See which ones can make your job easier. You are welcome to share if you know more useful Button Generators which our readers/viewers may like. Do you want to be the first one to know the latest happenings at SmashingApps.com just subscribe to our rss feed and you can follow us on twitter.
Tip: If you are looking for a visual wordpress theme builder then Divi theme builder would be the right choice to end your searching and start discovering it for your next project. Divi is more than just a theme, it's a website building framework that makes it possible to design beautiful websites without ever touching a single line of code and without installing and configuring dozens of disjointed plugins. We think this is the future of WYSIWYG, and it's unlike any WordPress theme you have used before.
1. Button Maker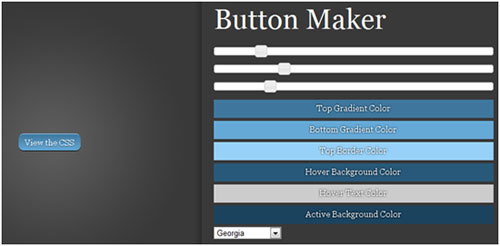 Button Maker is a wonderful free tool to generate the CSS codes for your buttons. You have access to different colors for different parts of the button. Sliders on top of the color choosers let you modify the size and shape of the button which you can see on the left. To obtain the code, you click on the button. Click here to visit Button Maker.
2. Da Button Factory
Da Button Factory offers great button creation tools to you. You can vary the button's size, text shadow, style, colors, and output type (PNG / JPEG / GIF / ICO). The changes you make to the button get updated as you work. When done, you can click on the button to download it. Visit Da Button Factory by clicking here.
3. Buttonator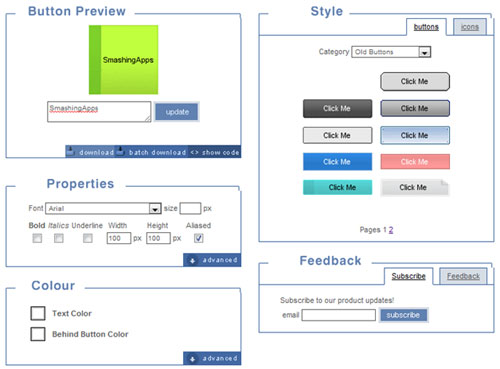 Another great button creation online tool, Buttonator will satisfy most of your button needs. You can start off with selecting a particular button style from the right pane. You can then proceed to make changes to the button; changes include modifying color and font style / size. Buttons can be downloaded as GIF files. Click here to visit Buttonator.
4. Free Flash Button Generator
If you are looking for a source to create Flash buttons, then the Free Flash Button Generator will do the job splendidly. You start by selecting a button style. Colors can be changed through the HEX values. The bottom pane lets you add links to the button and the names of the links. Clicking one final button generates your button and its corresponding HTML code. Click here to visit Free Flash Button Generator.
5. Cool RGB
Cool RGB is a wonderful website for creating numerous webpage parts. You can create logos, banners, panels, and of course buttons. The button creation interface has many customization options that range from font selection and colors to transparency and linear gradient. Click here to visit Cool RGB.
6. As Button Generator
With As Button Generator, you can create buttons by editing through a tabbed interface. The customization options cover a lot of ground and will satisfy all of your button creation requirements. The result can be downloaded as a PNG image file. Click here to visit As Button Generator.
7. HTML and CSS Rounded Corner Button Generator
This site is for developers looking for a very simple but 2-in-1 button creation online tool. With HTML and CSS Rounded Corner Button Generator you can create buttons but modifying their colors and obtaining a ZIP archive that contains PNG image file of the button as well the HTML and CSS code. Visit the site here.
8. Feed Icon
If you are looking for a tool to create a simple feed icon for your site, then Feed Icon does the job splendidly. All you have to do is enter your website's URL and then pick from 3 of the generated HTML codes. The three codes have the same icon shape but different size. Visit Feed Icon here.
9. Adam Kalsey's Button Maker
This button creation tool by Adam Kalsey has a straightforward interface. You can choose to split the icon by a bar and select the pixel distance between the bar and an edge of the button. Visit Adam Kalsey's Button Maker here.
10. Button Maker
This tool is quite similar to Adam Kalsey's with the notable difference that you can choose the separation bar's placement as "left," "center," or "right." You can also choose a button size from the two sizes available. Visit the Button Maker by clicking here.