In this session, we are presenting 10 amazing word cloud generators for you. Word cloud can be defined as a graphical representation of word frequency, whereas word cloud generators simply are the tools to map data, such as words and tags in a visual and engaging way. These generators come with different features that include different fonts, shapes, layouts and editing capabilities.
Without any further ado, here we are presenting a fine collection of 10 amazing and useful word cloud generators for you. Leave us a comment and let us know what you think of the proliferation of design inspiration in general on the web. Your comments are always more than welcome. Let us have a look. Enjoy!
Tip: You can make sure everything you type is clear, effective, and mistake-free with Grammarly,  It scans your text for common and complex grammatical mistakes, spanning everything from subject-verb agreement to article use to modifier placement.
An attractive arrangement of randomly positioned words, where the most important words are bigger than the others.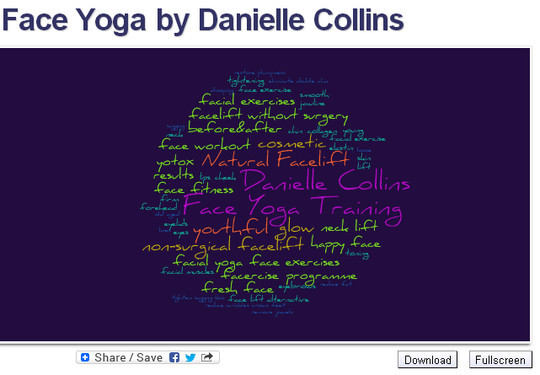 VocabGrabber analyzes any text you're interested in, generating lists of the most useful vocabulary words and showing you how those words are used in context. Just copy text from a document and paste it into the box, and then click on the "Grab Vocabulary!" button. VocabGrabber will automatically create a list of vocabulary from your text, which you can then sort, filter, and save.
Write a comment or poem in the shape of hearts or other symbols. Send a greeting or post to Facebook or your blog.
Wordle is a toy for generating "word clouds" from text that you provide. The clouds give greater prominence to words that appear more frequently in the source text. You can tweak your clouds with different fonts, layouts, and color schemes. The images you create with Wordle are yours to use however you like. You can print them out, or save them to the Wordle gallery to share with your friends.
Tagxedo turns words – famous speeches, news articles, slogans and themes, even your love letters — into a visually stunning word cloud, words individually sized appropriately to highlight the frequencies of occurrence within the body of text.
Tagul is a web service that allows you to create gorgeous word clouds. Tagul store offers you postcards, mugs, t-shirts, and more stuff with word clouds art.
Create your own tag cloud from any text to visualize word frequency.
Paste your text into the box. Press 'Sift' to visualize.
A Word Cloud is a visual representation of some text as a bunch of words based on a weight associated to each word. Typically, the frequency (keyword density) of the words in the page is used as the weight even though some other metric might be used. ToCloud is an online free word cloud generator that uses word frequency as the weight. Hence, the generated word cloud of a page gives a quick understanding of how the page is optimized for certain words.
A word cloud is a graphical representation of word frequency. Type or paste text into the box below and press the arrow button to view the word cloud generated. The appearance of a word cloud can be altered using the graphical buttons above the cloud. It is also easy to save and/or print the cloud by simply pressing a button.