Another amazing and wonderful collection of jQuery and CSS3 for you is presented here. In this collection we are showcasing 40 jQuery and CSS3 loading animation and progress bar plugins and tutorial. One thing keep in your mind that CSS3 animations are not yet supported in old browsers so you have to try modern browsers if you want to see the live action of these outstanding plugins. With loaders and progress bars users know that something is still going on that's why loaders and progress bars are very essential for users.
Read the full story...
In this collection, we are showcasing a stunning example of spot UV printed business cards. We all know that how much importance business cards have no matter how small or large a business is. Furthermore, designing an appealing and professional looking business card is what they every businessman wants to get for his business. Though there are many trends that are being used in designing business cards but this time we are presenting some UV printed business cards.
Read the full story...
There is a time when only Power Point was used for creating presentations and slides. But now there are so many advanced sites and wonderful Apps are easily available in the internet. If you are planning to create an eye-catching and outstanding presentation then have a look at this collection. In this collection you will find 40+ superb sites and Apps that surely help you to creating your masterpiece and most important is they all are easy to use.
Read the full story...
Here is another useful and free collection of brushes for you and this time we are presenting for you 15 top and of course free to use cloud vector brushes for your inspiration. These brushes will help you in your new cloud projects that require the use of custom design Photoshop vectors. These brushes can easily be integrated with your Photoshop.
Read the full story...
For all those typography lovers, this post is particularly designed for them. If they are looking for some cool typography apps then look no further as here we are presenting 13 best typography apps that will become your best friend. We all know how much of a hot commodity typography are to the design and development community and to anyone in general who tends to have some sense of good design. Typography can create an un-measureable impact and it can be both positive and negative. Therefore, it is very important to use typography quite carefully.
Read the full story...
PSD files can be a great time saver for the web designers as they allow them to create design quickly without requiring them to design from the scratch. In this compilation, we are listing 45 free to download and fresh web user interface PSD files for the designers. All the PSD files are completely editable to match your requirements.
Read the full story...
Today, we present an interesting and inspiring showcase of 15 websites that demonstrate the effective and creative use of office stationery in the website design. Creating an engaging website design requires loads of brainstorming and a designer has to come up with a unique concept that not only is aesthetically beautiful but also solve the purpose of creating a website at the same time. Using the office stationery in a website design is also one of the most appreciated styling techniques. Keeping this in mind, we thought to create an interesting and inspiring collection of some website designs.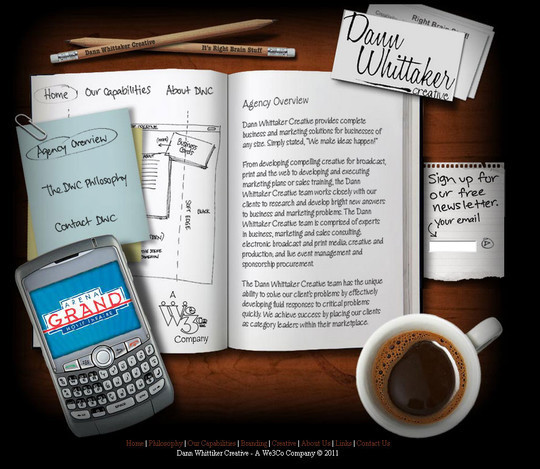 Read the full story...
In this round up, we have put together a list of top 9 free e-learning authoring tools for you. Thanks to the internet and the technology, today we have several tools to make our work easier. These tools can be used in many different ways and we can take benefit from them if we use them wisely.
Read the full story...
Are you running out of time? Want to save your time without compromising on the quality of your work? Here is the solution for you. Have a look at this collection of 35 best and most useful HTML5 development tools that not only save your time but also improve your productivity as well. The introduction of HTML5 has greatly modernized the designing and development industry and completely altered the way development was done before.
Read the full story...
Textures give life to very visual presentation as everything in nature is textured. All designer who are after something realistic needs a make-belief effect that'll be something that makes the visual be questioned, is it real or graphics? A perfect texture is the answer. Easier said than done one might say as not all of us are artist so we could create them on our own.
Read the full story...