Wordpress
As we all know very well that WordPress is a well-known and free blogging site. And with the time WordPress has become more famous and improved. WordPress introduced so many interesting and amazing features but now WordPress is also introducing some other outstanding applications and plugins especially for social media sites.
In this assortment, we are showcasing some useful and outstanding WordPress Chat Plugins. Have a look at these stunning WordPress chat Plugins. If you want to download these WordPress chat plugins you can download them without any cost. You can also tell us what you think about this post and share your precious opinions with us via comment section below. Enjoy and have fun everyone!!!!!
ClickDesk Live Support – Live Chat
ClickDesk is a value combo of best wordpress live chat, help desk, voice chat and social toolbar for your website. Install it Free today!
Envolve Chat – A customizable chat toolbar for your website.
Self hosted WordPress chat plugin supporting private chat, chat rooms, avatars, user list, words filtering, smilies, caching plugins and more.
Zopim is an award winning chat solution that helps website owners to engage their visitors and convert customers into fans!
WP Chatblazer is a plugin to allow you to embed a Chatblazer application to chat on a WordPress page. Embed instant messaging and video chat directly.
The AVChat Video Chat Plugin for WordPress is designed to increase members engagement and web site revenues with a stunning video chat solution.
Start chatting to your site's visitors and FACEBOOK fans from any device including mobile phone . FREE account with unlimited chats.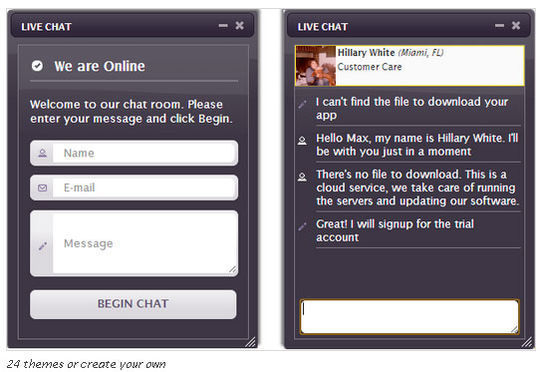 Through Banckle Live Chat Plugin, you can effectively communicate and conduct live chat sessions with the visitors of your WordPress website.
Acobot Live Chat & Contact Form
Enhance your WordPress with a virtual robot in 3 minutes or less and boost your sales like never before. It's simple, easy and fast.
Live Chat with Multimedia Tools
Add live chat with multimedia tools to your site.
Chat with your website visitors.
Add live chat support and real-time monitoring onto your WordPress website with Ultimate Live Chat from UltimateLiveChat.com
Barc Chat provides a simple yet feature rich chat room for your whole community to interact in real-time directly on your site.
In this round up, we are presenting a wonderful collection of some free and best magazine themes for your WordPress blog or website. Magazine or news layouts have become quite popular among the bloggers as they are more appealing than any other type of theme. By using magazine theme, bloggers can make their websites or blog look more appealing and visually pleasing for their visitors.
Here we are presenting the complete list of some best and free WordPress magazine themes for you. With this collection, we want to share with you some high quality WordPress themes that are available for free. We hope that you will like this collection. Enjoy!
Urbane – Crisp Rounded Magazine Style WP Theme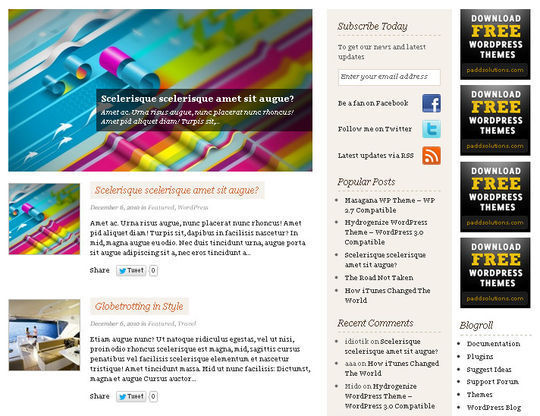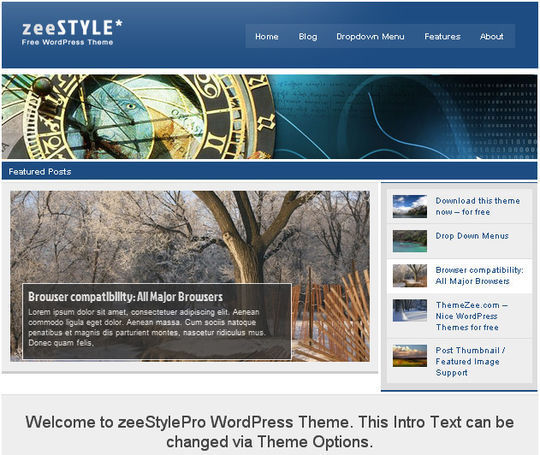 ZinePress: A WordPress Magazine Theme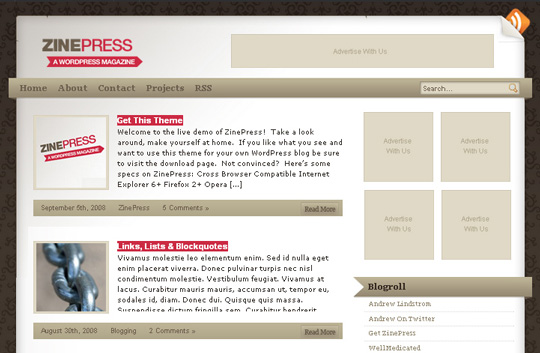 Forexpress Free WordPress theme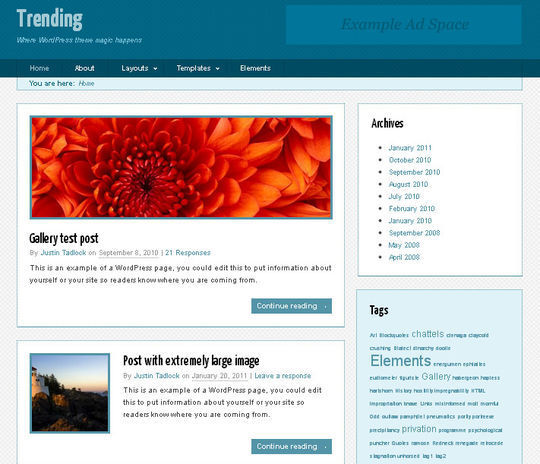 Fonta – Free Mind Blowing Vintage-Magazine WordPress Theme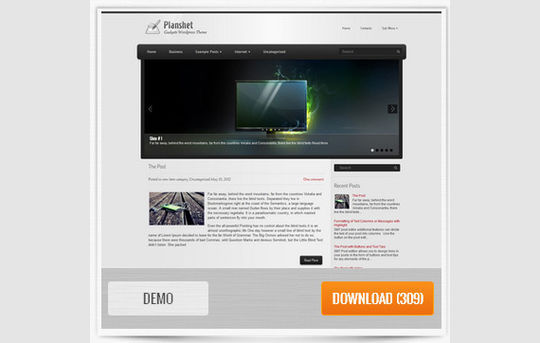 Suburbia WordPress Magazine Style Themes
MagZine – Magazine Style Free WordPress Theme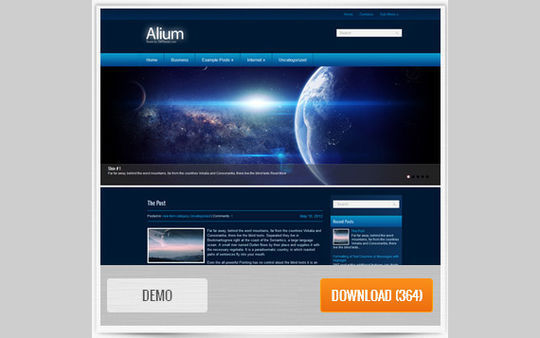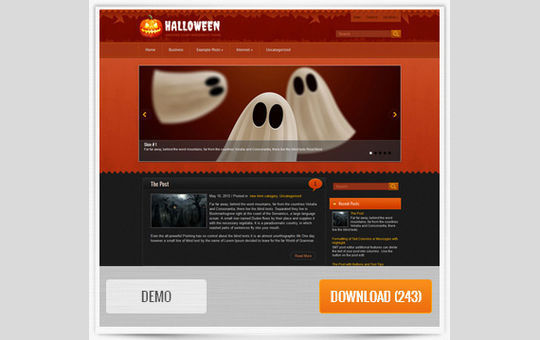 Emagplus Free Magazine WordPress Theme
WordPress Theme: Magasin Cuatro
Conclusion
Feel free to browse through this collection and download your favorite magazine theme for your WordPress blog. Also, let us know what you think about this compilation and which WordPress magazine theme you like the most. Your comments are always more than welcome. Let us have a look!
In this collection, you will see some excellent WordPress themes for grid layout. Although, there is a huge plethora of WordPress themes including grid layout as well but we thought to compile a great collection of some high quality and fresh WordPress themes with grid layout. With these themes, you can layout different web elements into grids that look appealing to eyes.
Such types of themes are perfect for magazine and portfolio related websites. From the time when responsive website design trend is getting around, people are now considering transforming their web designs into responsive website and this certainly calls for a grid layout. Here, we are presenting some fresh and nice looking WordPress themes with grid layout. With this collection, we want to help you in creating a great looking and fully functional website. We hope that you will like this collection. Feel free to share your opinion with us via comment section below.
Free Grid WordPress Theme
NeueGrafik: A Free Modern WordPress Theme
GlowingWp Free grid Style wordpress Theme
Premium Grid WordPress Themes
( Demo )
( Demo )
Sideways Portfolio Website WordPress Theme
( Demo )
( Demo )
( Demo )
Coraline Ajax And Responsive WordPress Theme
( Demo )
( Demo )
Twitter is one of the most powerful social media platforms that millions of users are using on a daily basis. With an extensive growth of social media networks, it has become one of the crucial steps in the marketing strategy of any business whether it is online or offline. By integrating Twitter into other marketing avenue, any company can easily increase its revenue. But, using Twitter for marketing your website and its good or services can be time consuming and tedious. In order to reduce this exponentially tedious task, one can take help of plugins which are designed to save your time and energy.
In this collection, we are showcasing a wide collection of 40 truly amazing and useful WordPress Twitter plugins which will help you in reducing the amount of work that you would do to integrate Twitter to your website. Enjoy!
One click registration & login plugin for Twitter? Easy installation? Is it totally free and comes with support? Yeah!
Track Twitter search results, a Twitter hashtag, or a Twitter profile using sidebar widgets.
Allows your site visitors to follow your twitter account with one click, without leaving your sitet.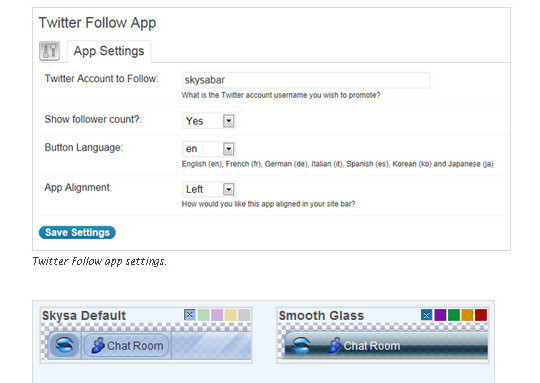 Allows your site visitors to follow your twitter account with one click, without leaving your sitet.
HL Twitter stores tweets from multiple accounts and displays them via widget, archives and shortcodes as well as auto-tweeting new posts.
A widget that properly handles twitter feeds, including parsing @username, #hashtags, and URLs into links.
Twitter Tools is a plugin that creates a complete integration between your WordPress blog and your Twitter account.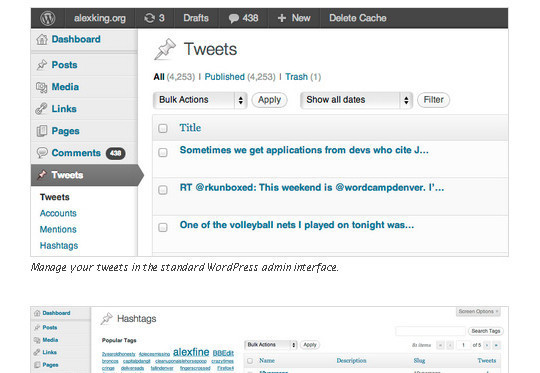 A plugin meant to simplify Twitter cards integration on WordPress. But this is more than just adding markup. You can customize your Twitter card.
Rotating Tweets (Twitter widget and shortcode)
Twitter widget and shortcode to show your latest tweets one at a time an animated rotation.
Add a Twitter "Follow" button to your WordPress website.
Really Simple Twitter Feed Widget
Shows the latest tweets from a Twitter account in a sidebar widget. Twitter API 1.1 ready.
The Best Way to Add Twitter Cards Metadata in WordPress Site. Enable Summary and Photo Cards Easily, With Control.
Ultimate twitter profile widget
Ultimate twitter profile widget. Plugin shows your tweets on Page/Post/Widget area.
WordPress Dashboard Twitter represents a Dashboard Widget for WordPress, that turns your Dashboard into a Twitter Client.
Add Twitter Card markup to individual posts. Supports summary, photo, and player types.
Twitter Like Box – Like facebook box but for twitter
Display your Twitter followers anywhere in the site or use the widget to display it on the sidebar.Like Faebook's Like Box show your followers and a button to follow you. Also you can display people YOU follow instead of followers by simple changing settings on the widget. Colors are also editable in the admin settings page.
Is a plugin that creates a complete integration between your WordPress blog and your Twitter account including ShareThis Buttons and Goodies Widgets.
Hupso Share Buttons for Twitter, Facebook & Google+
Help visitors share your posts on popular social networks: Twitter, Facebook, Google Plus, Linkedin, Pinterest, StumbleUpon, Digg, Reddit and others.
WordPress Twitter Bootstrap CSS
WordPress Twitter Bootstrap CSS lets you include the latest Twitter Bootstrap CSS and Javascript libraries in your WordPress site.
The Twitter Media Endpoint plugin allows you to turn your WordPress install in to a Twitpic/YFrog like service for your mobile device.
Create Your Own Custom Twitter Application and Publish to Your Twitter account 'Via Your Custom Twitter Application'.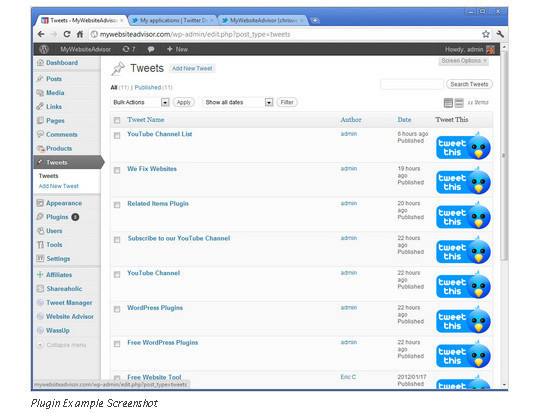 Add a widget to your sidebar to show your latest tweets.
A Widget to show your latest tweets. Use the oEmbed methode and some cache. It is simple, elegant and it works. This plugin uses the Twitter API version 1.1. You have to authentify yourself ! Visit the option page "Plugins->Widget Embed Latest Tweet" to do so.
Auto-posts a Twitter update when you update your WordPress blog or blogroll, with your chosen URL shortening service.
Provides a twitter badge widget that you can place on your wordpress site to display tweets from a specific twitter user.
A widget that properly handles twitter feeds, including parsing @username, #hashtags, and URLs into links.
Creates a new and simple to use widget that outputs the awesome Twitter Embedded Timeline.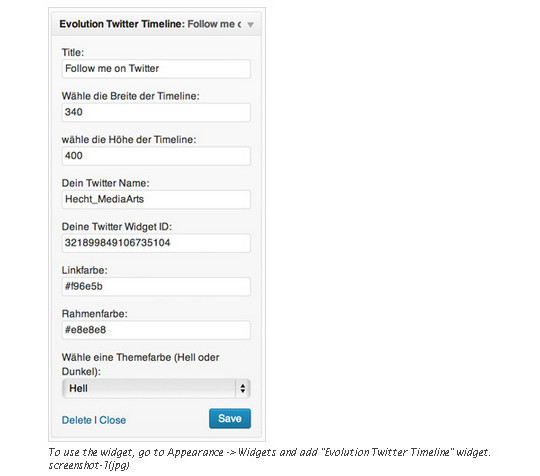 This is a simple widget that shows your recent tweets. It also supports caching, so you won't exceed the API call limit.
Twitter Feed Widget will display your tweets using ajax and jquery. It shows one tweet at a time and loops through an specified number of tweets and time interval. IMPORTANT the twitter feed currently only works with non-private(public) twitter accounts.
Add live chat to your blog or website quick and easy with Casengo, so you can handle enquiries via email and live chat directly from your website. Casengo helps you to respond to customers faster than ever and improve their satisfaction with a groovy mixture of real-time chat and email.
The Twitter Feed plugin makes including and linking to tweets on multiple Twitter accounts simple and flexible.
Integrate TwitterCounter.com badges on your blog to display the number of followers you have on Twitter.
Twitter Widget displays your tweets on your sidebar. There's lots of switches to tuen on/off what you want to display.
The WordPress implementation of the official Twitter Tweet Button.
Twitter Comments system. Automatically retrieve Twitter Replies and/or Twitter Retweets to your Blog's Posts using WP built-in comment system.
Twitter Tools is a plugin that creates a complete integration between your WordPress blog and your Twitter account.
This plugin will add an extra field to your comment form so a user can add their Twitter username. A user configured 'follow me' link is then displayed along with their details on all their comments.
Evergreen Post Tweeter enables you to automatically tweet out links to old posts based upon a tag or tags.
A simple code which adds a widget on admin panel with updates from the Status API.
This is the best twitter sidebar plugin widget you will find for WordPress. It easy to use, easy to install and has all the features you needs to show your twitter profile, feeds off.
WordPress is the first thing that comes to our mind when we think of blogging. It is the most preferred platform of the bloggers for blogging and around 8.5% websites on the web are powered by WordPress. This means several millions websites are built on WordPress platform.
For today's collection, we are presenting 15 highly popular and most preferred WordPress plugins. These popular WordPress plugins will add value to your WordPress blog or website. Here is the full list. Enjoy everyone and choose which plugin you will use for your website or blog. Enjoy!
Akismet checks your comments against the Akismet web service to see if they look like spam or not.
This plugin will generate a special XML sitemap which will help search engines to better index your blog.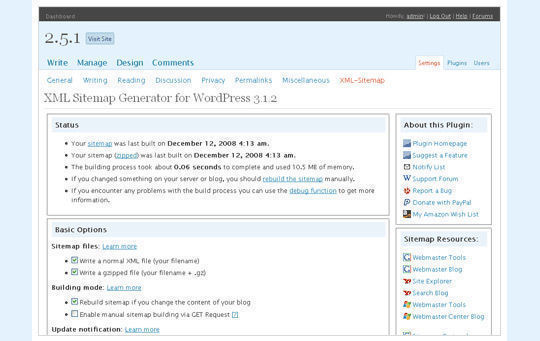 WordPress SEO plugin to automatically optimize your WordPress blog for Search Engines.
Adds CAPTCHA anti-spam methods to WordPress on the forms for comments, registration, lost password, login, or all. For WP, WPMU, and BuddyPress.
A very fast caching engine for WordPress that produces static html files.
Adds a more advanced paging navigation interface.
WPtouch: A simple, powerful and elegant mobile theme for your website.
Useful plugin that will scan your theme templates for malicious injections. Automatically. Every day. For more blog security.
Shareaholic has proven time and time again to be an extremely useful and successful tool in getting your readers to actually discover and submit your articles to numerous social bookmarking sites.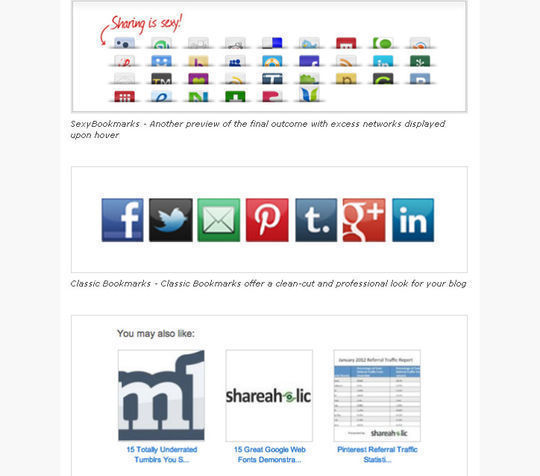 WordPress Backup and more…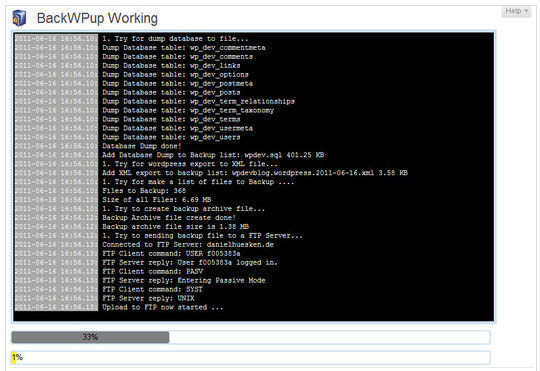 Just another contact form plugin. Simple but flexible.
Auto-posts a Twitter update when you update your WordPress blog or blogroll, with your chosen URL shortening service. Requires PHP 5.
There are hundreds of plugins and services which can provide statistics about your visitors. However even though something like Google Analytics provides an incredible depth of information, it can be overwhelming and doesn't really highlight what's most interesting to me as a writer. That's why Automattic created its own stats system, to focus on just the most popular metrics a blogger wants to track and provide them in a clear and concise interface.
WP e-Commerce is a free WordPress Shopping Cart Plugin that lets customers buy your products, services and digital downloads online.
Sociable Skyscraper is the ultimate advanced and feature-packed plugin for setting up a rating system on your WordPress blog. This plugin allows you to set up different rating systems for posts, pages and comments with a great degree of customization.
In this collection, you will discover some visually appealing and professional looking HTML5 themes for WordPress. All the themes presented in this collection are completely free to download and you can use them for free of cost. HTML5 has been the hottest topic of discussion this year and this is because it comes with so many advanced features that have revolutionized the web designing industry.
Here is the full list after a small jump. We hope that you will like this collection. Enjoy!
Temple Gate: An Accessible HTML5 WordPress Theme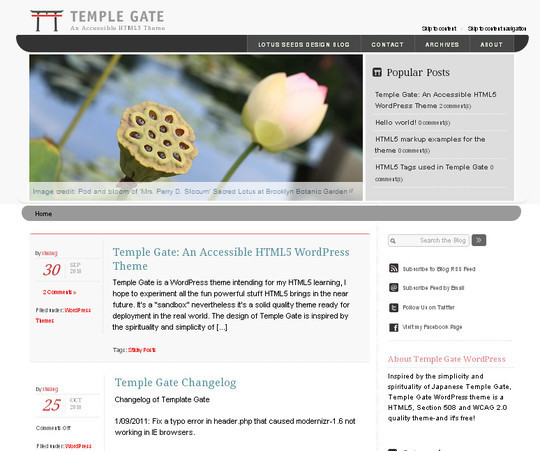 Magazine Responsive WordPress Theme
Conclusion:
With this collection, we want to share with you some truly dynamic and professional looking HTML5 WordPress themes that you can download for free. All of these themes are uniquely designed and therefore can effectively set your website apart from others. Enjoy!
Here, we are presenting 15 free, minimal and responsive WordPress themes for you. WordPress offers the best platform for blogging and sharing content online. With loads of feature rich options and plugins, WordPress is the ideal choice of many bloggers, designers and creative people who want to share their content with the world. WordPress themes are there to set different WordPress websites and blog apart from each other. This time we have come up with some excellent and very appealing minimal and responsive WordPress themes.
Below, you will find 15 free and extremely appealing minimal and responsive WordPress themes that have the ability to balance your content with the minimal layout in the best possible way. All of these mentioned themes work absolutely fine. Furthermore, these themes are capable enough to make your website or blog look unique as well as make it stand out from the rest. Let us have a look. Enjoy!
Auto Focus Responsive WordPress Photography Theme
Do you want to increase your WordPress websites traffic? If your answer is yes then you should use Pinterest Plugins. These Pinterest Plugins will make your WordPress site more exciting and lively. Website users can easily generate events, interests, hobbies, and much more with these Pinterest Plugins.
In this post, we are sharing 15 awesome and useful Pinterest Plugins for WordPress website. With these WordPress plugins, you can get your posts, images and even your website pinned over in the Pinterest network. You can also tell us what you think about this post and share your precious opinions with us via comment section below. Check this out and get to pick one!
| Download )
A must have plugin that adds a Pinterest badge for linking your blog to your pinterest profile and showing your number of followers.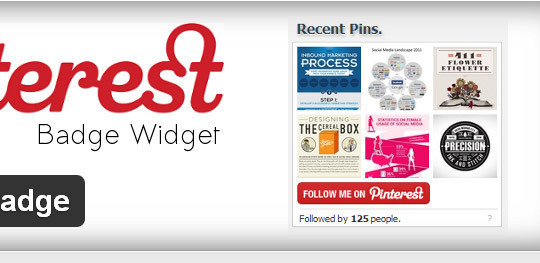 Pinterest Image Pinner From Collective Bias
| Download )
Extremely lightweight jquery based plugin. Adds "Pin This" button to all images.
| Download )
Pin It On Pinterest places a Pin It button at the end of your posts, and allows you to predetermine what gets "Pinned" at Pinterest.
| Download )
Block selected posts and pages from getting pinned on Pinterest.
| Download )
A widget to display thumbnails and titles of the latest Pinterest Pins from a specific user via their Pinterest RSS feed.
| Download )
Add a Pinterest "Follow" button to your sidebar with this widget.
| Download )
A simple must-have widget for the Pinterest addict! Displays thumbnails of your latest Pinterest pins on your website.
| Download )
A plugin to show off images, captions, and links from your latest Pinterest activity.
| Download )
Easily add a Pinterest "Pin It" Button to your site and encourage your visitors pin your awesome content.
| Download )
Let people share (pin) images from any page of your site on Pinterest.
| Download )
Add Pinterest to the NextGEN Gallery plugin.
| Download )
Show the Pinterest "Pin It" button on top of your images, only when people move their mouse over the image.
| Download )
A must have plugin that adds a Pinterest badge on your blog to your pinterest profile and showing your number of followers and recent pins.
Pinterest Pin It Button For Images
| Download )
Add a "Pin It" button over your images, so users can add it to Pinterest easily.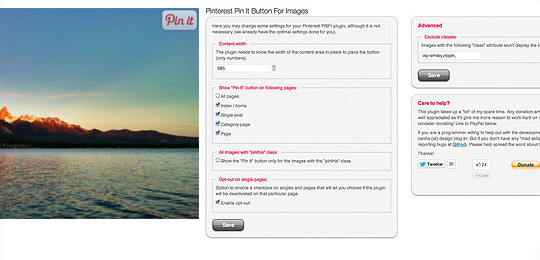 | Download )
Adds Pinterest button to individual images for one by one image pinning. Enjoy
We have specially designed this post for the WordPress administrators who are looking for some handy and useful plugins and tools. We know and understand that at times administrating your blog or WordPress website can be somewhat demanding, and this is where online tools and plugins come into play.
In this collection, we are presenting 21 WordPress plugins and tools for the administrator area. With these tools and plugins, administrating your blog or website will become easier. So, what are you waiting for? Browse through this collection and choose your plugins. Enjoy everyone!
Expose your blog to the Feedweb readers' community. Promote your views. Get a comprehensive and detailed feedback from your readers.
A fixed position (header) HTML with jQuery drop-down announcemnet bar using Custom Post Types.
Use this plugin to customize your login screen, great for client sites!
Hide the Dashboard menu, Personal Options section and Help link on the Profile page from your subscribers when they are logged in.
Analyzes WordPress website performance, helps to locate slow function hooks.
Secure WordPress beefs up the security of your WordPress installation by removing error information on login pages, adds index.html to plugin directories, hides the WordPress version and much more.
Scans your WordPress installation for security vulnerabilities.
WP Admin Bar is an indispensable WordPress plugin which displays links to the Administration Panel at the top of a blog's page – but only for users who are logged in and have permission to view the given functions.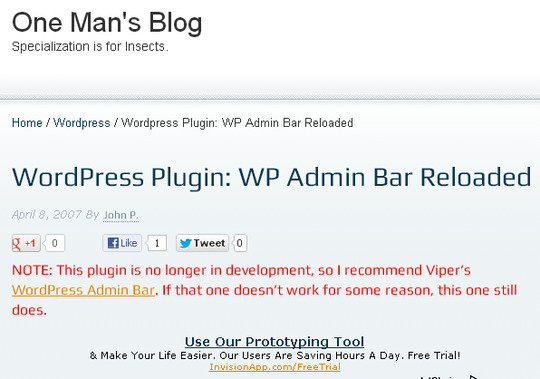 Adds a splash page to your site that lets visitors know your site is down for maintenance. Full access to the back- & front-end is optional.
DMSGuestbook is an easy configurable guestbook with a lot of features.
WordPress database backup creates backups of your core WordPress tables as well as other tables of your choice in the same database.
Add some tools for taxonomies : Terms suggestion, Mass Edit Terms, Auto link Terms, Ajax Autocompletion, Click Terms, Auto terms, Advanced manage term.
Simple, concise stats with no additional load on your server. Plug into WordPress.com's stats system with this plugin or use Jetpack to bring eve.
WassUp is a WordPress plugin to track your visitors in real time. It has a very readable and fancy admin console to keep tracks of your blog's users visits.
The No.1 content separator, content manager, content excluder, sidebar widget manager plugin to enable CMS like functionality.
Admin Management Xtended Plugin
Adds AJAX-driven options to some admin management pages with CMS-known functions without having to open the edit screens.
Fluency Admin gives the standard WordPress admin a little lift and adds a handful of handy features to make /wp-admin an even better place to be.
It's important for a non technical administrator to be able to diagnose server related problems in WordPress.
Get control of the WordPress wysiwyg visual editor and add some functionality with more buttons and custom TinyMCE plugins.
Peter's Post Notes for WordPress
On its own, this plugin adds a panel to the sidebar of the add and edit post / page screens so that users can add notes for themselves or others and keep track of these notes. Whenever you save a post, you can type a note to be displayed along with the post in the edit view. Note that this plugin requires WordPress 2.8 or higher.
The Easy Admin Color Schemes plugin allows users to easily customize the colors of the administration interface for WordPress.
Here we have put together an amazing collection of 3 column WordPress themes for you. All these 3 column themes are completely free to download. WordPress is a great platform for blogging as well as promoting your business online and the availability of huge range of themes that can set each WordPress blog apart from others makes WordPress the most preferred choice of the bloggers.
In this round up, we are presenting for you some amazing and professional 3 column WordPress themes that you can download for free. Such types of themes are ideal for the online magazines and related websites.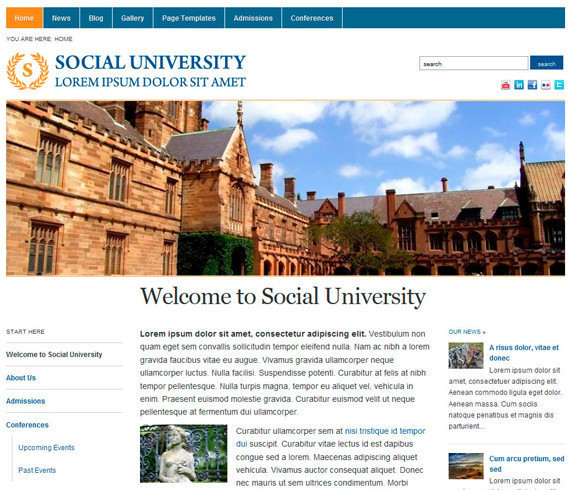 This theme is designed for educational websites that you can easily modify according to your needs and it is a completely free WordPress theme. Any school, college or university and non-profit organization can easily use this theme because it is not only flexible, multipurpose but and versatile too. You can see the features.
Main Features of The Theme
The theme was developed for WordPress 3.0 (compatible with 3.0.1)
Modern, three-column clean design
5 built-in icons to share and link to your profiles on Twitter, Flickr, Facebook, LinkedIn and YouTube
The theme allows enabling/disabling of a jQuery-based content slider on the homepage for showing your photos
Academica Theme uses a jQuery-based drop-down menu with a fade-in effect
9 sidebars (widget areas) and 3 custom widgets developed for this theme
Dynamic image resizing (TimThumb script)
Screenshots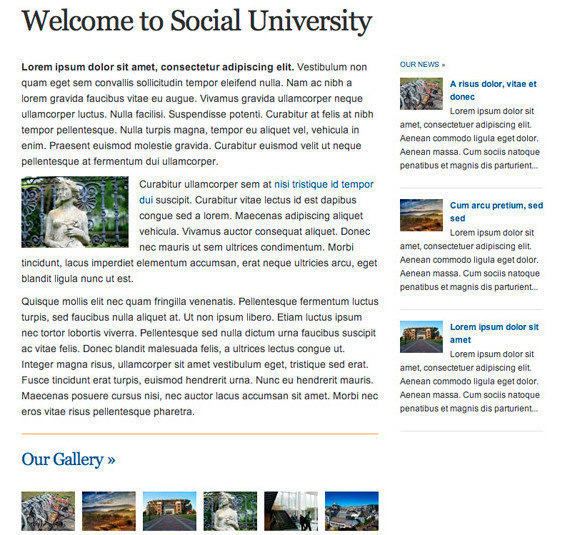 Content blocks in the sidebar, defined with a custom widget.
Paragams theme is a good option for any journalistic-type website because it was made by special techniques that fit the needs of any journalistic-type website whether it is a news-blog or some kind of online-mag. This theme is a lightweight grid-based theme that contains almost no images. With its number of custom advanced features, you can easily use this theme for your website.
Main Features of The Theme
Custom Homepage
Special Homepage design adds some originality to your site. You will be able to use your template both for Magazine and for Blog.
Modern layout
Artistic modern design brightens your site at all times.
Drop Down Multi-Level Menu
Screenshots
This awesome theme of WordPress is named as Global News Theme and it gives your website a newspaper style look, furthermore this theme comes with all the necessary features. You can use this theme for any project and it proves to be the best for news-related projects. The target of this theme is to present your content in a unique style so that your website looks stunning and superb. In this package, you will also get PSD source file of the logo image and this theme has a 3-column-based layout. Following are the some important features of this theme. Enjoy everyone!
Main Features of The Theme
Modern and beautiful web typefaces in use
Tableless design and 100% CSS-based layout
3 columns of fixed width
Widget Ready
Screenshots
NeueGrafik theme is especially designed for the graphic designers and developers. This theme shows incredible result it is simple, elegant and professional manner and also sets your website aside from the others websites. This WordPress theme makes your work exciting and remarkable. Scroll through this amazing collection and have fun.
Main Features of The Theme
The Theme Features has many interesting and nice features. It comes with some extra features which have a detailed video overview. Video overview will help you to easily install and modify this theme according to your own needs. Following are the best features of this theme.
Valid XHTML+CSS
WordPress 3+ Compatible
Support and Updates
Embraces Social Media
Firefox, IE7+8, Safari compatible
Video Overview
Screenshots
Splendio theme is based upon the Twenty Ten WordPress theme and it comes with many brilliant features. This theme works well on WordPress 3.0. The theme is available for free use for personal and commercial use as well. This theme is ideal for Ad agency, designers and portfolios; and it is released under GPL. So, try and enjoy.
Screenshots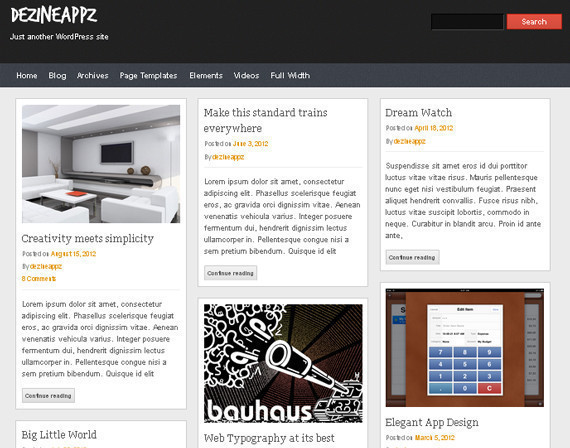 Themolio is an elegant and simple WordPress theme but it contains some very powerful features which astonish you as well as inspire you. Themolio is a grid based theme which is inspired by Pinterest and you can easily customize this theme from its options page. Using options page to customize the theme is also very easy to use. You can use this theme for design blogs, designer portfolios or other related filed.
Main Features of The Theme
Elegant grid and traditional layout Fully responsive
Custom logo
Custom favicon
Custom background
Multiple post format support
Screenshots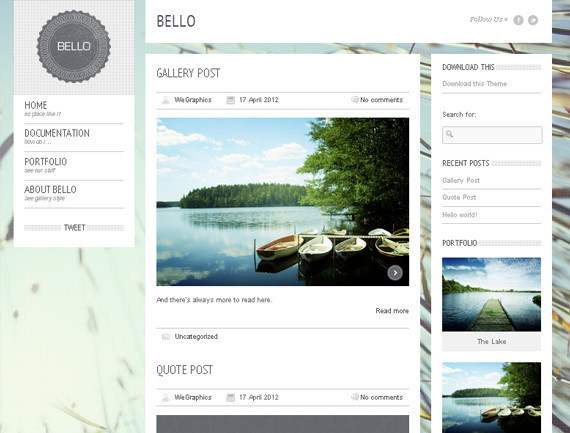 Bello is a free WordPress theme that is simple yet elegant enough to be used for professional purposes as well. This theme showcases some beautiful and wonderful images in a clean and open space. Furthermore, it includes post type templates 1, 2, 3 and 4 column portfolio galleries, social media links, a custom admin panel and documentation. Several jQuery enhancements, such as… Fading background image, slideshow gallery posts, drop down menus, and more are also the plus points of this theme.
Screenshots
BlueBubble is one of the WordPress themes which is designed especially for the creative minds like designers, developers and photographers. Under GPLv3 BlueBubble theme is released. BlueBubble comes with very clean, fresh and amazing features which help you to present your work in an easy and professional way as well as look stunning.
Main Features of The Theme
8 Different Styles/Colors
New User Profile Fields – add Facebook, Twitter, Skype, etc.
Advanced Theme Options Panel – Control everything from one location.
Updated design using CSS and new CSS3 elements.
Author Details box with list of their posts – all in one place!
Custom color for author comments.
JQuery Form Field Validation
Animated thank-you message when email successfully sends.
Connect your Twitter account and show latest posts.
Support for Search Engine Optimization in Theme Options – add Meta content and more!
Screenshots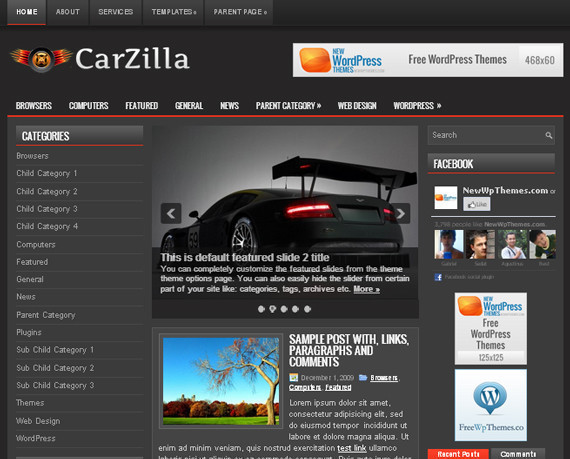 CarZilla is packed with some stunning visual elements that are the key points of this theme. This WordPress theme is a cutting edge theme with an automatically updating slideshow which is free to download. CarZilla is a fresh and new car theme with incorporated social widgets.
Main Features of The Theme
Easy to use options page
Featured Image Ready
125×125 banners ready (easy editable from admin options)
Widgets Ready
SEO Optimizedy
Fixed width
Compatible with latest WordPress versions
Screenshots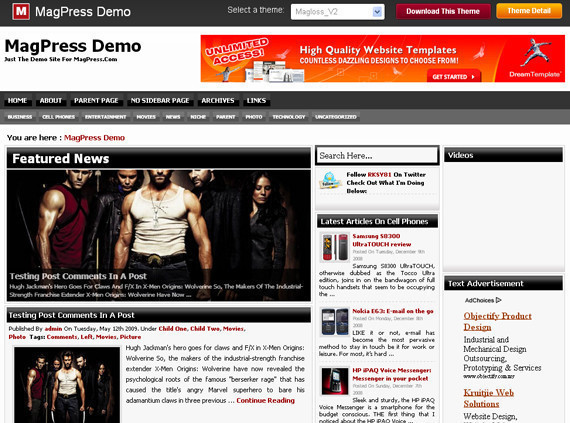 Magloss V2 is the latest and enhanced version of Magloss theme. This theme is developed by MagPress and it is a 3 columns fluid flexible width WordPress theme. This theme is integrated with amazing and sizzling features like content slider, latest posts from category with thumb, customize single page with thumbnail related posts, Adsense ready, Twitter ready, enable user to insert up to 5 YouTube videos, etc. Do not worry; you can easily control all these setting with easy to use theme options.
Main Features of The Theme
3 Columns Fluid Width
Featured Content Slider
Featured Content Slider
Customized Breadcrumbs
Adsense Ready (Loops, Single and Sidebar)
YouTube Video Ready
Threaded Comments With Gravatar Enabled
Screenshots
Conclusion:
We hope that you will find this collection useful for you. Do let us know what you think about this collection and feel free to download as many themes as you want. Enjoy!