Wordpress
Thousands of people are using WordPress plugins because all WordPress plugins provide awesome features, great flexibility to the users, are editable and also save time as well. All experienced persons are using WordPress plugins and even the beginners are also using these WordPress plugins. All you have to do is go to your Admin Panel under "Plugins" and click on "Add New" where you can search for each new plugin and install directly from your Admin Panel. There is another way of installing these WordPress plugins and that is to use an FTP client such as FileZilla and browse your WordPress Plugin directory "WP-Content" then "Plugins" to manually upload the plugins files. One thing you should keep in mind that after manually uploading your plugin files you will still need to activate them by visiting your Admin Panel and going to the plugin tab and choosing activate.
Scroll through our wonderful free wordpress plugins and do let us know what you think about this compilation. Feel free to share your opinions and comments with us via comment section below.
An advanced posts display widget with many options. Display posts in your sidebars any way you'd like!
Sell digital downloads through WordPress with this complete digital downloads management plugin.
This Plugin detects mobile browser and display the theme as the setting done from admin. Usefull for switch to Mobile Theme.
Adds the Interbookings.com bookings form to your post, or place the Interbookings.com button to your sidebar.
Selfservice FAQ Plugin for WordPress – Casengo
Add a powerful FAQ & Knowledge Base on your WordPress Blog or Website. Powered by Casengo.
Vina Presentation Cycle Widget
A great WordPress Slider to display featured posts in Presentation Cycle.
This plugin uses the Spreadshirt API to list articles and let your customers order articles of your Spreadshirt shop using Spreadshirt order process.
This plugin can capture a query string when the visitor comes to your Site from Google Results Page. Then you can show your visitor button with prepared text and search phrase to get high CTR.
Wordfence Security is a free enterprise class security plugin that includes a firewall, anti-virus scanning, malicious URL scanning and live traffic including crawlers. Wordfence is the only WordPress security plugin that can verify and repair your core, theme and plugin files, even if you don't have backups.
Embed your twitter feed or the twitter timeline from your favorite users on your WordPress blog. Shortcodes and widgets are used.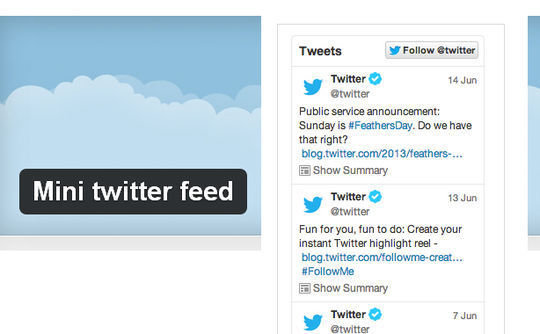 HTML5 MP3 Player with Playlist
Allows WordPress users to easily use HTML5 the element enable native audio playback within the browser. It supports all browsers i.e. Firefox, Chrome, Safari, IE and Opera. HTML5 Audio Player with Playlist, Repeat, Random, Stream Seek, Volume Control, Timer, Next, Previous, Play-Pause option.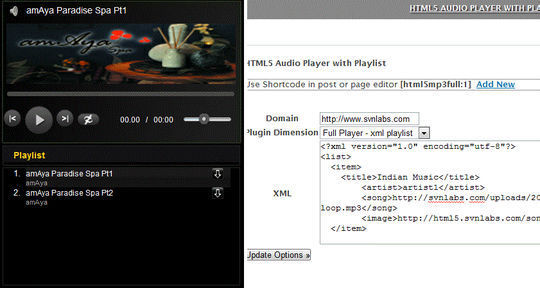 The best saving tool is now available on WordPress. Join top sites like NBC News, CNN, Disney and Fox Sports and offer your users a simple saving experience that keeps them coming back to your site.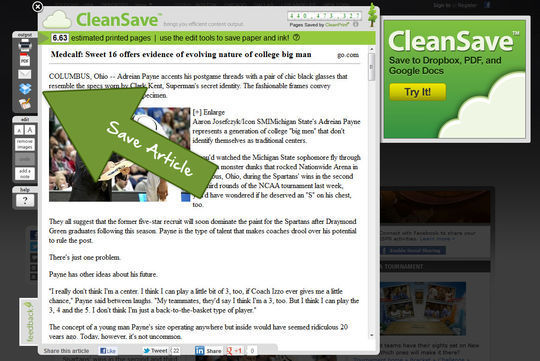 Nivo shortcode for the jQuery Nivo slider; "The Most Awesome jQuery Image Slider"; reputed to be the world's most popular jQuery image slider.
With the Google Sitemap Plugin you can create and add a Sitemap file to Google Webmaster Tools, and get the info about your site in Google Webmaster Tools.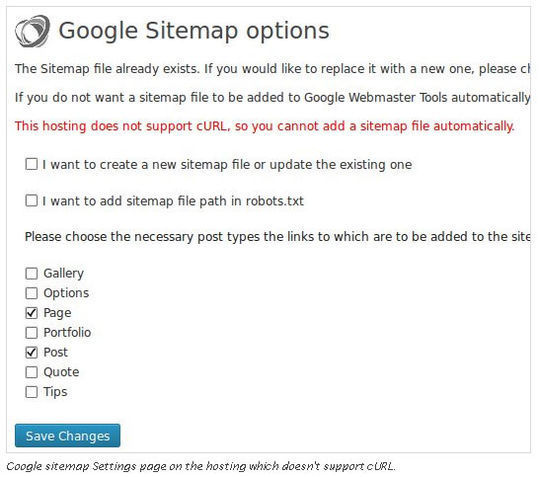 StatComm (StatPress Community) Multisite Edition
Real Time Statistics on your blog, collecting information about visitors, spiders, search keywords, feeds, browsers, OS and more.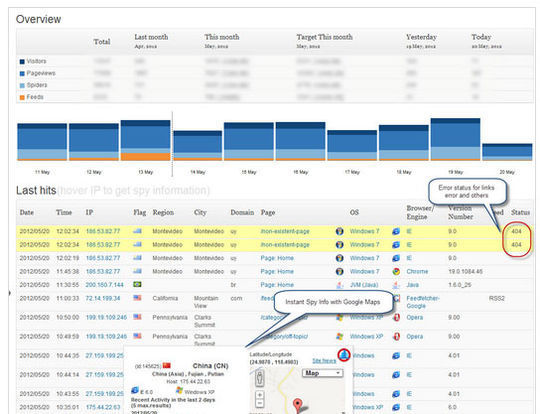 EasyRotator for WordPress – Slider Plugin
Add beautiful, responsive EasyRotator photo rotators and sliders to your WordPress site in seconds.
Easy Contact Forms. Easy to create. Easy to fill out. Easy to change. Easy to manage. Easy to protect.
Plugin allows you to set up advanced rating and review system for post types and comments in your blog using single, multi and thumbs ratings.
SEO Smart Links provides automatic SEO benefits for your site in addition to custom keyword lists, nofollow and much more.
The Facebook plugin for WordPress adds Facebook social plugins to your WordPress site. Associate your WordPress site with a free Facebook application identifier to enable advanced features such as automatically sharing new posts to an author's Facebook Timeline or your site's Facebook Page.
Adds the necessary JavaScript code to enable Google Analytics. Includes widgets for Analytics data display.
Add JotForm forms to your blog posts with a click of a button. Create contact forms, surveys, order forms, event registration forms to your posts.
AtContent. Increase SEO and Readership! Free!
Why over 3,500 Sites Have Chosen AtContent? For the easiest way to Reach new readership, Increase search ranking, Control & Monetize content!
Easy Media Gallery is a wordpress plugin designed to display portfolios and various media support including gallery sets, single image, google maps, video, audio and link with very ease and elegant.
Post video players, slideshow albums, photo galleries
Post your videos, photo galleries/flash slideshows, music and playlists easily and in seconds.
A system to streamline the process of getting designs, photos, or videos approved by clients quickly.
xili-language lets you create and manage multilingual WP site in several languages with yours or most famous localizable themes. Ready for CMS design.
Fancy Gallery associates linked images and galleries with the jQuery Fancybox. This Plugin has been granted the "Famous Software" Award!
ocial networking in a box. Build a social network for your company, school, sports team or niche community.
Implements Tag "Video" in posts and comments which automatically identifies videos from sites like: youtube, googlevideo, dailymotion, etc..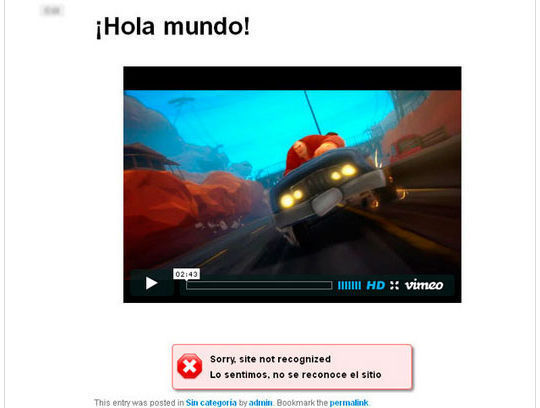 Feedweb is a simple way to get to know your audience. Find out what readers think about your blog. Ask any question and get feedback.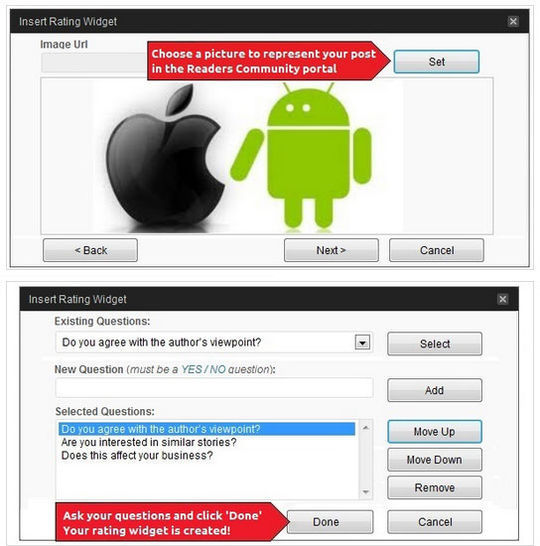 WP Facebook Like Send & Open Graph Meta
Add Facebook Like and Send buttons after each post. Automatically include Open Graph Meta Tags.
Supercharge your WordPress site with powerful features previously only available to WordPress.com users.
Adds an additional interface for events similar to normal posts. Also includes a widget for upcoming events.
Adds an additional interface for events similar to normal posts. Also includes a widget for upcoming events.
Easily add Instagram Feeds, Facebook Group Feeds, Twitter Feeds, and now YouTube Videos Feeds to any page, post or widget.
Add live chat to your blog or website quick and easy with Casengo, so you can handle enquiries via email and live chat directly from your website. Casengo helps you to respond to customers faster than ever and improve their satisfaction with a groovy mixture of real-time chat and email.
Super lightweight, simple, nice, modern looking and effective social sharing and following buttons and icons on your site without the extra burden.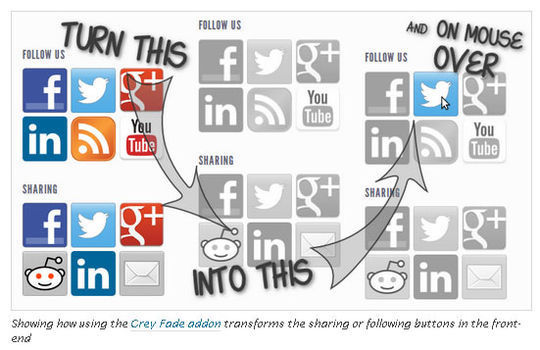 Wp App Studio is easy to learn and use design tool for creating fully featured custom apps(plugins) based on WordPress platform. No coding required.
Kirim email dan SMS alert ke administrator jika ada yang menghubungi melalui contact form. Kirim SMS alert kepada pengunjung yang telah mengisi form.
Add beautiful image slider to your WordPress blog! Awesome effects, fancy templates, point-and-click wizard. Fully responsive, pure CSS fallback.
Create MULTIPLE TopBars that will be shown at the top of your website. TopBars are selected by a variety of options – includes schedules!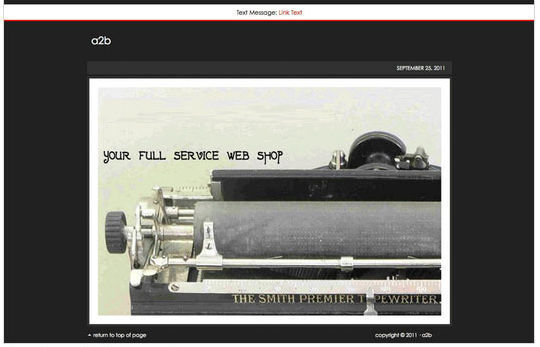 An easy to use Testimonial Plugin for WordPress.
Optin Revolution: WordPress Popup
Supercharged WordPress Popup Plugin. Possibly the best way in the world for you to create unique unblockable popups to grow your list of subscribers!
This plugin will check if a user trying to register to your WordPress site is using an email from a domain which is defined in blacklists.
GroupDocs Word, Excel, Powerpoint, Image and PDF Annotate
Lets you embed the GroupDocs Annotation into WordPress to annotate your documents directly in WordPress website.
Search and Compare major travel websites for cheapest flights, hotels, car rentals and vacation packages in this one-step travel search engine.
Allow your visitors to comment and login with social networks like Twitter, Facebook, Paypal, LinkedIn, LiveJournal, OpenID, VKontakte, Google, Yahoo.
Adds BadgeOS features to BuddyPress and bbPress. Earn badges based on community activity, and display them on user profiles and activity feeds.
Zemanta recommends your content to new audiences both on your blog and across our network of high-quality sites.
This time we are here with another fresh collection of new WordPress themes for you. WordPress themes are meant to set your wordpress blog or website apart from other. With a custom wordpress theme, your website or blog can portray a unique look and therefore can create a long lasting impression. There are many wordpress themes are available on the internet to help you customize your wordpress blog or website. You only have to choose a wordpress theme that is best suitable for your website.
This collection contains a good collection of fresh wordpress themes that are all free to use. So feel free to download your favorite wordpress theme. Feel free to share your opinions with us via comment section below.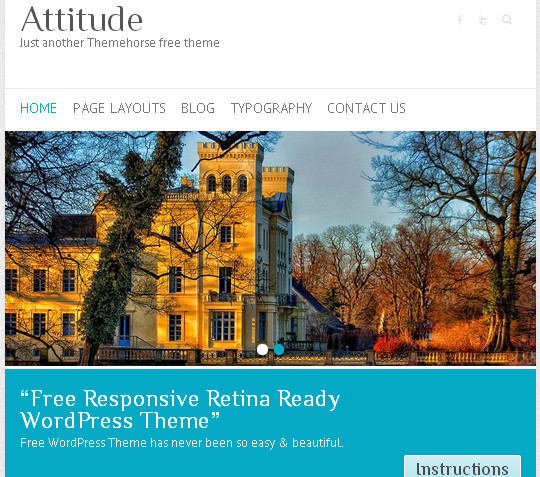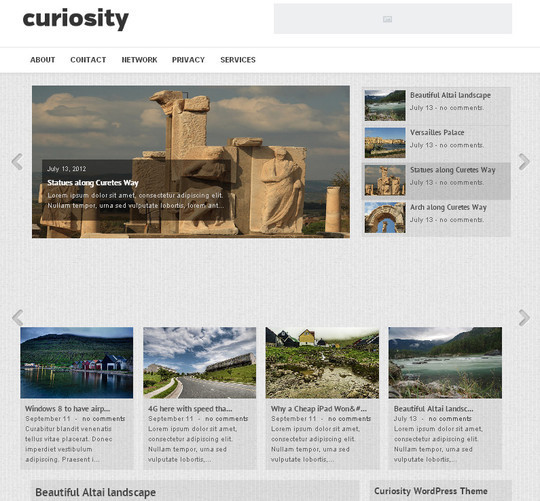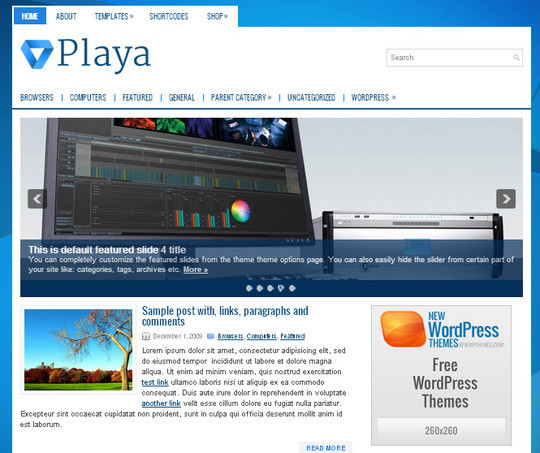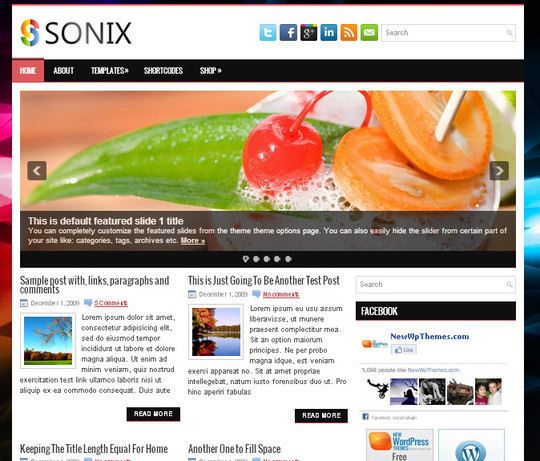 Triton Lite: Free WordPress Theme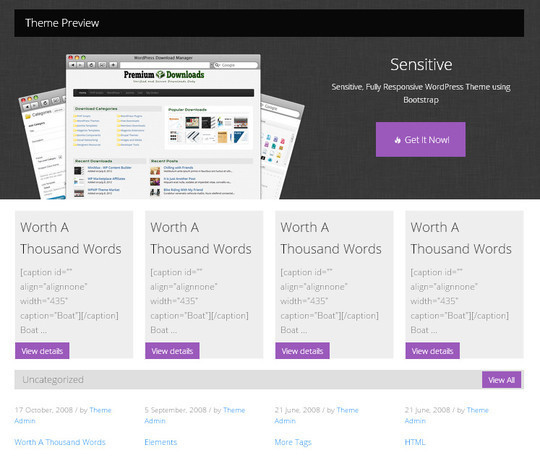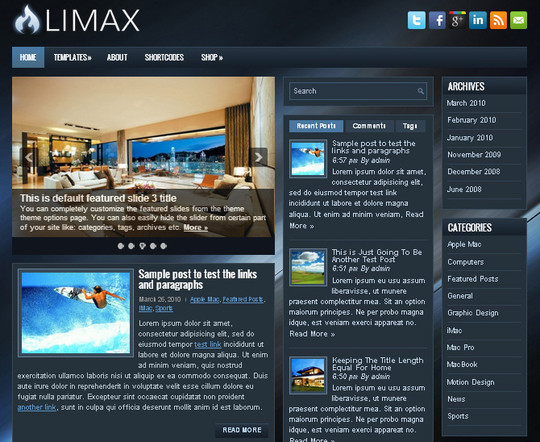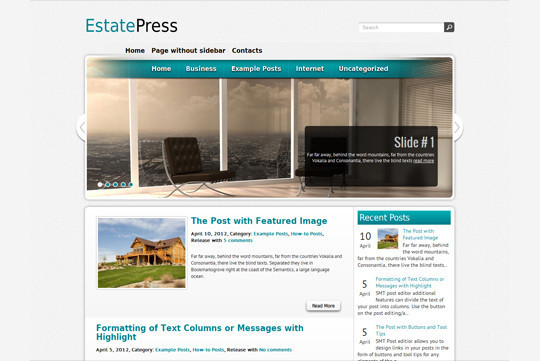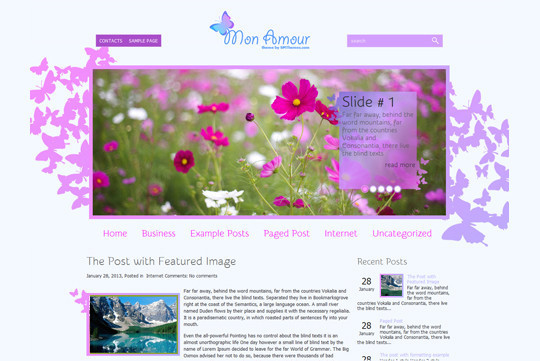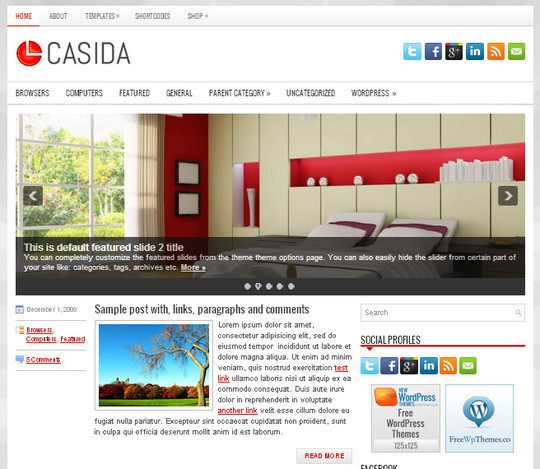 Another amazing collection of WordPress is presented here for you. In this collection, we have gathered for you some awesome and wonderful Short Code Plugins for WordPress. These shortcode plugins are the best thing for the web masters because without any coding they can do so many cool stuffs. If you use widget plugins you can easily add content and functions into sidebars and use drag and drop to move it around. So, if you are using widget system then you can also use shortcode because there so many plugins are available now which support the WordPress shortcode and widget system. So you do not have to worry about this anymore.
So have a look at this awesome collection and do share what you think about this collection. You can also download these shortcode plugins free of cost. We hope you like this collection.
Free ShortCode Plugins
With this plugin you can easily create buttons, boxes, different sliders and much, much more. Turn your free theme to premium in just a few clicks. Using Shortcodes Ultimate you can quickly and easily retrieve many premium themes features and display it on your site.
Create custom "Shortcodes" with HTML, Javascript snippets stored in it and use that shortcode within posts and pages. Check the demo video.
A sweet and simple shortcode generator for any theme.
DW Shortcodes Bootstrap allow easy implementation of WordPress shortcodes coming along with responsive and the twitter bootstrap.
Shortcodes Pro allows quick and easy creation of WordPress shortcodes and TinyMCE rich editor buttons from the comfort of the WordPress interface.
J Shortcodes plugin offers collection of useful shortcodes to compliment and enrich any wordpress theme, blog and website.
Quickly and easily manage shortcodes. CodeMirror is used for code highlighting.
An amazing free set of great elements for your site: SEO-ready tabs, sections, buttons, links to any content, author cards, lists, layouts and more.
Execute arbitrary, reusable PHP code in posts, pages, comments, widgets and RSS feeds using shortcodes in a safe and easy way.
Arconix Shortcodes provides a number of useful design elements like buttons, boxes, tabs and toggles to help compliment any website.
The SoundCloud Shortcode plugin allows you to integrate a player widget from SoundCloud into your WordPress Blog by using a WordPress shortcodes.
This Plugin adds an admin UI for creating shortcodes without the need to code, edit code, or even know code.
An amazing free set of great elements for your site: SEO-ready tabs, sections, buttons, links to any content, author cards, lists, layouts and more.
Symple Shortcodes Free WordPress Shortcodes Plugin
Tired of using a theme with built-in shortcodes, switching themes and then losing all your awesome styles? No worries, this is why I've created the Symple Shortcodes plugin! Now you can add buttons, highlights, boxes, toggles, tabs, pricing tables…among other awesomeness and take them with you no matter what theme you decide to use.
Widget & Shortcode to list down posts filtered by Category, with Thumbnails, Custom HTML structure, Excerpt, CSS theme with API & much more.
The Display Posts Shortcode was written to allow users to easily display listings of posts without knowing PHP or editing template files.
Creating shortcodes has never been this easy! This plugin gives you full PHP control whilst taking care of the hard work in the background.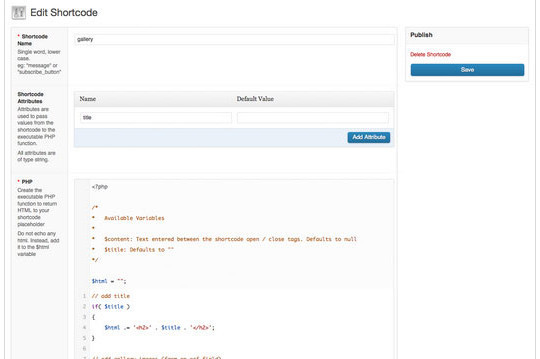 The Custom Facebook Feed allows you to display a customizable Facebook feed of any public Facebook page on your website.
Custom pack of shortcodes that includes column grids, pricing tables, post sliders, and post blocks.
You can use shortcode for display child pages from the page.
Improve content presentation on Google Search results and when URLs are shared with Facebook, Google+, Twitter, LinkedIn, and many more.
WParty is a WordPress Plugin to mix your website contents.
Add beautiful image slider to your WordPress blog! Awesome effects, fancy templates, point-and-click wizard. Fully responsive, pure CSS fallback.
A plugin meant to add your last tweet with the lattest API way.
Adds shortcodes to easily create columns in your posts or pages.
Premium ShortCode Plugins
Vision – WordPress Shortcodes Plugin
Vision is a premium wordpress plugin that enables you to add a powerful set of shortcodes to any wordpress theme. Once installed, a new button will be added directly to your wordpress content editor. Simply point-and-click your way to amazingly powerful shortcodes.
Ether Content Builder WordPress Plugin
Ether Content Builder WordPress Plugin is a powerful tool for building custom content pages aided with innovative visual composer. It comes equipped with many commonly used widgets that can be laid out via interactive drag&drop interface.
jCountdown Mega Package for WordPress
jCountdown Mega Package for WordPress is a highly customizable plugin, you can easily to create / load shortcodes in admin panel, and add Countdowns in your Post, Page and Sidebar with Shortcodes.
Styles with Shortcodes for WordPress
Have you ever been in the situation where you have a great looking WordPress theme, but you are missing some custom styling for different elements? Maybe you don't know PHP, CSS and Javascript and are not able to implement the cool feature you are missing. Styles with Shortcodes is the solution for this problem. This plugin lets you customize content faster and easier than ever before by using Shortcodes. Choose from 100 built in Shortcodes like; jQuery Accordion, Tabs and Toogle, Tooltips, Column Shortcodes, Gallery and Image Shortcodes, Button Styles, Alert Box Styles, Pullquotes, Blockquotes, Twitter buttons, Retweet button, Facebook Like, Follow me on Twitter buttons, Linkedin, Google +1, Flattr and many more!
Shortcode Domination – CSS3 Graphics for WordPress
Shortcode Domination is a premium WordPress plugin, which adds professionally designed graphics to your blog posts via shortcode. Take advantage of a wide variety of predesigned graphics that you can modify to suit your needs. WordPress blogs have pages that need to be updated on a regular basis.
FX Elements | WordPress Animated Shortcodes
FX Elements is a WordPress Plugin with an easy to use interface manager to add shortcodes to your website. FX Elements lets you customize content by adding animated elements as buttons, boxes, alert message, icons, etc. Each one of this elements has an smooth transition of color, opacity, size or position ( depending the shortcode ) between the initial status and the "mouse over status".
Content Builder is a great WordPress tool that allows you to freely create different types of layout greatly improving the functionality of the CMS and then giving you the chance to save great deal of time in managing and publishing content.
The WordPress plugin FX Image shortcode gives to users the option to stylize his images with different styles and options at any WordPress theme. As a shortcode, gives the easiest way to mix those styles at the same gallery or page, bringing you better control of overall design. Also, you may use the images to link any page or post inside your website, or use it to link an external page.
WordPress All-In-One Shortcodes plugin allows you to add endless amount of easy-to-use shortcodes combinations of to ANY WordPress theme and customize the appearance of your content in seconds. Almost each shortcode comes loaded with practically unlimited colors, size and icon combinations.
Html To Pdf On Fly For WP And Shortcode Style
With this plug-in for wordpress you can create PDFs from HTML code on fly and save them in a specific folder of your blog. For example, you can create an invoice with this script and archive it.
Sometimes when creating a site, the same information needs to appear in multiple places, duplicating that content is not a good idea. It's far better to have it in one place.
EZ Staff Display and Management
Using just a simple shortcode and a powerful admin options panel, you can easily add, modify and display your lovely staff members on your WP site.
A clean, easy to integrate, reusable tabbed content area for your WordPress themes.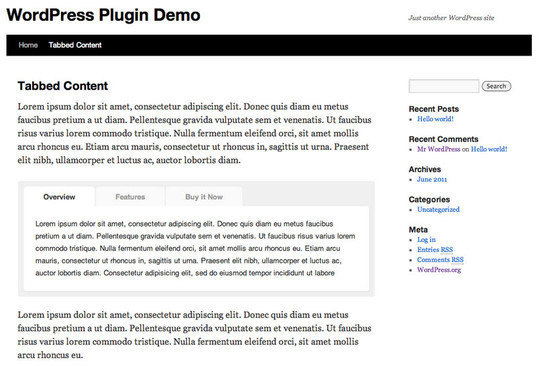 Custom Editor Buttons is a WordPress Plugin script designed to allow you to add new buttons to the default WYSWIYG editor in WordPress, giving you access to quickly add commonly used text, html or characters that might otherwise be cumbersome or time consuming to insert.
The countdown functionality can easily be added to a content or sidebar area and let your users know the counts. With counting down and up functionality, gives you a full control to your counter. This plugin comes with shortcode generator and a multi-instances sidebar widget, packed with bunch of options. All styles and scripts area pulled in the header section. Every each counter have their own selector that enables you to create specific style or script to the selector.
WordPress Dashboard, though it possesses loads of features and is pretty much useful for the users but on the other hand it is quite boring interface as well. Well, improvements can always be done to the best of the things, and keeping this in mind, we have compiled this post where we are showcasing a collection of 10 most useful WordPress Dashboard plugins that will let you manage your website more efficiently and save your time as well.
So, without any further ado here we are presenting the complete list of 10 Useful WordPress Dashboard Plugins for you. Check them out and pick the ones you like the best. We hope that you will like this collection and find these amazing 10 Useful WordPress Dashboard Plugins useful for you. Feel free to share your opinions with us via comment section below. Your comments are always more than welcome. Let us have a look. Enjoy!
( Download )
All admin links available in a neat horizontal drop down menu. Saves lots of screen real estate!
( Download )
Give your WordPress admin the Fluency look, Fluency 3.2 is the latest update and is ONLY compatible with WP 3.2.x.
( Download )
Adminimize is a WordPress plugin that lets you hide 'unnecessary' items from the WordPress backend and many many more …
( Download )
Lets you edit the WordPress admin menu. You can re-order, hide or rename menus, add custom menus and more.
( Download )
The Easy Admin Color Schemes plugin allows users to easily customize the colors of the administration interface for WordPress.
( Download )
Error Log Dashboard Widget is robust zero-configuration and low-memory way to keep an eye on error log.
( Download )
Embed the power of Google Analytics in your WordPress Admin console and view key metrics for each of your domains from one place.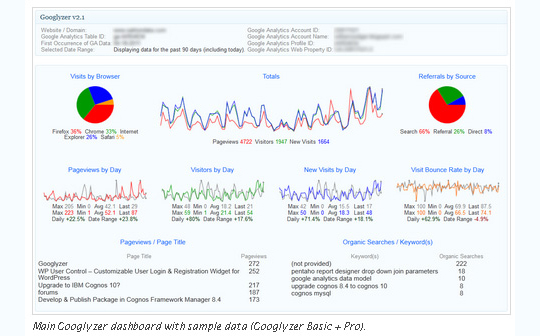 ( Download )
WP Total Hacks can customize more than 20 settings on your WordPress Site. PHP5 is required!
( Download )
Track how's your blog doing across the leading social networking websites and services.
( Download )
Change the background colors of the post/page within the admin based on the current status : Draft, Pending, Published, Future, Private.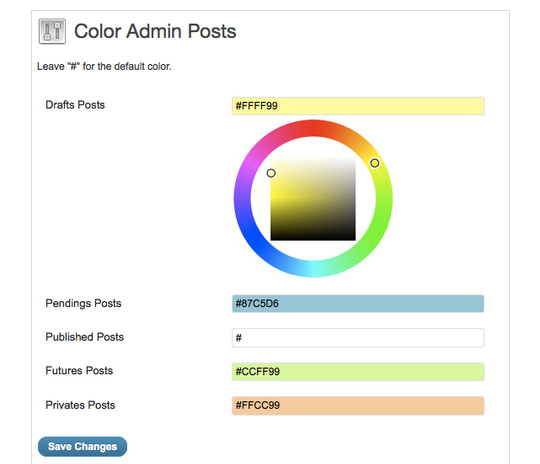 WordPress is a free blogging site, it is easy to use, give you awesome list of plugins that's why WordPress is very famous and popular. WordPress plugins give you so many interesting features like you can easily manage your email list, incorporate social sharing buttons, etc and you can also enhance your images performance. In this collection, we are presenting 15 outstanding and marvelous WordPress plugins to optimize images performance. All these WordPress plugins will help you to optimize images' performance to speed up and enhance the achievement of your site.
Optimize image performance is very necessary because it will prevent your website pages from the slow loading. See for yourself and choose a WordPress plugins suiting your needs the best. You can also download these WordPress plugins free of cost. Do share with us what you feel about this compilation. Enjoy!
( Download )
Imsanity automatically resizes huge image uploads down to a size that is more reasonable for display in browser, yet still more than large enough for typical website use. The plugin is configurable with a max width, height and quality. When a contributor uploads an image that is larger than the configured size, Imsanity will automatically scale it down to the configured size and replace the original image.
( Download )
This plugin allows you to do the following: 1. Change the order that your plugins are loaded. 2. Selectively disable plugins by any post type or wordpress managed URL. 3. Adds grouping to the plugin admin age.
( Download )
Lightbox Plus ColorBox permits users to view larger versions of images, simple slide shows, videos and content all in an overlay.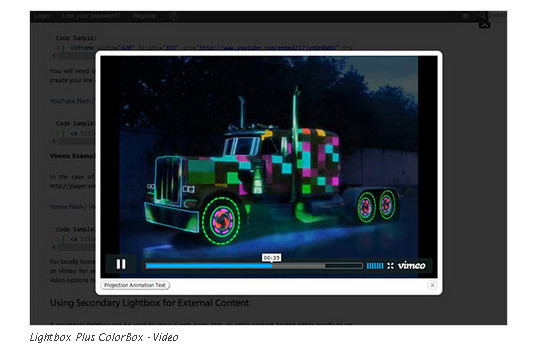 ( Download )
This simple but effective plugin allows you to clean up your WordPress database and optimize it without phpMyAdmin.
( Download )
Hammy speeds up your website by generating and serving resized images for your content area depending on content width.
Quick Cache ( Speed Without Compromise )
( Download )
Speed up your site ~ BIG Time! – If you care about the speed of your site, Quick Cache is a plugin that you absolutely MUST have installed.
( Download )
Reduce image file sizes and improve performance using the Smush.it API within WordPress.
( Download )
CDN Tools is a plugin designed to help you drastically speed up your blog's load time by loading data onto a content distribution network (CDN).
( Download )
Adds support for the proposed responsive image format in post content, and helper functions for theme authors.
( Download )
Parallelize allows automatically parallelizing resources across multiple hostnames, speeding page load.
( Download )
Easy Web Performance Optimization (WPO) using caching: browser, page, object, database, minify and content delivery network support.
( Download )
This plugin uses the Minify engine to combine and compress JS and CSS files to improve page load time.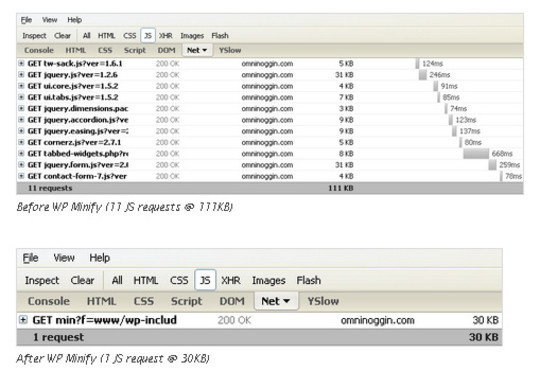 ( Download )
This plugins allows you to rename physically the media files by updating their titles. It also updates theirs links in the posts automatically.
( Download )
Add watermark to your uploaded images and customize your watermark appearance on a user friendly settings page.
( Download )
The WP-PLS (short for Parallel Loading System) is a WordPress plugin that will enhance the loading efficiency of your Blog.
Here we are presenting a superb collection of some very useful and handy WordPress Twitter plugins for you. WordPress Twitter plugins can be crucial for social media marketing and therefore, any business either online or offline should not overlook its importance. Twitter is a powerful marketing tool and with the help of WordPress Twitter plugins, the tedious task of social media marketing can be reduced exponentially.
With this collection, we are showcasing a useful assortment of some free WordPress Twitter plugins for you so that you can download them and simplify your work process. Resources such as WordPress plugins are meant to expedite your work flow by allowing you carry out certain actions quickly thus helping you to improve your productivity as well.
Add a widget to your sidebar to show your latest tweet(s) with style and without JavaScript! Retweet, Favorite and Reply links are available.
Twitter Fans (Like Box for Twitter)
This plugin lets you display your twitter followers in the sidebar (or anywhere else in the theme). The display is similar to Facebook's Like Box.
Adds a sidebar widget to display Twitter updates (uses the Javascript Twitter 'widgets')
Twitter Tweets Box is a Widgets let you display Twitter updates on your website.
Twitter is big. Too big to ignore if you're a blogger. It's a great way to connect with your readers, and promote your blog a bit.
Twitter Mentions as Comments scours Twitter for people talking about your site & silently inserts their Tweets alongside your existing comments.
Brought to you by MailChimp, Social is a lightweight plugin that handles a lot of the heavy lifting of making your blog seamlessly integrate with social networking sites Twitter and Facebook.
NextScripts: Social Networks Auto-Poster
This plugin automatically publishes posts from your blog to your Social Network accounts such as Facebook, Twitter, Google+(Google Plus), Blogger, Tumblr, LiveJournal, FriendFeed, DreamWidth, Delicious, Diigo, Instapaper, Stumbleupon, LinkedIn, Pinterest, Plurk, VKontakte(VK.com), YouTube, WordPress, etc.
WordTwit keeps track of when you publish new posts, and automatically informs your followers by pushing out a tweet to twitter in the format you specify. All links are automatically converted to tiny URLs to save space.
Creates a floating box with a follow me twitter. Without the need to modify the template.
Easily embed tweets in your posts and pages by posting the tweet URL on a line by itself or by using a shortcode provided by the Twitter interface.
Share&Get it! automatically provides you with either Facebook fans or Twitter followers in return for downloadable files. Once you've installed Share&Get it ! on your WordPress website, your number of visitors will dramatically increase in no time. To obtain such great results, you only need to copy/paste the shortcodes you get when setting up the buttons.
Plugin to tweet about your old posts to get more hits for them and keep them alive.
Displays your latest pictures from TwitPic in the sidebar of your blog. The plugin is widget ready and comes with many configuration options!
Display tweets from one or more Twitter accounts using a WordPress widget. Compatible with version 1.1 of the Twitter API.
Display timeline for Tweets from an individual user, a user's favorites, Twitter lists, or any search query or hashtag as a widget in your sidebar.
WordPress IDX is the leading IDX / MLS real estate search plugin for WordPress sites. Elegant interface, great SEO and excellent lead capture.
WordPress.org Plugin/Theme Information Embed
A WordPress plugin that allows you to embed realtime information about plugins or themes from WordPress.org into posts and pages simply by pasting in the URL to the plugin into your post or page.
Better than Twitter's own widgets – Tweet Blender is tag-aware and has support for multiple authors, lists, hashtags, and keywords all blended together. The plugin can show tweets from just one user or a list of users (as all other Twitter plugins do); however, it can also show tweets for a topic which you can define via Twitter hashtag or keyword.
Tweet&Get it ! is an automatic process to get Twitter followers in exchange for a downloadable file.
This widget will display the most recent tweets for any twitter user who has their tweets set as public. Show up to 20 tweets. Include a link to your twitter profile and a twitter icon or your profile picture.
Shortcode for the official Twitter Widgets.
Uses the twitter goodies widgets API to create offical twitter widgets (profiles, lists, faves and search) straight from your control panel.
This is a WordPress plugin to show your Twitter badge as a widget with easy personalization.
TweetRoll displays your Twitter details and the avatars of some of your friends, together with the ability to monitise your Twitter stream.
Monitor the Twitter API and be alerted when it is down.
Evergreen Post Tweeter enables you to automatically tweet out links to old posts based upon a tag or tags.
Allow your commentators to include their Twitter username along with their comment so a follow-me link can be displayed with their details on the list.
Twitter Comments system. Automatically retrieve Twitter Replies and/or Twitter Retweets to your Blog's Posts using WP built-in comment system.
Twitter Feed Widget will display your tweets using ajax and jquery. It shows one tweet at a time and loops through an specified number of tweets and time interval. IMPORTANT the twitter feed currently only works with non-private(public) twitter accounts.
Add a sidebarwidget with your twitter timeline to your WordPress-Blog.
Add a Twitter "Follow" button to your WordPress website.
Twitter Widget with Sentiment Analysis
Shows latest tweets for any keyword, hashtag or, your handle along with sentiment analysis. It also starts to show trend lines if there is enough volume.
Adds a sidebar widget to display Twitter updates using the more-reliable Google Ajax API.
A Simple Twitter Tweets display widget, using Twitter OAth and API v1.1 and backup up so it always displays your Tweets.
This plugin will install the official Twitter Button provided by Twitter to your WordPress-Blog.
Easily embed tweets in your posts and pages by posting the tweet URL on a line by itself or by using a shortcode provided by the Twitter interface.
This plugin allow you to grab your tweets from twitter and show your theme's sidebar as widget.
Display the latest updates for any twitter user in a widget. Automatically embeds links to @users, #hashtags and urls.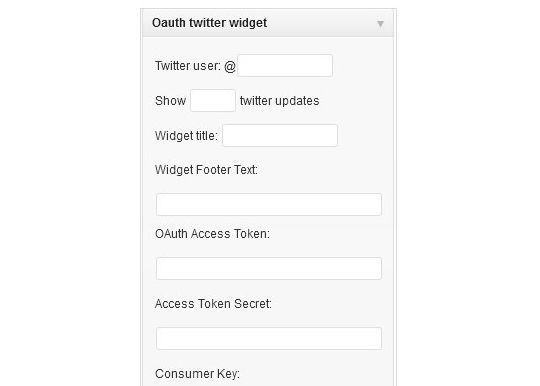 In this collection, we are presenting for you a useful collection of some WordPress plugins that will help you watermark your images automatically. With these plugins, you can protect your images from unauthorized usage. This is especially helpful for those who use images quite extensively on their websites and blogs. Watermarking images is the best thing you can do to protect them from unauthorized usage. WordPress enables you watermark your images so that no one can use them without your permission.
So, if you are using WordPress on your website, then you can take advantage of these WordPress plugins. These plugins will automatically watermark your images saving you time and hassle. We hope that you will like this collection and find this collection useful for you. Enjoy!
( Download )
Scissors and Watermark enhances WordPress' handling of images by introducing cropping, resizing, rotating, and watermarking functionality.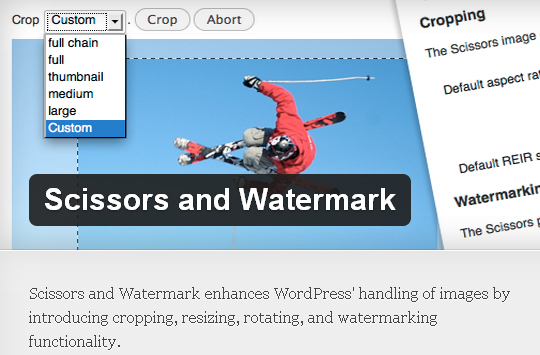 ( Download )
Add watermark to your uploaded images and customize your watermark appearance on a user friendly settings page.
( Download )
Automatically watermark images as they are uploaded to the WordPress Media Library.
( Download )
Add a watermark image to your WordPress header image and use suitable images from your media library as the header image(s).
( Download )
This plugin enables you to watermark your images, by placing a simple, yet very customizable watermark beneath the original images (much like the 9GAG watermark).
( Download )
Marekkis Watermark plugin for WordPress.
( Download )
Automatically adds watermark to images when they are uploaded to the WordPress Media Library.
( Download )
Image Store (ImStore) is a photo gallery and store plugin for WordPress with Paypal and Google Checkout integration.
( Download )
Fast and simple way to upload images and other files. Rotate, crop operations, 3 resize modes, configurable thumbnails dimensions, watermarking.
( Download )
Resize picture at upload and make thumbnail creation configurable, optionally include a watermark to your uploaded images.
( Download )
This plugin allows you to watermark your uploaded images using a PNG image file with transparency as well as text signature. The user friendly settings page allows for control over the appearance of your watermark. You can set your watermarks to always be a specific percentage of the target image.
( Download )
The DMCA.com WaterMarker plugin for WordPress allows you to easily integrate DMCA.com's WaterMarking for a specific folder into your WordPress site.
WordPress themes are everywhere and there is literally a huge plethora of themes available for the WordPress users to choose from. One of the main reasons of WordPress popularity is the availability of high quality and quite flexible themes that can make any website truly captivating.
In this day and age, 3 column WordPress themes are getting very popular and this is the reason why we have compiled this collection of 40 excellent 3 column WordPress themes for you.
We have already published a post about 3 Column WordPress Themes and today's collection also will be useful for you. All the themes presented in this collection are free to download. So, enjoy everyone!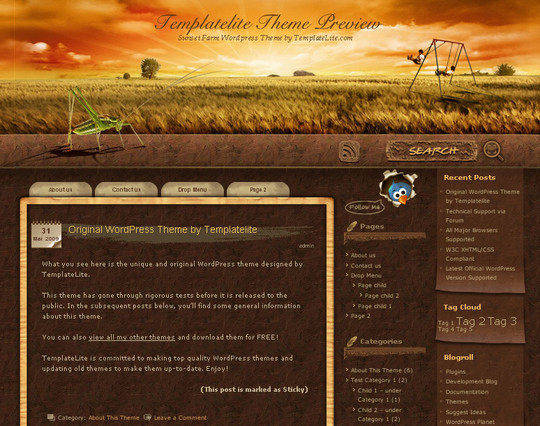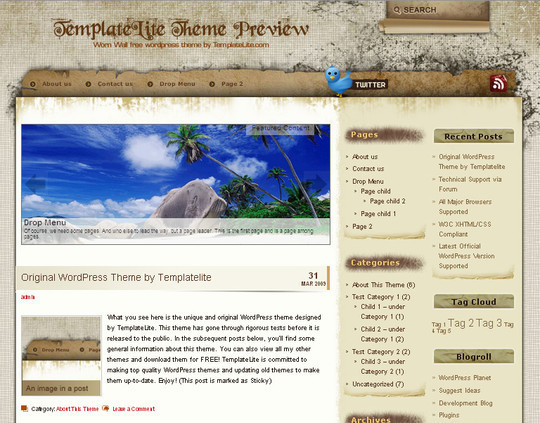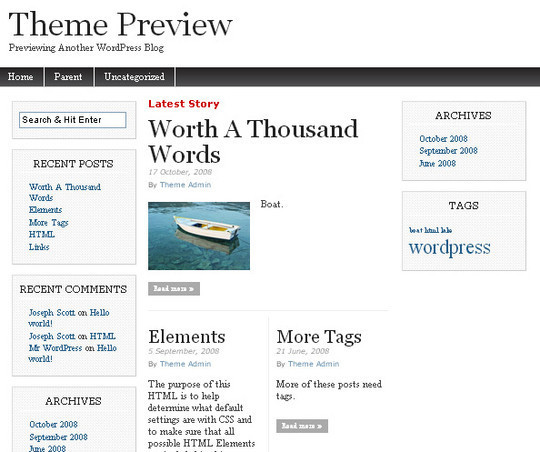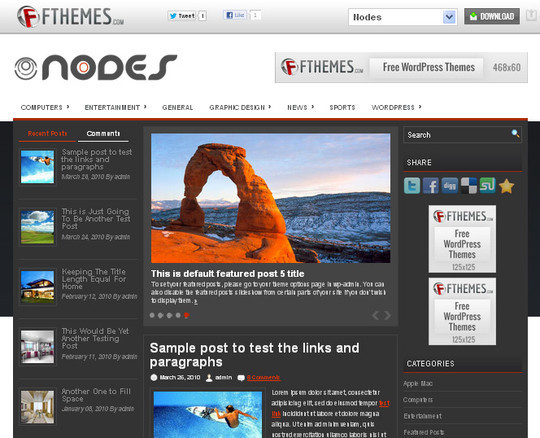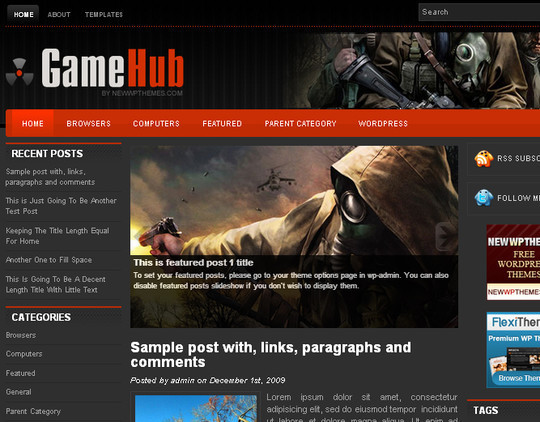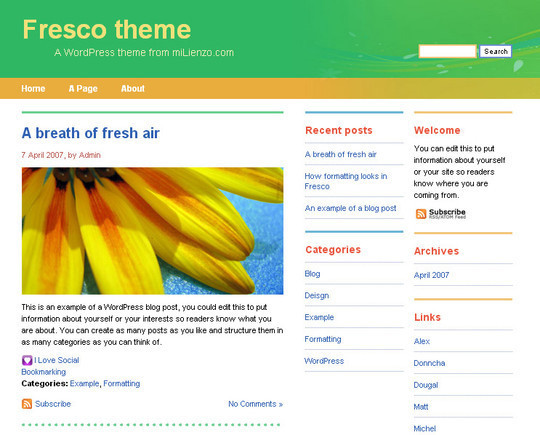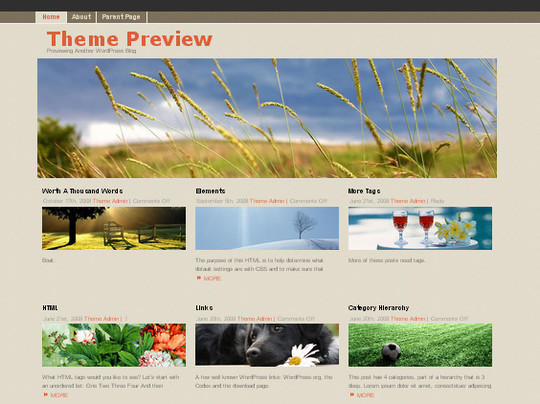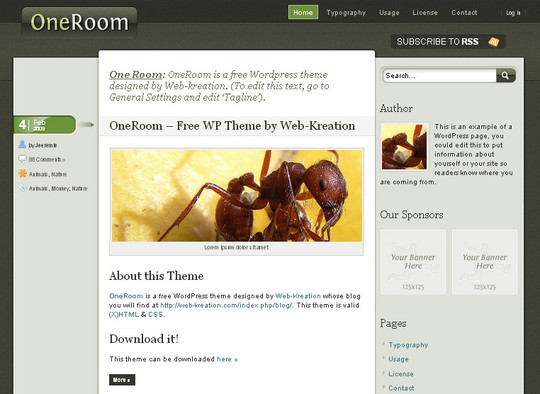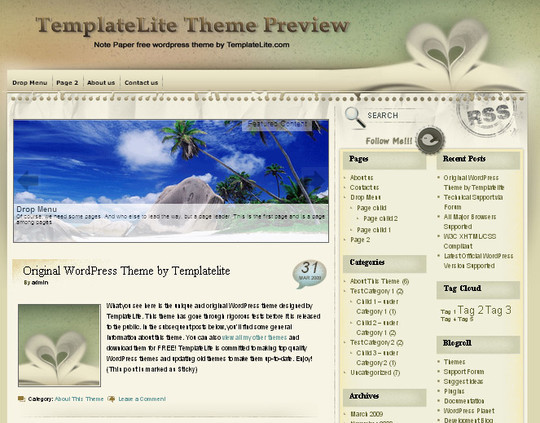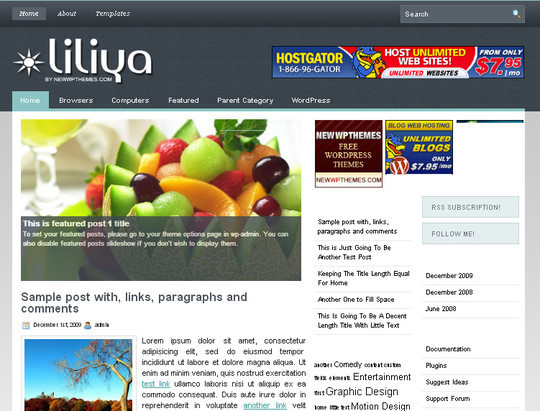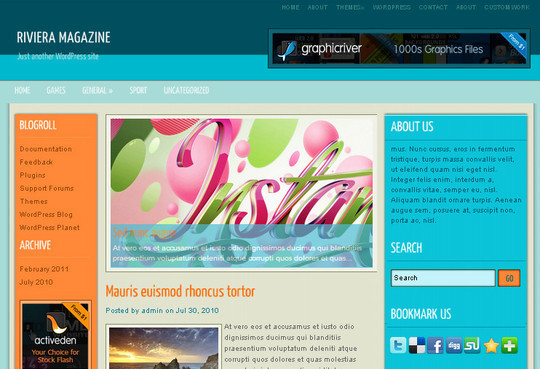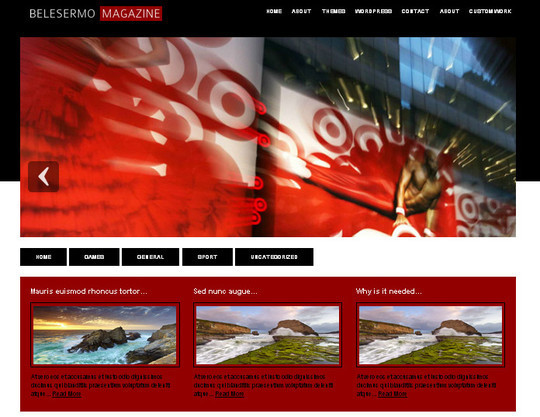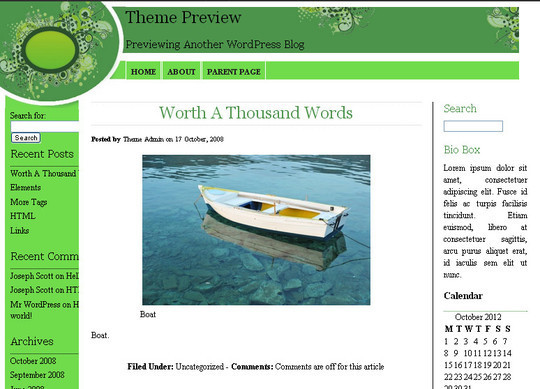 If you are looking for some WordPress cheat sheets then look no further as here we are presenting for you 17 WordPress cheat sheets that will help you in developing WordPress themes and plugins. You can also use them for SEO of your blog or website. Although, there are tons of free WordPress themes and plugins available but at times, you may need to tackle with codes of your WordPress blog and this is where these WordPress cheat sheets come in.
Below, you will find 17 WordPress cheat sheets that you can also download for future reference. These cheat sheets will be especially useful for those who are into WordPress plugin and theme development. We hope that you will enjoy this collection. Enjoy!
WordPress Template Designer CheatSheet
WordPress Template TAG Reference Guide
WordPress Theme Tags Code Snippet Collection
Cheat Sheet: SEO for WordPress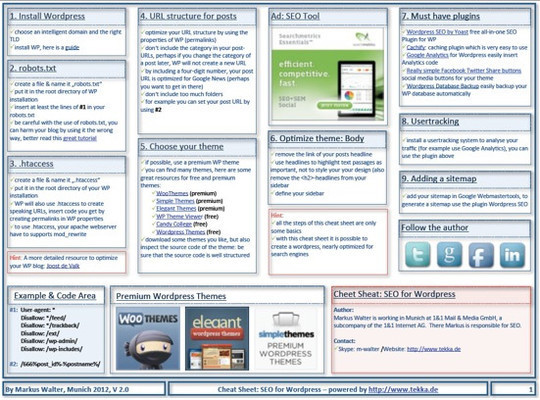 WordPress Cheatsheet by Andy Wibbels
WordPress V3.0+Template Tag Reference Guide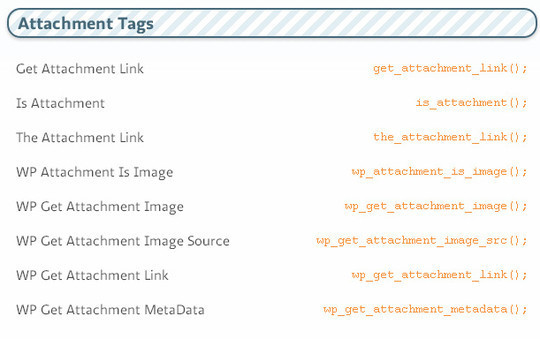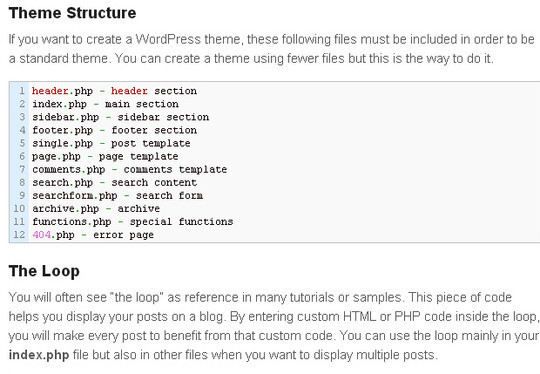 The Advanced WordPress Help Sheet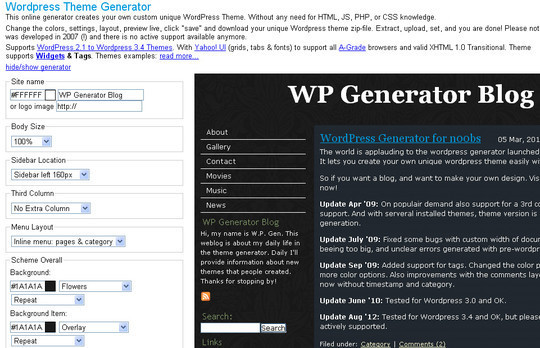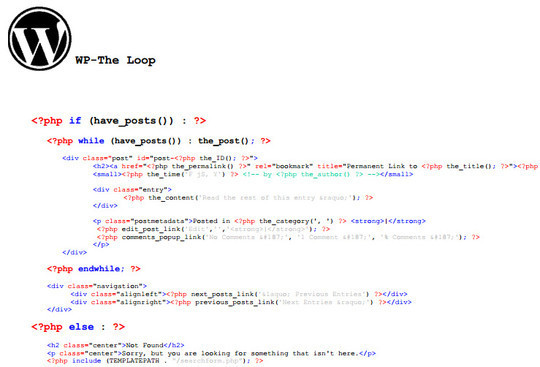 WordPress 3 Template Hierarchy
As we all know very well that WordPress is a well-known and free blogging site. And with the time WordPress has become more famous and improved. WordPress introduced so many interesting and amazing features but now WordPress is also introducing some other outstanding applications and plugins especially for social media sites.
In this assortment, we are showcasing some useful and outstanding WordPress Chat Plugins. Have a look at these stunning WordPress chat Plugins. If you want to download these WordPress chat plugins you can download them without any cost. You can also tell us what you think about this post and share your precious opinions with us via comment section below. Enjoy and have fun everyone!!!!!
ClickDesk Live Support – Live Chat
ClickDesk is a value combo of best wordpress live chat, help desk, voice chat and social toolbar for your website. Install it Free today!
Envolve Chat – A customizable chat toolbar for your website.
Self hosted WordPress chat plugin supporting private chat, chat rooms, avatars, user list, words filtering, smilies, caching plugins and more.
Zopim is an award winning chat solution that helps website owners to engage their visitors and convert customers into fans!
WP Chatblazer is a plugin to allow you to embed a Chatblazer application to chat on a WordPress page. Embed instant messaging and video chat directly.
The AVChat Video Chat Plugin for WordPress is designed to increase members engagement and web site revenues with a stunning video chat solution.
Start chatting to your site's visitors and FACEBOOK fans from any device including mobile phone . FREE account with unlimited chats.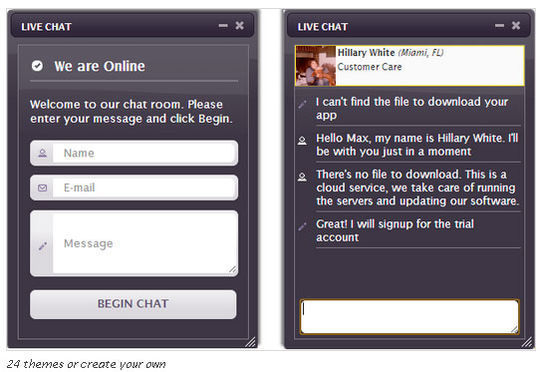 Through Banckle Live Chat Plugin, you can effectively communicate and conduct live chat sessions with the visitors of your WordPress website.
Acobot Live Chat & Contact Form
Enhance your WordPress with a virtual robot in 3 minutes or less and boost your sales like never before. It's simple, easy and fast.
Live Chat with Multimedia Tools
Add live chat with multimedia tools to your site.
Chat with your website visitors.
Add live chat support and real-time monitoring onto your WordPress website with Ultimate Live Chat from UltimateLiveChat.com
Barc Chat provides a simple yet feature rich chat room for your whole community to interact in real-time directly on your site.