Widgets
Here we have compiled a list of 9 best time zone converters for your desktops and mobiles as well. With these time zone converters, you can easily stay connected with your internet contacts at their local times and can also watch live shows, matches and other events on your PC. All of this because you know at what time your show starts locally.
Sometimes, time difference can be a big headache especially if you have a meeting or discussion with someone with totally different time zone like GMT, PST, and PDT and so on. With these time zone converters that you can use on your mobiles and on your PC, you can easily manage your global appointment and also these time zone converters help you identify the time before you make a call to someone with different time zone.
Effortlessly convert between multiple time zones, plan and schedule conference calls, online webinars and international meetings.
World Time Zone Map and Converter.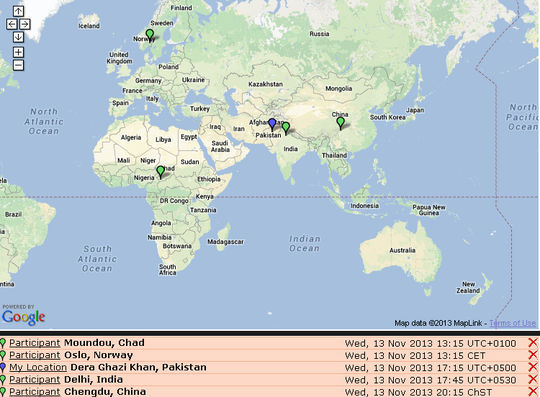 This app can convert time from any timezone into your local time.
TimePal is a great aid to keep around when you just aren't sure about the time.
Hours Keeper is a well designed application that you can use to easily track your hours worked and calculate your earnings.
Simply Convert Date & Time from one Time Zone to Other Time Zone.Supports several time zones around the world.One Screen Application makes it very easy to use.Choose your Date and time and select the Source and destination Time Zones and simply click to convert, it will show you the converted time for the destination time zone.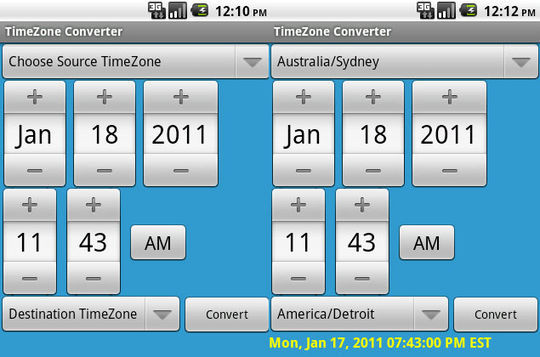 Looks for the local location of the user to compare with other time zones.
Converts a date/time from one time-zone to another. This application is great for scheduling international trips as well as convenient times for overseas conference calls, webinars and phonecalls to friends and relatives.
Time Zone Converter By TheTimeNow
Use our Time Zone Converter to find the time difference between two cities or two time zones around the world.
In this session, we are presenting 10 amazing word cloud generators for you. Word cloud can be defined as a graphical representation of word frequency, whereas word cloud generators simply are the tools to map data, such as words and tags in a visual and engaging way. These generators come with different features that include different fonts, shapes, layouts and editing capabilities.
Without any further ado, here we are presenting a fine collection of 10 amazing and useful word cloud generators for you. Leave us a comment and let us know what you think of the proliferation of design inspiration in general on the web. Your comments are always more than welcome. Let us have a look. Enjoy!
An attractive arrangement of randomly positioned words, where the most important words are bigger than the others.
VocabGrabber analyzes any text you're interested in, generating lists of the most useful vocabulary words and showing you how those words are used in context. Just copy text from a document and paste it into the box, and then click on the "Grab Vocabulary!" button. VocabGrabber will automatically create a list of vocabulary from your text, which you can then sort, filter, and save.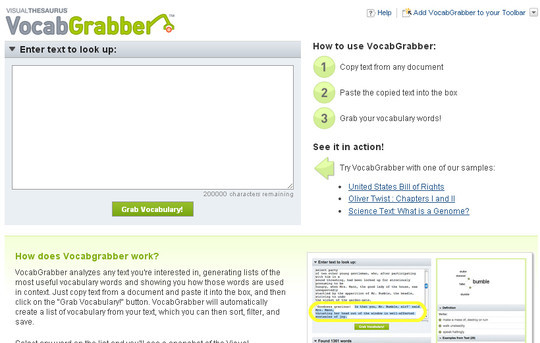 Write a comment or poem in the shape of hearts or other symbols. Send a greeting or post to Facebook or your blog.
Wordle is a toy for generating "word clouds" from text that you provide. The clouds give greater prominence to words that appear more frequently in the source text. You can tweak your clouds with different fonts, layouts, and color schemes. The images you create with Wordle are yours to use however you like. You can print them out, or save them to the Wordle gallery to share with your friends.
Tagxedo turns words – famous speeches, news articles, slogans and themes, even your love letters — into a visually stunning word cloud, words individually sized appropriately to highlight the frequencies of occurrence within the body of text.
Tagul is a web service that allows you to create gorgeous word clouds. Tagul store offers you postcards, mugs, t-shirts, and more stuff with word clouds art.
Create your own tag cloud from any text to visualize word frequency.
Paste your text into the box. Press 'Sift' to visualize.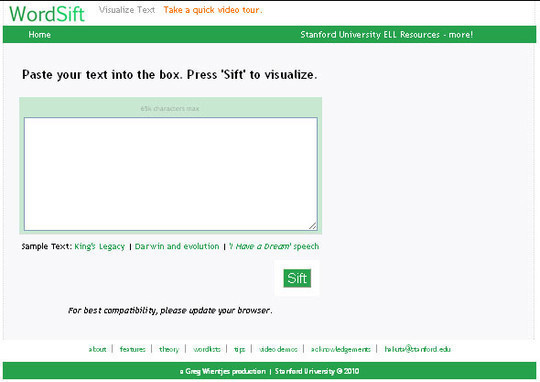 A Word Cloud is a visual representation of some text as a bunch of words based on a weight associated to each word. Typically, the frequency (keyword density) of the words in the page is used as the weight even though some other metric might be used. ToCloud is an online free word cloud generator that uses word frequency as the weight. Hence, the generated word cloud of a page gives a quick understanding of how the page is optimized for certain words.
A word cloud is a graphical representation of word frequency. Type or paste text into the box below and press the arrow button to view the word cloud generated. The appearance of a word cloud can be altered using the graphical buttons above the cloud. It is also easy to save and/or print the cloud by simply pressing a button.
In this post, we have collected 11 free tools that will let you annotate you PDF document. Many people use PDF files and read documents in PDF format, and even when they do not use PDF regularly, they often come across such files once or twice in their lives. Many PDF readers are there but none of them offer any option to annotate your document. Therefore, we have compiled this post.
In this post, you will find some free resources to annotate your PDF documents. With these tools, you can add text notes, bookmark a section, highlight or underline text very easily. We hope that you will like this collection and find them useful.
The UPAD app takes notes to another level. Your notes become more striking than a printed page. And you'll be completely intrigued.
Pdf Review is an annotation tool for pdf that has an ordered list containing the feedback and notes without obfuscating the original pdf. It supports the full review workflow. Reviewers can easily add feedback with a single tap and send an organized report to the author.
Adobe® Reader® is the free, trusted leader for reliably viewing and interacting with PDF documents across platforms and devices.
DocAS lets you take note, sketch your ideas, annotate PDFs, convert other document format to PDF, do presentation, read documents, record your meetings and classes, and share your notes/documents on your iPad, All-in-One.
AnnotDoc Lite, viewing MS Office doc and PDF with annotations
AnnotDoc is the ONLY iPad app that supports annotation on MS Word and MS PowerPoint! In addition, it supports annotation on PDF as well. Reached Top 1 in some App Stores!
PDF Max is the 5-star rated, full-featured PDF app used & trusted by millions of iPhone/iPad users world-wide. It designed for those people who're looking for a full-featured PDF annotating, form-filling & note-taking app.
This app is simply excellent! Functionalities are very well designed and usability is very good and simple. It is extremely useful for classes and study.
Mendeley is academic software that indexes and organizes all of your PDF documents and research papers into your own personal digital library. It gathers document details from your PDFs allowing you to effortlessly search, organize and cite.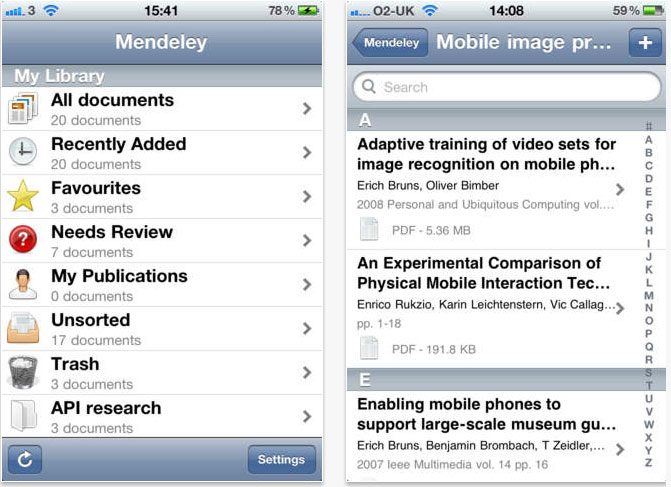 GoodNotes lets you take handwritten notes, sketch diagrams, mark-up PDFs and organize them on a beautiful bookshelf. Turn pages with a swipe, highlight or add notes to any page, and share your notes with anyone. GoodNotes will automatically save your notes and has full backup function to prevent data loss.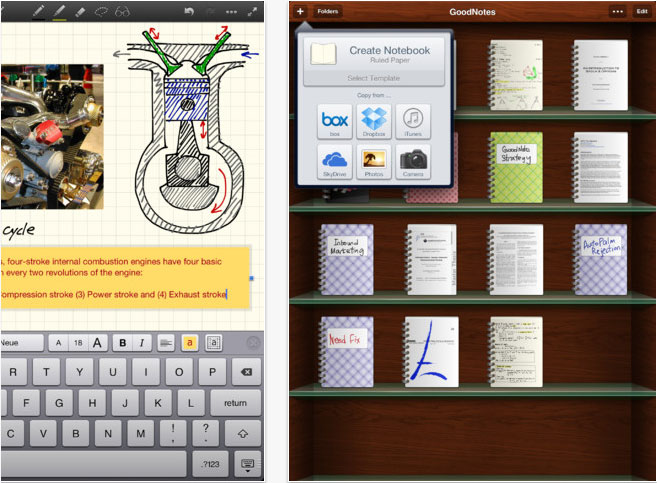 SignNow – Sign and Fill PDF & Word Documents
Need to sign a document? Need to get someone's signature on a document? SignNow makes it easy to do both for free, and forget about printing, scanning, or faxing.
DocuSign Ink – Sign PDF & Documents
Sign documents and get signatures quickly and easily from your iPad or iPhone. A must-have app that will save you time and eliminate the need to print, fax or mail documents and forms for signature.
Twitter is one of the most powerful social media platforms that millions of users are using on a daily basis. With an extensive growth of social media networks, it has become one of the crucial steps in the marketing strategy of any business whether it is online or offline. By integrating Twitter into other marketing avenue, any company can easily increase its revenue. But, using Twitter for marketing your website and its good or services can be time consuming and tedious. In order to reduce this exponentially tedious task, one can take help of plugins which are designed to save your time and energy.
In this collection, we are showcasing a wide collection of 40 truly amazing and useful WordPress Twitter plugins which will help you in reducing the amount of work that you would do to integrate Twitter to your website. Enjoy!
One click registration & login plugin for Twitter? Easy installation? Is it totally free and comes with support? Yeah!
Track Twitter search results, a Twitter hashtag, or a Twitter profile using sidebar widgets.
Allows your site visitors to follow your twitter account with one click, without leaving your sitet.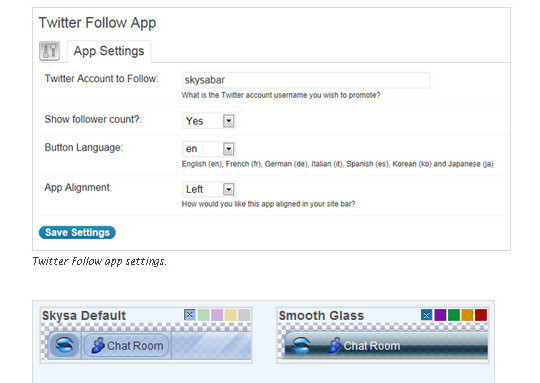 Allows your site visitors to follow your twitter account with one click, without leaving your sitet.
HL Twitter stores tweets from multiple accounts and displays them via widget, archives and shortcodes as well as auto-tweeting new posts.
A widget that properly handles twitter feeds, including parsing @username, #hashtags, and URLs into links.
Twitter Tools is a plugin that creates a complete integration between your WordPress blog and your Twitter account.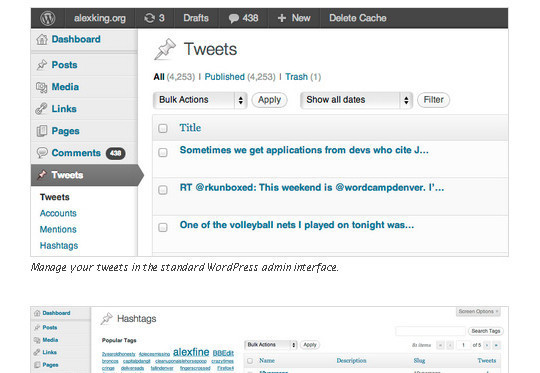 A plugin meant to simplify Twitter cards integration on WordPress. But this is more than just adding markup. You can customize your Twitter card.
Rotating Tweets (Twitter widget and shortcode)
Twitter widget and shortcode to show your latest tweets one at a time an animated rotation.
Add a Twitter "Follow" button to your WordPress website.
Really Simple Twitter Feed Widget
Shows the latest tweets from a Twitter account in a sidebar widget. Twitter API 1.1 ready.
The Best Way to Add Twitter Cards Metadata in WordPress Site. Enable Summary and Photo Cards Easily, With Control.
Ultimate twitter profile widget
Ultimate twitter profile widget. Plugin shows your tweets on Page/Post/Widget area.
WordPress Dashboard Twitter represents a Dashboard Widget for WordPress, that turns your Dashboard into a Twitter Client.
Add Twitter Card markup to individual posts. Supports summary, photo, and player types.
Twitter Like Box – Like facebook box but for twitter
Display your Twitter followers anywhere in the site or use the widget to display it on the sidebar.Like Faebook's Like Box show your followers and a button to follow you. Also you can display people YOU follow instead of followers by simple changing settings on the widget. Colors are also editable in the admin settings page.
Is a plugin that creates a complete integration between your WordPress blog and your Twitter account including ShareThis Buttons and Goodies Widgets.
Hupso Share Buttons for Twitter, Facebook & Google+
Help visitors share your posts on popular social networks: Twitter, Facebook, Google Plus, Linkedin, Pinterest, StumbleUpon, Digg, Reddit and others.
WordPress Twitter Bootstrap CSS
WordPress Twitter Bootstrap CSS lets you include the latest Twitter Bootstrap CSS and Javascript libraries in your WordPress site.
The Twitter Media Endpoint plugin allows you to turn your WordPress install in to a Twitpic/YFrog like service for your mobile device.
Create Your Own Custom Twitter Application and Publish to Your Twitter account 'Via Your Custom Twitter Application'.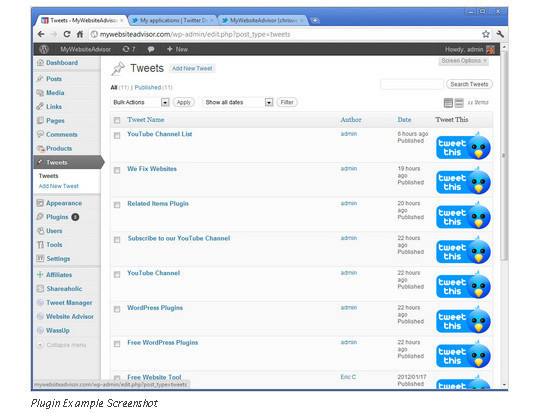 Add a widget to your sidebar to show your latest tweets.
A Widget to show your latest tweets. Use the oEmbed methode and some cache. It is simple, elegant and it works. This plugin uses the Twitter API version 1.1. You have to authentify yourself ! Visit the option page "Plugins->Widget Embed Latest Tweet" to do so.
Auto-posts a Twitter update when you update your WordPress blog or blogroll, with your chosen URL shortening service.
Provides a twitter badge widget that you can place on your wordpress site to display tweets from a specific twitter user.
A widget that properly handles twitter feeds, including parsing @username, #hashtags, and URLs into links.
Creates a new and simple to use widget that outputs the awesome Twitter Embedded Timeline.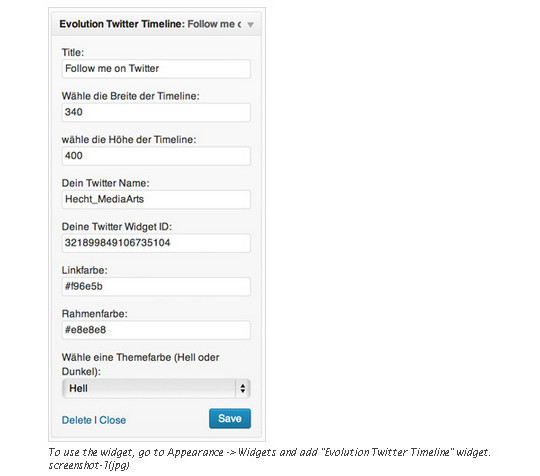 This is a simple widget that shows your recent tweets. It also supports caching, so you won't exceed the API call limit.
Twitter Feed Widget will display your tweets using ajax and jquery. It shows one tweet at a time and loops through an specified number of tweets and time interval. IMPORTANT the twitter feed currently only works with non-private(public) twitter accounts.
Add live chat to your blog or website quick and easy with Casengo, so you can handle enquiries via email and live chat directly from your website. Casengo helps you to respond to customers faster than ever and improve their satisfaction with a groovy mixture of real-time chat and email.
The Twitter Feed plugin makes including and linking to tweets on multiple Twitter accounts simple and flexible.
Integrate TwitterCounter.com badges on your blog to display the number of followers you have on Twitter.
Twitter Widget displays your tweets on your sidebar. There's lots of switches to tuen on/off what you want to display.
The WordPress implementation of the official Twitter Tweet Button.
Twitter Comments system. Automatically retrieve Twitter Replies and/or Twitter Retweets to your Blog's Posts using WP built-in comment system.
Twitter Tools is a plugin that creates a complete integration between your WordPress blog and your Twitter account.
This plugin will add an extra field to your comment form so a user can add their Twitter username. A user configured 'follow me' link is then displayed along with their details on all their comments.
Evergreen Post Tweeter enables you to automatically tweet out links to old posts based upon a tag or tags.
A simple code which adds a widget on admin panel with updates from the Status API.
This is the best twitter sidebar plugin widget you will find for WordPress. It easy to use, easy to install and has all the features you needs to show your twitter profile, feeds off.
Here we are featuring some exceptional and extremely beautiful Tumblr themes to enhance your Tumblr experience. We all have noticed that over the last few years, the popularity of Tumblr has greatly increased. Tumblr is pretty flexible, potent, and, most outstandingly, effortless to work with. Tumblr is a blogging platform that permits you to straightforwardly share everything from videos, photos, text, links or thoughts from a web browser, email or phone and it's all customizable.
As we have already published a post about Free Tumblr Themes and that was greatly appreciated by our readers. Now here in this round up, we are sharing some more outstanding themes that will make your Tumblr blog stand out from the rest. We hope you like this assortment and find something useful for you. Enjoy!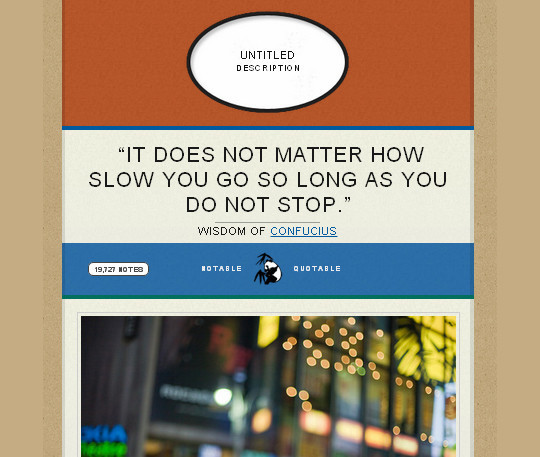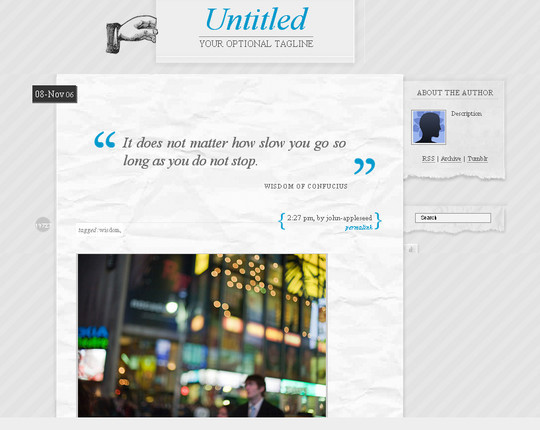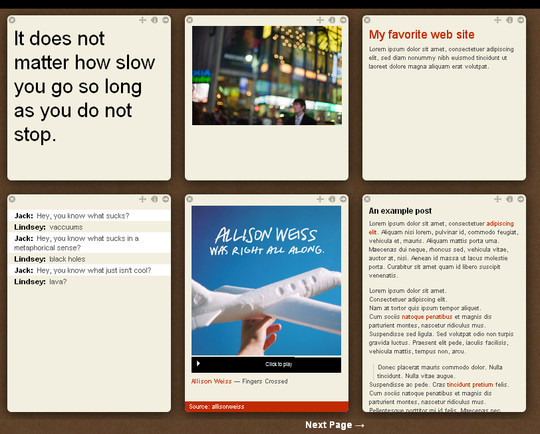 Tumblr Widgets and Apps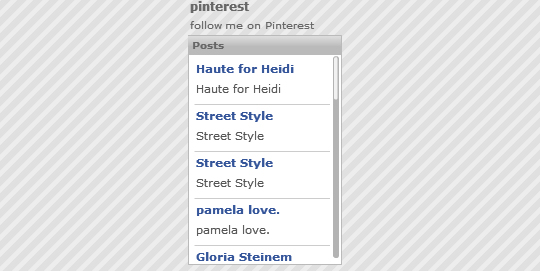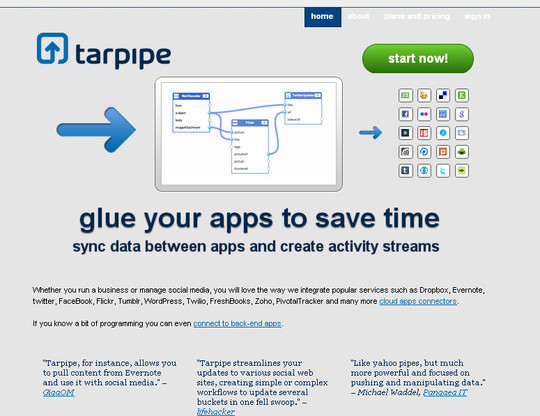 Conclusion
Feel free to browse through this collection and share your comments with us. Also let us know if we have missed out some amazing Tumblr themes available out there. With this collection, we want to share with you some high quality and professional looking themes that can enhance your Tumblr experience. Let's have a look, enjoy!
If you are an Opera (the web browser) user, then there are not many places to go for tips and tricks. Apparently the web is filled with Firefox addons and Chrome extensions. This is so because most people are not aware of the massive potential of Opera. Not only is it a lightning fast browser but it has rich library of widgets. Opera widgets are not only for average browsing users but also for web developers.
Take Icon Creator for instance. Icon Creator is an Opera widget that lets users create a simple icon of different colors. After installing the widget, you might need to open up the widgets sidebar and access Icon Creator from there.
You will notice that Icon Creator will open in a new window with its own entry in the Windows taskbar.
Closing Opera will not close Icon Creator as it will operate independent of Opera. This is what Icon Creator's window looks like:
The buttons in the top left let us choose the overall style of the icon.
The bar below these buttons let us change the background color and symbol color of the icon.

The shape of the icon can be changed by a small arrow button in the middle pane.
Clicking on this button presents us options of other shapes.
Using all these options we can create custom icons. Then we can port them to the sizes available in the right pane.
Available sizes include 128×128, 64×64, 32×32, and 16×16. The resultant file is in PNG format.
In conclusion, Icon Creator is a great a widget for Opera that helps create custom icons in a very user friendly way. Get Icon Creator from here.
Are you running a website? One of the best ways to attract more traffic is to personalize your website. Most site owners do this by adding an "about me" section. While this is fine, sharing your musical preferences with the visiting community will help them relate to you. This in turn, will form loyal site followers.
Now imagine sharing music by adding great quality songs in a web player on your website. Visitors can listen to the songs and purchase tracks / albums in this player widget. To make things even better, you get a percentage of each track / album sale. If it were not for BuyWidget, that scenario would have sounded too good to be true.
BuyWidget is a simple tool for your website that performs all the functions mentioned above. You sign for an account on the site, create a playlist of songs, and get the widget which should be added to your site.
The playlist can contain as many songs as you want. You can add songs by searching for artist, genre, album, and song. Once a playlist has been formed you can always change it, make additions to it, and reorder the tracks easily. The code you obtain for the widget is HTML and can be placed wherever on your site, according to your preference.
Visitors can play the songs from the BuyWidget player and hear the best sounds because the songs are in MP3 format, at 296 kbps or higher. You get 7% of the sale of each track or album.
BuyWidget is an excellent concept that will satisfy a lot of site owners by adding a new source of revenue to their income. The best part about all of it is that you need not pay BuyWidget any signup or subscription fees. Click here to visit the site.
Now a days, unlimited websites are coming live everyday to take part in the internet world. They can be classified in business sites, blogs, social networking sites, directories, forums, e-commerce sites and many more other creative ideas applied to do something that has never been done. Today, We are compiling a list of Ten Rock Solid Free Platforms To Start Your Successful Website. These free web applications can be use in diversified ways to get your customize results for your fresh and new websites. You can easily find their showcase of running websites to get inspiration and ideas.
You are welcome to share more free web apps/platforms that will help our readers to start their multi-function websites.  Do you want to be the first one to know the latest happenings at SmashingApps.com just subscribe to our rss feed and you can follow us on twitter as well.
WordPress is a state-of-the-art publishing platform with a focus on aesthetics, web standards, and usability. WordPress is both free and priceless at the same time.
Pligg is an open source Content Management System (CMS) that you can download and use for free. Pligg CMS provides social networking software that encourages visitors to register on your website so that they can submit content and connect with other users. Our software creates websites where stories are created and voted on by members, not website editors. Use Pligg content management system to start your own social networking community in minutes.
With a large and highly customisable set of key features coupled with a standards compliant interface, phpBBâ"¢ will grow with, and complement your website. With millions of installations worldwide, it is no wonder phpBBâ"¢ is one of the most popular ways to create and support a community.
Magento is the eCommerce software platform for growth that promises to revolutionize the industry. Its modular architecture and unprecedented flexibility means your business is no longer constrained by your eCommerce platform.

Drupal is a free software package that allows an individual or a community of users to easily publish, manage and organize a wide variety of content on a website. Tens of thousands of people and organizations are using Drupal to power scores of different web sites from personal weblogs to large community-driven websites.
The PrestaShop e-Commerce Solution was built to take advantage of essential Web 2.0 innovations such as dynamic AJAX-powered features and next-generation ergonomy. PrestaShop guides users through your product catalog intelligently and effortlessly, turning intrigued visitors into paying customers.
jobberBase is a great open source job board software for anyone. You can get online your job posting website with jobberBase. It's easy to install and configure to start your job board.

YouTube, MySpace, Odeo, Flickr, Match and Facebook – all in one, customizable and under your full control. You're limited only by your imagination – not by the software. Dolphin Smart Community Builder is a universal, free, open source software that allows you to build any kind of online community. With a huge variety of features & options, you can quickly launch your own very unique and successful website.
Freeway is the most advanced Open Source eCommerce platform and Freeway offers selling methods only previously available in enterprise class or niche bespoke systems. Without having to purchase a commercial system and then paying a developer to build a custom installation, Freeway does what you need out of the box. Of course Freeway is great for selling products but it also sells events AND services AND subscriptions. From appointments and time based bookings to event ticketing and subscriptions Freeway is the eCommerce platform.
PHPizabi is one of the most powerful social networking platforms on the planet. With literally thousands of websites powered by PHPizabi including everything from simple friends sites to the most complex networking super sites out there. Easy to install, use, and raising the bar on what it is to provide a reliable, fast, social networking package to raise your business to the next level.
Updated*
Joomla is an award-winning content management system (CMS), which enables you to build Web sites and powerful online applications. Many aspects, including its ease-of-use and extensibility, have made Joomla the most popular Web site software available. Best of all, Joomla is an open source solution that is freely available to everyone.
Adobe AIR is a cross-platform runtime environment for building rich Internet applications using Adobe Flash, Adobe Flex, HTML, or Ajax, that can be deployed as a desktop application. Anyone who realize the future of Adobe AIR really want to learn it. To see the magic of Adobe AIR, we must suggest you to check out this showcase applications on Adobe's website. Here is the list of 25 Excellent And Useful Adobe AIR Tutorials & Resources that includes some useful tutorials and few great applications that has been developed on Adobe AIR. We are hoping that you will learn further on Adobe AIR after reading out this post.
You are welcome to share if you know more Adobe AIR tutorials and resources which our readers/viewers may like.  Do you want to be the first one to know the latest happenings at SmashingApps.com just subscribe to our rss feed and you can follow us on twitter as well.
You may be interested in these older posts
11 Free And Useful Open-Source Alternatives For Designers
13 Online Free Web Apps That You Would Really Love To Use
31 Power Tools For Twitter Lovers To Make Lives Easier
11 Premium But Free And Useful Web Apps For Designers
15 Free Tools For Mac OS X You Should Bookmark
11 Free Windows Programs Alternatives For Linux
19 Most Essential Open Source Applications That You Probably Want To Know
17 Wonderful Free Tools To Make Designers Lives Easier!
17 Online Free Web Based Applications That You Probably Would Love To Use!
17 Online Free Web Based Applications That You Probably Love To Use!
21 Online Free Web Based Applications That You Probably Would Love To Use Every Day!
23 Free And Online Web Based Applications Specially If You Are Designer Or Developer
6 Free Tools To Help You Run Windows Applications On Linux
21 Free Apps For Mac OS X That Are Absolutely Useful
This tutorial will introduce you to Adobe Air, a framework to build rich internet applications. This first introduction will show how to create a simple application using Html/Js technologies.
Adobe AIR and Flex – Getting Started
This article is going to be a short tutorial on how to get your first AIR application going. This tutorial requires a small knowledge of Flex.
Using the AIR Debug Launcher (ADL)
This will help you to use the AIR Debug Launcher (ADL) to run both SWF-based and HTML-based applications during development.
This Beginners Adobe AIR Tutorial covers the fundamentals for creating a simple AIR application.
Simple Copy Paste In Adobe AIR
This is a simple example that demonstrates how to copy a Text to clipboard and also how to retrive the same.
Developing cross-platform Adobe AIR applications
This article discusses some of the best practices for developing AIR applications that work well on all supported platforms and operating systems.
This will help you to learn Installing Adobe AIR on Linux.

Adobe AIR Tutorial For HTML / JavaScript Developers
The learning curve for building an Air Application if you already know JavaScript and HTML is quite small. Run through this quick tutorial and you will be unstoppable.
Adobe AIR Read And Write File System – Part1
This tutorial will help Adobe AIR developers the ability read, write and manage files and folders.
Adobe AIR For JavaScript Developers Pocketguide
Adobe AIR for JavaScript developers provides an introduction to Adobe AIR for developers using interested in building AIR applications using JavaScript, HTML and CSS.
Notification Windows with JavaScript and AIR
This article will walk through what a notification window looks like to AIR, and explore some of the various options you have when you want to alert the user.
Implementing Drag And Drop Between The OS And AIR
In this, you will explore integration possibilities using drag and drop, a technique familiar to most desktop application users.
Best Practices: 6 AIR Features That May Annoy Your Users 
AIR provides developers with a lot of features that could potentially annoy users if not used wisely. In this article author listed down some features that he just want you to think about them before you add them to your application.
Recreating MapCache On Adobe AIR
This article demonstrate how you can integrate web-based and desktop technologies by way of an Adobe AIR sample app that brings Yahoo! Maps to the desktop.
How To Build A Contact Manager In AIR Using XML
In this tutorial, you'll be reading, parsing and searching an XML into an AIR application and going through the whole getting it to compile and exporting a release version.
How To Build A Contact Manager In AIR Using XML – Part 2
In this part, you will be learning how to save and edit the file and how to setup the bindings between the xml and component.
Creating A Downloader For YouTube with Flex/Air
In this article, you will learn to build a cross platform application that searches for YouTube videos and then provides a mechanism to download those videos and view them locally.
Building an Adobe Air application with Flex
In this tutorial you will learn how to build an Adobe Air application with Flex, an open source set of technologies for the development of rich internet applications.
This article will guide you to publish your work and create an installer for it.
Syntax Highlighting in Flex for AIR
This tutorial will show you a basic example of how to use the SHJS (Syntax Highlighting in JavaScript) library inside a Flex/AIR application.
8 Useful Adobe AIR Applications That Work In Linux
10 Adobe AIR Must See Applications
20+ Great Adobe AIR Apps for Photos & Videos
5 More Cool Adobe AIR Applications
28 Adobe AIR Apps for Designers and Developers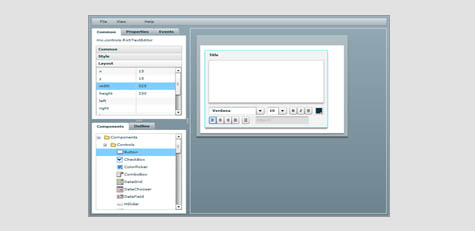 YourFonts is a Free online font generator that allows you to create your own OpenType fonts within a couple of minutes. Go make your own handwriting as a font.
YourFonts allows you to upload large templates (up to 4000 x 5000 pixels) and it has the most advanced raster to vector conversion algorithm. Yes, this service is 100% free, no hidden fees and no strings attached.
Features:
Your own handwriting turned into your very own font for free
Optionally include your signature
You'll have your very own font within 15 minutes
Make as many fonts as you like
Use your fonts on Windows, Mac OS X and Linux
Personalize your digital scrapbook pages
Make your own "family handwriting history"
Use your fonts in Microsoft Word, PowerPoint and every program that you own