Web Design
In this session, we have collected some of the awesome freebies for the web designers that have been released recently. Having a good supply of fresh resources, useful tools and downloadable freebies make the job much more easier. Moreover, keeping oneself up to date with the latest tools and resources being introduced in the industry is very important for the web designers.
Keeping this in mind, we thought to compile a collection of some useful freebies for the web designers. Here we are listing down 45 awesome freebie that include icons, user interface kits, mobile ui, and much more.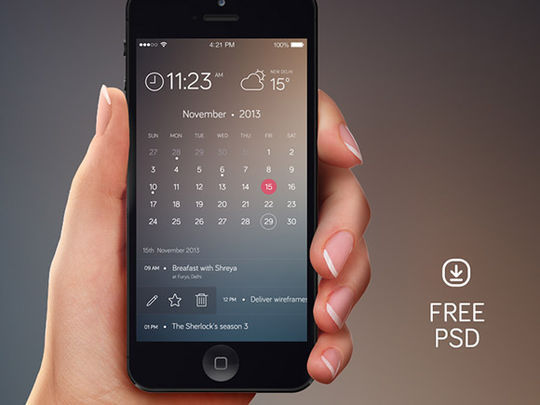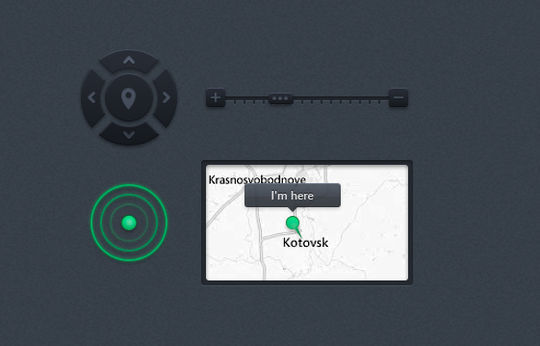 Nokia Lumia 1020 colourful mockups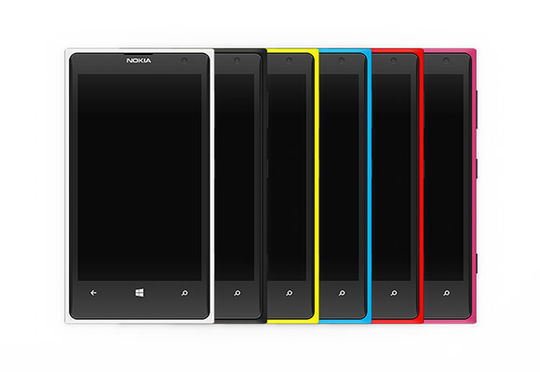 Adore – Free icon set for iPhone (Theme)
Flat Credit Card Icons Set PSD
WireKit – App Prototyping with Photoshop
Flat dashboard. Free UI kit PSD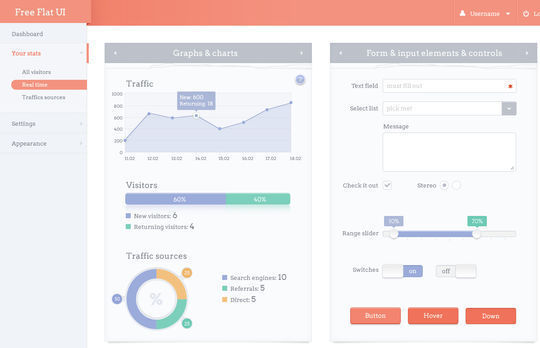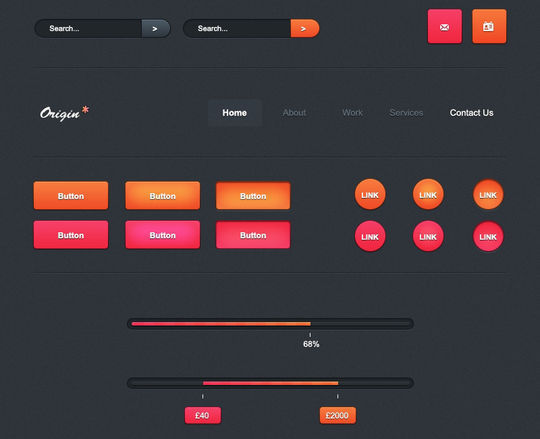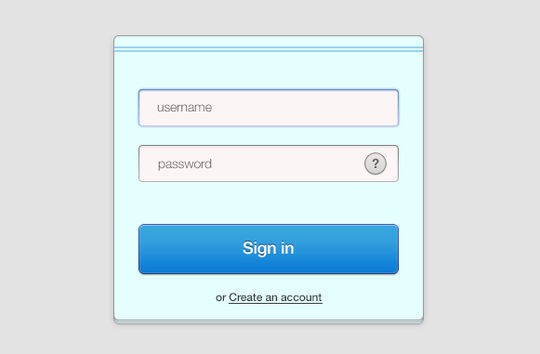 Animated 3D opening type effect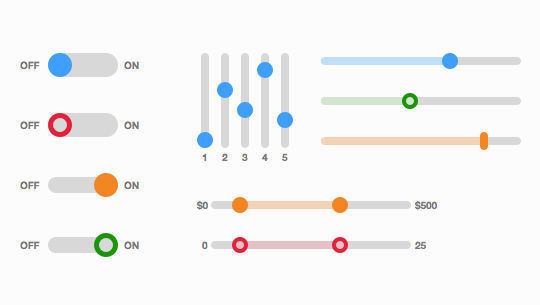 Responsive Showcase PSD Mockups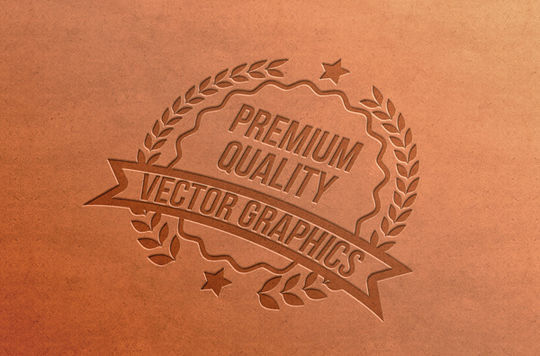 Flat Long Shadow Login & Register UI PSD
Create a Flat iOS 7 App Icon in Photoshop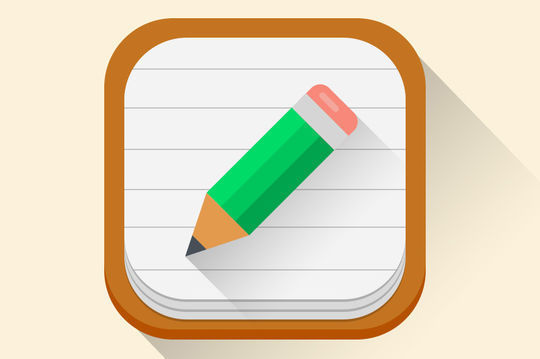 The most irritating part of web browsing, when we suddenly come across a broken link and get a 404 error on our screens. It's a dead end to a surfing tour which hits the user's nerves to the extent of exiting your webpage, sometimes, forever. However, error 404 is something unavoidable. They occur and we just have to live with them.
But some folks have found a way to have fun with them. Where 404 is an imminent flaw, it's also a perfect device to increase your tendency at creativity. Designers are now having fun with customizing error pages, making them acceptable with a fun message and imagery to guide back to home-page. Thus error pages are now a fun part of web designing and creativity.And they are indeed fun enough; here are some recommended examples of Inspiring 404 Error Pages for inspiration kick!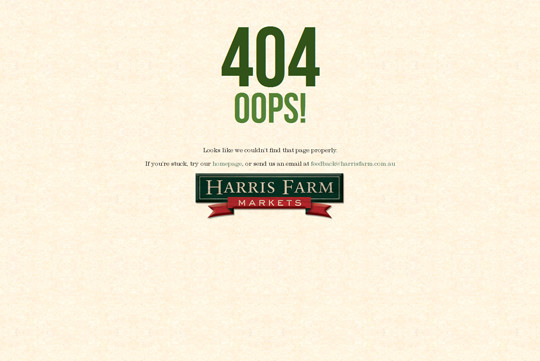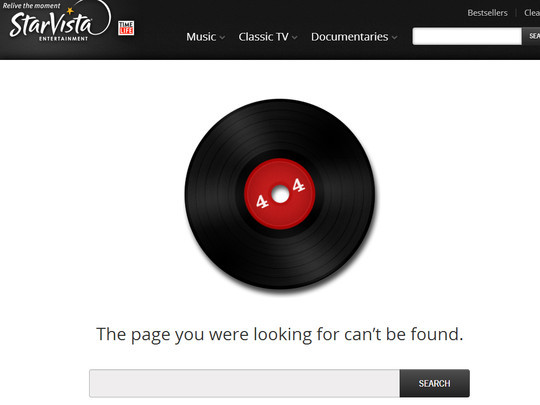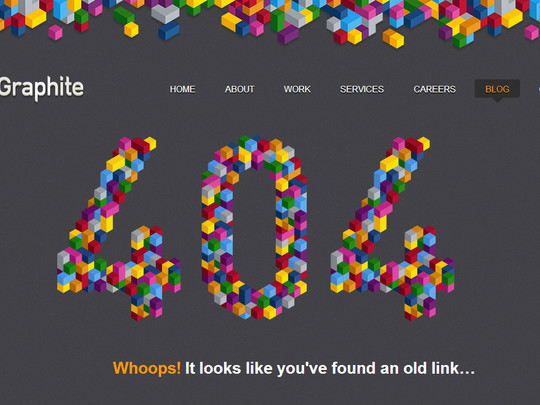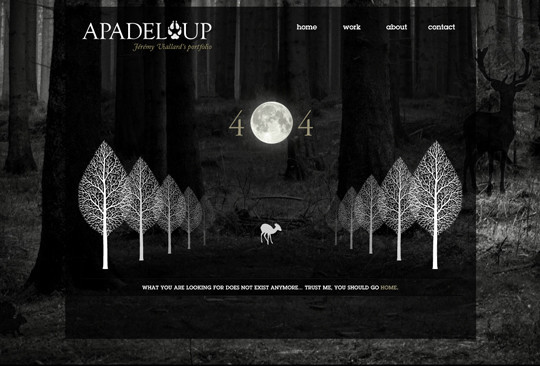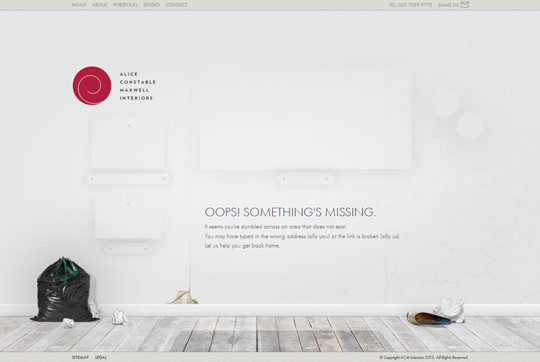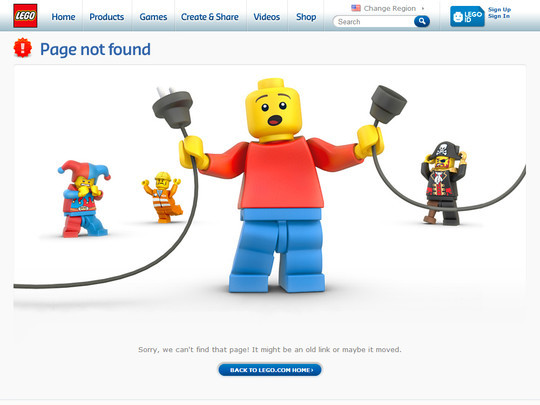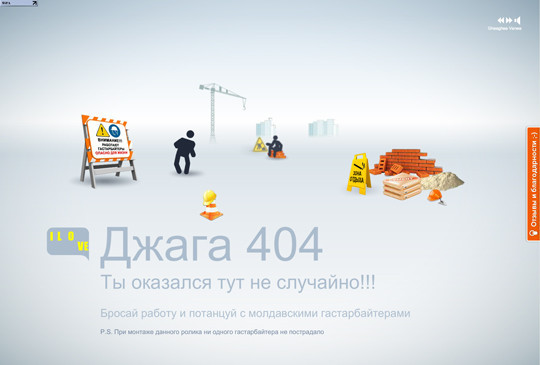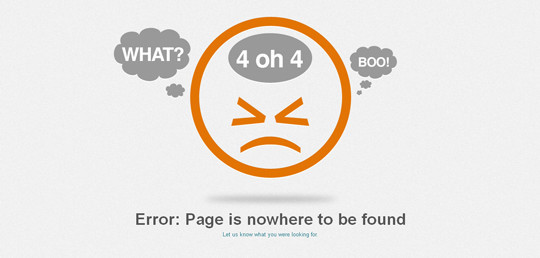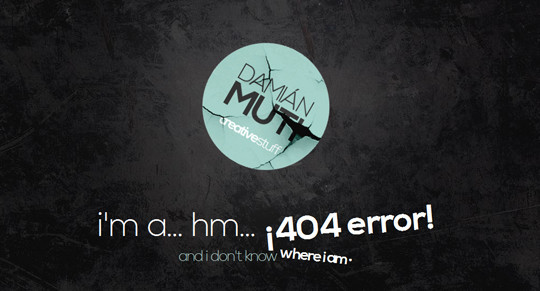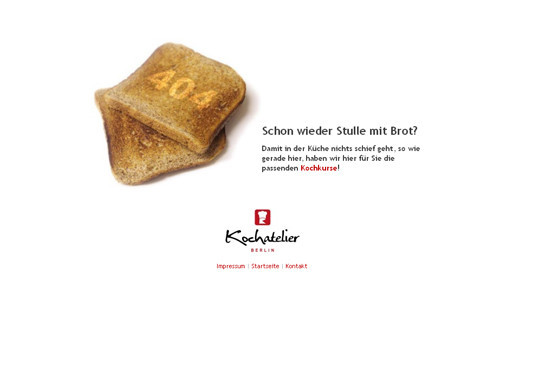 Slow websites, tough in navigation and delayed load time due to heavy graphics results in irritation. Rich graphics websites used to be fun which is a long gone story today. Now people look for better alternatives to suit the picture of "simple yet productive" approach. Basically, what is acceptable to clients today is easy to navigate website with less loading hassles, great productive potential and dynamic in outlook.
Is that too much to ask? "Wordpress themes" says a loud, "no!" to that. WordPress is one of the most widely utilized blogging/website platforms.Its popularity has a big reason that it's availability of themes, plugins and convenient handling. Large varieties of themes are available with dynamic outlooks yet very much simple perfectly fitting the "simple yet effective" approach. Saying "simplicity is beauty,"Wordpress adds another feature to it that"simplicity is fast"! Proving thus,including here a collection of Free Minimal Responsive WordPress Themes.
Simplest designs, attractive and elegant,will surely prove your success in making fast paced websites that will make your client a very happy person!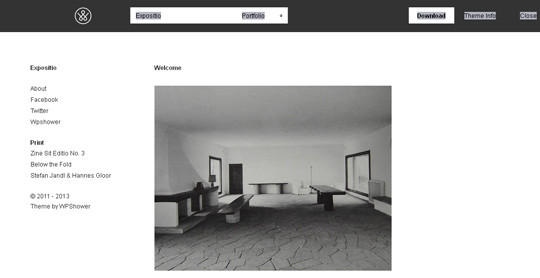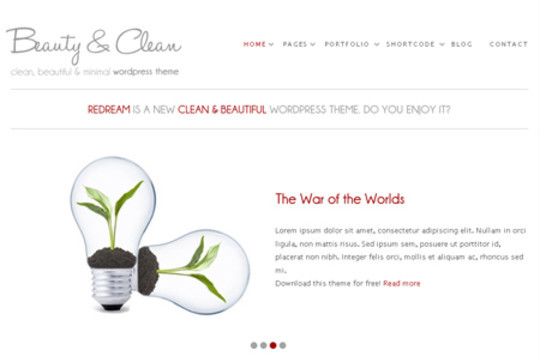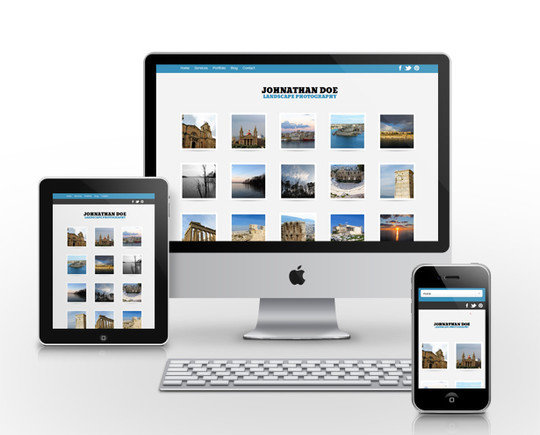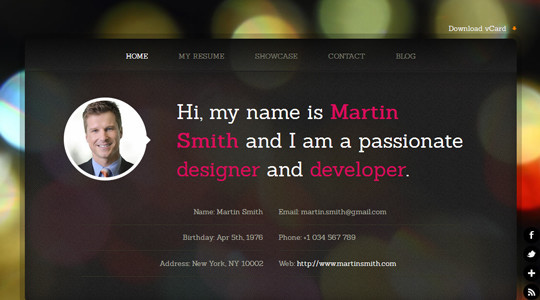 In this collection, we are showcasing 14 fresh and amazing PSD files of website templates. Designing the website theme is very tough and hectic job and it takes lots of time too. This is the reason that designers always prefer PSD files because PSD files are ready-made, save time and effort. Website visitors appreciate and like those websites which are easy to use and have nice and appealing website theme.
Web designers always welcome the PSD collections with warm and open hands because PSD files are the great help for them and make their work easier for them. Web designers will definitely get help from this collection. So, this is another PSD collection for the designers. Check out these PSD website templates and download your best pick without paying any money. Do let us know what do you think about this collection. I Hope you like this collection and please do share your valuable suggestions and comments with us via our comment section below.
Free Hosting Web Design Free PSD
Award The Inspired clean PSD website
Website Template for Community Website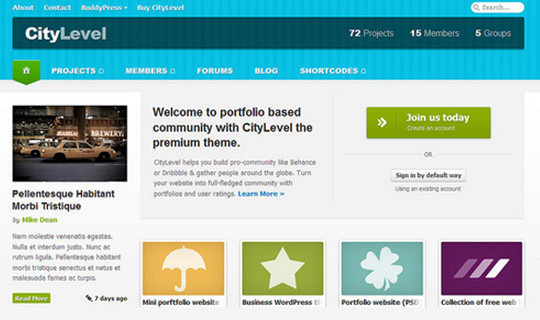 Wireframing and mockup tools are very important for the developers as they make the process of creating a cloud computing based SaaS app or website fundamentally easier. They are the most crucial tools when it comes to communicating a prototype's usability and functionality to clients. Therefore, almost all developers spend loads of their time in searching good and high quality mockup and wireframing tools.
Below, we have put together top 42 mockup and wireframing tools for developers. With these tools, they can provide their clients a streamlined and uncluttered visual to supplement verbalized ideas and designs. Check this out and get to pick one!
Do let us know what you feel about this round up.
Free Tools
Lightweight online tool for creating and sharing mockups (wireframes). Easy, fast and free in use.
Millions of people use XMind to clarify thinking, manage complex information, run brainstorming and get work organize.
The only cloud-based platform with visual development tools and integrated backend services.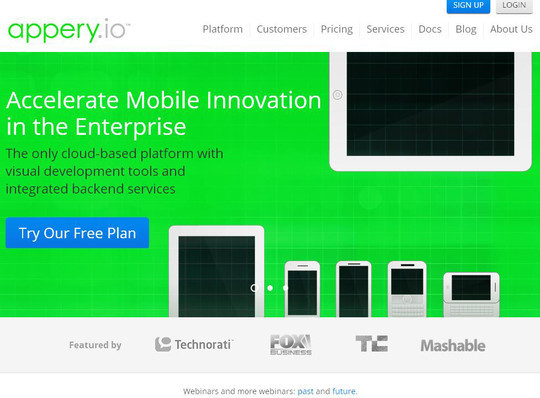 Lumzy is a Quick Mockup and Prototyping tool. Runs on the browser.
Pick "Illustration" or "Pencil" to create a new iPhone Mockup.
Pencil is built for the purpose of providing a free and open-source GUI prototyping tool that people can easily install and use to create mockups in popular desktop platforms.
CogTool is a general purpose UI prototyping tool with a difference – it automatically evaluates your design with a predictive human performance model (a "cognitive crash dummy").
iPlotz allows you to rapidly create clickable, navigable mockups and wireframes for prototyping websites and software applications.
Cacoo is a user friendly online drawing tool that allows you to create a variety of diagrams such as site map, flowchart, mind map, wire frame, UML diagram and network diagram. Cacoo can be used free of charge.
DENIM is a system that helps web site designers in the early stages of design. DENIM supports sketching input, allows design at different refinement levels, and unifies the levels through zooming.
Pidoco is a web-based prototyping software for rapidly creating clickable wireframes and UI prototypes for web, mobile and enterprise applications. It's easy to use with smart sharing and collaboration features, a convenient specification generator, exports and much more.
Mix Low fidelity and High fidelity. Link sketches to build prototypes. Dashboards and Charts builder.
Easily draw diagrams online using Creately's online diagramming tool. Diagram software packed with templates and features.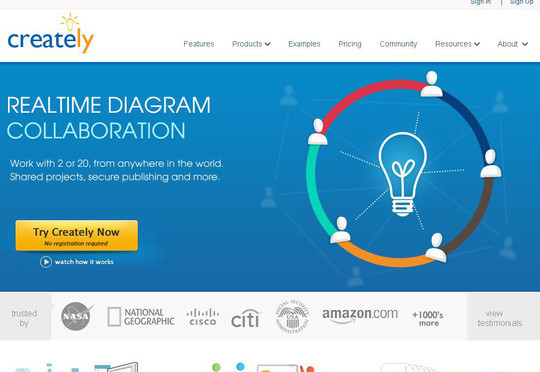 MockNow is easy, fast, (Drag & Drop) and totaly free web based online Mockups (Wireframe) Creating and Sharing tool for website and ready to publish in minutes.
FlairBuilder is a prototyping tool that lets you create interactive wireframes for websites and mobile applications. It's easy to learn and use, and comes with lots of options.
UXPin: UX Design & Wireframing Tools As Beautiful As Your Work.
OmniGraffle can help you make eye-popping graphic documents—quickly—by providing powerful styling tools, keeping lines connected to shapes even when they're moved, and magically organizing diagrams with just one click.
Professional-quality flowcharts,org charts,UML diagrams,network diagrams,wireframes,technical drawings and more.Gliffy works directly in your browser!
Silly-fast mobile prototyping. Create fully-interactive high-fidelity prototypes in minutes that look and work exactly like your app should.
Premium Tools
Mockup Builder is a prototyping solution that helps design software or websites while reducing the time and cost spent on the negotiation stage. Identify your requirements and get the job done right!
WireframeSketcher is a wireframing tool that helps designers, developers and product managers quickly create wireframes, mockups and prototypes for desktop, web and mobile applications.
A prototyping tool for animation and interaction on desktop and mobile.
Create and share hosted prototypes with HTML, CSS, Javascript, Coffeescript, Less and Markdown.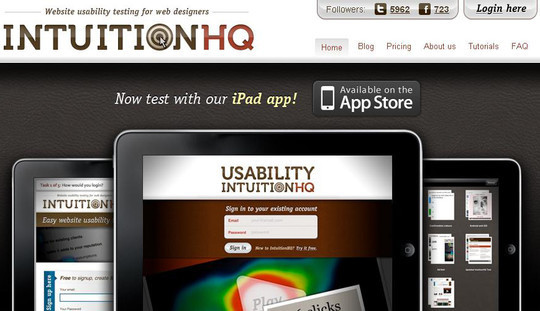 Verify lets you test screenshots of your design work to gain valuable insights on your users' expectations and reactions to your apps and websites before writing a single line of code. Your team will love the great-looking, actionable, reports that will help them make informed design decisions.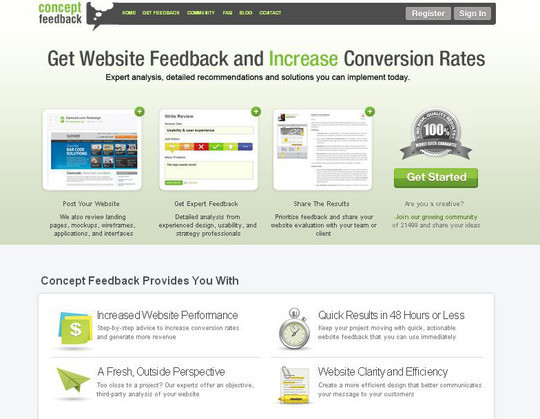 Create surveys and polls that match your brand, budget, and vision.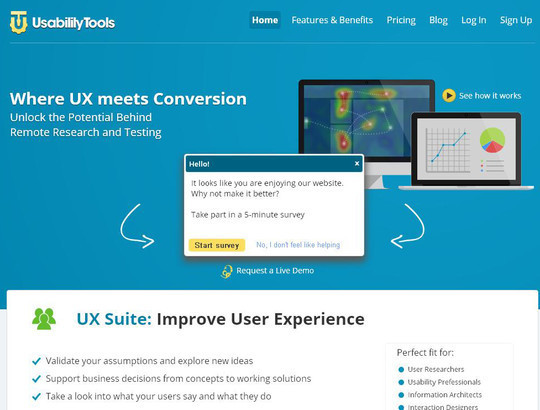 The web is changing at a great speed and is getting more and more responsive day by day and so its designs. Today, designers are now focusing on creating more responsive websites. Innovations and new technologies have given the web development a new and better dimension. Today's websites are interactive, visually attractive as well as responsive.
Creating responsive website is a pleasant and refreshing shift but it requires loads of hard work and efforts. Such websites need to have two important components; one of them is a flexible fluid grid and the other one is responsive images.
Here, we are presenting 44 flexible grid tools that will help you in creating responsive websites. Here is the full collection after the jump. Enjoy!
Responsive Web Design tool for creating grids by Erskine Design.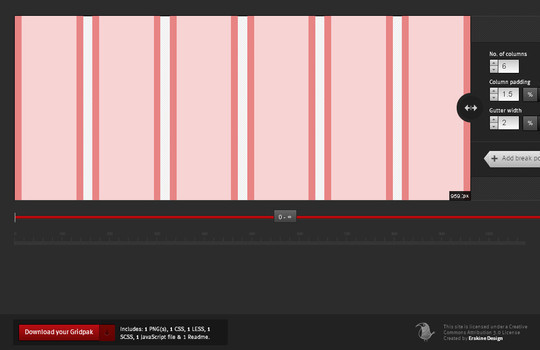 It's a 12-column flexible grid that can scale out to an arbitrary size (defined by the max-width of the row) that's also easily nested, so you can build out complicated layouts without creating a lot of custom elements.
A grid system for responsive web design. Includes folding columns, elastic gutters, a zoomable baseline grid, and a delightful grid overlay script.
The web is a responsive place, from your lithe & lively development process to your end-user's super-tablet-multi-magic-lap-phone. You need grids that are powerful yet custom, reliable yet responsive.
The Columnal CSS grid system is a "remix" of a couple others with some custom code thrown in. Columnal is an elastic grid, while some code inspiration (and the idea for subcolumns) are taken from 960.gs
Set column and gutter widths, choose the number of columns, and switch between pixels and percentages. All without any .grid_x classes in your markup. Oh, and did we mention it's responsive?
Just a simple calculator to help turn your PSD pixel perfection into the start of your responsive website.
Adapt.js is a lightweight (842 bytes minified) JavaScript file that determines which CSS file to load before the browser renders a page. If the browser tilts or resizes, Adapt.js simply checks its width, and serves only the CSS that is needed, when it is needed.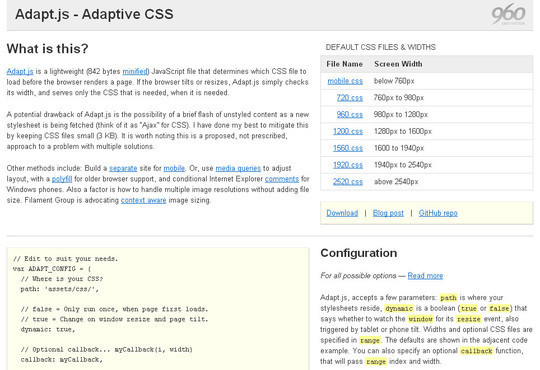 Gridless is an optionated HTML5 and CSS3 boilerplate for making mobile first responsive, cross-browser websites with beautiful typography.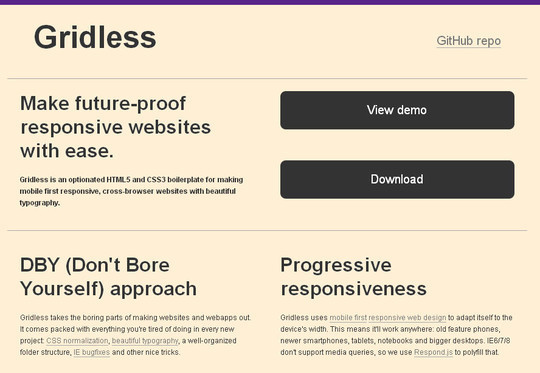 Responsive. Infinite nesting. One class per element. Simple.
A super simple, responsive framework designed to work for mobile devices, tablets, netbooks and desktop computers.
A lightweight semantic grid framework for Sass and Bourbon.
Minimalistic and sufficient for everything, adaptive and responsive. Revolutionary flexible grid and beautiful typography. Absolute freedom with no imposed styling.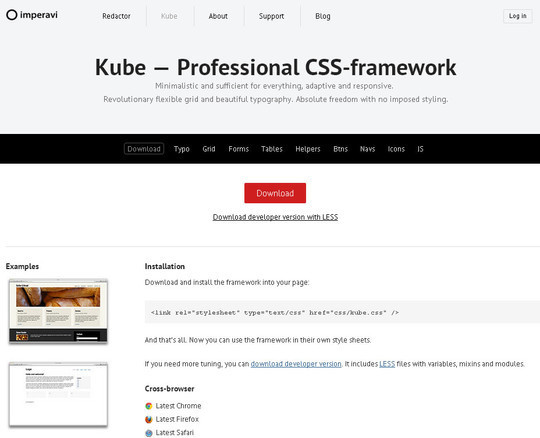 One% CSS Grid is a 12 column fluid CSS grid system. It's been designed as a base for building responsive web layouts easily, quickly and with minimum effort. You don't have to take care of resizing and rearanging your layout for each platform separatelly. One% CSS Grid will do all this for you.
rwdgrid is just another Grid system based on popular 960grid , which is responsive and ranges from mobile, tablet, laptops and wide screen displays. Naming convention of this grid system is similar to 960 grid system, where underscore is replaced by hyphen (increases readabilty).rwdgrid is having different Grid system made for 1200px+ Displays, 960px+ Displays, 720px+ Displays and Mobile screens.
Responsify is a browser based tool, which allows you to create your own responsive template. Think of it as a foundation for you to build upon. You can customise the grid to suit your content, rather than trying to make the content fit the grid.
Simple Grid was created for developers who need a barebones grid. Simple Grid works well with 1140px layouts but easily adapts to any size of layout. With fluid columns, Simple Grid is responsive down to mobile.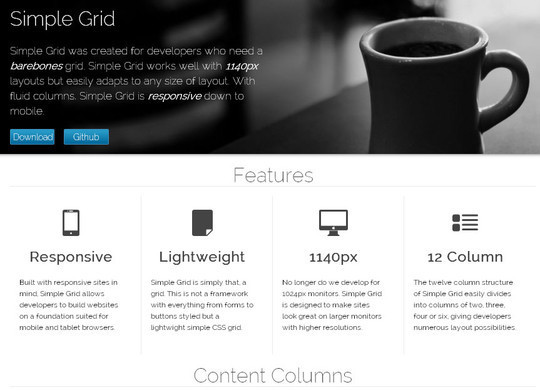 Toast is a CSS framework made as simple as it can be, but no simpler. A plain-English responsive grid makes simple layouts a breeze, and with box-sizing you can add padding and borders to the grid, without breaking a single thing.
IVORY can easily adapt to any size screen from phones to TVs. It offers 4 different width layouts 1200px, 1140px, 1024px & 960px. You can define your own width also.
Convention over configuration, just twelve columns,less code to learn means less bugs to solve.
Gumby 2 is built with the power of Sass. Sass is a powerful CSS preprocessor which allows us to develop Gumby itself with much more speed — and gives you new tools to quickly customize and build on top of the Gumby Framework.
Skeleton is a small collection of CSS files that can help you rapidly develop sites that look beautiful at any size, be it a 17″ laptop screen or an iPhone.
The 1080 Grid System expands upon Nathan Smith's 960 Grid System by simply adding an additional 120 pixels while utilizing the same margins. Thus, anyone who has ever used the 960 Grid System to design can easily do so with the 1080 Grid System.
The 960 Grid System is an effort to streamline web development workflow by providing commonly used dimensions, based on a width of 960 pixels. There are two variants: 12 and 16 columns, which can be used separately or in tandem.
The ultimate resource in grid systems.
978 is a grid layout system that uses 12 columns at 54px, with 30px gutters. This comes out to a total of 978px, which uses up most of the space on a 1024×768 monitor.
The grid system generator will create custom grid systems in valid css / xhtml for rapid prototyping, development and production environments.
The Responsive Grid System isn't a framework. It's not a boilerplate either. It's a quick, easy & flexible way to create a responsive web site.
MUELLER is a modular grid system for responsive/adaptive and non–responsive layouts, based on Compass. You have full control over column width, gutter width, baseline grid and media–queries.
The variable grid system is a quick way to generate an underlying CSS grid for your site. The CSS generated file is based on the 960 Grid System.
34Grid is a Responsive Grid System based on "equally distributed columns" layout basis. In contrast to other great grid systems (@see bottom of page), 34Grid provides equally distributed columns for each row. (and also column complements for inequal distributions)
A responsive grid system built with the power of Sass.
Less Framework is a CSS grid system for designing adaptive web­sites. It contains 4 layouts and 3 sets of typography presets, all based on a single grid.
A CSS Framework for Rapid Interactive Prototyping.
A cross-browser CSS grid framework that doesn't hide pixels in margins!
Designing grids with Gridset is as easy as dragging guides in Photoshop or Fireworks. Gridset provides whatever you need: PNGs, a comprehensive cheat sheet and CSS.
The happy & awesome way to build fluid grid based websites.
Style Tiles are a design deliverable consisting of fonts, colors and interface elements that communicate the essence of a visual brand for the web.
Responsivepx – find that tricky breakpoint.
Through fluid grids and media query adjustments, responsive design enables Web page layouts to adapt to a variety of screen sizes.
Responsive Web Design Sketch Sheets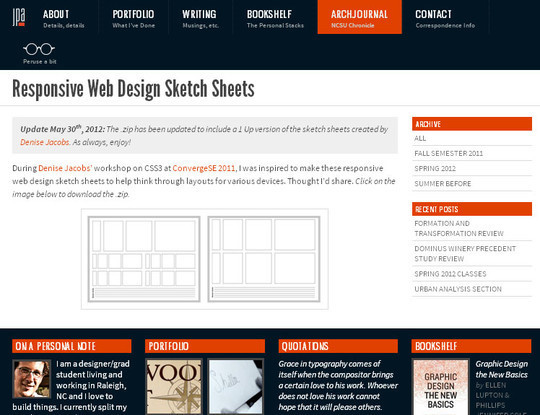 Responsive Design Test Bookmarklet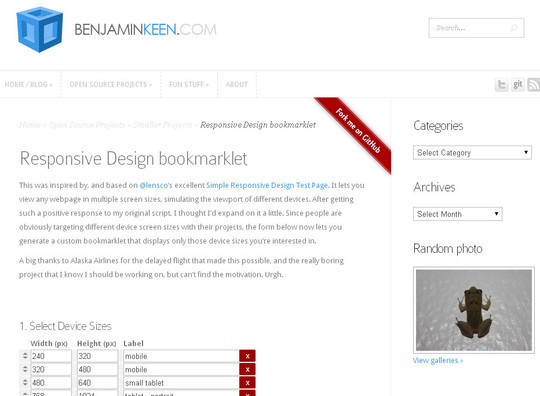 HTML5, a web development paradise on your screen with rich advanced capabilities, surprisingly grand features, is an every developer first choice of platform to have their site upon. As beauty of design and development unfolds with HTML5, so does its challenge of operating it. It's a skill to generate accurate encodes and putting them to uses a work of experienced. To save time, there are coded web templates available with open CMS application which you can edit as you wish. This also gives a great opportunity to take a try at these ready-made template codes, probe into their make-up structure allowing a chance to learn the latest HTML5 techniques and features, qualifying your work up to the level of professionals.
How about a range of fully functional HTML5 templates, responsive, high quality, most latest popular designs and, for free? Not an unreal idea as today we are providing you with a range of Free Responsive HTML5 templates with latest trendy designs, fully responsive and popular. Using these will save your work from looking out dated while staying the most qualified for best quality work around.
Free Responsive One Page Template
Free Responsive Bootstrap Template
Colorized Free HTML5 Responsive Template
Particular Free HTML5 Template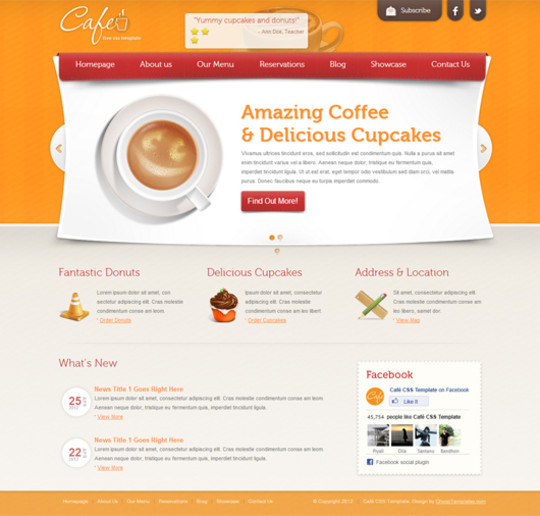 Free HTML5 Website Template Highlight Your Portfolio with
It
Fizz Free HTML5 responsive WordPress theme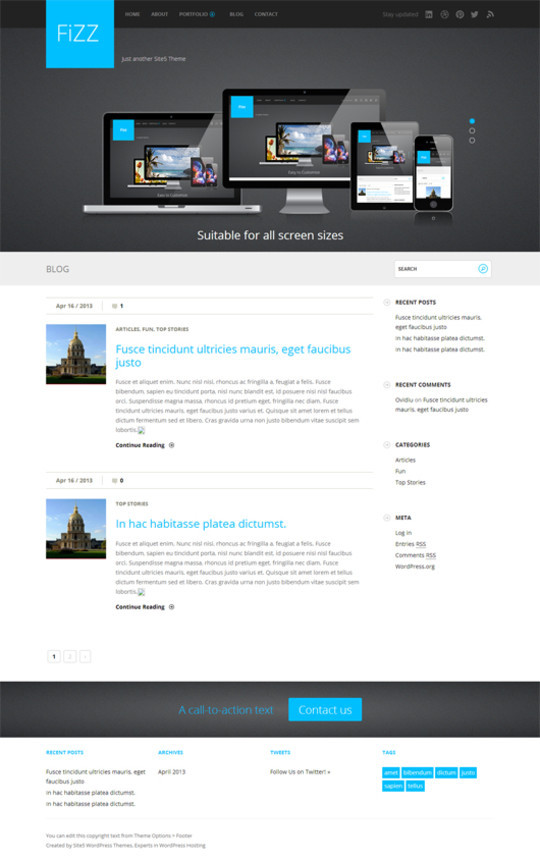 Burn Studio Free HTML5 Responsive Template
Looking for some must to have type UI design tools and resources? Well, if your answer is yes then look no further. Here, we are presenting a fantastic collection of some most essential and must to have User Interface (UI) design tools for the web designers. Generally, it is a complex thing to design User Interface within the initial levels but if you have some basic and essential UI design tools then this it will not be a big problem for you.
Below, you will unearth a fantastic and extremely useful collection of some essential UI design tools that you must have. These tools not only save your time but also let you complete your job easily and effortlessly. We hope that you will enjoy this collection. Feel free to share your opinions with us via comment section below. Enjoy!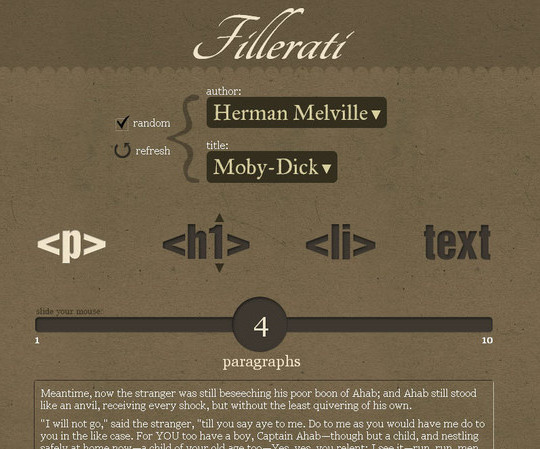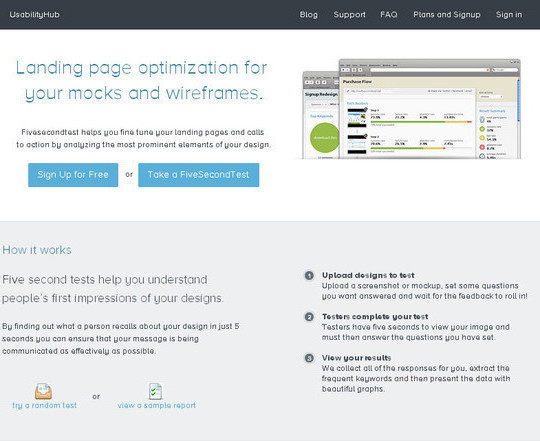 Flow – Mobile App Landing Page Template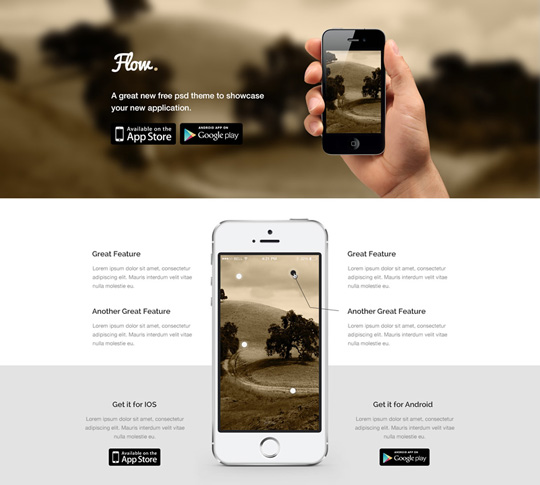 User Interface Design Framework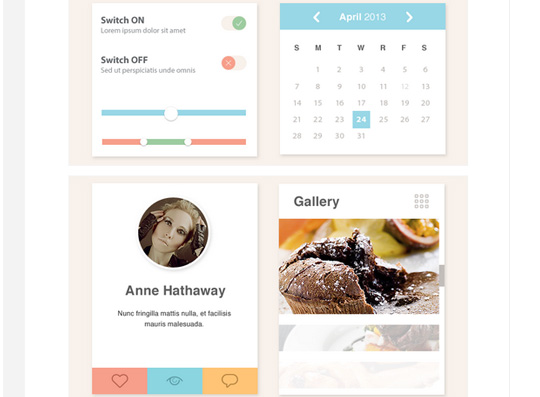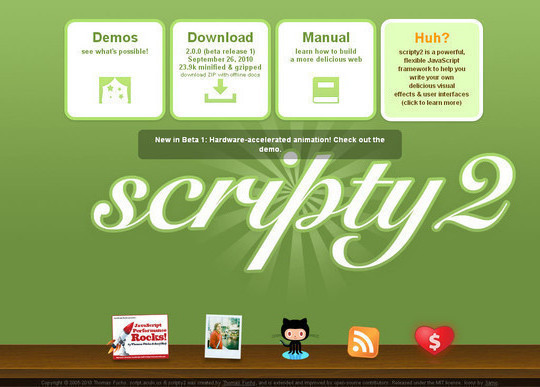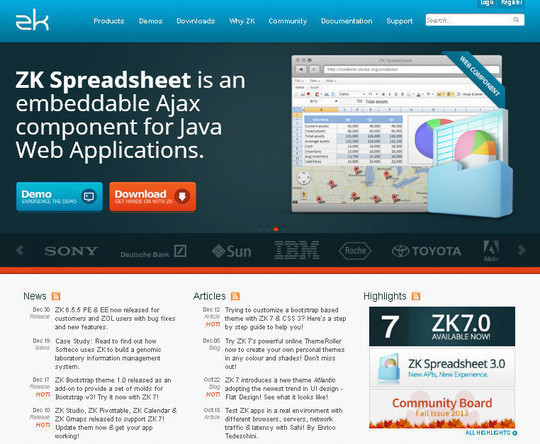 Eclipse Stencil for OmniGraffle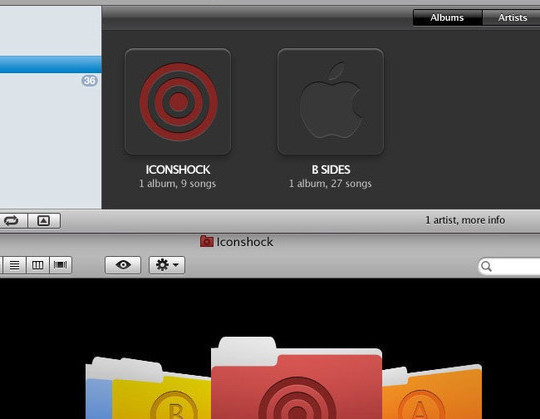 Pattern References and Libraries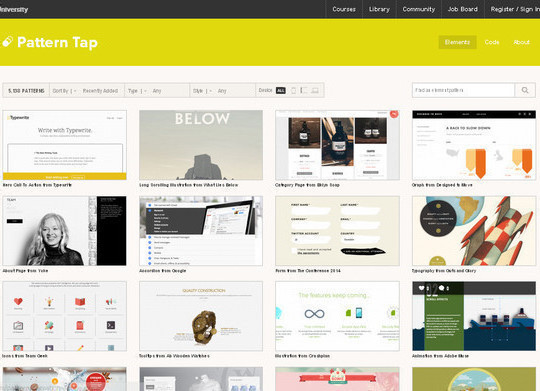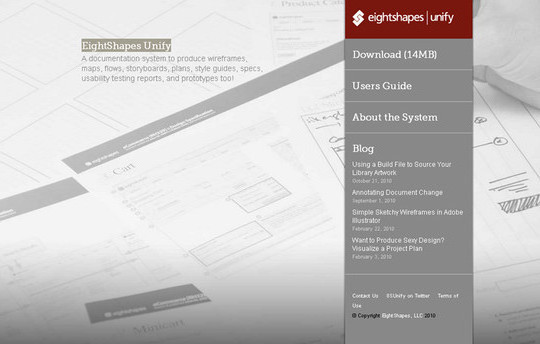 With this collection, we are showcasing some of best tools that will let you test your websites on a mobile device. In this way, these tools provide you ease to work from your mobile devices. Advertisers are now seriously taking mobile internet into consideration as it is the next battleground for developers as well as for the designers.
Though, making your website accessible on a mobile device requires lots of extra work but in the end it will definitely payoff. If you proactively do this work now, then you will have a leg up on this growing trend. Here we have put together more than 35 best and free tools for testing your websites on mobile devices. Enjoy!
This is a web browser based simulator for quickly testing your iPhone web applications. This tool has been so far tested and working using Internet Explorer 7, FireFox 2 and Safari 3.
Test your website on any screen size including desktops, tablets, televisions, and mobile phones.
The Responsinator is designed to test responsive websites on different device resolutions.
Mobile phone emulator that enables you to test the display of any website in many cell phones.
ProtoFluid simplifies the development of fluid layouts, adaptive CSS and responsive design.
Download Google Android Emulator
Do you want to test drive Google Android without having to buy a phone? Google SDK package allows developers to see all android features and let them use the whole interface.
Now don't get overexcited, this isn't actually a real iPhone. iPhoney is an iPhone web simulator intended for developers and designers of websites and iPhone apps, to preview how their web creations will look in the mobile device.
This checker performs various tests on a Web Page to determine its level of mobile-friendliness.
This page adapted for your browser comes from and is not endorsed by Google.
The mobiReady testing tool evaluates mobile-readiness using industry best practices & standards.
One click popup for testing media queries or custom window sizes on your desktop.
A browser based html5 mobile application development and testing tool.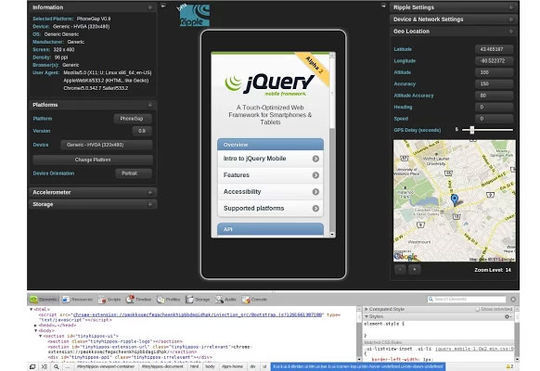 A simple, useful and beautiful browser window resize app for Web designers and developers.
Online Apple iPhone simulator to test iPhone specific 'apps' (websites). Check your website will correct fit on the iPhone's limited screen space.
Demonstrating Responsive Design Tool
Demonstrating Responsive Design in a manner everyone 'gets'.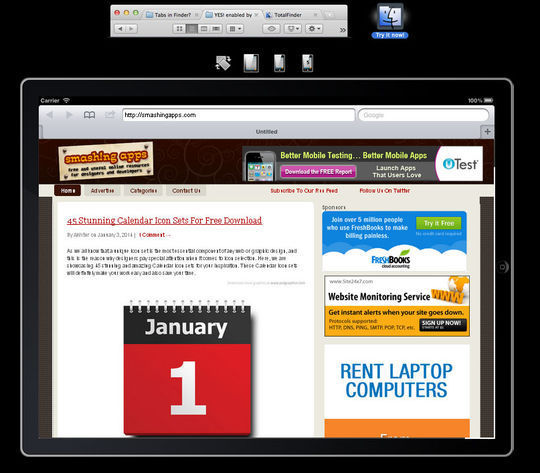 Test Responsive Websites.
Enter the url to your site – local or online: both work – and use the controls to adjust the width and height of your viewport to find exact breakpoint widths in pixels. Then use that information in your media queries to create a responsive design.
Mobile Emulator by Brickandmobile
Test your website on a mobile phone using our mobile emulator.
Matt Kersley's Responsive Design Tool
Responsive design testing for the masses.
Modify Headers (FireFox Addon)
Add, modify and filter the HTTP request headers sent to web servers. This addon is particularly useful for Mobile web development, HTTP testing and privacy.
If dissatisfied with website performance 45% of mobile users are unlikely to visit the site again and 30% are less likely to purchase from that company – across all channels.
Looking for a way to see how your web creations will look on iPhone? Look no further. iPhoney gives you a pixel-accurate web browsing environment—powered by Safari—that you can use when developing web sites for iPhone. It's the perfect 320 by 480-pixel canvas for your iPhone development. And it's free.
Cross browser test your website in dozens of browsers with instant results.
Multi-Browser Viewer is the leading Cross Browser Compatibility Testing software application available today. Start cross browser and automated functionality testing now!
The MobileCloud is a 100% web-based Software-as-a-Service (SaaS) platform enabling testers and developers to easily access multitude of REAL mobile handsets and tablets connected to LIVE mobile networks spread in different geo-locations.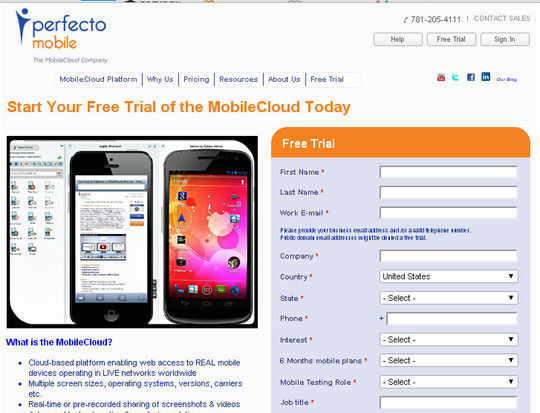 Ensure the quality of your mobile apps and services with the #1 name in mobile testing. Streamline your testing, save time and money and deliver a great user experience from your mobile channels.
Browshot is a powerful service to take real-time screenshots in 30+ screen resolutions on 15+ virtual devices, including iPhone, Nook, Android, etc.
MITE provides interactive mobile website testing and validation of mobile content right on your desktop.
Use this free tool to check if a website has a mobile friendly version. You can also download a free personalised report related to your website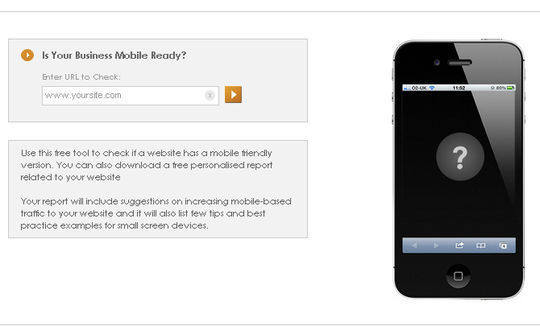 Do you want to impress mobile surfers or want to create an awesome responsive website? If your answer is "yes" then use these new responsive WordPress plugins. In this post, we are showcasing 40 wonderful responsive WordPress Plugins for you. Without breaking the layout on mobile devices now you can easily and safely add new features to your responsive WordPress website with responsive WordPress plugins. In this post, you will find different categorizes of plugins like Short codes and Page Builders, images and video, sliders, menus, forms and other.
With these WordPress plugins you can make your website more stunning and eye-catching that gives mobile visitors an awesome and superb experience. Grab this amazing chance and start browsing through this fresh collection. Check this out and get to pick one and do not forget to share your precious opinion with us via comment section below. Your comments are always more than welcome. Have fun!!!!
Wapple Architect Mobile Plugin
( Download )
Wapple Architect Mobile Plugin for WordPress is a plugin that allows you to mobilize your blog in minutes.
( Download )
WP Fluid Images replaces the fixed width and height attributes so your images resize in a fluid or responsive design.
( Download )
The WordPress Mobile Pack is a complete toolkit to help mobilize your WordPress site. It has a mobile switcher, themes, widgets, and mobile admin panel.
( Download )
Used with the default administration theme, this plugin offers you a smartphone support for your dashboard.
( Download )
Makes your TwentyTen themed site have a responsive and fluid layout.
( Download )
Creates a Coming Soon page or Launch page for your Website while it's under construction and collects emails from your visitors.
( Download )
This plugin makes videos responsive using the FitVids jQuery plugin on WordPress.
( Download )
WP Orbit Slider is a jQuery slider that uses custom post type and taxonomies. Oh, its also responsive!
( Download )
The WP Mobile Detector automatically detects over 5,000 mobile devices and displays a compatible mobile theme.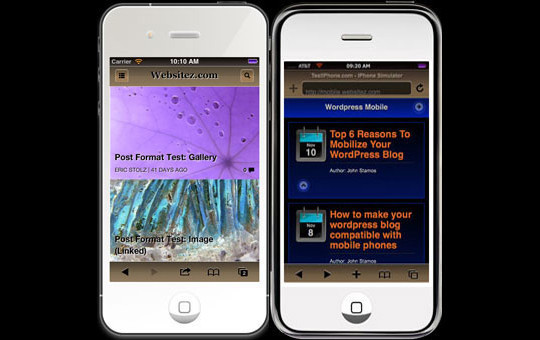 ( Download )
Used with the default administration theme, this plugin offers you a smartphone support for your dashboard.
( Download )
GPP Shortcodes is a free WordPress plugin that allows you to easily add "flat design" buttons, boxes, icons, pricing tables, tabs, toggles and column layouts in your posts and pages without modifying CSS, HTML or PHP.
( Download )
Convert any theme into responsive theme.
( Download )
Add the possibility for site to have it content images responsive.
Symple Shortcodes Free WordPress Shortcodes
( Download )
Tired of using a theme with built-in shortcodes, switching themes and then losing all your awesome styles? No worries, this is why I've created the Symple Shortcodes plugin! Now you can add buttons, highlights, boxes, toggles, tabs, pricing tables…among other awesomeness and take them with you no matter what theme you decide to use.
( Download )
Adds support for the proposed responsive image format in post content, and helper functions for theme authors.
Advanced Responsive Video Embedder
( Download )
Embed videos with a click of a button from many providers with full responsive sizes. Show videos as thumbnails and let them open in colorbox.
( Download )
Style galleries using popular scripts – currently only FlexSlider. Supports multiple galleries per page.
Vixy YouTube Embed and Download
( Download )
A simple method of embedding YouTube videos (with download links) into your pages. Easy to use, but with powerful features for those that need them.
( Download )
Automatically resize WordPress auto-embeds, including video and other iframes, in a responsive fashion.
( Download )
4 sliders in 1! Choose from Nivo Slider, Flex Slider, Coin Slider or Responsive Slides.
( Download )
Easily create responsive slideshows with WordPress that are mobile friendly and simple to customize.
( Download )
A customizable JQuery content slider with CSS3 animations and parallax effects.
( Download )
Add beautiful image slider to your WordPress blog! Awesome effects, fancy templates, point-and-click wizard. Fully responsive, pure CSS fallback.
( Download )
Add a clean, responsive javascript slideshow to your site. The slideshow integrates well into any design, supports fluid-width themes, and offers lots of options for power users, too.
( Download )
Plugin that lets you create a slider very easy and with spectacular results.
( Download )
Smooth Slider is a WordPress Plugin for creating a dynamic slideshow/s for featured Posts, Pages, Media Images and Custom Post Types on a WordPress site.
( Download )
Add beautiful, responsive EasyRotator photo rotators and sliders to your WordPress site in seconds.
( Download )
Professional form builder for beginners and experts. Create any kind of form you need. Powerful and flexible, yet easy to use.
( Download )
The Responsive Select Menu plugin automatically turns any WordPress 3 Menu into a select box / dropdown on mobile devices.
( Download )
Gives users with content creating permissions the ability to preview their site in a responsive testbed.
WEN's Responsive Column Layout Shortcodes
( Download )
This WordPress plugin gives you an easy way to add columns to any section – page , post or other content.
( Download )
Manage files, show image galleries and photo slideshows, play music on your site Gmedia Gallery plugin. Gmedia Library provides a comprehensive interface for handling galleries, image and audio files.
( Download )
A great tool for adding responsive pricing tables to your WordPress website.
( Download )
Creates a custom responsive column widget box.
( Download )
Shortcode for the jQuery Nivo slider; "The Most Awesome jQuery Image Slider"; reputed to be the world's most popular jQuery image slider.
( Download )
A HTML5 responsive video player plugin. From the makers of Flowplayer.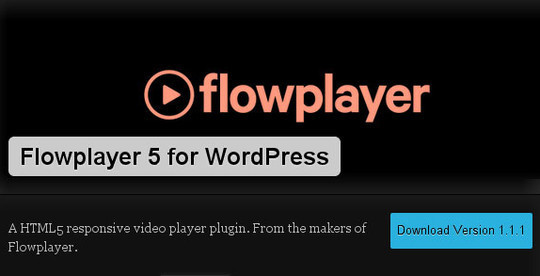 ( Download )
The Royal Responsive Menu plugin automatically turns any WordPress 3 Menu into a select box / dropdown on mobile devices.
( Download )
The best responsive WordPress slider plugin. Made lite and free.
( Download )
The Morpheus responsive 3D slider is a new plugin for wordpress which to create sliders with galleries, presentations, infographics and many more.
SlideDeck 2 Lite Responsive Content Slider
( Download )
Create responsive content sliders on your WordPress blogging platform. Manage SlideDeck content and insert them into templates and posts.