Web Design
In this round up, we are presenting another useful assortment of some appealing tissue texture for you that you can use in your creased looking designs. High resolution textures are the most in demand design element on the web these days and many designers constantly look for fresh and appealing textures that they can incorporate in their design.
Keeping this in mind, we thought to compile a collection of some useful and appealing textures, and therefore we have come up with this list of 40 most appealing tissue textures for you. The creased look of a tissue paper is great to use on scrapbook pages. All these textures are free to download. You can use them in your designs and make them look visually appealing and attractive as well. Enjoy!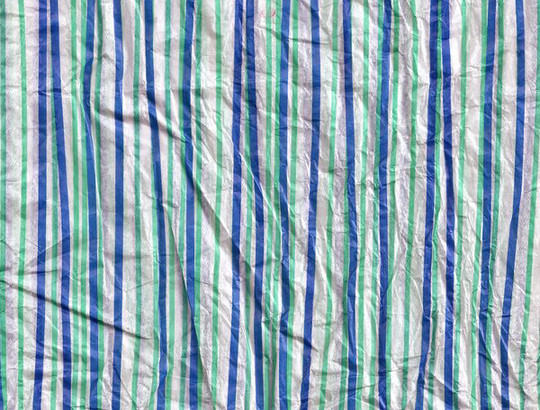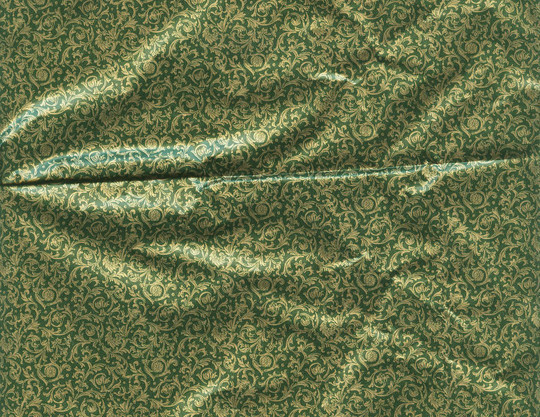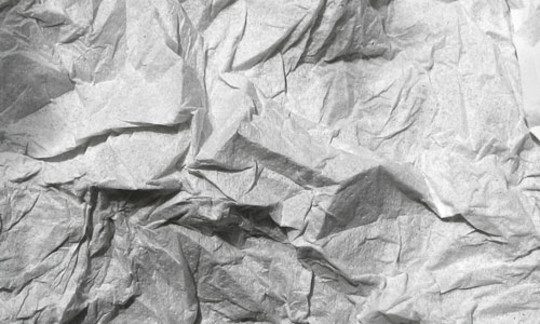 5 Wrinkled Tissue Paper Textures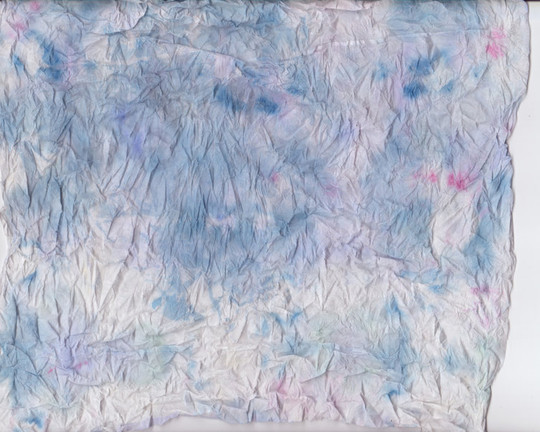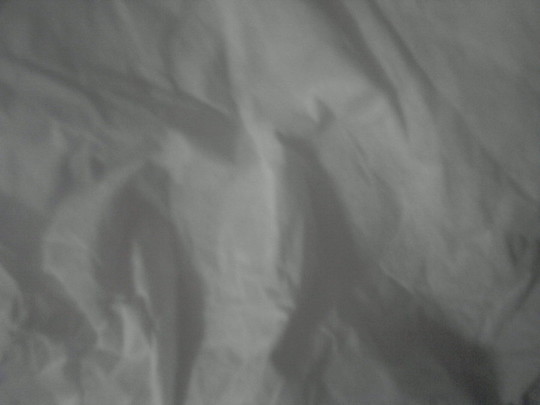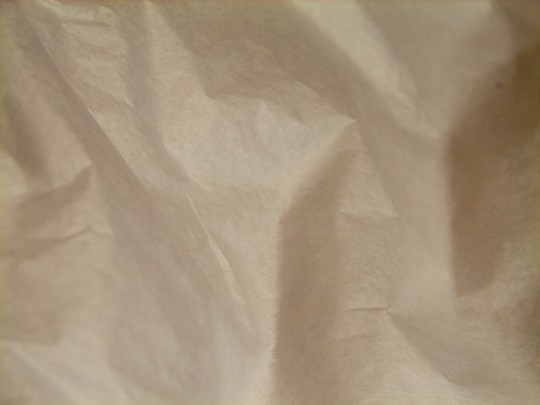 White Tissue Paper Red Plastic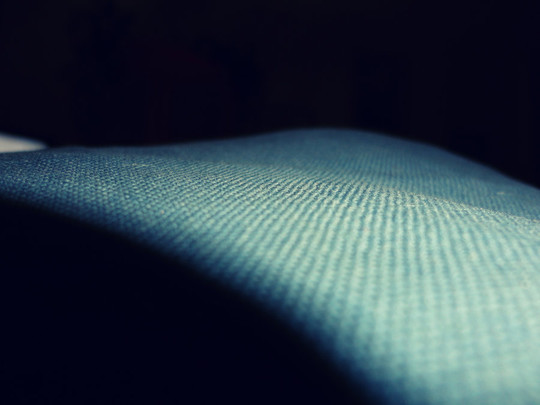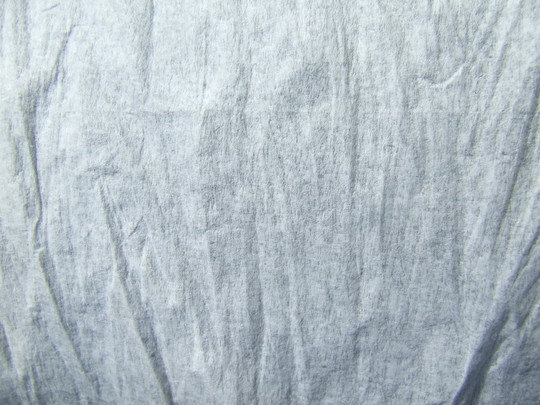 Haven't got online business yet? All of your friends have been making money online and you are still doing it old-fashioned way? It's high time for changes. However, changes require certain adjustments from people. That is why it is simply better to make those changes abrupt, so that person would not have time for unnecessary hesitation. Winning a free template just by submitting a comment is certainly the easiest way to go.
So, about the giveaway.
Prize
1 of 5 premium e-Commerce templates from TemplateMonster.com is going to be yours after you simply choose a template suitable for yourself among the most popular e-Commerce solutions.
If you are a fan of Virtuemart just click here and find the template that will be the best for you.
There are certainly options like JigoShop, if you are looking for an online shop.
Other great solutions could be OpenCart – find it here.
If you are not the fan of neither of them, Magento is always a great solution, so just click here to find more amazing designs.

How to Enter
All you have to do to win one of the best templates by TM is to writing a comment under this post and tell us what your favorite is.
For example, your comment should read
"I want to win a WP theme # 45510 because it's perfect for my corporate site".
The good thing is that TemplateMonster has over 40000 templates to choose from and more than 2000 of them are e-Commerce templates. This means you can easily find the right design for your project no matter what platform you prefer.
Contest Details
This contest starts today and will close on Wednesday, March 12, 2014. The five winners will be chosen randomly. Each winner will get a template of his/her choice.
Make sure you use a valid email address when you comment on this post. This is how we will contact you if you win.
Good luck!
Without any doubt, HTML5 has made designers job pretty easier. HTML5 is the most recent version of the HTML standard and it comes with so many advanced features and improvement. The main focus of HTML5 has been on expanding the capabilities of the language (HTML), and therefore, this new and improved version provides support for the most recent media and interactive capabilities while maintaining its readability for the humans. This is the reason why major players in the industry are investing heavily in HTML5 application development.
In this collection, we have put together 40 original HTML5 markup websites for your inspiration. So what do you think? What did we miss? Which website do you like the most and why? Leave us a comment and let us know what you think of the proliferation of design inspiration in general on the web.
GreenCampusGuide – ProjectGreen
Another amazing and wonderful collection of jQuery and CSS3 for you is presented here. In this collection we are showcasing 40 jQuery and CSS3 loading animation and progress bar plugins and tutorial. One thing keep in your mind that CSS3 animations are not yet supported in old browsers so you have to try modern browsers if you want to see the live action of these outstanding plugins. With loaders and progress bars users know that something is still going on that's why loaders and progress bars are very essential for users.
With these loading animations and progress bars you can make your web application and websites more stunning and eye-catching. All these jQuery and CSS3 loading animation and progress bar also help you to enhance the performance of your websites or web application. This is the reason loaders and progress bars are very famous and trendy these days. Take a look and let me know what you think.
Animated Progress Bar in 4 Lines of jQuery
Beautiful CSS3 And jQuery progress Bar
Smooth Progress Bar Loading Effect
Animated Skills Diagram with Raphael
Creating & Styling Progress Bar With HTML5
Animated Progress Bars with CSS3
The Facebook loading animation
Flickr Style Loading Animation
CSS3 Loading Spinners Without Images
QueryLoader2 – Preload your images with ease
Automatic Page Load & Ajax Request Progress Bar
Google Like jQuery Slim Progress Bar Plugin
jQuery Ajax Loading Overlay with Loading Text
Buttons with Built-in Loading Indicators
Form Submit Buttons with Built-in Loading Indicators
Automatic Page Load & Ajax Request Progress Bar
Form Submit Buttons with Built-in Loading Indicators
Real Time Hints & Progress For Forms
jQuery Plugin For Detecting Image Have Been Loaded
Tiny jQuery Plugin For Animated Loading Spinners
Simple and Customizable jQuery Loading Animation Plugin
Here is another useful and free collection of brushes for you and this time we are presenting for you 15 top and of course free to use cloud vector brushes for your inspiration. These brushes will help you in your new cloud projects that require the use of custom design Photoshop vectors. These brushes can easily be integrated with your Photoshop.
These cloud vector Photoshop brushes can be used in different types of web designs, graphic designs, web templates as well as themes. Moreover, all the brushes presented in this collection come with large preview images and all links have been verified recently. Once again, it is our pleasure to share with you what we have gathered from all over the web so to help you with your masterpieces. Click through and feel free to download…
Last 36 High Res Cloud Brushes
Cloud Abstract set by VPDesign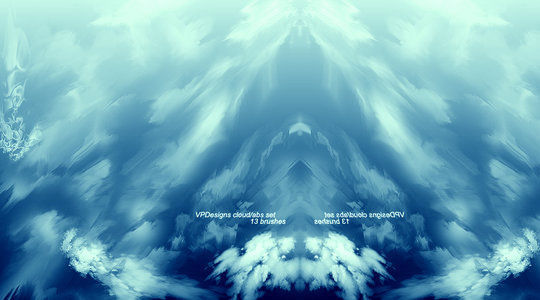 PSD files can be a great time saver for the web designers as they allow them to create design quickly without requiring them to design from the scratch. In this compilation, we are listing 45 free to download and fresh web user interface PSD files for the designers. All the PSD files are completely editable to match your requirements.
We hope that you will find these fresh and free web user interface PSD files helpful for you and that these web user interface PSD files will help you in creating effective web user interfaces for your clients. We know that for designers what else could be the best than having such fundamental design element available in ready-to-use format. Do let us know what you think about this compilation. Feel free to share your opinions and comments with us via comment section below.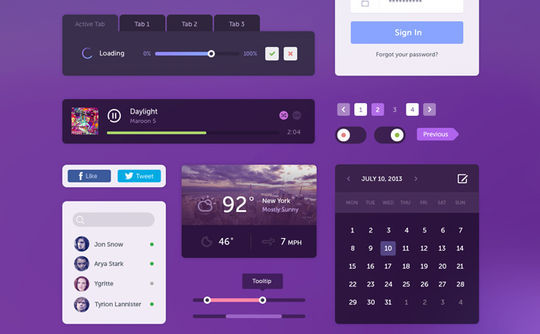 Hotel Reservation Widget Interface
Simple Shopping Cart Checkout Widget
Free download: Flat / Skeuomorphic UI kit
Today, we present an interesting and inspiring showcase of 15 websites that demonstrate the effective and creative use of office stationery in the website design. Creating an engaging website design requires loads of brainstorming and a designer has to come up with a unique concept that not only is aesthetically beautiful but also solve the purpose of creating a website at the same time. Using the office stationery in a website design is also one of the most appreciated styling techniques. Keeping this in mind, we thought to create an interesting and inspiring collection of some website designs.
In this write up, we have collected 15 most eye-catching and attention grabbing websites in this genre. Here is the full collection without any further ado. We hope that you will like this collection and find these website designs inspiring for you.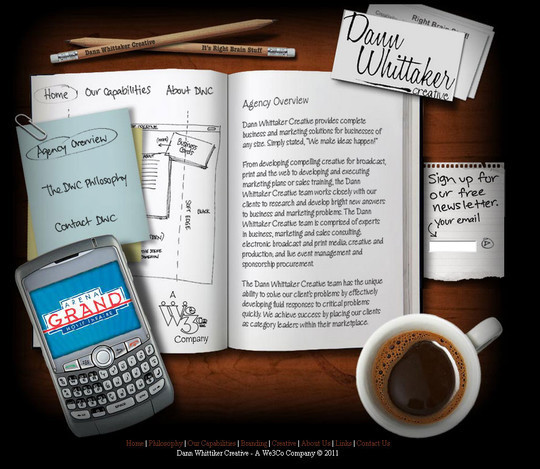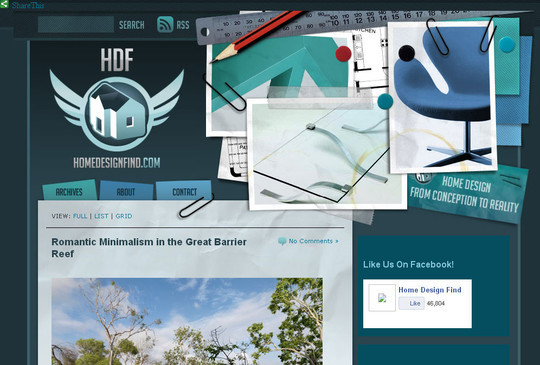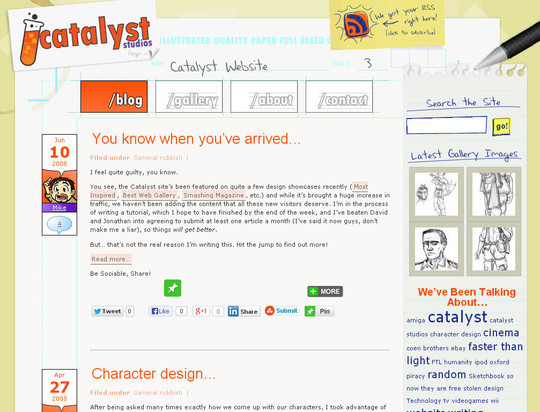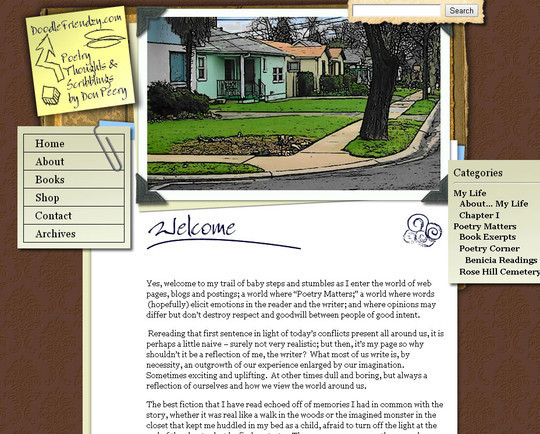 Are you running out of time? Want to save your time without compromising on the quality of your work? Here is the solution for you. Have a look at this collection of 35 best and most useful HTML5 development tools that not only save your time but also improve your productivity as well. The introduction of HTML5 has greatly modernized the designing and development industry and completely altered the way development was done before.
Check them out and pick the ones you like the best. We hope that you will like this collection and find these amazing HTML5 development tools useful for you. Feel free to share your opinions with us via comment section below. Your comments are always more than welcome. Let us have a look. Enjoy!
HTML KickStart is a ultra–lean set of HTML5, CSS, and jQuery (javascript) files, layouts, and elements designed to give you a headstart and save you a lot of hours on your next web project.
Patternizer is an easy to use stripe pattern generator. It's lots of fun and free!
A revolutionary way to test custom fonts in the browser. No coding, no uploading, just drag and drop.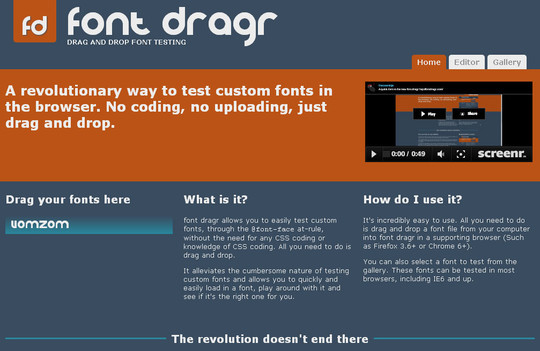 A suite of Javascript libraries & tools for building rich, interactive experiences with HTML5.
Spritebox is a WYSIWYG tool to help web designers quickly and easily create CSS classes and IDs from a single sprite image. It is based on the principle of using the background-position property to align areas of a sprite image into block elements of a web page. It was made using a combination of JQuery, CSS3 and HTML5, and is totally free to use.
Adobe TypeKit is a cloud-based service that offers a vast library of web safe fonts to add flair to your webpage designs. Learn more.
A drawing application that lets you save and share replays of your work with friends.
Liveweave is a HTML5, CSS3 & JavaScript playground for web designers and developers.
The HTML5 test – How well does your browser support HTML5?
The most stunning HTML5 App for creating high fidelity, resolution independent SVG mockups and wireframes.
Stitches – An HTML5 sprite sheet generator.
SproutCore is an open-source framework for building blazingly fast, innovative user experiences on the web.
HTML5 Canvas Rich UI JavaScript Library.
Less Framework is a CSS grid system for designing adaptive web­sites. It contains 4 layouts and 3 sets of typography presets, all based on a single grid.
Type in your HTML code and see it rendered in realtime. Then style it with CSS. You can use any of the HTML5 or CSS3 tags your browser supports.
The Heartcode CanvasLoader Creator is a free online tool which you can use to generate scripted preloaders (spinners or throbblers) for your HTML projects. The Creator is using the CanvasLoader UI Library.
On/Off Flipswitch HTML5/CSS3 Generator
Generate pure CSS3 On/Off flipswitches with animated transitions.
Adobe Edge Animate is the premier HTML software with integrated tools for creating compliant cross-browser animation and other content.
Initializr is an HTML5 templates generator to help you getting started with a new project based on HTML5 Boilerplate. It generates for you a clean customizable template with just what you need to start!
LimeJS is a HTML5 game framework for building fast, native-experience games for all modern touchscreens and desktop browsers.
Create.js is a comprehensive web editing interface for Content Management Systems. It is designed to provide a modern, fully browser-based HTML5 environment for managing content. Create can be adapted to work on almost any content management backend.
Sleek, intuitive, and powerful front-end framework for faster and easier web development.
The most advanced responsive front-end framework in the world.
Skeleton is a small collection of CSS files that can help you rapidly develop sites that look beautiful at any size, be it a 17″ laptop screen or an iPhone.
An HTML5 framework for building modern Web Apps.
Adobe Edge Code (Preview) is a lightweight HTML and CSS editing tool that includes preview, quick editing, and integrated visual design features to help you speed up the development of your projects.
dobe Edge Inspect is a workflow and preview tool for testing and simulating across multiple mobile web browsers.
Adobe Edge Web Fonts provides access to a suite of free web fonts to use immediately in your websites.
Adobe PhoneGap Build is a cloud-based service for creating apps without downloading iPhone, Android, or Blackberry SDKs.
This tool allows you to gather feedback on your videos. Voting is exquisitely simple. All you do is click on the video and use the spacebar to submit your vote, it will automatically populate the bar graph above.
This tool allows the developer a way of resetting the clock. It enables web designers to take their old website designs and re-write them as if the first code they every dealt with was HTML5.
Video.js is a JavaScript and CSS library that makes it easier to work with and build on HTML5 video. This is also known as an HTML5 Video Player.
Mercury is a full featured HTML5 editor. It was built from the ground up to help your team get the most out of content editing in modern browsers.
Maqetta is an open source project that provides WYSIWYG visual authoring of HTML5 user interfaces. The Maqetta application itself is authored in HTML, and therefore runs in the browser without requiring additional plugins or downloads.
Textures give life to very visual presentation as everything in nature is textured. All designer who are after something realistic needs a make-belief effect that'll be something that makes the visual be questioned, is it real or graphics? A perfect texture is the answer. Easier said than done one might say as not all of us are artist so we could create them on our own.
Most commonly used and favored amongst designers and even viewers is Wood Texture, for it gives the most welcoming effect. First impression is "like"! If you're at designing a nature based theme, you'll automatically pop on the wooden texture, as it's a universal element representing earth, nature and life.
There are many resources online for textures but obtaining a right one is a challenging task. Here we have a High-Res Collection of Painted Wood Texture, most believable, beautiful and in variety that you'll love collecting. Have a go at them!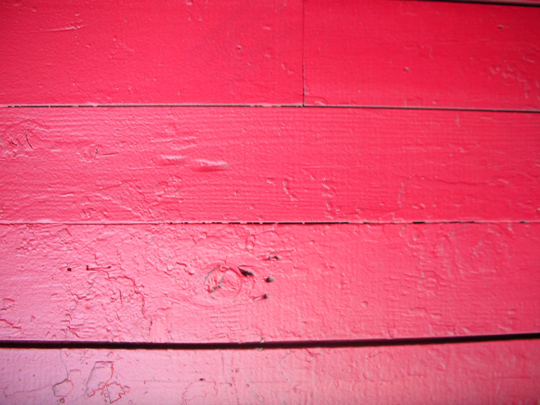 Scratched Paint On Desk Texture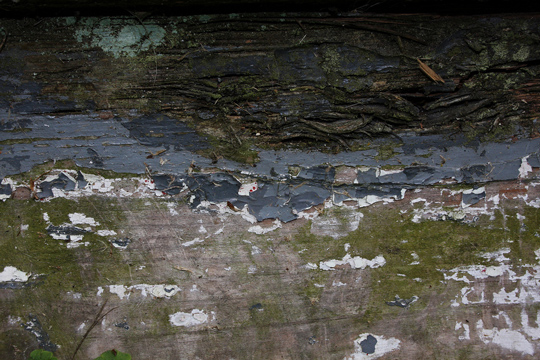 Silver Spray Paint on Rough Wood
In this session, we have collected some of the awesome freebies for the web designers that have been released recently. Having a good supply of fresh resources, useful tools and downloadable freebies make the job much more easier. Moreover, keeping oneself up to date with the latest tools and resources being introduced in the industry is very important for the web designers.
Keeping this in mind, we thought to compile a collection of some useful freebies for the web designers. Here we are listing down 45 awesome freebie that include icons, user interface kits, mobile ui, and much more.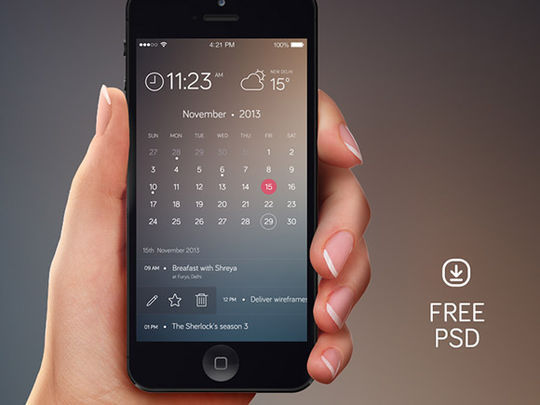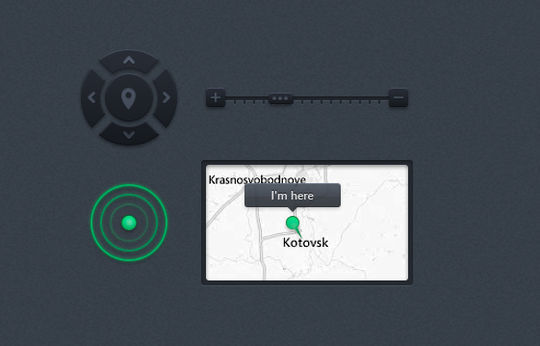 Nokia Lumia 1020 colourful mockups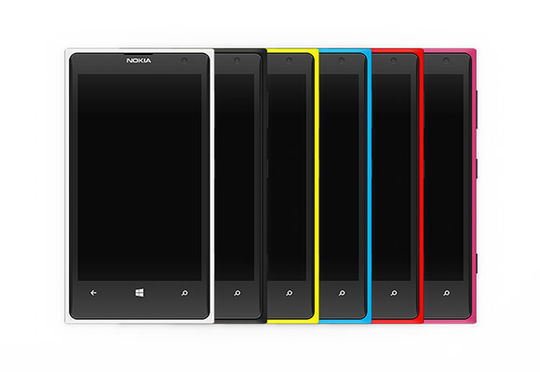 Adore – Free icon set for iPhone (Theme)
Flat Credit Card Icons Set PSD
WireKit – App Prototyping with Photoshop
Flat dashboard. Free UI kit PSD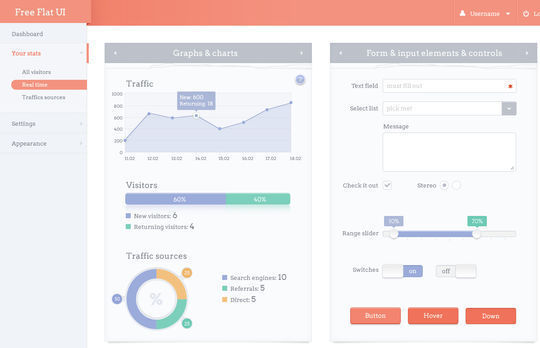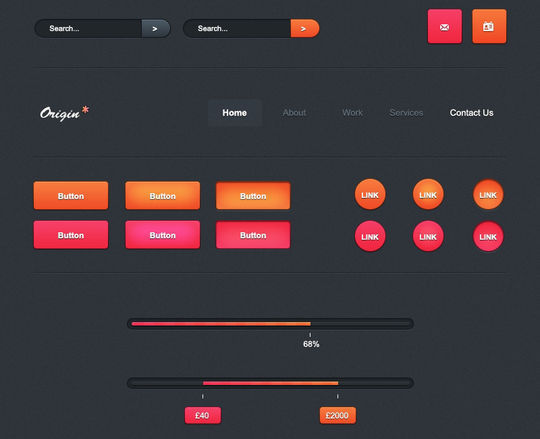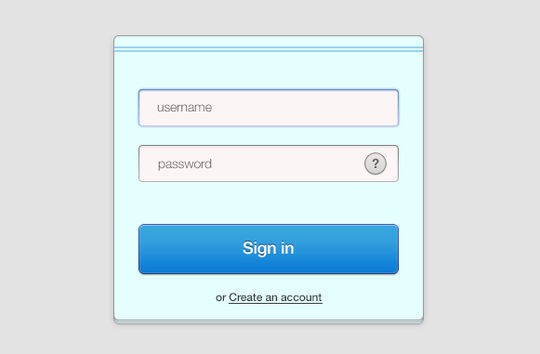 Animated 3D opening type effect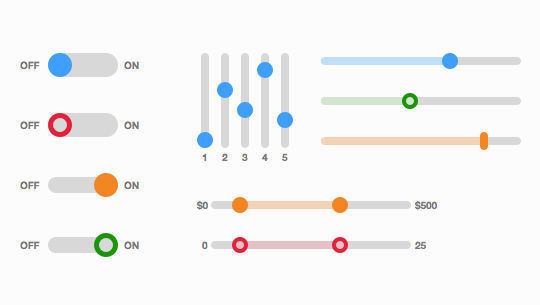 Responsive Showcase PSD Mockups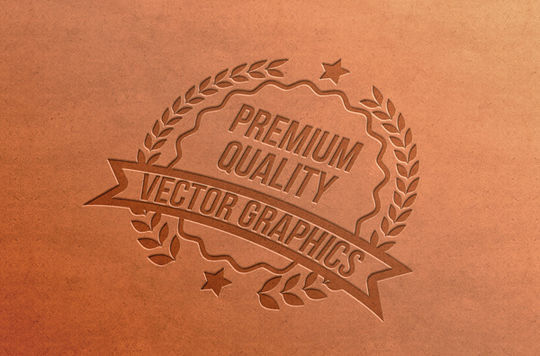 Flat Long Shadow Login & Register UI PSD
Create a Flat iOS 7 App Icon in Photoshop