Web Applications
Here, we are showcasing a list of 45+ best responsive web design toolboxes for you so that you can add them to your toolbox. With these responsive web design toolboxes, you can easily create responsive website designs. as we all know that with the increase in the use of smartphones, Android phones, iPhones and tablets more and more users are accessing their favorite websites right from their devices. To cater all those visitors who are accessing the website from mobile devices, it is necessary that you choose to create a responsive website design.
With the help of these responsive web design toolboxes, web designers and developers can easily design responsive websites and can earn intensely. Here is the complete list for you. Enjoy!
The most advanced responsive front-end framework in the world.
A grid system for responsive web design. Includes folding columns, elastic gutters, a zoomable baseline grid, and a delightful grid overlay script.
SG is prepared for 4 distinct ranges of screen size: screens 720px, screens > than 985px, and screens > than 1235px. So people visiting your site will receive a layout that's tuned to the size of their browser window. Say goodbye to horizontal scrollbars.
Susy is based on Natalie Downe's CSS Systems, made possible by Sass, and made easy with Compass. You can use it anywhere, from static sites to Django, Rails, WordPress and more. It even comes packaged as part of Middleman, to make your life easy.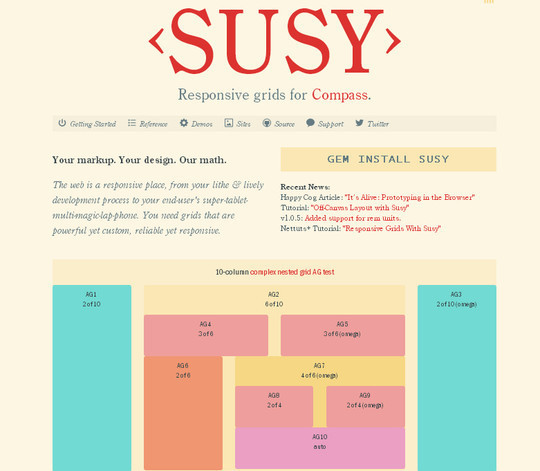 Set column and gutter widths, choose the number of columns, and switch between pixels and percentages. All without any .grid_x classes in your markup. Oh, and did we mention it's responsive?
Rapid Prototyping of Fluid Layouts, Adaptive CSS and Responsive Design
A jQuery plugin for radical web typography.
FitText makes font-sizes flexible. Use this plugin on your fluid or responsive layout to achieve scalable headlines that fill the width of a parent element.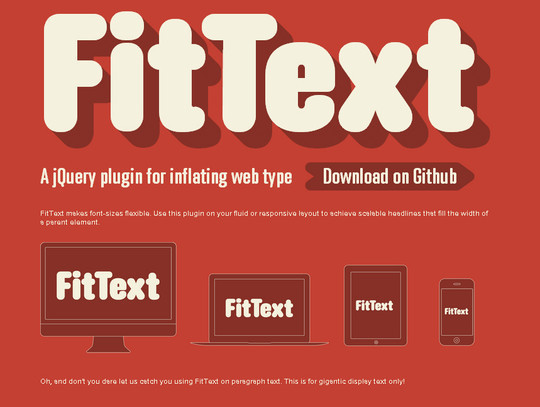 The Responsive grid generator Creating a Responsive grid system just became a total breeze.
The happy & awesome way to build fluid grid based websites.
Less Framework is a CSS grid system for designing adaptive web­sites. It contains 4 layouts and 3 sets of typography presets, all based on a single grid.
Other CSS frameworks try to do everything—grid system, style reset, basic typography, form styles. But complex systems are, well, complex. Looking for a simple, lightweight approach that doesn't require a PhD? Meet The 1KB CSS Grid.
Sleek, intuitive, and powerful front-end framework for faster and easier web development.
A cross-browser CSS grid framework that doesn't hide pixels in margins!
The variable grid system is a quick way to generate an underlying CSS grid for your site. The CSS generated file is based on the 960 Grid System.
A dynamic layout plugin for jQuery The flip-side of CSS floats.
A responsive CSS grid system helping desktop and mobile browsers play nicely together.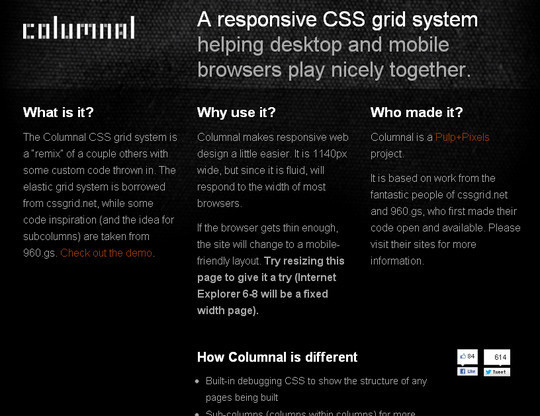 The 1140 grid fits perfectly into a 1280 monitor. On smaller monitors it becomes fluid and adapts to the width of the browser.
320 and Up is a lightweight, easy to use and content first responsive web design boilerplate.
Templates for Rapid Interactive Prototyping.
Modernizr is a JavaScript library that detects HTML5 and CSS3 features in the user's browser.
wmuSlider, a jQuery responsive slider.
Responsive jQuery Slideshow This example makes it possible to have fluid jQuery slideshow which scales responsively. This is the same method which is used on the new kiskolabs.com.
Image Gallery for mobile and touch devices.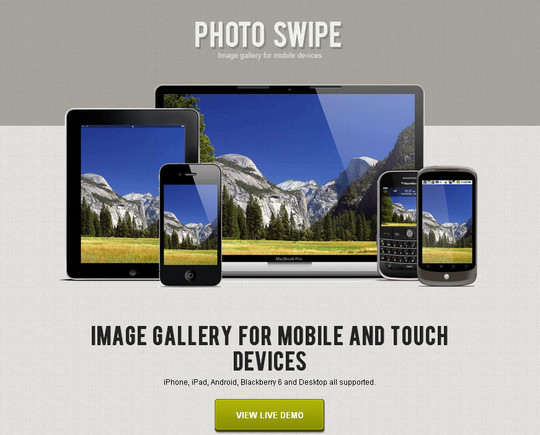 Responsive Web Design SketchSheets
Jeremy Patrick Alford's personal site, with portfolio of graphic design, web design, drawing, writing and book list.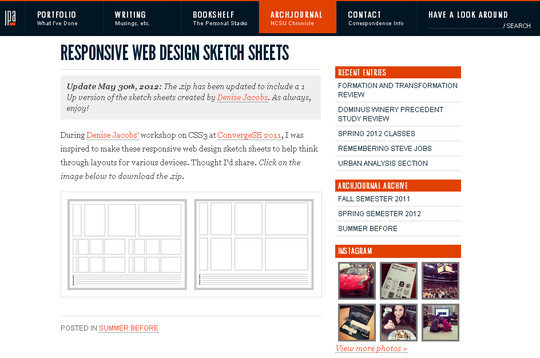 A Style Tile is a design deliverable consisting of fonts, colors and interface elements that communicates the evolution of a visual brand for the web. Learn how to use them here.
TinyNav.js is a tiny jQuery plugin (443 bytes minified and gzipped) that converts ul and ol navigations to a select dropdowns for small screen. It also automatically selects the current page and adds selected="selected" for that item.
Enter the url to your site – local or online: both work – and use the controls to adjust the width and height of your viewport to find exact breakpoint widths in pixels. Then use that information in your media queries to create a responsive design.
Test any website at a multitude of common screen resolutions, including desktop monitors, tablets, and smaller mobile devices.
A lightweight, easy-to-use jQuery plugin for fluid width video embeds.
Screenqueri.es is a Pixel Perfect Tool to test your Responsive Design / Media Queries. Select from Pre-defined Screen Resolutions OR Drag Screen Handles To Go With Your Custom Screen Resolutions.
Just a simple calculator to help turn your PSD pixel perfection into the start of your responsive website.
Categorizr – A modern device detection script
Categorizr is a modern device detection script that helps categorize different web capable devices into 4 categories, desktop, tv, tablet, or mobile. It take's traditional device detection and flips it on it's end, assuming devices are mobile first, unless otherwise detected as tablet or desktop. Categorizr was created by Brett Jankord and is based on an my earlier device detection script.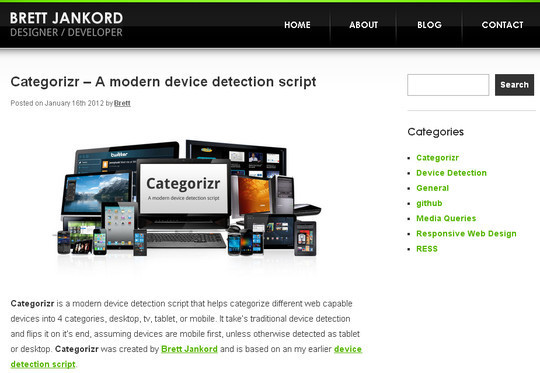 Automatically serve high-res images, to those who'll appreciate them.
ReView is a dynamic viewport system that provides efficient responsive web design viewing choice.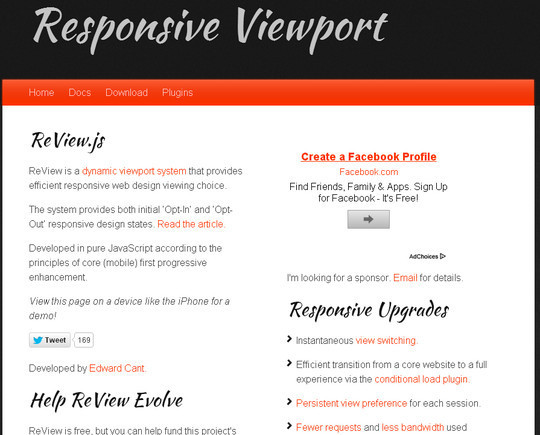 The Responsinator is designed to test responsive websites on different device resolutions.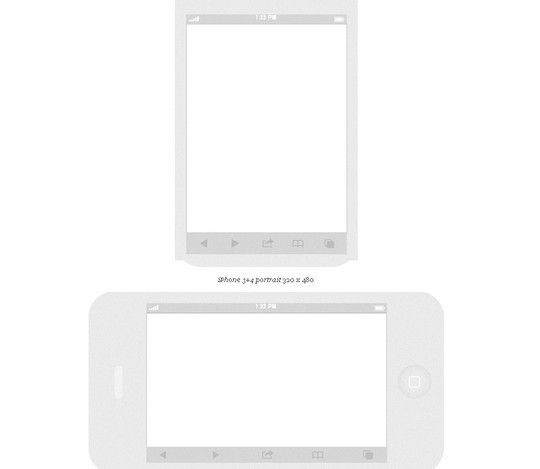 ResponsiveSlides.js is a tiny jQuery plugin that creates a responsive slider using list items inside ul. It works with wide range of browsers including all IE versions from IE6 and up. It also adds css max-width support for IE6 and other browsers that don't natively support it. Only dependency is jQuery (1.6 and up supported) and that all the images are same size.
Responsive jQuery Slider Plugin Flexslider
An awesome, fully responsive jQuery slider toolkit.
WebPutty is a simple CSS editing and hosting service.
A simple, useful and beautiful browser window resize app for Web designers and developers.
One-click PX/EM/%/PT conversion tables, a custom conversion calculator, gnd generated reset CSS.
Responsive child theme for default Twenty Ten. Provides fluid layout for many browsers including mobile support for iPhone, iPad and Android. Being a child theme, it is dependent on the Twenty Ten theme as a parent.
BluCSS is a CSS framework designed with ease of use and simplicity in mind. It is specifically made so that when you're working on your next project, you don't have to worry about the essentials. With BluCSS, you can be up and running in less than a minute.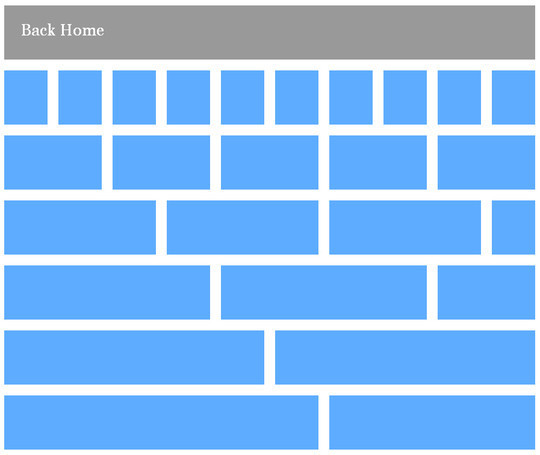 Gridless is an optionated HTML5 and CSS3 boilerplate for making mobile first responsive, cross-browser websites with beautiful typography.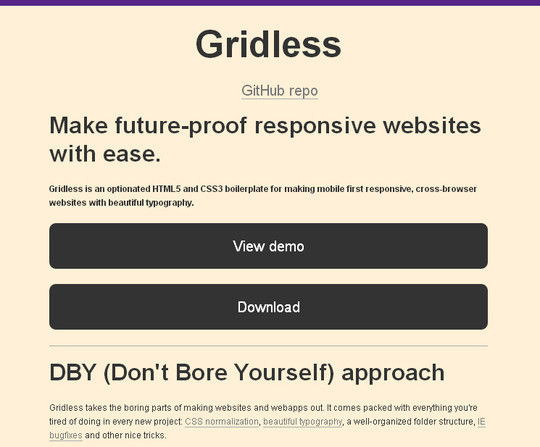 Mobile Boilerplate helps you create rich, performant, and modern mobile web apps. Kick-start your project with dozens of mobile optimizations and helpers.
Through fluid grids and media query adjustments, responsive design enables Web page layouts to adapt to a variety of screen sizes.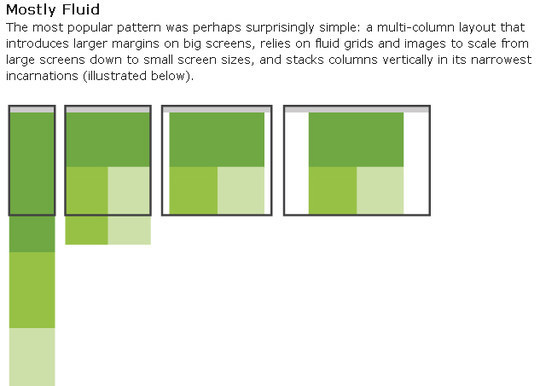 Adapt.js is a lightweight (848 bytes minified) JavaScript file that determines which CSS file to load before the browser renders a page. If the browser tilts or resizes, Adapt.js simply checks its width, and serves only the CSS that is needed, when it is needed.
Convert a Menu to a Dropdown for Small Screens
The Five Simple Steps website has a responsive design with a neat feature. When the browser window is narrow, the menu in the upper right converts from a regular row of links into a dropdown menu.
Adobe Edge Inspect is a workflow and preview tool for testing and simulating across multiple mobile web browsers.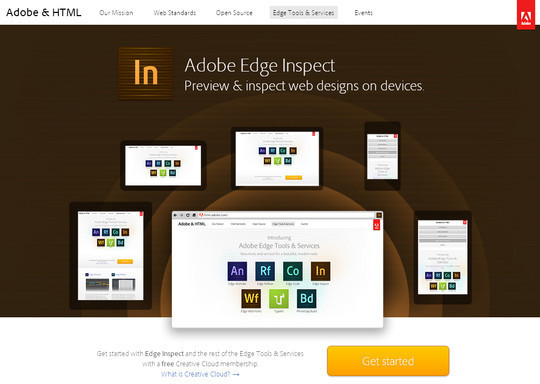 With this collection, we want to share with you 13 great online HTML5 tools that have been designed especially for the web developers so that they can simplify their development work. These online HTML5 tools will be very helpful for the web developers to build awesome and new revolutionary web pages.
Here is the complete collection for you. We hope that you will like this collection and find these online tools useful for you as well. Do let us know your opinions about this round up and share your precious opinions about this collection with rest of the world. Enjoy!
Moqups – HTML5 App For Creating Wireframes
Moqups is a nifty HTML5 App used to create wireframes, mockups or UI concepts, prototypes depending on how you like to call them.
Adobe Edge Animate is the premier HTML software with integrated tools for creating compliant cross-browser animation and other content.
Spritebox is a WYSIWYG tool to help web designers quickly and easily create CSS classes and IDs from a single sprite image. It is based on the principle of using the background-position property to align areas of a sprite image into block elements of a web page. It was made using a combination of JQuery, CSS3 and HTML5, and is totally free to use.
Patternizer is an easy to use stripe pattern generator. It's lots of fun and free.
Liveweave – HTML5, CSS3 & JavaScript Playground
Liveweave – HTML5, CSS3 & JavaScript playground for web developers and designers.
HTML KickStart is a ultra–lean set of HTML5, CSS, and jQuery (javascript) files, layouts, and elements designed to give you a headstart and save you a lot of hours on your next web project.
On/Off Flipswitch HTML5/CSS3 Generator
Generate pure CSS3 On/Off flipswitches with animated transitions. As engineered for Proto.io.
A drawing application that lets you save and share replays of your work with friends.
Online SVG to HTML5 Canvas Tool
This tool converts SVG into an HTML5 Canvas JavaScript function. It will work with any host, and I hope it helps people to experiment with Canvas. Most vector art packages (Illustrator, Inkscape etc) can export as SVG.
The Heartcode CanvasLoader Creator is a free online tool which you can use to generate scripted preloaders (spinners or throbblers) for your HTML projects. The Creator is using the CanvasLoader UI Library.
Drag and drop image files into the space below and click "Generate" to create a sprite sheet and stylesheet. This demo uses a couple of HTML5 APIs, and it is only currently compatible with the latest versions of Chrome and Firefox.
Create.js is a comprehensive web editing interface for Content Management Systems. It is designed to provide a modern, fully browser-based HTML5 environment for managing content. Create can be adapted to work on almost any content management backend.
LimeJS is a HTML5 game framework for building fast, native-experience games for all modern touchscreens and desktop browsers.
Finding out new resources and tools is the most important thing for the web developers if they want to stay in the industry. This is because web standards are changing quite frequently and therefore a web developer needs to be up to dated with the latest trends and technologies being used in the web development. Therefore, we have compiled this collection of some new resources and excellent tools for the web developers. We spent hours finding the best resources and tools for the web developers. We went through hundreds of websites to find the cream of the crop. Take away what you can, and create stylish and interactive websites.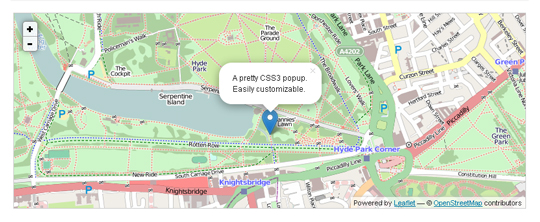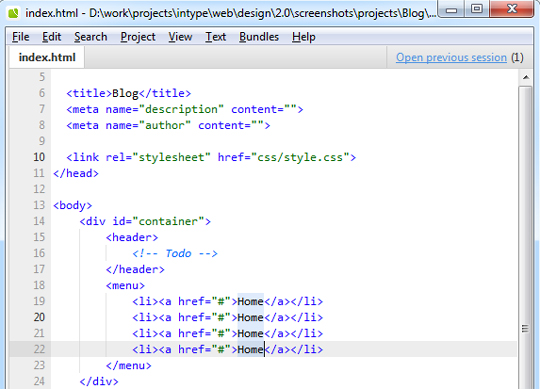 Online file storage tools are perfect for the computer users because online storage files save so much time and manage your work in a very organized way. Online storage file gives you so many interesting and helpful features like you can easily upload, share or store your any file or folder within a few minutes. With online storage file you can easily access and use your work in any other place or computer.
Here, in this collection you will see 13 outstanding and useful online storage tools for you work. Take a look and let me know what you think about this post and share your precious opinion with us via comment section below. Enjoy this amazing collection everyone!!!!
Professional Cloud Storage from JustCloud is Simple, Fast and Unlimited. Just Cloud will automatically backup the documents, photos, music and videos stored on your computer, to the cloud so you are never without files again.
Dropbox is a free service that lets you bring your photos, docs, and videos anywhere and share them easily. Never email yourself a file again.
IDrive – Universal online backup, easy sync and share.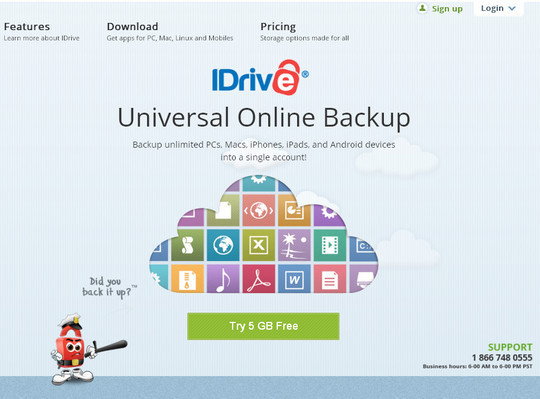 SugarSync's file sync, online backup, and file sharing service makes it easy to stay connected. Get free, secure cloud storage for all your files — documents, music, photos, and videos.
Memopal Online Backup is the cutting edge solution to store and share files online. Memopal Memopal Online Backup works seamlessly with your operating system and automatically makes sure your files are up-to-date saving your files to a remote server via secure internet connection. Available for Windows, Mac, Linux and iPhone.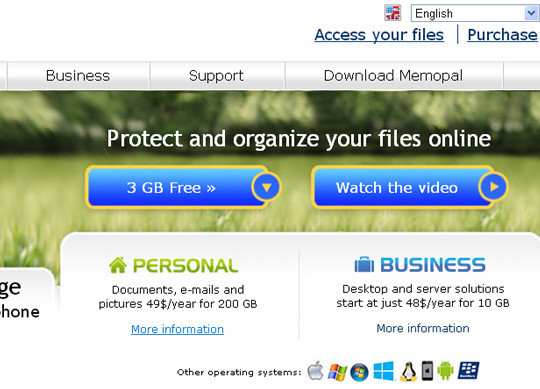 Wondering if Mozy is right for you? Try Mozy for free and get online backup and storage to protect your important data and files.
ADrive provides online cloud storage and backup solutions for personal, business and enterprise-level data. Manage, edit and share your data online with ADrive.
Duplicati is a free backup client that securely stores encrypted, incremental, compressed backups on cloud storage services and remote file servers. It works with Amazon S3, Windows Live SkyDrive, Google Drive (Google Docs), Rackspace Cloud Files or WebDAV, SSH, FTP (and many more).
Collaboration tools adopted by over 150,000 companies globally. Box simplifies online file storage, replaces FTP and connects teams in online workspaces.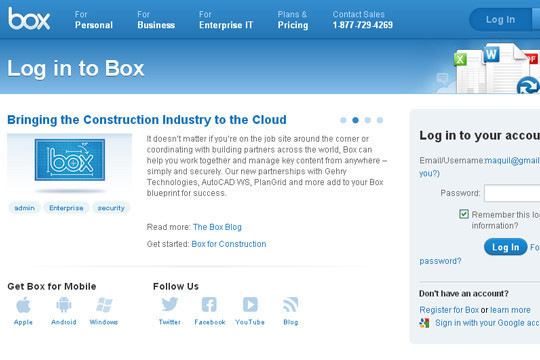 The Blue Folder Company – Your files online to share and access from anywhere.
Online backup made easy by MyPC backup. Backup your PC files online, access your files anywhere, anytime. Get a free online backup account today.
Unlimited online storage, backup and cloud content management used by over 1,000,000 users and 20,000 businesses to collaborate on files in the cloud.
BuddyBackup gives you unlimited online backups of your files for free, by allowing you to easily and securely backup your data onto your buddies.
In this collection, we have collected 15 helpful websites for testing code snippets. These websites will be of great importance for the web developers as they constantly need to check and verify their codes in order to make sure that everything is working fine. We hope that with this list of code snippets testing you can easily check your codes. Although, there are loads of online tools available for the web developers that they can use to check their codes and some of them even allow them to edit or modify their codes.
With this list of websites, web developers cannot only check their code snippets but also can share them with their colleagues to review. These websites are valuable tools for the web developers and they can check their unprepared codes as well as they can also modify them and can see how they work. Here is the full list. Enjoy!
Ideone is something more than a pastebin; it's an online compiler and debugging tool which allows to compile and run code online in more than 40 programming languages.
codepad is an online compiler/interpreter, and a simple collaboration tool. Paste your code below, and codepad will run it and give you a short URL you can use to share it in chat or email.
jsfiddle is one the most popular playground for web developers. It's an online editor for snippets build from HTML, CSS and JavaScript.You can also share your code snippets with others and embed them in a blog.
Liveweave is a HTML5, CSS3 & JavaScript playground for web developers and designers.
dabblet is an interactive playground for quickly testing snippets of CSS and HTML code. It uses -prefix-free, so that you won't have to add any prefixes in your CSS code. You can save your work in Github gists, embed it in other websites and share it with others.It currently only supports modern versions of Chrome, Safari and Firefox.
Google Code Playground is another great online tool test and run your code without opening an external editor.All of the API's are loaded for you in the Pick an API box.
Another online tool for editing your code snippets. Practiocode renders HTML, CSS and VBScript.
jsdo.it is a website where you can write JavaScript, HTML5, CSS in your browser, and share it.
CSSDesk is a website that allows developers to quickly test snippets of CSS code, and watch the result appear live.
Tinkerbin lets you play with HTML,Javascript and CSS without creating files or uplading to servers.It also supports Coffeescript,Sass(with compass),Less,HAML and more.
Snippet.io is another free tool that let you share your code snippet easily.
Rendurr is an another interactive playground to test your code snippets.
Pastebin.me is a simple and clutter-free HTML/JS open source sandbox tool. The code pane flexibly resizes depending on your browser's viewport, which is especially awesome when you're using a widescreen monitor. It has three useful templates ("HTML", "JavaScript" and "jQuery") for instantly auto-populating the code pane with default HTML tags.
Snippely is a basic text and code organizational tool. Instead of storing bits of code, quick notes, and memos in text files all over your hard drive, this application will let you save and organize "snippets" in one convenient location. A snippet is a collection of one or more pieces of code and notes. Snippets are stored in groups for organization and quick retrieval.
Just paste your code and see the result in browser window.
Are you looking for some free online website builders? Or some places where you can create your website for free of cost? Well, if your answer is yes, then look no further because we are showcasing an amazing list of top 15 free online website builders that let you create a free website. These online tools are extremely easy to use.
Here is the complete list after the jump. Have a look at this compilation and start promoting your business online with confidence. These online website builders do not require any technical know-how. Furthermore, you can easily customize its design, add good content and use a custom URL. So enjoy browsing through this collection. Enjoy!
For the easiest, most powerful, and affordable website-building experience.
Fast HTML creation using Drag & Drop editor. No programming. Start from a design or make a new one.
Design a professional website in minutes with our easy-to-use editor.
The internet just keeps getting bigger and your customers want to find you everywhere. You design your site the way you want it and we'll make sure we publish it correctly for web, mobile and social. Our software automatically creates a mobile optimised version of your site, and we'll even push your entire shop into Facebook with just a few clicks. Set your site free!
Use easy website builder to put your business, group, or personal website online at no cost.
Yola provides everything your business needs to grow online. Start for free.
Webnode is a tool for the fast and easy creation of web sites. Simple, on-line and free. You can even use your own domain.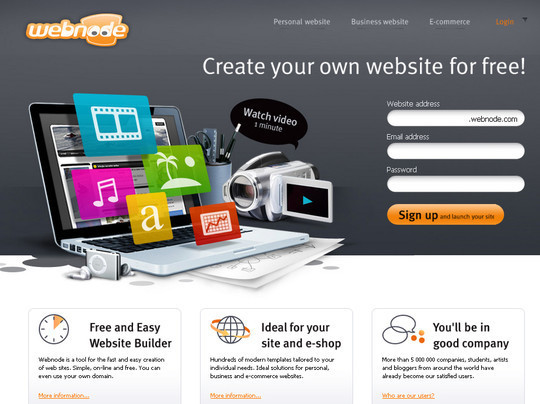 Jimdo puts the power of website creation in the hands of ordinary people. Anyone can share their passions and interests on the Internet — on their own website — simply and easily. Jimdo is free, and you don't need to know how to code or run a server to have a website.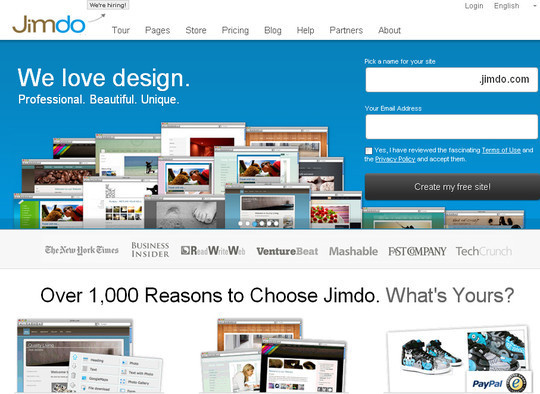 The Zeeblio website builder makes it incredibly easy to build a professional-looking website. Its drag-and-drop capabilities let you easily place any of our multiple add-ons or your uploaded media anywhere on your website. Whether you want to build a website for your business, organization, or a personal page for yourself, Zeeblio offers the tools you need to help you build exactly what you want.
Publish your website in minutes with our easy to use Website Builder. There are hundreds of professionally designed templates with auto-format layouts, or drag 'n drop the objects to design your own unique layout.
Easy drag and drop interface. No programming skills needed. Includes your hosting, web address, and design tools.
Whether you're looking to build a new website, drive customers to your existing site, or promote your site through social media we have the tools you need.
Suitable for enterprise and personal website building. Simple operation, delegate templates, build your website easily.
Everything You Need To Build The Perfect Website.
Use doomby's free website builder to make a website that's right for you. Whether you need a few pages, or a professional website with the works, to create a website for your business, school or hobby, an e-commerce website or a personal blog, your free site comes with everything you'll need to get your site online fast, without worrying about the technical stuff.
Monitive is running a contest, where yearly premium accounts for 5 winners  are givingaway. Well, you guys know what is Monitive? Let's say it once again for n00bs.
Monitive is a site uptime monitoring service, that periodically checks your sites from all around the world and instantly notifies you when they go down via SMS text right on your phone, email or Twitter DM.  It also monitors performance by measuring server connect, transmit and response times, executes automatic diagnosis, sends weekly reports, displays charts and more.
Key features:
 - reliable uptime monitoring service
 - worldwide coverage
 - 1 minute monitoring
 - Email, SMS, Twitter, HTTP POST and PagerDuty instant notifications
 - performance monitoring
 - malware detection
 - domain name & SSL certificate expiration monitoring
 - automated outage diagnosis
 - multiple account users with custom access
 - weekly reports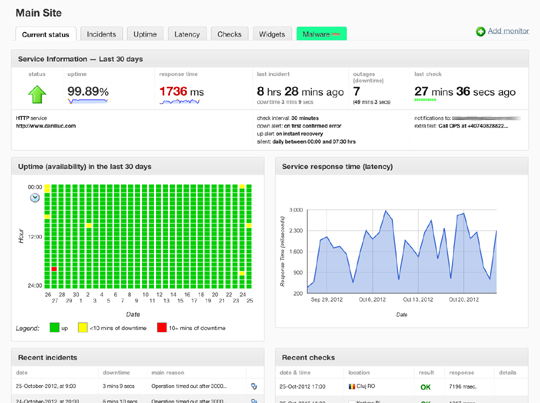 This contest will run from February 1, 2013 to February 9, 2013 and we will select the winners randomly by running MySQL query. Result can be announced any day before February 28, 2013 so keep visiting here or subscribe to our rss feed to get the latest updates. To participate in the contest and win Monitive's premium account, All you have to do is:
Just tweet this:
Win your @monitive yearly premium account from @smashingapps http://bit.ly/VsDifA

1. Once you have tweeted, come back to this post and comment with a link to your tweet and tell us, what do you love the most about Monitive uptime monitoring service? Be creative, fun and most importantly unique!
2. Use valid email ID in the email box.
3. Make sure that you are following @monitive and @SmashingApps on twitter and subscribe our rss feed to track this contest and for future updates.
4. And that's it!
So, what are you waiting for now? Let's participate in the contest and good luck!
There are many CSS tools available on the internet that help us writing better and valid CSS code. Such tools are of great importance for the web developers and web designers because achieving good command over CSS is a must to achieve skill for them. Many designers and developers constantly look for fresh and useful CSS tools to add them to their toolbox.
Therefore, keeping this in mind we thought to compile a collection of 12 useful CSS tools for the web developers and web designers. With these tools, designers and developers can learn new ways of using CSS3 properties and in this way can increase their work efficiency. Here is the full collection. We hope that you will like this list.
CSS3Gen – Generate Useful Snippets of CSS3
CSS3Gen is a CSS3 Generator that allows you to generate CSS3 snippets for Box Shadow, Text Shadow and Border Radius.
Stylie – A Graphical CSS Animation Tool
Stylie is a fun tool for easily creating CSS 3 animations.
Css2Less – CSS to LessCSS converter
Easily convert old CSS to fresh new LESS — As easy as copy/paste.
SpritePad – Create and Edit CSS Sprites
Create your css sprites with drag&drop and have it directly available as PNG + CSS file. No fiddling in Photoshop, no exporting, no manual assignment of css styles. SpritePad automates and simplifies most aspects of css spritemap creation.
On/Off Flipswitch HTML5/CSS3 Generator
Generate pure CSS3 On/Off flipswitches with animated transitions.
Minify and GZip Compress JavaScript & CSS
Minify and Gzip compress CSS & Javascript in a single click.
Prefix your CSS3 code. Instantly! Convert your CSS3 syntax to the prefixed versions
Ultimate CSS gradient editor and generator
A powerful Photoshop-like CSS gradient editor from ColorZilla.
Primer undercoats your CSS by pulling out all of your classes and id's and placing them into a starter stylesheet. Don't you deserve a little timesaver?
CSS Type Set is a hands-on typography tool allowing designers and developers to interactively test and learn how to style their web content.
SlickMap CSS is a simple stylesheet for displaying finished site maps directly from HTML unordered list navigation. It's suitable for most web sites – accommodating up to three levels of page navigation and additional utility links – and can easily be customized to meet your own individual needs, branding, or style preferences.
Optimize and format your CSS using a variety of different compression settings. Fixes sloppy code and generates clean and concise CSS.
In this collection, we are presenting a showcase of 17 HTML5 cheat sheets and tutorials for you so that you can complete your task easily and effortlessly. We have previously presented some cheat sheets as well that were highly appreciated and liked by our visitors. Keeping this in mind, we thought compiling another fresh collection of cheat sheets will be a good idea, and therefore, we have come up with 17 HTML5 cheat sheets for you.
HTML5 has redefined the web designing field and with the new elements and attributes being introduced quite regularly, developing and designing a website is becoming quite easy. Here is the full list. Enjoy!
A handy printable HTML 5 Cheat Sheet that lists all currently supported tags, their descriptions, their attributes and their support in HTML 4.
These are three very comprehensive HTML5 cheat sheets that can be easily printed or posted on your website using the provided HTML code.
Design & Code a Cool iPhone App Website in HTML5
HTML5 is definitely the flavor of the month, with everyone in the design community getting excited about its release. In this tutorial we'll get a taste of what's to come by building a cool iPhone app website using a HTML5 structure, and visual styling with some CSS3 effects.
This cheat sheet is essentially a simple visual grid that contains a list of all HTML tags and of their related attributes supported by HTML 5.
HTML5 id/class name cheatsheet
A very useful HTML5 cheatsheet for designer and developers.
You will find HTML5 Canvas Cheat Sheet very helpful if you are a designer or developer.
Coding a CSS3 & HTML5 One-Page Website Template
In this html5 tutorial you will learn how to code a CSS3 & HTML5 One-Page Website Template.
Build A Neat HTML5 Powered Contact Form
In this tutorial, we are going to learn how to create a swanky HTML5 AJAX powered contact form. The form will use some of the new HTML5 input elements and attributes, and will be validated using the browser's built-in form validation.
How to Make an HTML5 iPhone App
In this tutorial we will show you how to create an offline HTML5 iPhone application. More specifically, we will walk you through the process of building a Tetris game.
In this tutorial you will learn how to desige a blog with html5.
How to Make All Browsers Render HTML5 Mark-up Correctly
HTML 5 provides some great new features for web designers who want to code readable, semantically-meaningful layouts. However, support for HTML 5 is still evolving, and Internet Explorer is the last to add support. In this tutorial, we'll create a common layout using some of HTML 5s new semantic elements, then use JavaScript and CSS to make our design backwards-compatible with Internet Explorer.
Have a Field Day with HTML5 Forms
Here we're going to take a look at how to style a beautiful HTML5 form using some advanced CSS and latest CSS3 techniques. I promise you will want to style your own forms after you've read this article.
Code a Backwards Compatible, One Page Portfolio with HTML5 and CSS3
HTML5 is much more considerate to semantics and accessibility as we don't have to throw meaningless div's everywhere. It introduces meaningful tags for common elements such as navigations and footers which makes much more sense and are more natural.
Create An Elegant Website With HTML 5 And CSS3
In this article we will learn how to create An Elegant Website With HTML 5 And CSS3.
Making A Beautiful HTML5 Portfolio
In this tutorial we will be making a beautiful HTML5 portfolio powered by jQuery and the Quicksand plugin. You can use it to showcase your latest work and it is fully customizable, so potentially you could expand it to do much more.
How To Code A Clean Website Template In HTML5 & CSS3
In this article we will learn how to Code a Clean Website Template in HTML5 & CSS3.
HTML 5 Visual Cheat Sheet is an useful cheat sheet for web designers and developers designed by me. This cheat sheet is essentially a simple visual grid with a list of all HTML tags and of their related attributes supported by HTML versions 4.01 and/or 5.
Here, we have gathered 40 useful Online Generators to speed up your work. With these CSS Generators, you do not have to learn all the coding of CSS and CSS3, besides this it also makes your work easy because learning all hand written codes of CSS and CSS3 is not an easy task. With these useful generators, you can also create professionally written codes for your future projects.
CSS3 codes are different for different browsers; however, we hope that you will find this collection and these CSS generators helpful for you. Let us have a look at this collection and enjoy!
Stripemania is a simple and free web 2.0 tool to create seamless diagonal stripes for your designs. You are able to choose the size of the stripes and the spacing between those. You can even add color gradient effect for all of your stripes.
Edit color palettes with a few taps of your fingers. Easily analyze, extract, adjust, and share colors.
Tweak size, colors, corners and more, generate your design, then download and use in your css style sheet.
The CSS3 Gradient Generator is a showcase for the power of CSS gradients. It also provides a simple graphical user interface for working with CSS webkit gradients, allowing a user preview real time what their gradient will look like and provide the code for the gradient they generated.
A visually clean customizable CSS3 generator which includes support for older browsers.
Striped Backgrounds makes free stripe backgrounds, beautify your iPhone or Computer with a new free striped background.
BgPatterns is a tiny web app for making background patterns in a few clicks. It was created mostly for fun and experimentation by Sergii Iavorskyi.
Unleash your personal style, experiment and download the tile. You can use it directly in your css file or as pattern in Photoshop.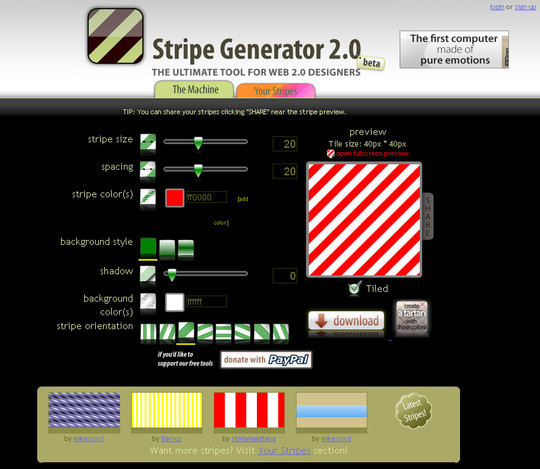 The Typetester is an online application for comparison of the fonts for the screen. Its primary role is to make web designer's life easier.
Online, Free CSS Forms Builder, use Faary to build unlimited forms in minutes.
Patternify is a simple pattern generator. I built it to save myself the pain of launching Photoshop just to export a 2px by 2px stripe pattern. Not only can you build your pattern online, but with the base64 code, you don't even need an image file anymore: just include the code in your CSS and you're ready to go.
A designer tool for creating color combinations that work together well.
COPASO is an advanced color palette tool that helps you create the perfect color palette.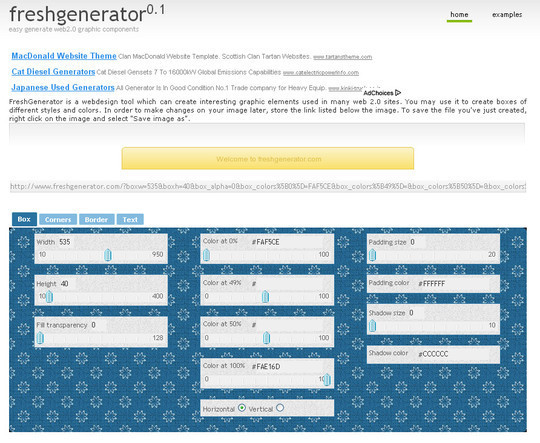 favicon.cc is a tool to create or download favicon.ico icons, that get displayed in the address bar of every browser.
CSS3 buttons generator is a designer tool for creating CSS3 buttons smartly.
Ultimate CSS Gradient Generator
A powerful Photoshop-like CSS gradient editor from ColorZilla.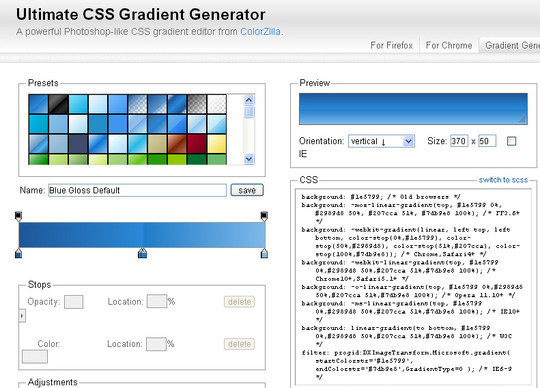 With Border Image Generator you can easily create beautiful border for your design.
A Web2.0 tool to generate a dotted background tile. You can choose to enter the color values or press the random Button.
CSS Type Set is a hands-on typography tool allowing designers and developers to interactively test and learn how to style their web content.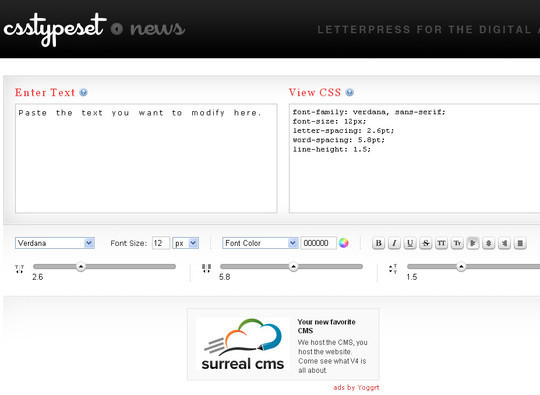 Create HTML Form in Seconds. Choose a color to start.
With CSS Tricks you can easily generate simple and effective rounded CSS buttons.
With AJAX loading GIF generator you can create easily your own ajax loader icon.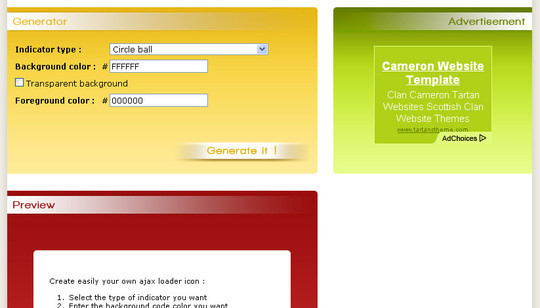 A web color combinations testing tool for web developers.
It will create 10 shades of the base color, located top-left, at varying degrees of opacity. The top row emulates opacity over a white background, the bottom over black (or colors of your choosing as of v1.4). The opacity values are 100% opaque, 75%, 50%, 25% and 10% on the top row. The bottom row begins at 85% rather than 100% and continues on as the first.
Graphs and charts are great because they communicate information visually. For this reason, graphs are often used in newspapers, magazines and businesses around the world.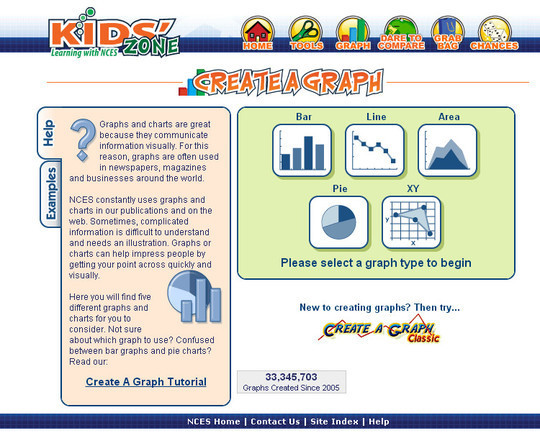 The generator helps you create the structure of your website template using valid HTML and CSS. You can create a fluid or fixed width floated column layout, with up to 3 columns and with header and footer. Values can be specified in either pixels, ems or percentages.
Email Icon and Signature Generator
With this tool you can easily generat Signature and Email Icons.
A tool for dynamically creating gradient images to use for backgrounds. uses a REST webservice, .net and GDI+. Beloved plaything of graphic artists, CSS lovers, web dabblers and more.
Online Gradient Image Maker + Stripes maker – build 3D gradient background images with stripes for site decoration and visual effects.
Generate matching color schemes like never before.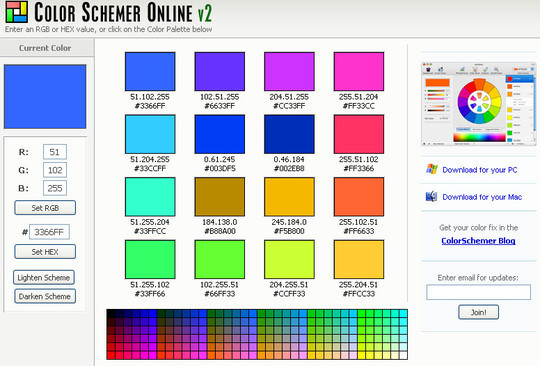 The variable grid system is a quick way to generate an underlying CSS grid for your site. The CSS generated file is based on the 960 Grid System.
CSS Maker is a free tool to experiment with CSS properties and values and generate a simple stylesheet for your site.
Background Maker for web, website background generator and pixel art tool. Draw pixels and watch it tile live in the background as a pattern. Create a tiled background and download the image to use it on your blog, website or whatever
Color Scheme Generator is a HTML and RGB color code generator that will show you how to match your web site colors and will save you time when choosing a web site color scheme or color code. Easily find out what color matches, specify the main color by entering red green and blue values between 0 and 255 or by entering a hex color code.
Make color schemes. Enter the URL of an image to get a color palette that matches the image. This is useful for coming up with a website color scheme that matches a stock photo a client wants to work with.
A tool for visual layout development of YAML based CSS layouts.
This tool will help you generate more flexible versions of Blueprint's grid.css and compressed.css and grid.png files. Whether you prefer 8, 10,16 or 24 columns in your design, this generator now enables you that flexibility with Blueprint.
This online generator creates your own custom unique WordPress Theme. Without any need for HTML, JS, PHP, or CSS knowledge.