Tools
With this collection, we aim to showcase some of the awesome and truly helpful Mac apps that will help developers a lot. Developers constantly need a lot of apps and tools in order to organize their work and hence increase their productivity. With the use of helpful and time saving apps, developers can design different types of applications for our use. In this collection, we have collected 13 awesome and great Mac apps that every developer must check out.
Do not forget to share your opinions, comments and suggestions with us via comment section below. Also, feel free to share this post with your friends as well as on social networking websites. Enjoy!
Now you can expand into mobile marketing with our tool that lets you create impressive mobile sites easily.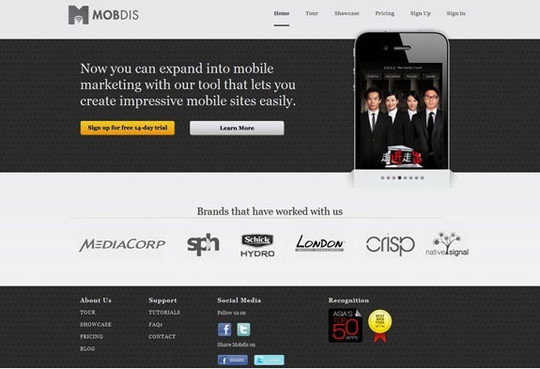 Alfred saves you time when you search for files online or on your Mac. Be more productive with hotkeys, keywords and file actions at your fingertips.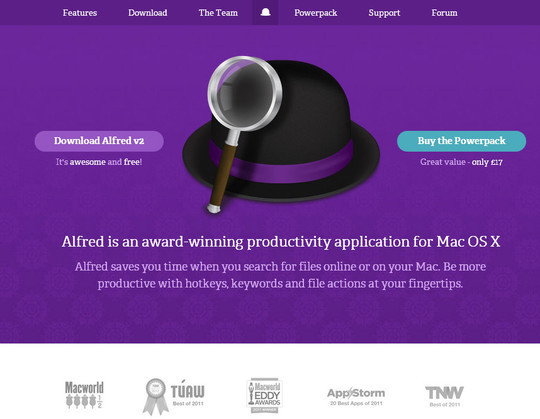 Quickly and easily develop desktop, mobile and web applications with Java, HTML5, PHP, C/C++ and more. NetBeans IDE is FREE, open source, and has a worldwide community of users and developers.
The best Latin text generator for OS X. Incredibly quick and lightweight.And it's completely free!
Command line work isn't a separate task that should live on its own—it's an integrated part of your natural workflow. DTerm provides a context-sensitive command line that makes it fast and easy to run commands on the files you're working with and then use the results of those commands.
SS Hat is a simple and highly useful Photoshop plugin that generates CSS3 based on your Photoshop layer styles.
You code the web. We revolutionized that process in Coda, putting everything in one place. An editor. Terminal. CSS. Files. But we knew we could do better.
CodeKit helps you build websites faster and better. Its flagship features are listed below and the one-minute teaser video to the right is a good place to start.
Flow is an award-winning, beautiful, fast, and reliable FTP + SFTP client. With URL Copying, Droplets, a built-in editor, and QuickLook, it's no wonder why Flow is the go-to choice for those who want the best.
Created specifically for designers & developers, xScope is a powerful set of tools that are ideal for measuring, inspecting & testing on-screen graphics and layouts.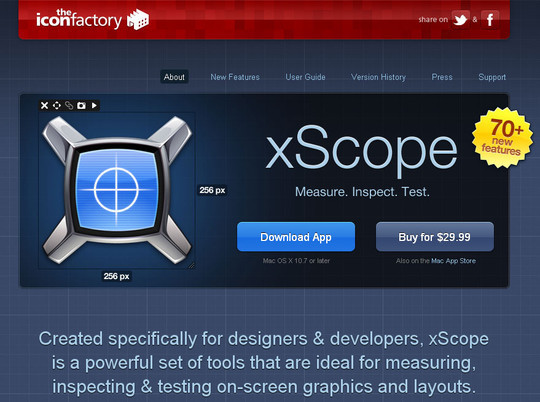 Spark is a powerful, and easy Shortcuts manager. With Spark you can create Hot Keys to launch applications and documents, execute AppleScript, control iTunes, and more. You can also export and import your Hot Keys library, or save it in HTML format to print it.
Clipboard History is a very simple and straightforward application that keeps your history of copied items, and provides a configurable hotkey so you can paste them inside of any app. These items can be images, text or a mix of them (rich text, like PDFs and HTML).
Web applications like Gmail, Facebook, Campfire and Pandora are becoming more and more like desktop applications every day. Running each of these web apps in a separate tab in your browser can be a real pain.
Here, we have come up with another interesting collection of Chrome apps and this time we are focusing on 19 most essential apps for web designers and developers. Google Chrome is a powerful web browser and because of its simplicity many of us prefer it over many traditional web browsers. We have previously presented some Chrome extensions that are helpful for the web developers and designers and this time we are showcasing a useful collection of some Chrome apps.
With this collection, we are showcasing a fresh assortment of some free and fresh Chrome apps for you so that you can use them and simplify your work process. Resources such as Chrome apps are meant to expedite your work flow by allowing you carry out certain actions quickly thus helping you to improve your productivity as well.
Awesome Screenshot: Capture & Anno
Capture the whole page or any portion, annotate it with rectangles, circles, arrows, lines and text, blur sensitive info, one-click.
Resize browser window to emulate various screen resolutions.
Generating CSS Gradients was never this easy,autogenerate multibrowser css3 code in a snap.
Web developer color picker/eye dropper. Pick color from current web page or change color(s) of any element in DOM.
Pixlr express is a smooth and modern photo editor, with all the effects, overlays and borders from the popular pixlr-o-matic but with more control. There are also lots of adjustments, stickers and a text tool.
Pixlr presents a full featured photo editor direct in your browser, no download, no wait and 100% free.
CSS-Shack allows you to create Layers Styles (just like you would in any other image editing software), and export them into a single CSS file, or copy them to the clipboard.
Balsamiq Mockups for Google Drive allows you to create, edit and share sketch-quality wireframes, all within Drive.
ShiftEdit is an online IDE for developing PHP, Ruby, HTML, CSS and JavaScript using (S)FTP, Dropbox or Google Drive.
The best HTML5 app for creating crisp mockups, wireframes & interactive prototypes.
Creates a color palette from any image. Just right-click on the image and select the 'Palette for Chrome' option.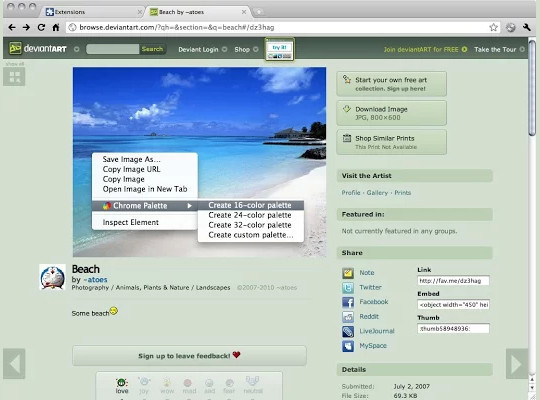 The Web Developer extension adds a toolbar button to the browser with various web developer tools. This is the official port of the Web Developer extension for Firefox.
The BuiltWith Chrome Extension lets you find out what a website is built with by a simple click on the builtwith icon!
Sight is the Syntax Highlighter Chrome extension that makes reading code on the browser a joy. You can choose the theme, font and enable line numbers on the options page. To force a specific syntax pass #ft=[syntax] on the url of the file.
Stylebot allows you to quickly manipulate the appearance of any website (using custom CSS).
Google Font Previewer for Chrome
Lets you choose a font from the Google Font directory with a few text styling options, and preview them on the current tab.
CSSViewer is a simple CSS property viewer for Google chrome originally made by Nicolas Huon as a FireFox addon.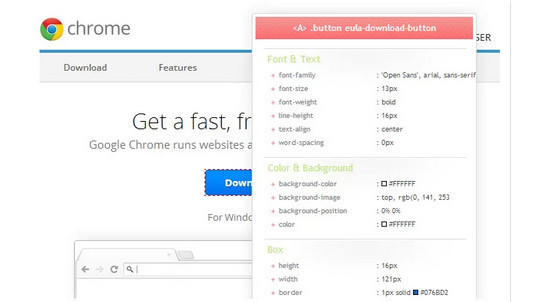 Speed Tracer is a tool to help you identify and fix performance problems in your web applications. It visualizes metrics that are taken from low level instrumentation points inside of the browser and analyzes them as your application runs.
Porting of FlagFox to Chrome. Displays a country flag indicating the location of the websites you're visiting.
There are loads of apps available for iPhone ranging from fun to business apps. Almost every iPhone user is using some of these iPhone apps either for fun and passing their leisure time or for some work. For this round up, we are presenting 17 free and extremely useful iPhone apps that can help you boost your online business productivity significantly. App store is the place you can get all these awesome apps from. It is also one of the biggest selling points of the iPhones.
Tons of new apps are added to app store on a daily basis and there are literally hundreds of apps that are available on app store for the users. Some of them are paid while some are free to use. For this collection, we are presenting 17 iPhone apps that are free and will help in increasing online business productivity.
Pageonce is the award-winning, app that organizes & tracks your cash, credit cards, and pays your bills – all for FREE*! Trusted and loved by over 7.5 million people, Pageonce provides a secure way to manage your money on the go.
LockBox lets you store and protect sensitive info such as credit card numbers, bank accounts, passwords, pin numbers, private notes, and any other secret information on your iPhone or iPod Touch.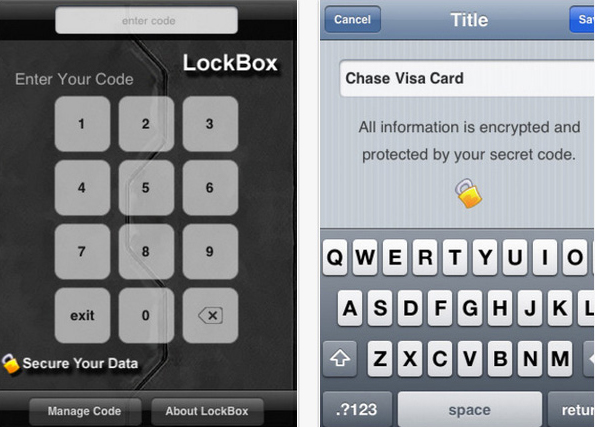 Evernote is an easy-to-use, free app that helps you remember everything across all of the devices you use. Stay organized, save your ideas and improve productivity. Evernote lets you take notes, capture photos, create to-do lists, record voice reminders–and makes these notes completely searchable, whether you are at home, at work, or on the go.
Remotely control your PCs and Macs over WiFi/3G with the free LogMeIn app on your iPad or iPhone. It works with LogMeIn's free award-winning software installed on as many computers as you like. You can remotely access your files, run your applications and control your desktops from anywhere. With everything at your fingertips, you're finally free to go.
iXpenseIt simplifies daily expense tracking and monthly budgeting. With iXpenseIt, it's never been easier to stay current on your budget or for business users, to get faster reimbursements. Store photo receipts is a snap. Enter expense data anywhere, anytime within seconds. Powerful reporting provides insight to where your money went and find new ways to save.
Chat on Facebook, Google Talk, Live Messenger, Yahoo!, ICQ, and more. IM+ features free texting, Off-the-Record messaging as in-app purchase, group chats, multimedia sending and much more. IM+ has all your messaging needs covered, regardless of whether you want to stay in touch with your IM contacts or socialize with people around you with Neighbors geo-social network.
Bloomberg PROFESSIONAL subscribers, please download the Bloomberg Anywhere App. Get instant access to all your business and finance news, market data and portfolio tracking tools from the most trusted source financial professionals around the world rely upon.
iTalk Recorder is a full-featured recording app with a streamlined and intuitive user interface. Press the big red button to record; press it again to stop. You can append to existing recordings, choose from three levels of recording quality (11.025, 22.05, or 44.10 kHz sample rates), and manage your recordings, all with just a fingertip.
ScanBizCards Lite Business Card Scanner + Reader
The only business card reader offering BOTH the choice to scan cards in seconds right on your phone – or submit instead for 100% accurate human transcription! The only business card reader with cloud backup & sync across multiple devices + web-based access to cards from any browser.
Accept credit cards and run your business anywhere with Square Register on your iPhone, iPad, or iPod Touch. Square's free card reader, simple pricing, and smart business tools make it easy for you to do what you love and get paid. Pay just 2.75% per swipe for Visa, American Express, MasterCard and Discover. No monthly fees or merchant contracts. Funds from swiped payments are deposited into your bank account in 1-2 business days.
JobAware: Job search just got smarter
JobAware is free! Join over 100,000 people who successfully find jobs using JobAware.
Stay connected to the premier job search website to discover the latest jobs that meet your needs. Get Monster.com Jobs for iPhone, which allows you to search, view and apply to jobs- whenever you want and wherever you want. You can even be alerted when new jobs are available!
ADP Mobile Solutions is an integrated employee self service mobile solution that helps you stay connected to your company's information anytime, from anywhere. This application revolutionizes the way organizations deliver payroll, time & attendance, benefits and other vital HR information to employees by providing easy, 24/7 on-the-go access from their iOS mobile devices. All of the information is delivered using the same safe, secure world-class technology that ADP uses every day to deliver information and services to approximately 570,000 clients around the world.
Pages Manager helps admins connect with their audience and keep up with activity on multiple Pages, all in one place.
Accept credit cards and run your business anywhere with Square Register on your iPhone, iPad, or iPod Touch. Square's free card reader, simple pricing, and smart business tools make it easy for you to do what you love and get paid. Pay just 2.75% per swipe for Visa, American Express, MasterCard and Discover. No monthly fees or merchant contracts. Funds from swiped payments are deposited into your bank account in 1-2 business days.
PayPal Here is a free app combined with a pocket-sized encrypted card reader. With it, you can support any form of payment on your iPhone – wherever you are, even on the go.
SignEasy : Sign and Fill Documents (PDF, Excel, Word, Email)
A simple, convenient and secure way to sign and return documents from your iPhone and iPad. Sign from your office, home and on-the-go or collect signatures from anyone anywhere.
Here we are presenting a superb collection of some very useful and handy WordPress Twitter plugins for you. WordPress Twitter plugins can be crucial for social media marketing and therefore, any business either online or offline should not overlook its importance. Twitter is a powerful marketing tool and with the help of WordPress Twitter plugins, the tedious task of social media marketing can be reduced exponentially.
With this collection, we are showcasing a useful assortment of some free WordPress Twitter plugins for you so that you can download them and simplify your work process. Resources such as WordPress plugins are meant to expedite your work flow by allowing you carry out certain actions quickly thus helping you to improve your productivity as well.
Add a widget to your sidebar to show your latest tweet(s) with style and without JavaScript! Retweet, Favorite and Reply links are available.
Twitter Fans (Like Box for Twitter)
This plugin lets you display your twitter followers in the sidebar (or anywhere else in the theme). The display is similar to Facebook's Like Box.
Adds a sidebar widget to display Twitter updates (uses the Javascript Twitter 'widgets')
Twitter Tweets Box is a Widgets let you display Twitter updates on your website.
Twitter is big. Too big to ignore if you're a blogger. It's a great way to connect with your readers, and promote your blog a bit.
Twitter Mentions as Comments scours Twitter for people talking about your site & silently inserts their Tweets alongside your existing comments.
Brought to you by MailChimp, Social is a lightweight plugin that handles a lot of the heavy lifting of making your blog seamlessly integrate with social networking sites Twitter and Facebook.
NextScripts: Social Networks Auto-Poster
This plugin automatically publishes posts from your blog to your Social Network accounts such as Facebook, Twitter, Google+(Google Plus), Blogger, Tumblr, LiveJournal, FriendFeed, DreamWidth, Delicious, Diigo, Instapaper, Stumbleupon, LinkedIn, Pinterest, Plurk, VKontakte(VK.com), YouTube, WordPress, etc.
WordTwit keeps track of when you publish new posts, and automatically informs your followers by pushing out a tweet to twitter in the format you specify. All links are automatically converted to tiny URLs to save space.
Creates a floating box with a follow me twitter. Without the need to modify the template.
Easily embed tweets in your posts and pages by posting the tweet URL on a line by itself or by using a shortcode provided by the Twitter interface.
Share&Get it! automatically provides you with either Facebook fans or Twitter followers in return for downloadable files. Once you've installed Share&Get it ! on your WordPress website, your number of visitors will dramatically increase in no time. To obtain such great results, you only need to copy/paste the shortcodes you get when setting up the buttons.
Plugin to tweet about your old posts to get more hits for them and keep them alive.
Displays your latest pictures from TwitPic in the sidebar of your blog. The plugin is widget ready and comes with many configuration options!
Display tweets from one or more Twitter accounts using a WordPress widget. Compatible with version 1.1 of the Twitter API.
Display timeline for Tweets from an individual user, a user's favorites, Twitter lists, or any search query or hashtag as a widget in your sidebar.
WordPress IDX is the leading IDX / MLS real estate search plugin for WordPress sites. Elegant interface, great SEO and excellent lead capture.
WordPress.org Plugin/Theme Information Embed
A WordPress plugin that allows you to embed realtime information about plugins or themes from WordPress.org into posts and pages simply by pasting in the URL to the plugin into your post or page.
Better than Twitter's own widgets – Tweet Blender is tag-aware and has support for multiple authors, lists, hashtags, and keywords all blended together. The plugin can show tweets from just one user or a list of users (as all other Twitter plugins do); however, it can also show tweets for a topic which you can define via Twitter hashtag or keyword.
Tweet&Get it ! is an automatic process to get Twitter followers in exchange for a downloadable file.
This widget will display the most recent tweets for any twitter user who has their tweets set as public. Show up to 20 tweets. Include a link to your twitter profile and a twitter icon or your profile picture.
Shortcode for the official Twitter Widgets.
Uses the twitter goodies widgets API to create offical twitter widgets (profiles, lists, faves and search) straight from your control panel.
This is a WordPress plugin to show your Twitter badge as a widget with easy personalization.
TweetRoll displays your Twitter details and the avatars of some of your friends, together with the ability to monitise your Twitter stream.
Monitor the Twitter API and be alerted when it is down.
Evergreen Post Tweeter enables you to automatically tweet out links to old posts based upon a tag or tags.
Allow your commentators to include their Twitter username along with their comment so a follow-me link can be displayed with their details on the list.
Twitter Comments system. Automatically retrieve Twitter Replies and/or Twitter Retweets to your Blog's Posts using WP built-in comment system.
Twitter Feed Widget will display your tweets using ajax and jquery. It shows one tweet at a time and loops through an specified number of tweets and time interval. IMPORTANT the twitter feed currently only works with non-private(public) twitter accounts.
Add a sidebarwidget with your twitter timeline to your WordPress-Blog.
Add a Twitter "Follow" button to your WordPress website.
Twitter Widget with Sentiment Analysis
Shows latest tweets for any keyword, hashtag or, your handle along with sentiment analysis. It also starts to show trend lines if there is enough volume.
Adds a sidebar widget to display Twitter updates using the more-reliable Google Ajax API.
A Simple Twitter Tweets display widget, using Twitter OAth and API v1.1 and backup up so it always displays your Tweets.
This plugin will install the official Twitter Button provided by Twitter to your WordPress-Blog.
Easily embed tweets in your posts and pages by posting the tweet URL on a line by itself or by using a shortcode provided by the Twitter interface.
This plugin allow you to grab your tweets from twitter and show your theme's sidebar as widget.
Display the latest updates for any twitter user in a widget. Automatically embeds links to @users, #hashtags and urls.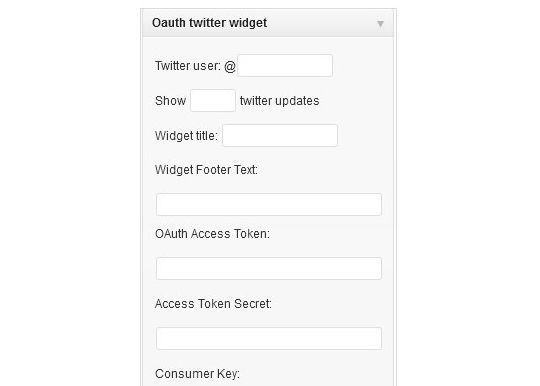 For the sport lovers this post will be a treat for them. In this post, we are showcasing 16 best and wonderful free iPhone Sport Apps for your iPhone. All these sport applications are easy to use and easy to access. These free and wonderful iPhone sport applications give iPhone user a superb and amazing experience.
Smartphones like iPhone provides their users so many interesting and exciting applications and in this list sport applications is one of them. And these days sport applications is very popular in market. Almost every sport is present in this iPhone sport application. Check this out and get to pick one. Do let us know what you feel about this round up. We hope that you will like this collection. Enjoy!
FOX Sports brings you the most comprehensive sports app available. Why download multiple apps for each of your favorite sports, teams, your local sports market, plus apps to listen to sports radio? The FOX Sports app does all of this for free!
Are you a TRUE sports junkie? Do you feel embarrassed or ashamed when you don't know a little piece of trivia? Use Brainscape to become the smartest pro sports fan in the room.
The Best Sports App. Ever! theScore has been completely re-designed for the iPad and iPhone to give you the ultimate mobile sports experience. It is the must-have fantasy sports utility.
NBC Sports Talk brings you the latest news, rumors and analysis for all your favorite sports – all in one place.
CBS Sports Fantasy Football for iPad
The official, free CBS Sports Fantasy Football for iPad app is updated and redesigned for the 2012 season to give you all the tools you need to dominate your league this season.
It's even easier for you to manage your fantasy team anywhere, anytime: Set your lineup, add & drop players, view detailed player stats, rankings and trends. Plus get the latest fantasy player news customized for your leagues; as well as live access to the Fantasy Football Today live show.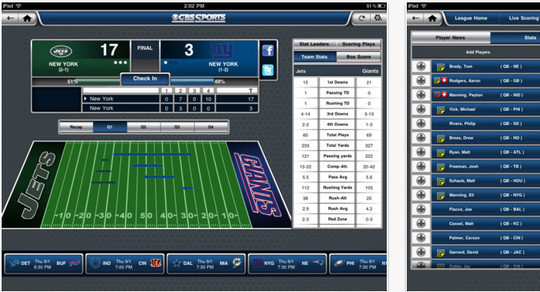 Sportacular 3.0 is designed to give sports fans their scores, news and stats as quickly as possible in a clean, beautiful layout. Experience fast, personalized, and easy access to live scores and information on your favorite teams, players, and leagues. More Yahoo! Sports content has been added throughout the app to make Sportacular the single tap answer to all of your sports needs.
MLB PrePlay is the official prediction game of Major League Baseball. Use it to predict the outcome of every game and every at-bat of the 2013 Season!
ACC Sports Official Application of The Atlantic Coast Conference
ACC Sports is your official source for Atlantic Coast Conference sports on the iPhone & iPad.
Mobile PWTorch will keep you up to date with what's happening in the world of Professional Wrestling from the recognized leader in pro wrestling journalism since 1987. A passionate staff of expert reporters and analysts provide not just the headlines of the day, but analysis to put those stories in perspective.
ESPN ScoreCenter brings you scores, news and standings from sports leagues, teams and players around the world. The new app makes it easier than ever to follow your favorite teams wherever, whenever. Stay up to date on the latest scores with personalized scoreboards and alerts. Follow the nation's top stories with in-depth coverage and analysis.
The official ESPNcricinfo App brings you the most comprehensive cricket coverage from around the world.
Watch live PGA Tour golf from your iOS devices with Golf Channel's Golf Live Extra app; find out what's on and view the schedule for upcoming tournaments.
CBS Sports — Your go-to source for NCAA College Basketball Tournament coverage and more.
FCBWorld updated with new design, services and exclusive content. Don't miss a single piece of news about the Club and download this official Club application. Download the latest update and begin enjoying all the Club news as it happens – the first team, the sections, player profiles, complete stats history and honours…
Call It: Football – Play in Real-Time
Call It: Football is a REAL-TIME game that allows you to play as you're watching US professional football LIVE on TV. It makes watching live football more competitive, social and fun.
College Football Scoreboard gives you up to the minute college football scores, schedules and all the latest news stories, for the following conferences: ACC, Big 12, Big East, Big Ten, Conference USA, Mountain West, Pac-12 and SEC- plus Top 25 schools.
If you are worry about the replacement for the Google Reader then you do not have to worry anymore because this collection is all about alternatives to Google Reader. No doubt Google Reader is one of the most important and useful tools from Google apps. So what if Google Reader is closing or shutting down, these days lots of good and outstanding replacements for the Google Reader are available in the market like the Old Reader, News Blur, Feedly, net Vibes and Pulse and so many.
In this compilation we are showcasing 10 free and best Alternatives to Google Reader. With these quality replacements of Google Reader, you do not have to worry if Google Reader is closing or not because you have good alternatives in hand.
You can also tell us what you think about this collection and share your precious opinions with us via comment section below. Do have a look at this collection and chime in with recommendations as well. Enjoy!!!
Organize your favorite blogs, news sites, podcasts and Youtube channels and access them all in one place (or sync with Google Reader).
RSSOwl is a free and powerful news feed reader. RSSOwl lets you gather, organize and search news in a convenient, easy to use interface with endless flexibility.
GreatNews displays full pages of news articles across rss feeds, optimized for fast reading. So you can skim through pages in seconds, and pick interesting ones to dig in.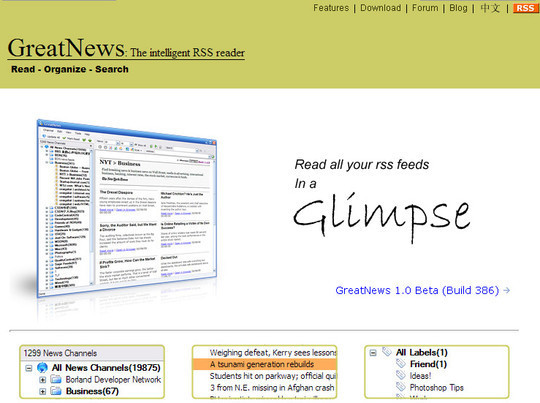 You just sign up, add your favorite feeds, and arrange them into a personal list that you can then access at any moment from any other computer simply by logging into your account in a web browser.
FeedDemon is the most popular RSS reader for Windows, with an easy-to-use interface that makes it a snap to stay informed with the latest news and information.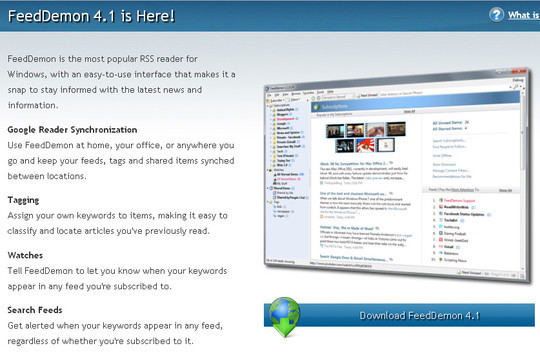 Taptu provides instant access to all your interests in one beautiful little app.
Pulse is a fast and beautiful way to read your favorite blogs, magazines, social networks and newspapers.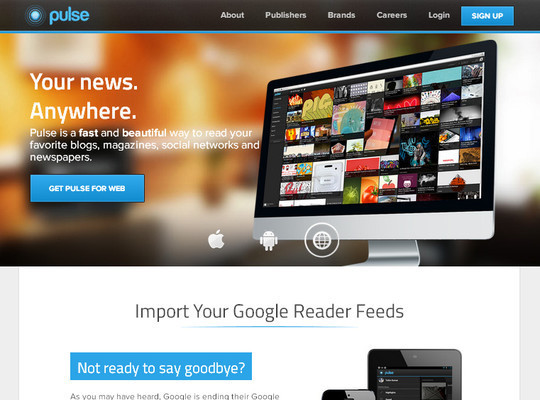 Bringing people together to talk about the world.
Bloglines is the fastest way to find and track your favorite websites and blogs in real-time. Easily customize your dashboard with multiple view options, drag and drop organization, and exclusive widgets. Get the latest news on all your interests and trending topics exactly the way you want it, with the new Bloglines Reader!
Free and easy to use RSS reader, NNTP news reader, and web bookmark manager. It's fast, it aggregates, and it keeps you organized. Check out the additional features: lightning-fast desktop search, flexible information organizer, contextual access, and quick extensibility for developers who want more.
Here we are presenting a collection of some useful prototype and wireframe tools for you that will help you in creating mobile and web designs. Despite the fact that there are so many free wireframe and prototype tools available on the internet, designers constantly look for fresh and useful tools that can save their time. Having useful wireframe and prototype tools come in handy for the designers especially for creating mockups that they can show to their clients to get their feedbacks. In this way, they can create an initial design and send it to their clients for approval and advice. This way, they can create design exactly the way their clients want.
Such tools allow designers and clients to discuss in deeper details about the project. Designers can create different versions as per their clients' demands without investing hours.
We hope that you will find these tools helpful for you and that these tools will help you in creating mock-ups for your new projects. We know that for designers what else could be the best than having such fundamental design element available in ready-to-use format.
Pencil is built for the purpose of providing a free and open-source GUI prototyping tool that people can easily install and use to create mockups in popular desktop platforms.
Using Mockups feels like drawing, but because it's digital, you can tweak and rearrange easily. Teams can come up with a design and iterate over it in real-time in the course of a meeting. Product managers, designers, developers, and even clients can now work together in the same tool to quickly iterate over wireframes, before writing code.
Lumzy is a mockup and prototyping tool for websites and applications.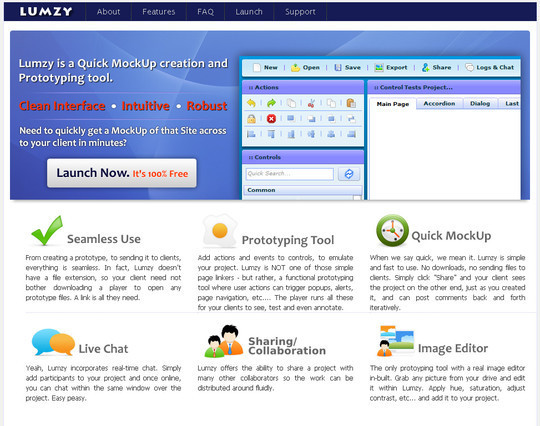 Jumpchart is a simple online collaborative content wireframe tool for helping you plan websites.
Mockup Builder – Free online web prototyping tools, software
Mockup – it is the convenient software, which allows you to make a prototype of a site and new design for soft.
Wireframes Were Never So Fun To Make And Prototypes Were Never So Functional – All Of Them 100% Web-Based & Collaborative. See For Yourself For FREE Now!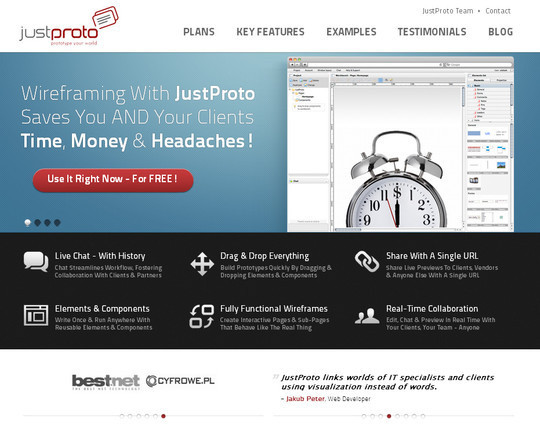 iPlotz allows you to rapidly create clickable, navigable mockups and wireframes for prototyping websites and software applications. Create a project, add wireframe pages with design components and discuss your creations with others.
Design, collaborate user interface concepts for your software and websites.
Cacoo is a user friendly online drawing tool that allows you to create a variety of diagrams such as site maps, wire frames, UML and network charts. Cacoo can be used free of charge.
Creately diagrams of all kinds and access all your data from your desktop or the internet. Your work is available at any time, oline & offline!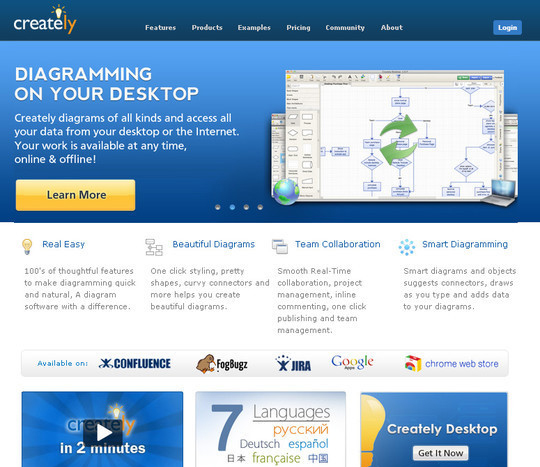 The key to this tool is the simplicity of usage, lending itself to speed, both in wireframe creation, as well as being able to quickly share the results without having to send anything more than a web address. It is free to register and use, and works in modern web browsers including Internet Explorer and Mozilla Firefox.
The best platform to define web and mobile apps with rich interactive wireframes.
Mockabilly – App for creating mockups on iPhone
Mockabilly is an iPhone App for creating quick and easy mockups for iPhone, iPod touch and iPad.
Professional-quality flowcharts, diagrams, floor plans, technical drawings and more. Gliffy works directly in your browser!
Lightweight online tool for creating and sharing mockups (wireframes). Easy, fast and free in use.
Make a flow chart, org chart, mind map, network diagram, UML diagram, wireframe and other drawings online with Lucidcharts free flow chart creator and diagramming software.
Create full-interactive high-fidelity prototypes in minutes that look and work exactly like your app should.
Pick "Illustration" or "Pencil" to create a new iPhone Mockup.
MockNow is easy, fast, (Drag & Drop) and totaly free web based online Mockups (Wireframe) Creating and Sharing tool for website and ready to publish in minutes.
HotGloo will change the way you create and experience wireframes.
Design Interactive Prototypes and Wireframes for Website, App and Mobile with ProtoShare.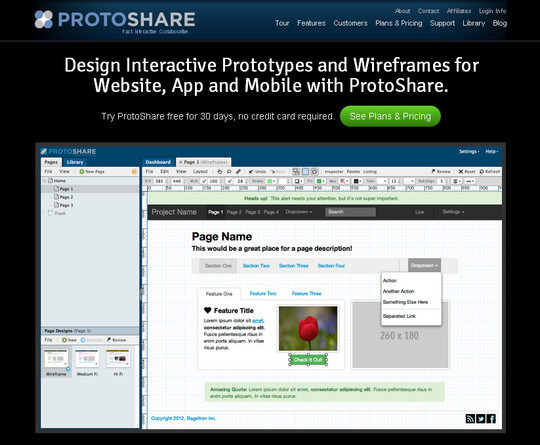 Pidoco is a web-based prototyping software for rapidly creating clickable wireframes and UI prototypes for web, mobile and enterprise applications. It's easy to use with smart sharing and collaboration features, a convenient usability testing module and much more.
WireframeSketcher is a wireframing tool that helps designers, developers and product managers quickly create wireframes, mockups and prototypes for desktop, web and mobile applications. It's a desktop app and a plug-in for any Eclipse IDE.
fA world-class diagramming platform that lets you display, communicate, and present dynamically. Powerful enough to draw everything from basic flowcharts to complex engineering schematics. Live Object technology dynamically displays linked data. Compatible with MS Visio XML files, making it the premier cross-platform diagramming solution.
FlairBuilder is a prototyping tool that lets you create interactive wireframes for websites and mobile applications. It's easy to learn and use, and comes with lots of options.
Mockingbird is an online tool that makes it easy for you to create, link together, preview, and share mockups of your website or application.
Need a diagram, process chart, quick page-layout, website wireframe or graphic design? OmniGraffle can help you make eye-popping graphic documents quickly by keeping lines connected to shapes even when they're moved, providing powerful styling tools, importing and exporting Microsoft Visio files, and magically organizing diagrams with just one click. Whether you need a quick sketch or an epic technical figure, OmniGraffle keeps it gorgeously understandable.
A world-class diagramming platform that lets you display, communicate, and present dynamically. Powerful enough to draw everything from basic flowcharts to complex engineering schematics. Live Object technology dynamically displays linked data. Compatible with MS Visio XML files, making it the premier cross-platform diagramming solution.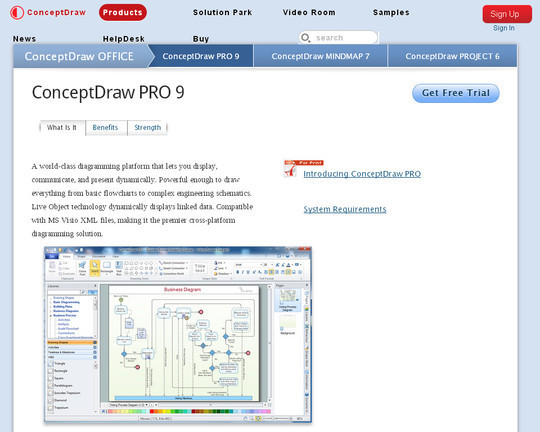 The Software Prototyping and User Interface Design Tool for Desktop, Mobile and Web Applications. Quick and Easy to use, with No Coding. You'll Wonder How You Managed Without It!
Napkee lets you export Balsamiq Mockups to HTML/CSS/JS and Adobe Flex 3 at a click of a button.
ForeUI is an easy-to-use UI prototyping tool, designed to create mockup / wireframe / prototypes for any application or website you have in mind. With ForeUI, your prototype project will be skinnable, since you can easily change the style of your prototype by simply switching the UI theme.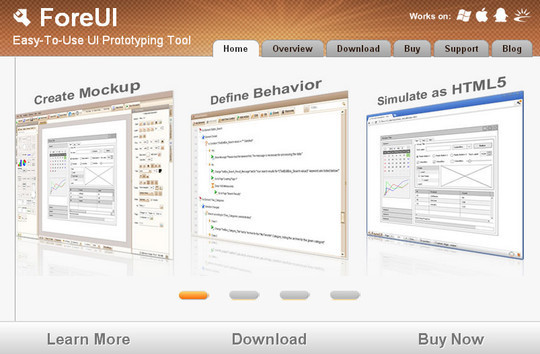 SimpleDiagrams is a small desktop application that helps you express your ideas quickly and simply. There's just enough functionality to describe a thought or capture a process.
Create Wireframes in a Snap with Wireframe Pro: Free and Premium Versions
SimpleDiagrams is a small desktop application that helps you express your ideas quickly and simply. There's just enough functionality to describe a thought or capture a process.
Here, we are showcasing a list of 45+ best responsive web design toolboxes for you so that you can add them to your toolbox. With these responsive web design toolboxes, you can easily create responsive website designs. as we all know that with the increase in the use of smartphones, Android phones, iPhones and tablets more and more users are accessing their favorite websites right from their devices. To cater all those visitors who are accessing the website from mobile devices, it is necessary that you choose to create a responsive website design.
With the help of these responsive web design toolboxes, web designers and developers can easily design responsive websites and can earn intensely. Here is the complete list for you. Enjoy!
The most advanced responsive front-end framework in the world.
A grid system for responsive web design. Includes folding columns, elastic gutters, a zoomable baseline grid, and a delightful grid overlay script.
SG is prepared for 4 distinct ranges of screen size: screens 720px, screens > than 985px, and screens > than 1235px. So people visiting your site will receive a layout that's tuned to the size of their browser window. Say goodbye to horizontal scrollbars.
Susy is based on Natalie Downe's CSS Systems, made possible by Sass, and made easy with Compass. You can use it anywhere, from static sites to Django, Rails, WordPress and more. It even comes packaged as part of Middleman, to make your life easy.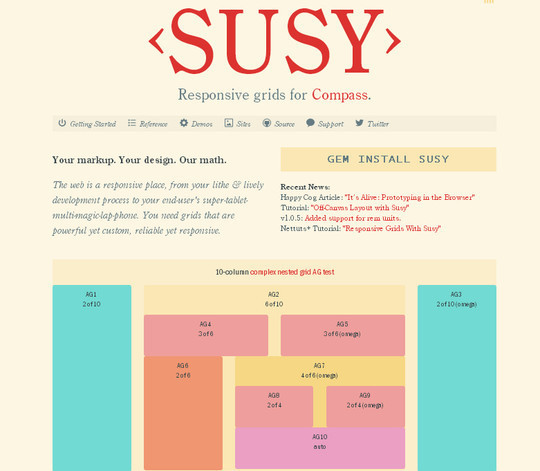 Set column and gutter widths, choose the number of columns, and switch between pixels and percentages. All without any .grid_x classes in your markup. Oh, and did we mention it's responsive?
Rapid Prototyping of Fluid Layouts, Adaptive CSS and Responsive Design
A jQuery plugin for radical web typography.
FitText makes font-sizes flexible. Use this plugin on your fluid or responsive layout to achieve scalable headlines that fill the width of a parent element.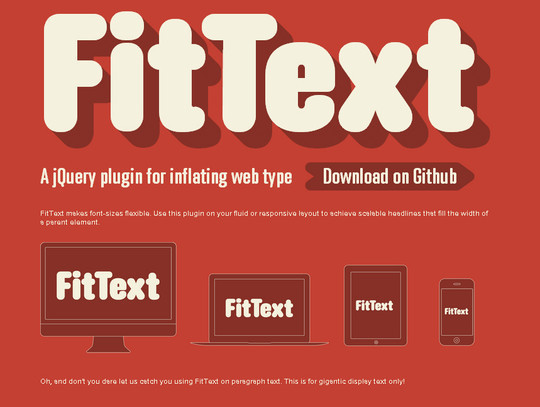 The Responsive grid generator Creating a Responsive grid system just became a total breeze.
The happy & awesome way to build fluid grid based websites.
Less Framework is a CSS grid system for designing adaptive web­sites. It contains 4 layouts and 3 sets of typography presets, all based on a single grid.
Other CSS frameworks try to do everything—grid system, style reset, basic typography, form styles. But complex systems are, well, complex. Looking for a simple, lightweight approach that doesn't require a PhD? Meet The 1KB CSS Grid.
Sleek, intuitive, and powerful front-end framework for faster and easier web development.
A cross-browser CSS grid framework that doesn't hide pixels in margins!
The variable grid system is a quick way to generate an underlying CSS grid for your site. The CSS generated file is based on the 960 Grid System.
A dynamic layout plugin for jQuery The flip-side of CSS floats.
A responsive CSS grid system helping desktop and mobile browsers play nicely together.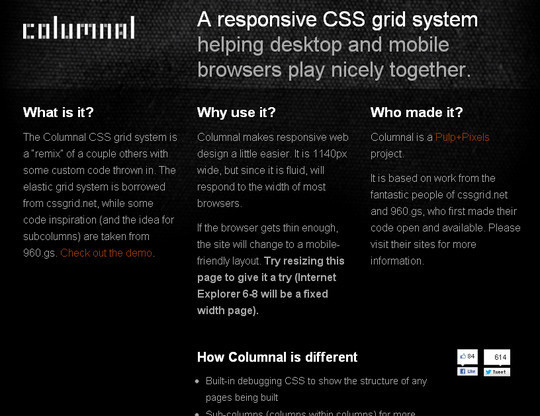 The 1140 grid fits perfectly into a 1280 monitor. On smaller monitors it becomes fluid and adapts to the width of the browser.
320 and Up is a lightweight, easy to use and content first responsive web design boilerplate.
Templates for Rapid Interactive Prototyping.
Modernizr is a JavaScript library that detects HTML5 and CSS3 features in the user's browser.
wmuSlider, a jQuery responsive slider.
Responsive jQuery Slideshow This example makes it possible to have fluid jQuery slideshow which scales responsively. This is the same method which is used on the new kiskolabs.com.
Image Gallery for mobile and touch devices.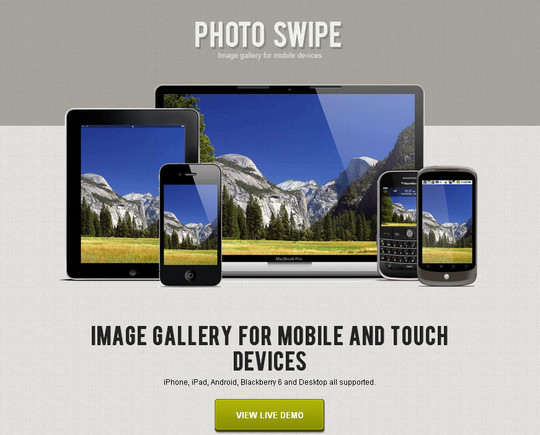 Responsive Web Design SketchSheets
Jeremy Patrick Alford's personal site, with portfolio of graphic design, web design, drawing, writing and book list.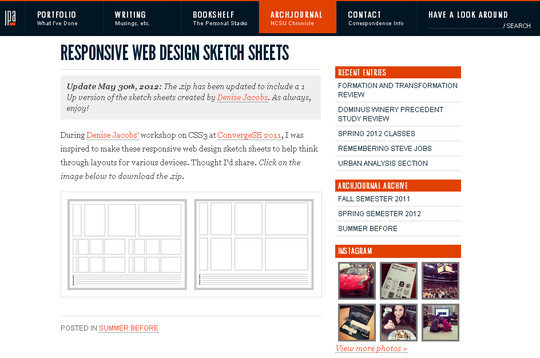 A Style Tile is a design deliverable consisting of fonts, colors and interface elements that communicates the evolution of a visual brand for the web. Learn how to use them here.
TinyNav.js is a tiny jQuery plugin (443 bytes minified and gzipped) that converts ul and ol navigations to a select dropdowns for small screen. It also automatically selects the current page and adds selected="selected" for that item.
Enter the url to your site – local or online: both work – and use the controls to adjust the width and height of your viewport to find exact breakpoint widths in pixels. Then use that information in your media queries to create a responsive design.
Test any website at a multitude of common screen resolutions, including desktop monitors, tablets, and smaller mobile devices.
A lightweight, easy-to-use jQuery plugin for fluid width video embeds.
Screenqueri.es is a Pixel Perfect Tool to test your Responsive Design / Media Queries. Select from Pre-defined Screen Resolutions OR Drag Screen Handles To Go With Your Custom Screen Resolutions.
Just a simple calculator to help turn your PSD pixel perfection into the start of your responsive website.
Categorizr – A modern device detection script
Categorizr is a modern device detection script that helps categorize different web capable devices into 4 categories, desktop, tv, tablet, or mobile. It take's traditional device detection and flips it on it's end, assuming devices are mobile first, unless otherwise detected as tablet or desktop. Categorizr was created by Brett Jankord and is based on an my earlier device detection script.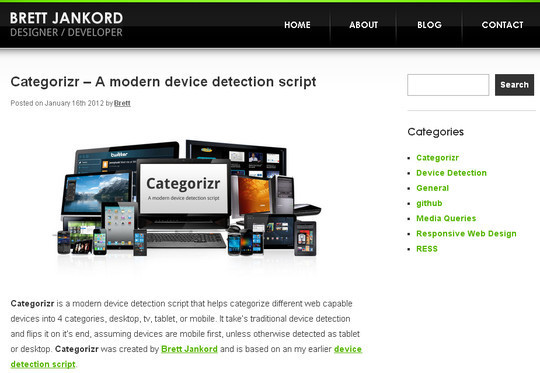 Automatically serve high-res images, to those who'll appreciate them.
ReView is a dynamic viewport system that provides efficient responsive web design viewing choice.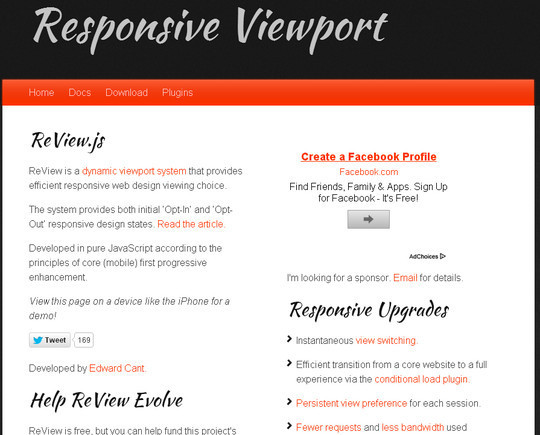 The Responsinator is designed to test responsive websites on different device resolutions.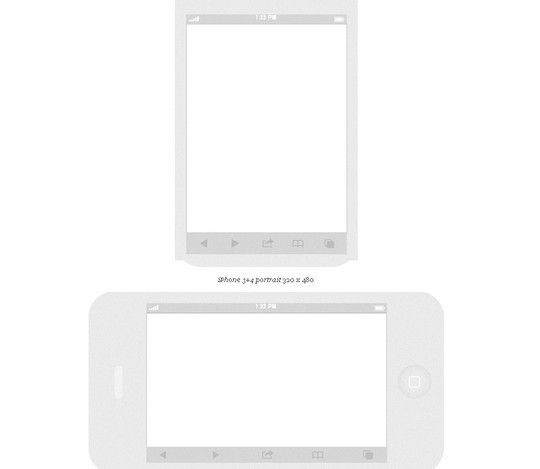 ResponsiveSlides.js is a tiny jQuery plugin that creates a responsive slider using list items inside ul. It works with wide range of browsers including all IE versions from IE6 and up. It also adds css max-width support for IE6 and other browsers that don't natively support it. Only dependency is jQuery (1.6 and up supported) and that all the images are same size.
Responsive jQuery Slider Plugin Flexslider
An awesome, fully responsive jQuery slider toolkit.
WebPutty is a simple CSS editing and hosting service.
A simple, useful and beautiful browser window resize app for Web designers and developers.
One-click PX/EM/%/PT conversion tables, a custom conversion calculator, gnd generated reset CSS.
Responsive child theme for default Twenty Ten. Provides fluid layout for many browsers including mobile support for iPhone, iPad and Android. Being a child theme, it is dependent on the Twenty Ten theme as a parent.
BluCSS is a CSS framework designed with ease of use and simplicity in mind. It is specifically made so that when you're working on your next project, you don't have to worry about the essentials. With BluCSS, you can be up and running in less than a minute.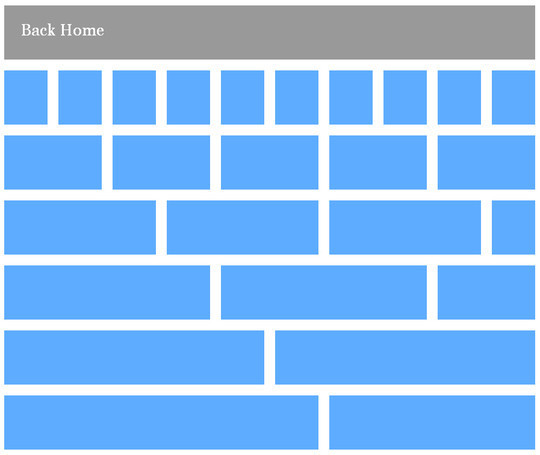 Gridless is an optionated HTML5 and CSS3 boilerplate for making mobile first responsive, cross-browser websites with beautiful typography.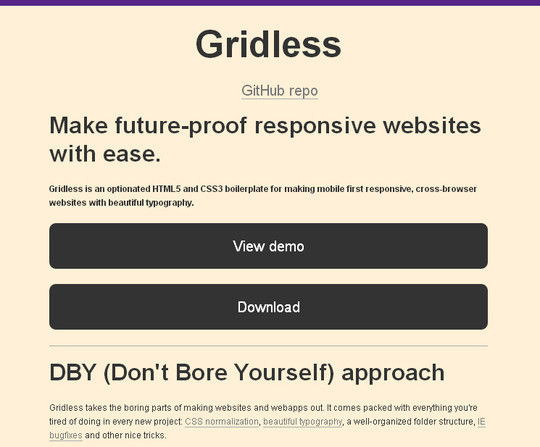 Mobile Boilerplate helps you create rich, performant, and modern mobile web apps. Kick-start your project with dozens of mobile optimizations and helpers.
Through fluid grids and media query adjustments, responsive design enables Web page layouts to adapt to a variety of screen sizes.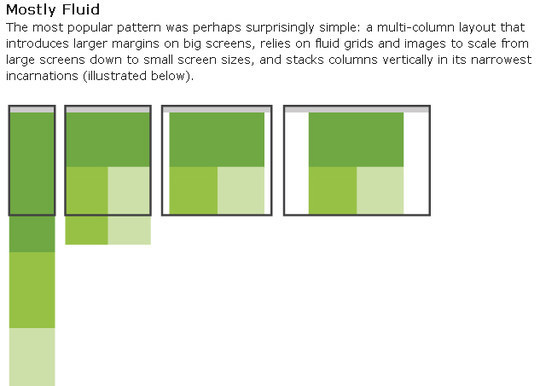 Adapt.js is a lightweight (848 bytes minified) JavaScript file that determines which CSS file to load before the browser renders a page. If the browser tilts or resizes, Adapt.js simply checks its width, and serves only the CSS that is needed, when it is needed.
Convert a Menu to a Dropdown for Small Screens
The Five Simple Steps website has a responsive design with a neat feature. When the browser window is narrow, the menu in the upper right converts from a regular row of links into a dropdown menu.
Adobe Edge Inspect is a workflow and preview tool for testing and simulating across multiple mobile web browsers.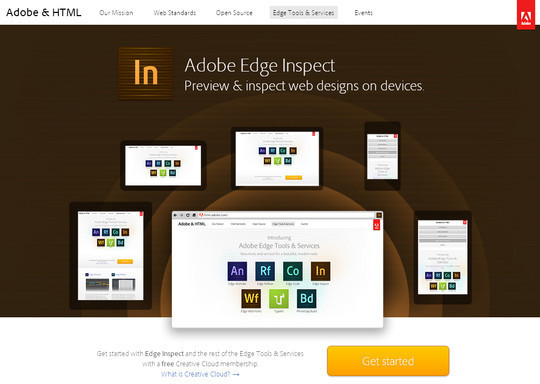 With this collection, we want to share with you 13 great online HTML5 tools that have been designed especially for the web developers so that they can simplify their development work. These online HTML5 tools will be very helpful for the web developers to build awesome and new revolutionary web pages.
Here is the complete collection for you. We hope that you will like this collection and find these online tools useful for you as well. Do let us know your opinions about this round up and share your precious opinions about this collection with rest of the world. Enjoy!
Moqups – HTML5 App For Creating Wireframes
Moqups is a nifty HTML5 App used to create wireframes, mockups or UI concepts, prototypes depending on how you like to call them.
Adobe Edge Animate is the premier HTML software with integrated tools for creating compliant cross-browser animation and other content.
Spritebox is a WYSIWYG tool to help web designers quickly and easily create CSS classes and IDs from a single sprite image. It is based on the principle of using the background-position property to align areas of a sprite image into block elements of a web page. It was made using a combination of JQuery, CSS3 and HTML5, and is totally free to use.
Patternizer is an easy to use stripe pattern generator. It's lots of fun and free.
Liveweave – HTML5, CSS3 & JavaScript Playground
Liveweave – HTML5, CSS3 & JavaScript playground for web developers and designers.
HTML KickStart is a ultra–lean set of HTML5, CSS, and jQuery (javascript) files, layouts, and elements designed to give you a headstart and save you a lot of hours on your next web project.
On/Off Flipswitch HTML5/CSS3 Generator
Generate pure CSS3 On/Off flipswitches with animated transitions. As engineered for Proto.io.
A drawing application that lets you save and share replays of your work with friends.
Online SVG to HTML5 Canvas Tool
This tool converts SVG into an HTML5 Canvas JavaScript function. It will work with any host, and I hope it helps people to experiment with Canvas. Most vector art packages (Illustrator, Inkscape etc) can export as SVG.
The Heartcode CanvasLoader Creator is a free online tool which you can use to generate scripted preloaders (spinners or throbblers) for your HTML projects. The Creator is using the CanvasLoader UI Library.
Drag and drop image files into the space below and click "Generate" to create a sprite sheet and stylesheet. This demo uses a couple of HTML5 APIs, and it is only currently compatible with the latest versions of Chrome and Firefox.
Create.js is a comprehensive web editing interface for Content Management Systems. It is designed to provide a modern, fully browser-based HTML5 environment for managing content. Create can be adapted to work on almost any content management backend.
LimeJS is a HTML5 game framework for building fast, native-experience games for all modern touchscreens and desktop browsers.
Just got your new iPhone? Or looking for some health apps for your iPhone that can assist you in staying fit? If your answer is yes then look no further. In this collection, we are showcasing a list of 13 useful and most widely used iPhone health apps to help you stay fit. With our busy life schedules, we hardly have got time for exercising, therefore neglecting our health. For this reason, it is good to have some health apps on your iPhone that can help you keep track of your health.
Here we are presenting some iPhone apps that you can download on your iPhone and can take advantage of them to stay fit. Many mobile users spend their leisure by playing games on their phones whereas it is far better if they spend their time with such apps that can have beneficial effects on their health. Enjoy!
The most popular running app on iTunes just got even more motivating. Now you can add friends and see how you stack up. Keep tabs on who's logging the most runs and miles, then get out there and beat them.
RunKeeper – GPS Track Running Walking Cycling
Join the more than 14 million people who are using RunKeeper to turn their phone into a personal trainer in their pocket! Track your runs, walks, bike rides, hikes, and more using the GPS in your iPhone.
Fooducate – Diet Tracker & Healthy Food Nutrition Scanner
Lose weight, eat real food, and track your progress. Fooducate grades your food, explains what's really inside each product, and offers healthier alternatives. We've got the largest database of UPCs – over 200,000 unique products and growing.
Most people just know the "Basic Crunch" … it's SO BORING and most people do it wrong. Ab Workouts Free will TALK you through lots of fun & effective exercises to get those abs in shape… and for FREE!
Run with Map My Run – Workout Tracking and Calorie Counter
Built to help runners, joggers, and walkers of all ability levels and ages. Easily track pace, distance, calories, time with audio alerts and much more!
Calorie Counter & Diet Tracker by MyNetDiary
MyNetDiary is the fastest, easiest, and smartest iPhone calorie counter. The list of features is large – over 30 screens, including FREE barcode scanner. Most importantly – MyNetDiary is very easy to use.
Ready to get serious about weight loss? Lose It! can help you make your goal a reality. Chosen by millions, Lose It! provides a seamless, supportive weight loss program. Download Lose It! today for a personalized and connected experience.
HealthTap — free doctor answers to medical and health questions
HealthTap is the best and fastest way to quickly get great answers and very useful tips from reputable doctor anytime, anywhere. And astonishingly it's all free!
Hearing Loss Myth: Hearing loss affects only "old people" and is merely a sign of aging. Actually it is the reverse of what most people think. The majority (65%) of people with hearing loss are younger than age 65. There are more than six million people in the U.S. between the ages of 18 and 44 with hearing loss, and nearly one and a half million are school age. Hearing loss affects all age groups.
This is the free, ad supported version of Calorie Tracker and does not include synchronization between devices or with the LIVESTRONG.COM website. If you upgrade to the full version later, your data will be migrated automatically.
Take Weight Watchers Mobile along to help you stay in control and make smart and satisfying food choices. We've added brand new interactive tools so you can tap into the stick-with-it power of the new Weight Watchers 360 program anytime, anywhere.
FertilityFriend.com's Free Menstrual Calendar is a simple and easy to use calendar designed to predict your menstrual cycles and possible fertile days.
Period Tracker is the SIMPLEST period tracking app and now, it's CUTER than ever!