Tools
In this post, we are presenting mobile app development tools for you that can make your mobile app development tasks easier and quicker. These day Mobile app development tools are getting very famous because these tools are very helpful in creating mobile apps. Developing apps for the mobile device is an interesting job and finding out useful tools that will make your job easier makes this interesting job even more interesting and appealing.
Here we collected 12 best mobile app development tools that will help you a lot and by the using of these tools you can easily achieve your aim. Check out this collection and feel free to share your opinion about this post. I hope that you will like this collection.
Sencha Touch, a high-performance HTML5 mobile application framework, is the cornerstone of the Sencha HTML5 platform. Built for enabling world-class user experiences, Sencha Touch is the only framework that enables developers to build powerful apps that work on iOS, Android, BlackBerry, Windows Phone, and more.
MobileNation provides a powerful drag-and-drop environment for designing bespoke mobile applications all within your web browser. Whether you're a novice or expert, you can quickly use MobileNation to design your very own custom mobile apps.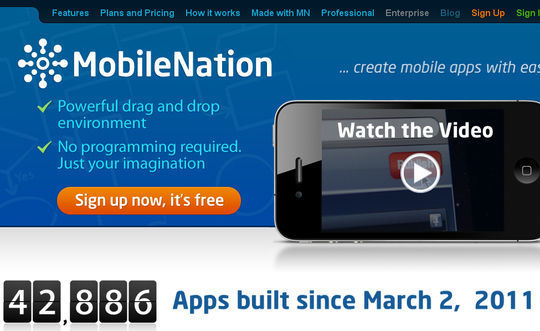 AppMakr enables anyone to build rich content based apps using a point and click solution.
Accelerate Mobile Innovation in the Enterprise, The only cloud-based platform with visual development tools and integrated backend services.
Free JavaScript Mobile Framework for HTML5 Web Apps.
PhoneGap is a free and open source framework that allows you to create mobile apps using standardized web APIs for the platforms you care about.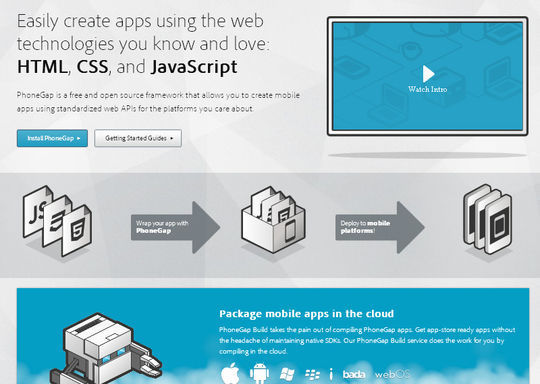 Fone Frame is a mobile framework that creates web pages for smartphones like Android & iPhone. foneFrame displays HTML5, XML, RSS, & SSI files as mobile web pages.
Tabris is a Java framework written by Java developers for Java developers to build mobile apps. It uses standard JavaEE technology to create an application on a server. Native clients act as a player for the applications's UI.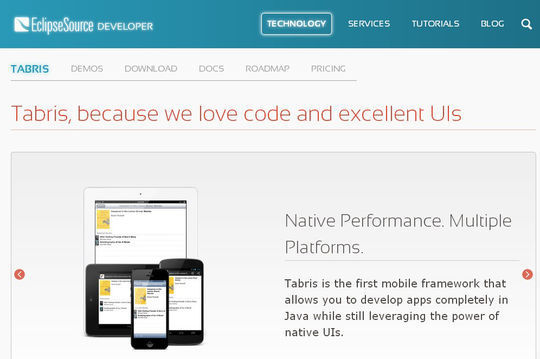 Make and distribute custom mobile web apps for iPhone and Android smartphones.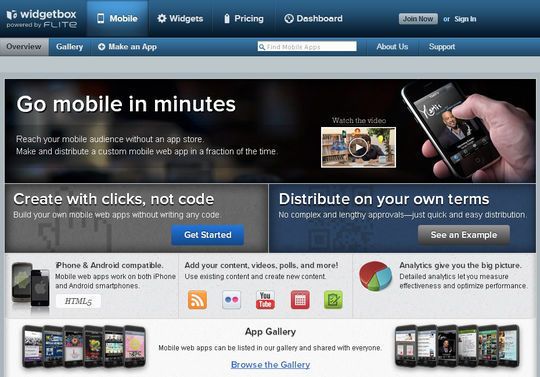 DragonRAD is a cross-platform mobile application development tool for building, deploying, managing, and securing mobile enterprise applications.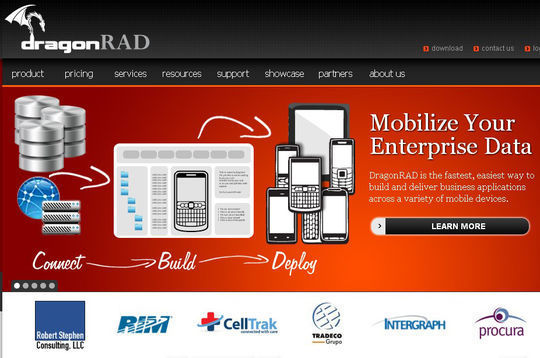 Appscend provides all the tools you need to create & manage awesome B2C & B2E native apps.
Focus on creating unique & engaging apps on any platform. We take care of everything else your app needs, from the core of your app to analytics and push notifications.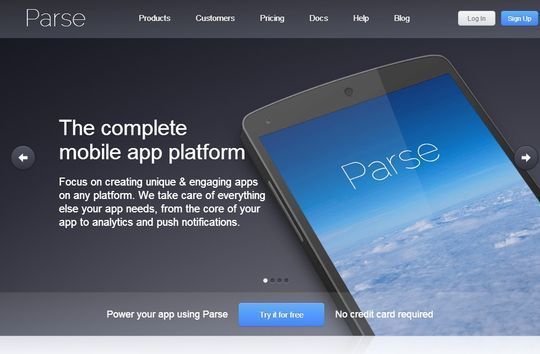 With this collection, we are showcasing a fresh assortment of some free tools and framework for web developers so that they can download them and simplify their work process. Resources such as framework are meant to expedite web developers work flow by allowing them carry out certain actions quickly thus helping them to improve their productivity as well.
Web developers need to be up to date with the recent developments in the industry and they need to be well aware of the current news and new tools. Here we are presenting some new and fresh tools and frameworks that would definitely be of your interest. Have a look! Enjoy!
Phalcon is a web framework delivered as a C extension providing high performance and lower resource consumption.
YARD is the only Ruby documentation tool that supports storing metadata alongside your documentation. This metadata can be used to create consistent documentation in any format you wish. YARD also comes with a powerful templating system to quickly modify existing templates. And for the simple case, you can even add custom metadata to your docs with nothing but the command-line.
Koala is a GUI application for Less, Sass, Compass and CoffeeScript compilation, to help web developers to use them more efficiently. Koala can run in windows, linux and mac.
Duo is a web browser that allows you to keep an eye on mobile without losing sight of the desktop. If you're into Responsive Web Development, we made Duo for you.
Light Table is a new interactive IDE that lets you modify running programs and embed anything from websites to games.
Laravel is a web application framework with expressive, elegant syntax. We believe development must be an enjoyable, creative experience to be truly fulfilling.
DevDocs combines multiple API documentations in a fast, organized, and searchable interface.
A CSS preprocessor that acts like a polyfill for future versions of the spec.
Docker is an open-source project to easily create lightweight, portable, self-sufficient containers from any application. The same container that a developer builds and tests on a laptop can run at scale, in production, on VMs, bare metal, OpenStack clusters, public clouds and more
VaryCode team is a group of professionals focused on programming code conversions between different programming languages.
Jiko is a modern and easy to use template engine for Javascript. Its objective is to provide to Javascript programmers a way to write templates with an engine as powerful as server-side state of the art template engines like Jinja and Mako.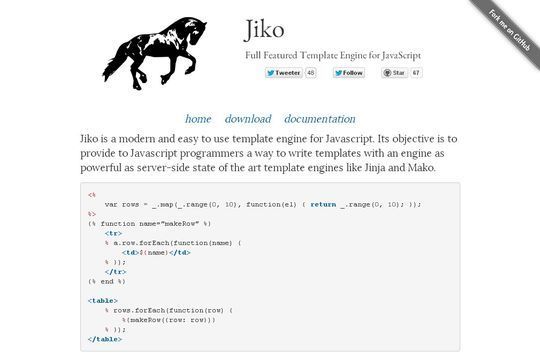 Cabot is a free, open-source, self-hosted infrastructure monitoring platform that provides some of the best features of PagerDuty, Server Density, Pingdom and Nagios without their cost and complexity.
countUp.js is a dependency-free, lightweight JavaScript "class" that can be used to quickly create animations that display numerical data in a more interesting way.
ConvNetJS implements Deep Learning models and learning algorithms as well as nice browser-based demos, all in Javascript.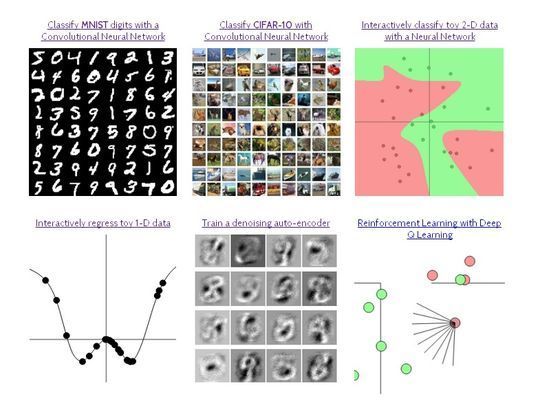 Highlight.js highlights syntax in code examples on blogs, forums and, in fact, on any web page. It's very easy to use because it works automatically: finds blocks of code, detects a language, highlights it.
A simple way to create and maintain how elements fade in, triggered when they enter the viewport.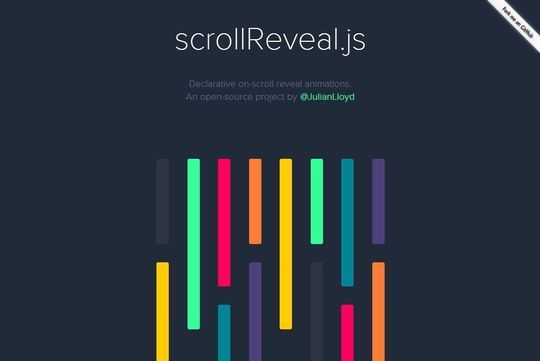 Epub.js is a JavaScript library for rendering ePub documents in the browser, across many devices.
A lightweight JavaScript library that generates circular graphs in SVG.
Switchery is a simple component that helps you turn your default HTML checkbox inputs into beautiful iOS 7 style switches in just few simple steps. You can easily customize switches, so that they match your design perfectly.
Uinames.com is a simple tool to generate names for use in designs and mockups.
A beautiful CSS framework under 2kb (minified and gzip).
A tiny library for interactive swiping and reordering of elements in lists on touch screens.
Zepto Builder will let you generate a custom version of Zepto that just includes the modules you need.
A simple responsive CSS grid.
Hubot is your company's robot. Install him in your company to dramatically improve and reduce employee efficiency.
YouCompleteMe is a fast, as-you-type, fuzzy-search code completion engine for Vim. It has several completion engines: an identifier-based engine that works with every programming language, a semantic, Clang-based engine that provides native semantic code completion for C/C++/Objective-C/Objective-C++ (from now on referred to as "the C-family languages"), a Jedi-based completion engine for Python, an OmniSharp-based completion engine for C# and an omnifunc-based completer that uses data from Vim's omnicomplete system to provide semantic completions for many other languages (Ruby, PHP etc.).
Nightcode is a simple IDE for Clojure and Java. It integrates a copy of Leiningen as well as the lein-cljsbuild, lein-droid, and lein-fruit plugins. The goal is to provide a simple, all-in-one solution to get started with Clojure/Java programming for the command line, the desktop, the web, Android, and iOS.
HTML5 Drag & Swap Zepto Plugin
A micro plugin for having swappable/dragable/sortable lists and grids.
Twittstrap Sleek,intuitive,and powerful front-end framework for faster and easier web development.
A high productivity web framework for the Go language, in the spirit of Rails and Play!
Daux.io is an documentation generator that uses a simple folder structure and Markdown files to create custom documentation on the fly. It helps you create great looking documentation in a developer friendly way.
Cardinal is a small "mobile first" CSS framework, with useful default styles, fluid typography, and a responsive grid system.
PocketGrid is a lightweight pure CSS grid system for Responsive Web Design. Moreover, it is semantic, mobile-first, and allows to have an unlimited number of columns and breakpoints.
Fitgrd is not a framework. It's a solid foundation to build up your own responsive website. It is designed for rapid prototyping, but also runs well in production environments. This grid system is perfect for advanced web designers who don't want to have their pages look like "bootstraped".
A lightweight, mobile-first boilerplate for front-end web developers.
Preboot is a collection of LESS mixins and variables for quickly writing CSS. As the precursor to Bootstrap, it serves as a lightweight and interface agnostic approach to jumpstarting your next web project. Use it how you see fit.
A minimalistic grid for building awesome Websites for the modern browser. It uses Sass silent classes (placeholders) to structure content in HTML and keeps your Markup free of excess presentational classes like "unit_1of4″, "small-2″, "grid4″.
Frameworks make decisions for you about how to organize, structure and design a site. Pattern libraries don't separate styling and markup, making them tough to use in a truly modular fashion.
CSS for clean and fast web apps.
Framework for getting started with the Responsable grid.
Clank is an open source HTML/CSS prototyping framework for tablet and smartphone apps. Think of it as Twitter Bootstrap but for prototyping native apps.
Spending hours manually designing your pages for the responsive web? Layout your pages in minutes for beautifully responsive pages on desktops, tablets and smartphones.
In this post, we have gathered 10 best bootstrap design tools for the coming year. Bootstrap is the most commonly used front end framework in 2013 and many of you must have played with it. Therefore, we thought to compile a list of some useful bootstrap design tools for you.
As a designer, it is always useful to look for some more design tools and options to make designing and developing tasks easier. Here, we are presenting 10 best bootstrap tools for 2014. We hope that you will like this collection. Also, let us know if you have more tools to recommend. Your comments are always more than welcome. Enjoy!
Bootstrap Designer is an online design tool, producing awesome HTML5 templates based on Bootstrap framework.
Developers constantly need some tools to check their codes so that they can make necessary changes without wasting time in finding out where change is required. With this collection, we are showcasing 17 very helpful websites for the developers that will let them test code snippets. This post will save time and we are sure that developers will find this post useful as well. This is because developers are constantly required to check their codes in order to ensure that everything is working fine.
Below, you will find some useful websites for testing code snippets. We hope that you will like this collection. Feel free to share your opinions with us via comment section below. Your comments are always more than welcome.
Ideone is something more than a pastebin; it's an online compiler and debugging tool which allows to compile and run code online in more than 40 programming languages.
A tool for easy online testing and sharing of database problems and their solutions.
An interactive CSS playground and code sharing tool. Dabblet saves to Github gists and offers many conveniences for CSS editing.
A little app from ZURB that lets people slice up bad code and share their feedback to help put it back together.
Write, run, and debug your code with our powerful and flexible cloud IDE. Collaborate on your workspaces publicly, or keep them private. The choice is yours!
GistBox is the personal code library you've always wanted.
Check that your HTML code conforms to your coding standard.
Write code online php code test php online php test run php code online run code online.
Collaborative JavaScript Debugging.
Tryit Editor v1.7 is an online HTML tester that is downloadable, as well as being able to be used online.
Type HTML in the textarea, and it will magically appear in the frame.
The JavaScript Code Quality Tool.
Compilr is an online editor & sandbox that lets you write your code all from the comfort of your browser. We do all the heavy lifting so you can just focus on writing and learning code!
The Python IDE for the web. Play around with and modify live example code. Share or demonstrate solutions to problems.
Tidy and Beautify your HTML, CSS, and JavaScript code.
An intuitive tool for learning, writing, and testing Regular Expressions.
Standalone test spies, stubs and mocks for JavaScript. No dependencies, works with any unit testing framework.
Encryption is necessary because it protects your data stored on computer disk. By the use of disk encryption you can save your precious data even when your operating system is not working or active. A password is required to decrypt the data again and to open it.
In this post, you will see list of 13 best and free file encryption software and tools. We hope that all these file encryption software and tools will helpful for you. Feel free to share your opinions and comments with us via comment section is below.
Free open-source disk encryption software for Windows 7/Vista/XP, Mac OS X, and Linux.
Enigmail is a security extension to Mozilla Thunderbird and Seamonkey. It enables you to write and receive email messages signed and/or encrypted with the OpenPGP standard.
Whisper Systems' Red Phone for Android
Secure your communication with our mobile applications. It's that simple.
Send Peer-to-Peer Encrypted Texts, Phone Calls, Video Calls, and File Transfers from Your Mobile Device.
Join over 20 million Ghostery users and download the web's most popular privacy tool.
Cipher0z is a file encryption freeware that is used to encrypt text files and lets you protect them with password. It is one of the simplest file encryption software that is specially designed to protect text files containing your confidential data. Cipher0z uses AES encryption method which is one of the most popular used method to encrypt files.
File Encryption Software: Free File Camouflage
Free File Camouflage is a free file encryption software. It enables you to hide confidential data or files inside a jpeg file, protecting them from prying eyes in the best possible way. Files are generally encrypted using AES and are hidden inside a jpeg image.
iDoo File Encryption Free is a free File Encryption software which allows you to password protect Files on your system. Moreover, this file encryption tool allows you to hide, lock and protect files easily without any complicated process.
File Encryption is a free software for Windows that helps to encrypt files with password and also lets you select folders to encrypt & secure them. Thus you will be able to add multiple files and folders at a single time for encryption.
AES Crypt is a file encryption software that encrypts your files easily and secure your sensitive/personal files. There is no need to get worried about the fear of losing your important, personal or sensitive files, once you have AES Crypt file encryption software with you.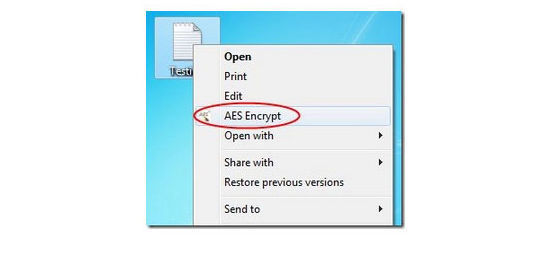 Cryptography Studio is a free encryption software for Windows that lets you easily encrypt a file and decrypt encrypted files protected with password. Hence you can protect important files with password and can decrypt them with the same password. This software also provides multiple hash algorithms which you can choose at the time of encryption.
To encrypt a file, just drag and drop the file to Encryption section. Conceal will prompt you to specify a password for the encrypted file. This ensures that anyone who want to decrypt that file needs to know that password.
Ghost Puzzle is very efficient, free file encryption software which has been designed for encrypting and decrypting files in order to ensure they are safe enough from unauthorized access.
There is a time when only Power Point was used for creating presentations and slides. But now there are so many advanced sites and wonderful Apps are easily available in the internet. If you are planning to create an eye-catching and outstanding presentation then have a look at this collection. In this collection you will find 40+ superb sites and Apps that surely help you to creating your masterpiece and most important is they all are easy to use.
With these sites and Apps you can make your presentation more stunning and eye-catching. Check this out and get to pick one and do not forget to share your precious opinion with us via comment section is below. Enjoy and stay creative everyone.
Prezi is a cloud based presentation software that opens up a new world between whiteboards and slides. The zoomable canvas makes it fun to explore ideas and the connections between them.
SlideRocket is a revolutionary new approach to business communications designed from the start to help you make great presentations that engage your audience and deliver tangible results.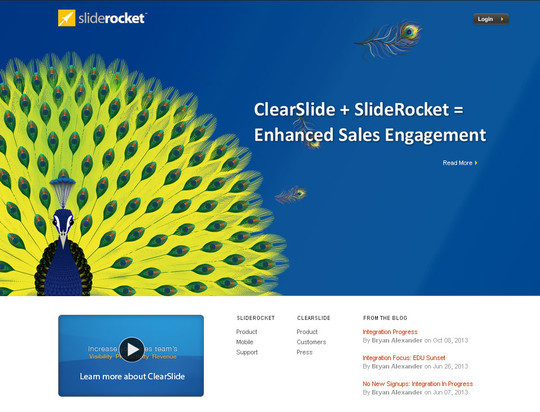 authorSTREAM enables presenters to upload and share PowerPoint presentations online and embed slideshows in blogs, convert to video and share on YouTube, iPods, iPads and social networks.
Jux is the best showcase for your stories. Share words, photos and videos with unprecedented ease and impact. Fullscreen on every screen. Desktop, iPad and iPhone.
Tell your story anyway you like. Add photos, music, video, and audio, and share it publicly or privately in an instant.
Free presentation creation, hosting. Add audio to PowerPoint slides, docs, photos to create online videos. Use for e-learning, on-demand webinars, lead generation.
Novio: an easy-to-use tool to create interactive online video presentations using a webcam and PowerPoint slides.
Myplick is an easy way to share your Presentations and Slideshows online.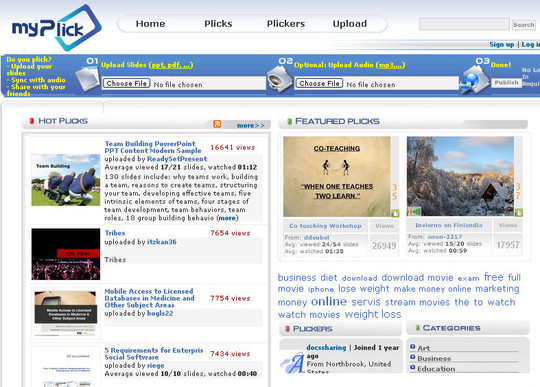 Click 'Record' and off you go – if you can talk & click a mouse at the same time then you can use Present.me. If you make a mistake, there's no need to start again, you can trim the mistake off, then carry on recording from where you left off. It's really easy!
Upload and Share PowerPoint presentations with your family, friends, colleagues, clients and the whole world.
The easiest and powerful presentation platform just works.
Zentation combines video and slides to create online presentations that best simulate the live experience. Easily create high-end webinars, webcasts, elearning, training and virtual events.
Automatically make your own free slide show in seconds. Upload photos, pick music, add captions in the show, and more!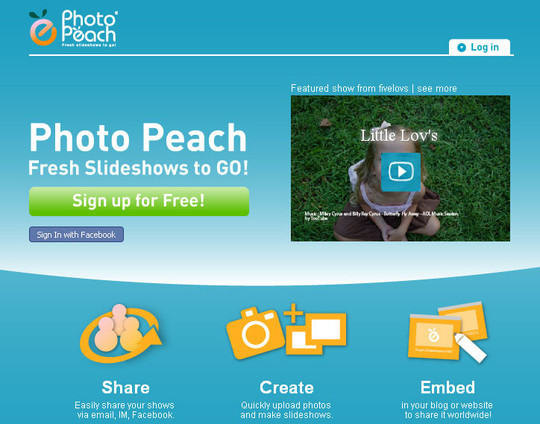 Transforming media into collaborative spaces with video, voice, and text commenting.
Get students excited to learn with digital media. Make a video with photos, video clips and music to enhance the classroom experience.
SSC is great for sharing photos from a vacation or a celebration with your friends and family. Beautiful or humorous presentations make a wonderful gift. Slide Shows can also promote your products or services. Share your slideshows on YouTube or Facebook!
Biteslide is a fun and easy-to-use slidebook app that promotes student creativity, self-expression, and imagination.
Electric Slide: Present Anywhere
Electric Slide is the easiest way to wirelessly present PowerPoint slides, Office documents, PDFs and videos with your iPhone or iPad. Your device is a remote control that works anywhere with any screen. Since viewers just need your simple URL to follow along, setup is a cinch. You can also connect your device directly to a TV or projector via HDMI or VGA.
eMaze is an online presentation tool for people who want more than PowerPoint
Haiku Deck is the simple new way to create inspired presentations – whether you're pitching an idea, teaching a lesson, telling a story, or igniting a movement. Featured on the iTunes "New and Noteworthy" and "What's Hot" lists!
Slideshows for facebook, twitter and blogs.
Get your design ideas online and start reeling in the feedback. A little app from ZURB that lets you cast your ideas, poll your friends, and reel in the feedback.
View PowerPoint on an iPad, iPhone or iPod with an award-winning app. Connect an iPad to a projector. Manage and track team content. Broadcast slides online.
Free Slideshow Maker Software for Windows.
Speaker Deck is the best way to share presentations online. Simply upload your slides as a PDF, and we'll turn them into a beautiful online experience. View them on SpeakerDeck.com, or share them on any website with an embed code.
Awesome Way to Organize and Present Ideas using Mind Maps and Prezi Effects.
Vivapitch lets you view, share, save, annotate and engage with conference presentations on your mobile device, in real time.
Simply put, Vizlingo is a messaging tool that translates your words into video. It's easy! Just type, see and send.
A new way of organizing, sharing, and presenting web content.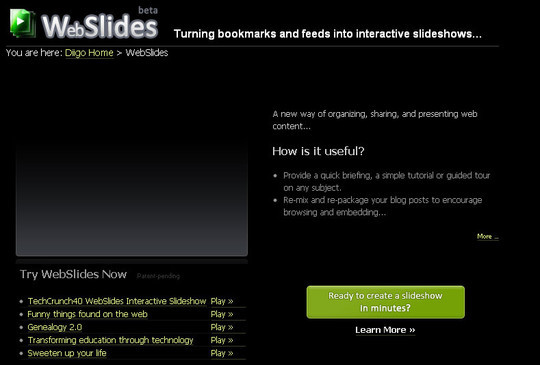 Premium Tools and Sites: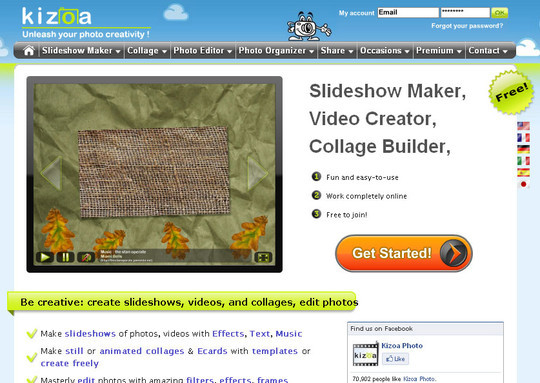 Slideshows for facebook, twitter and blogs
In this round up, we have put together a list of top 9 free e-learning authoring tools for you. Thanks to the internet and the technology, today we have several tools to make our work easier. These tools can be used in many different ways and we can take benefit from them if we use them wisely.
Below, we are listing top 9 and free e-learning authoring tools for you. we have chosen the best out of best tools for educational writers that they must start using as soon as possible.
CourseLab is a powerful, yet easy-to-use, e-Learning authoring tool that offers a programming-free WYSIWYG environment for creating high-quality interactive e-Learning content that can be published on the Internet, Learning Management Systems (LMS), CD-ROMs and other devices.
Smart Builder is the elearning authoring tool that enables you to create custom elearning without writing code.
Vyew allows you to meet and share content in real-time or anytime. Upload images, files, documents and videos into a room. Users can access and contribute at anytime.
The fully automatic bibliography and citation maker. Save time by creating a cited page instantly in the MLA,APA,Chicago,or Harvard referencing styles! It's easy, fast and it's free!
MOS Solo, The Free Authoring Tool Offered By MOS
MOS Solo is simple yet powerful: it requires none or minimal training but offers the power of a sophisticated multimedia tool. It lets you create highly interactive, graphically appealing, and media-rich eLearning modules, with ease and efficiency: courses, quizzes, evaluations, demos.
Izzui is a platform for building customized Learning Channels on Facebook. Deliver an unforgettable Learning Experience to your fans when and where it matters.
Easygenerator brings together ease of use with the flexibility and power needed for a variety of project types and instructional styles.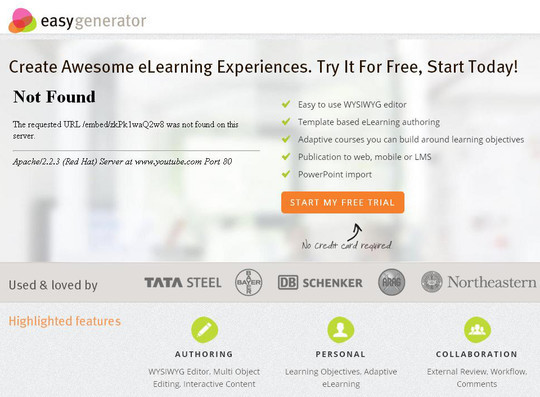 Zenler Studio is a powerful, yet easy-to-use, eLearning authoring system that offers a programming-free environment for creating high-quality interactive eLearning courses which can be published on the Internet or to any SCORM compliant LMS.
Create comprehensive literacy lesson plans and student materials from any content in minutes.
Are you running out of time? Want to save your time without compromising on the quality of your work? Here is the solution for you. Have a look at this collection of 35 best and most useful HTML5 development tools that not only save your time but also improve your productivity as well. The introduction of HTML5 has greatly modernized the designing and development industry and completely altered the way development was done before.
Check them out and pick the ones you like the best. We hope that you will like this collection and find these amazing HTML5 development tools useful for you. Feel free to share your opinions with us via comment section below. Your comments are always more than welcome. Let us have a look. Enjoy!
HTML KickStart is a ultra–lean set of HTML5, CSS, and jQuery (javascript) files, layouts, and elements designed to give you a headstart and save you a lot of hours on your next web project.
Patternizer is an easy to use stripe pattern generator. It's lots of fun and free!
A revolutionary way to test custom fonts in the browser. No coding, no uploading, just drag and drop.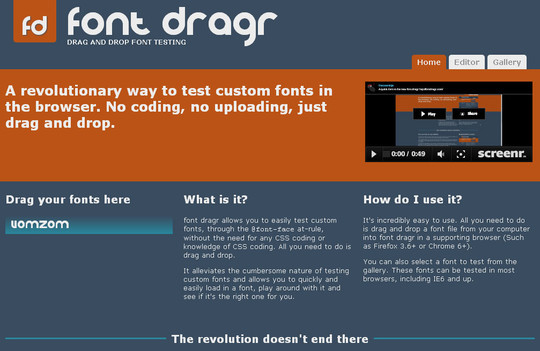 A suite of Javascript libraries & tools for building rich, interactive experiences with HTML5.
Spritebox is a WYSIWYG tool to help web designers quickly and easily create CSS classes and IDs from a single sprite image. It is based on the principle of using the background-position property to align areas of a sprite image into block elements of a web page. It was made using a combination of JQuery, CSS3 and HTML5, and is totally free to use.
Adobe TypeKit is a cloud-based service that offers a vast library of web safe fonts to add flair to your webpage designs. Learn more.
A drawing application that lets you save and share replays of your work with friends.
Liveweave is a HTML5, CSS3 & JavaScript playground for web designers and developers.
The HTML5 test – How well does your browser support HTML5?
The most stunning HTML5 App for creating high fidelity, resolution independent SVG mockups and wireframes.
Stitches – An HTML5 sprite sheet generator.
SproutCore is an open-source framework for building blazingly fast, innovative user experiences on the web.
HTML5 Canvas Rich UI JavaScript Library.
Less Framework is a CSS grid system for designing adaptive web­sites. It contains 4 layouts and 3 sets of typography presets, all based on a single grid.
Type in your HTML code and see it rendered in realtime. Then style it with CSS. You can use any of the HTML5 or CSS3 tags your browser supports.
The Heartcode CanvasLoader Creator is a free online tool which you can use to generate scripted preloaders (spinners or throbblers) for your HTML projects. The Creator is using the CanvasLoader UI Library.
On/Off Flipswitch HTML5/CSS3 Generator
Generate pure CSS3 On/Off flipswitches with animated transitions.
Adobe Edge Animate is the premier HTML software with integrated tools for creating compliant cross-browser animation and other content.
Initializr is an HTML5 templates generator to help you getting started with a new project based on HTML5 Boilerplate. It generates for you a clean customizable template with just what you need to start!
LimeJS is a HTML5 game framework for building fast, native-experience games for all modern touchscreens and desktop browsers.
Create.js is a comprehensive web editing interface for Content Management Systems. It is designed to provide a modern, fully browser-based HTML5 environment for managing content. Create can be adapted to work on almost any content management backend.
Sleek, intuitive, and powerful front-end framework for faster and easier web development.
The most advanced responsive front-end framework in the world.
Skeleton is a small collection of CSS files that can help you rapidly develop sites that look beautiful at any size, be it a 17″ laptop screen or an iPhone.
An HTML5 framework for building modern Web Apps.
Adobe Edge Code (Preview) is a lightweight HTML and CSS editing tool that includes preview, quick editing, and integrated visual design features to help you speed up the development of your projects.
dobe Edge Inspect is a workflow and preview tool for testing and simulating across multiple mobile web browsers.
Adobe Edge Web Fonts provides access to a suite of free web fonts to use immediately in your websites.
Adobe PhoneGap Build is a cloud-based service for creating apps without downloading iPhone, Android, or Blackberry SDKs.
This tool allows you to gather feedback on your videos. Voting is exquisitely simple. All you do is click on the video and use the spacebar to submit your vote, it will automatically populate the bar graph above.
This tool allows the developer a way of resetting the clock. It enables web designers to take their old website designs and re-write them as if the first code they every dealt with was HTML5.
Video.js is a JavaScript and CSS library that makes it easier to work with and build on HTML5 video. This is also known as an HTML5 Video Player.
Mercury is a full featured HTML5 editor. It was built from the ground up to help your team get the most out of content editing in modern browsers.
Maqetta is an open source project that provides WYSIWYG visual authoring of HTML5 user interfaces. The Maqetta application itself is authored in HTML, and therefore runs in the browser without requiring additional plugins or downloads.
Photoshop actions are meant to simplify designers' work and let them perform some sort of repetitive tasks quite easily and effortlessly. Adobe Photoshop is the most powerful as well as most widely used photo editing software. Many designers are dependent on this software for performing their everyday designing tasks. With Photoshop actions, designers can easily apply different types of effects on a given format.
Below, we have presented 19 very useful Photoshop actions for the designers. Check them out and pick the ones you like the best. We hope that you will like this collection and find these amazing Photoshop actions useful for you. Feel free to share your opinions with us via comment section below. Your comments are always more than welcome. Let us have a look. Enjoy!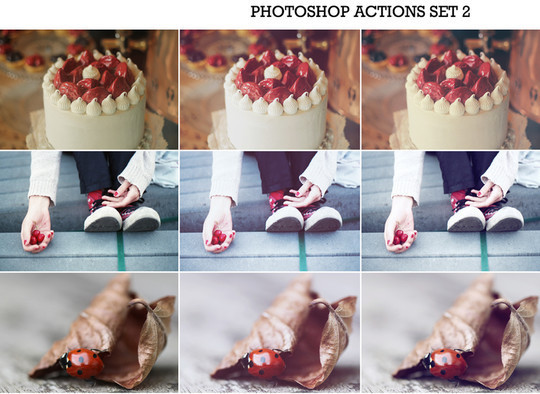 Najib17Stunning ColorFx by najib dod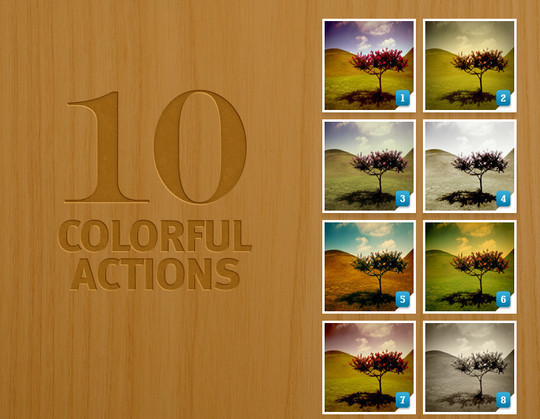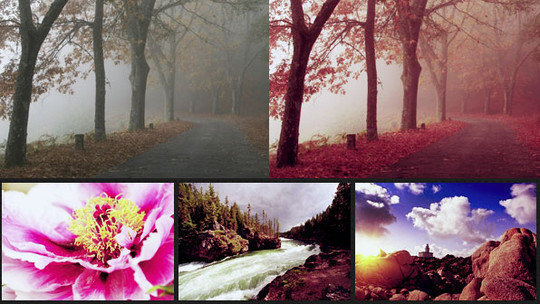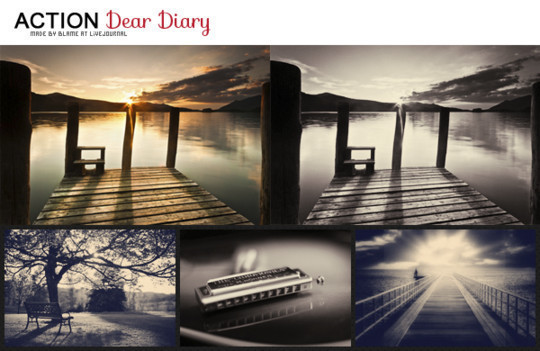 There are so many popular social networking websites are available in the internet and Twitter is one of them. If you are bore with your default blue twitter background or you want an exciting change in your twitter page then check out this collection where you will find outstanding tools for your Twitter background. Social networking profile should be update and trendy because it show your taste and give your impression to other. So its time to make your Twitter profile more interesting and happening.
In this assortment, we are presenting 40 superb tools and resources to spice up your twitter background. Scroll through our wonderful collection and make your Twitter page more attractive and eye-catching through this collection. We hope you will like this assortment. Please give us your feeds back about this wonderful assortment because your feeds back are very precious and important for us. You can also download these awesome tools without paying any money.
Put your Twitter followers on your background.
Now you can personalize your Twitter background like never before. The tool below will help you create free Twitter backgrounds that have the same look and feel as those done by professional graphic designers. It's easy to use, and best of all, it's Free!
Check if your twitter profile looks like poo-poo in smaller or higher resolutions.
Want to know how to change the Twitter background or profile icon automatically? It's never been this easy — with our professionally designed, simple user interface you can change your Twitter background or profile icon automatically! Just try it!
Are you hip to twitter? Well, peekr is kinda like a Twitter Widget (a "twidget") because it's a tiny little Twitter helper. Some tweeple might call it a bookmarklet, but we know it's so much more! Is this making any sense yet? Maybe you'll have to try it and see it in action to get a good feel for how useful peekr can be… Go ahead, click the button above that says, sneak a peek! to see what peekr does. Go on, you know you want to!
In less than 2 minutes… Brand yourself on Twitter by creating your very own Twitter background and Twitter header.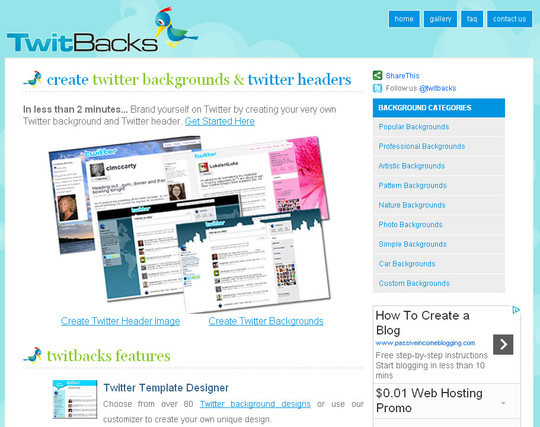 Put your latest Flickr image in your Twitter background We check for new photos and sync every hour.
Free Twitter Backgrounds PSD Layered files.
An online community where hundreds of Twitter layouts & backgrounds can be downloaded FREE.
We are your source for Free Twitter Backgrounds. Every day we update twitrounds with new Twitter Backgrounds for you to use on your profile. Getting a background is very easy. Simply look through all the backgrounds we have to offer, click on the background thumbnail, then use our auto-install tool to easily post the background to your Twitter profile.
Create A Twitter Background using PowerPoint
Who would've thought that the presentation app used to lull audiences to sleep could also be used to create an appealing Twitter background? The process is fairly simple and only limited by your imagination and Twitter's 800Kb upload limit.
Upload your own pictures and customize the Layout. You can change the color and add text to the background. Select colors for your profile and preview it in real time. Save all these to your Twitter account with a single click.
The themes and images on these pages are free for use as twitter backgrounds. Click on a thumbnail of the backround you would like to get and then download the file to your hard drive or use an auto install feature which will post the selected background to your twitter profile.
Ever wanted to see the background image while in a Twitter page? Now it's just matter of clicking on it and voila, everything else goes away so you can appreciate the background. Click on the page again to restore it.
Make your twitter beautiful!
Need a professionally designed custom Twitter background or Facebook landing page?
Here's a set of grungy Twitter backgrounds that you can customize and use for free. They're all hi-res PNG files. Just load them into your favourite image editor, add an image and some text and you're good to go.
Every background is free, lightweight and optimized for mostly used 1024 resolution but we were thinking about all of you with big screens so have no fear our Twitter layouts are going to look the same on 1280px or wide screen.
TweetHawk Custom Background Designs are free to use for personal use under the Creative Commons 3.0 Licence.
1000′s of unique free Twitter backgrounds. Click "Get Twitter Background" beneath any image you want to put on your Twitter. The new page will show the image as a background and give step-by-step instructions on how to add it as your Twitter background.
Here you will find everything for your twittering needs! We have everything from twitter backgrounds to twitter buttons and we'll even show you how to use twitter too!
Design a Unique Twitter Background
Spreading word about your business or services via a Twitter account can be a useful addition to a marketing strategy. There are many resources with advice on what, when, and how to tweet. But since we're creative professionals, we should also pay attention to what our Twitter pages look like
Twitter Background Design How-To and Best Practices
Let's take a look at some of the best practices around Twitter background design and get to work creating our own.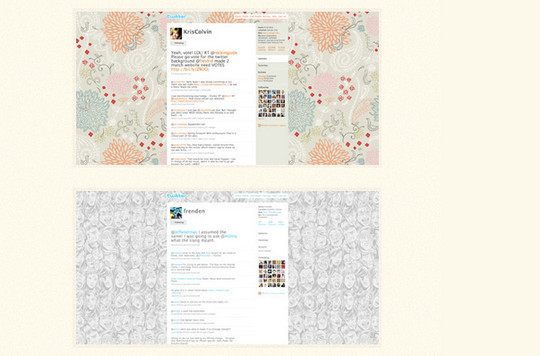 Creative Twitter Backgrounds: