Tools
Whether you are a freelance writer or a professional one, you always need some tools or utilities to keep your workflow improving and also to boost your efficiency. Professional writers need such tools very badly as they have to stay up to date as well as need to create professional content.
Below, we have collected 40 most useful resources for the professional writers. Freelance writers can also take advantage from these tools. Use these tools and improve your skills, thereby increase your income. So, without any further ado here we are presenting the complete list of 30 most useful resources for the professional writers. We hope that you will like this collection.
Elegantly efficient and powerful, Mariner Write has everything you will need to turn out great looking documents. Whether you're a professional writer, educator, student or an average sort, Write has all the functionality needed to be your go-to word processing app.
Storyist a powerful story development tool for novelist and screen writers. Multilingual word processor for Mac OS X. Featuring an intuitive interface and many features not offered in other applications.
CritiqueCircle.com is a free online collaborative writing workshop for all genres with an extensive array of features. Improve your writing and meet other writers.
OmmWriter is your own private writing room where you can close the door behind you to focus on your writing in peace.
Writing.Com presents "Writing Prompts", the iPhone app with an endless supply of creative inspiration!
Content Optimization Software for Online Marketing.
Building the greatest text editor the world has ever seen. One piece at a time.
7notes HD is a smart writing tool optimized for iPad. With this app, mixing your handwriting with digital texts is easier than ever before.
For Mac users to write without distractions. WriteRoom is a full screen writing environment. Unlike the cluttered word processors you're used to, WriteRoom lets you focus on writing.
Multilingual word processor for Mac OS X. Featuring an intuitive interface and many features not offered in other applications.
Write – The word processor for the rest of us. In simple and Retina-aware.
Scrivener for Mac OS X and Windows is an Award-winning writing software for novelists, scriptwriters, academics or anyone working on long texts requiring research and structure, or taming the chaotic process of writing.
Hire Freelancers & manage projects online.
Helping writers to find homes for their work since 1997.
Wridea is a web service first to avoid ideas being forgotten, then to organize and improve those ideas by giving you the opportunity to share your ideas with friends and necessary tools to improve your ideas by yourself and individually.
Bean is a small, easy-to-use word processor that is designed to make writing convenient, efficient and comfortable. Bean is lean, fast and uncluttered. It starts up quickly, has a live word count, and is easy on the eyes. Also, Bean is available free of charge.
MarkMyWords has been specifically developed and designed for authors, who publish their articles on blogs and news-sites. MarkMyWords supports a selected set of Markup-Languages and offers a lot of features to support the writer to focus on what really matters: The content.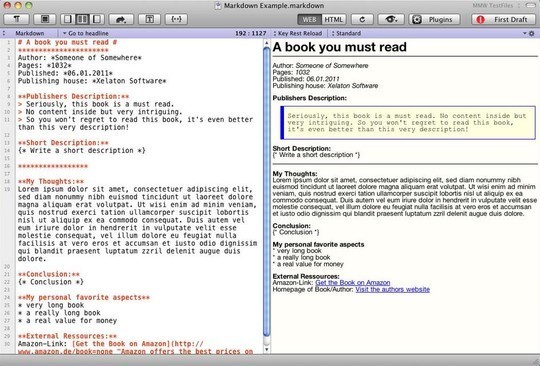 World Book® Notepad is an easy-to-use, customizable word-processing application. Originally integrated into World Book Encyclopedia to help students create their own reports using the World Book content, you can now use it with or without World Book for preparing reports, essays, or any other documents.
iText Pro is a cute, intuitive, and refined yet flexible text editor with word processing.
Simple and efficient text editing for Mac, iPhone and iPad.
Marked's flexible Markdown preview will show you the final output of your document as you work, and its writing tools make your life easier from concept to publish.
Need an excellent rhyming dictionary? Don't yelp, we're here to help.
iA Writer for iPad comes with an elegant keyboard extension that lets you navigate left and right, with direct access to punctuation.
Search for copies of your page on the web.
The AutoCrit Editing Wizard is an instant book editor. With the click of a button it shows you the problems in your manuscript.
Wridea is a web service first to avoid ideas being forgotten, then to organize and improve those ideas by giving you the opportunity to share your ideas with friends and necessary tools to improve your ideas by yourself and individually.
TreePad is an award-winning Personal Information Manager, Organizer, Database, Word Processor and much more.
Evernote apps and products make modern life manageable, by letting you easily collect and find everything that matters.
UberNote helps you organize with the tools you already use. Add your notes, files, bookmarks, web clips, and ideas from anywhere.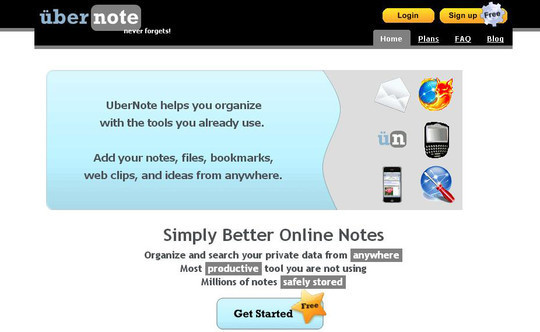 WIZARDS FOR WORD by Recipes For Word (a powerful plug-in for MS-WORD) is a complete software suite of "writing wizards," specific modules that automate or assist in the most tedious and time-consuming tasks of the writing process.
AbiWord is a free word processing program similar to Microsoft Word. It is suitable for a wide variety of word processing tasks.
Just write. Writer will take care of saving your work automatically every few minutes, when you start a new document, and when you open a different document.
Livescribe paper-based computing platform includes a smartpen, dot paper and software applications that changes the way people capture, use and share audio and visual information with pen and paper.
Story Outlining & Script Formatting Software for Mac & PC.
Organize your world, and have fun while you do it.
Tellico allows you to enter your collection in a catalogue database, saving many different properties like title, author, etc.
LooseStitch, A Free Online Outliner Lets You Create and Share Outliner Documents. Create Checklist, Brainstorm Ideas. Jot them down. Call friends over. Get feedback. Make changes. Share Outliner.
The AutoCrit Editing Wizard is an instant book editor. With the click of a button it shows you the problems in your manuscript.
Try Jing for a free and simple way to start sharing images and short videos of your computer screen. Whether for work, home, or play, Jing gives you the ability to add basic visual elements to your captures and share them fast.
Zemanta – Trusted Content Discovery.
An online thesaurus and dictionary of over 145,000 words that you explore using an interactive map. It's a tool for people who think visually. The most fun you've ever had with words. The Visual Thesaurus was built using Thinkmap, a data visualization technology.
If you are looking for some word cloud generators that you can use to map data then you are at the right place. Here we are presenting 9 most amazing word cloud generators that you can use to map data like words and tags in visually engaging manner. Word clouds are used as the graphical representation of word frequency, and are being used in many websites.
There are plenty of word cloud generators available online some of them are free while some are paid. Despite the availability of numerous amount of free word cloud generators, it is very difficult to find out a free but easy to use tool that does the job perfectly. Have a look at this compilation. Enjoy!
Wordle is a toy for generating "word cloud" from text that you provide.The clouds give greater prominence to words that appear more frequently in the source text.
An attractive arrangement of randomly positioned words, where the most important words are bigger than the others.
Paste your text into the box. Press 'Sift' to visualize.
VocabGrabber analyzes any text you're interested in, generating lists of the most useful vocabulary words and showing you how those words are used in context.
Tagxedo turns words, famous speeches, news articles, slogans and themes, even your love letters — into a visually stunning word cloud, words individually sized appropriately to highlight the frequencies of occurrence within the body of text.
Welcome to Tagul, a web service that allows you to create gorgeous word clouds.
Write a comment or poem in the shape of hearts or other symbols.Send a greeting or post to Facebook or your blog.
A Word Cloud is a visual representation of some text as a bunch of words based on a weight associated to each word. Typically, the frequency (keyword density) of the words in the page is used as the weight even though some other metric might be used.
Testing tools are the basic necessity of developers that they often need to check their coding. These testing tools help developers in carrying out necessary tests to check their website is working fine in all important areas. It is the responsibility of the developer to check everything from loading speed to potential hack vulnerabilities before handling the website to the client.
Here, we have also listed a collection of some essential web development tools. We hope that this collection proves to be the best for you. Here is the full list after the jump. Enjoy!
Automated and on-demand performance testing for the DevOps-minded. Load test your website, web app, mobile app or API instantly with up to 1.2 million concurrent users, there is also PRO version.
LinkChecker is a free, GPL licensed website validator. LinkChecker checks links in web documents or full websites.
sqlmap is an open source penetration testing tool that automates the process of detecting and exploiting SQL injection flaws and taking over of database servers.
The most popular and powerful web development tool.
A simple, useful and beautiful browser window resize app for Web designers and developers.
Check Cascading Style Sheets (CSS) and (X)HTML documents with style sheets.
Screenqueri.es is a Pixel Perfect Media Queries Debugging & Responsive Design Testing Tool.
Enter a URL to test the load time of that page, analyze it and find bottlenecks.
This is the W3C Feed Validation Service, a free service that checks the syntax of Atom or RSS feeds.
If you are looking for some great online tools that can help you improve your workflow or even some software that can perform this job, you are at right place. In this session, we are showcasing a wonderful collection of approximately 43 online tools and software that not only are free but also let you improve your workflow to a great extent.
With this collection, we aim to help our freelancers especially in making their work easier. Do have a look at this collection and feel free to share your opinions with us via comment section below. Your comments are always more than welcome. We hope you will enjoy!
Millions of people use XMind to clarify thinking, manage complex information, run brainstorming and get work organized.
My.origramy is online service helping you create complex diagrams, schemes, presentations, charts, graphs fast. It uses flash technology to help reach all pluses of vector technique.
dhtmlxChart is a JavaScript charting library for generating cross-browser HTML5 charts. It supports the most common chart types: line, spline, area, bar, pie, donut, scatter, and radar charts. For complex charting needs, you can create a chart series, plotted separately side by side, or stacked. You can also display a combination of different charts types on a single chart (e.g. combine line and bar charts).
Free social and collaborative online mind mapping software. Mind mapping can be free, fast and simple. Features import/export, mind map publishing and live collaboration.
Jolicharts is a new way to design charts and dashboards connected to your data and embed them into your app.
Pencil is built for the purpose of providing a free and open-source GUI prototyping tool that people can easily install and use to create mockups in popular desktop platforms.
It is a free and useful web application that lets you brainstorm online.
amCharts is JavaScript/HTML5 charting library that will suit any data visualization need. Our JavaScript charts include Column, Bar, Line, Area, Step, Step without risers, Smoothed line, Candlestick, OHLC, Pie/Donut, Radar/Polar, XY/Scatter/Bubble, Bullet, Funnel/Pyramid charts as well as Gauges. – See more at: http://www.amcharts.com/#sthash.ddGA9VXe.dpuf
Easily draw diagrams online using Creately's online diagramming tool. Diagram software packed with templates and features.
Create and share simple UML diagrams in your blogs, wikis, forums, bug-trackers and emails.
Create and share diagrams by writing sentences!
Lucidchart is your solution for visual communication. Flow charts, diagrams, UML sketches, and ER models have never been easier.
ChartPart is a web tool that lets you instantly create charts online.
XML/SWF Charts is a simple, yet powerful tool to create attractive charts and graphs from XML data.
Graphviz is open source graph visualization software. Graph visualization is a way of representing structural information as diagrams of abstract graphs and networks.
Barchart will allow you to create bar charts without the need of an applet bar graph creator.
With your free account from ChartGizmo you can now create charts for your website, blog and social network profiles.
ChartGizmo may be useful for those who need to visualize financial, scientific or other type of data.
Here you will find five different graphs and charts for you to consider.
Fooplot is a very usesul online tool that helps you to create charts & diagrams.
Gliffy is a online diagram tool with support for flow charts and sitemaps.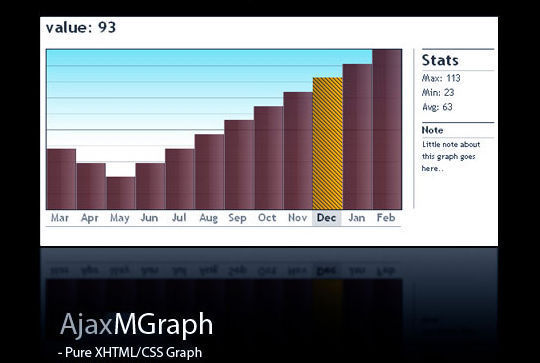 PlotKit is a Chart and Graph Plotting Library for Javascript. It has support for HTML Canvas and also SVG via Adobe SVG Viewer and native browser support.
Free Online Chart and Graphs Generator.
Chartle.net tears down the complexity of online visualizations – offers simplicity, ubiquity and interactivity instead.
Create graph and charts online quickly. ChartGo is a graph maker tool. Simply follow these steps; pick your settings, paste your data and click the create button. That's it. For additional chart setting options, visit each chart type in the menu section on the left. You can also use existing graphs by clicking on the graph examples section.
JS Charts is a JavaScript based chart generator that requires little or no coding. With JS Charts drawing charts is a simple and easy task, since you only have to use client-side scripting (i.e. performed by your web browser). No additional plugins or server modules are required. Just include our scripts, prepare your chart data in XML, JSON or JavaScript Array and your chart is ready!
Web tool that makes pie chart with color.
A simple tool that creates color pie chart.
When you are done adding your values, simply click the send button and your chart will be generated in no time and you will receive a link which you can use to display the chart on your page.
Google Chart API and Chart Generator Tool.
The Pie Chart Maker is a free tool that allows you to create your own pie chart. You can customize many features of the chart including the number sections for your chart as well as the sizes of each section. This free tool outputs your pie chart as an image that you can save to your computer!
Charts are a great tool because they communicate information visually. On Onlinecharttool.com you can design and share your own charts online and for free.
yEd is a powerful desktop application that can be used to quickly and effectively generate high-quality diagrams. Create diagrams manually, or import your external data for analysis. Our automatic layout algorithms arrange even large data sets with just the press of a button.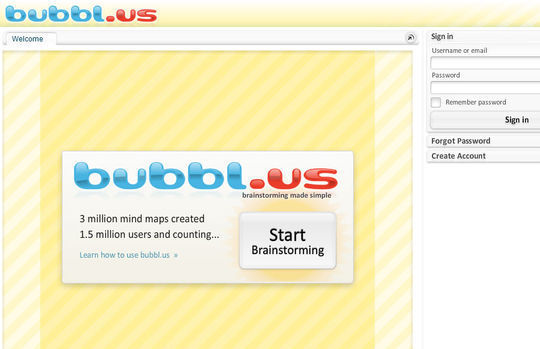 Highcharts is a charting library written in pure HTML5/JavaScript, offering intuitive, interactive charts to your web site or web application. Highcharts currently supports line, spline, area, areaspline, column, bar, pie, scatter, angular gauges, arearange, areasplinerange, columnrange, bubble, box plot, error bars, funnel, waterfall and polar chart types.
Create, share and collaboratively work on mind maps with MindMeister, the leading online mind mapping software. Includes apps for iPhone, iPad and Android.
The following tool creates a pie chart based on the data you provide. All you have to do is type your data and the name of the categories. The tool will deliver a pie chart with the corresponding percentages for each category.
No download, no-install. Log in from anywhere & draw!
Google chart tools are powerful, simple to use, and free. Try out our rich gallery of interactive charts and data tools.
DIY (Do it yourself) Chart is a Web-based, simple and powerful online tool to create interactive charts and graphs from static or dynamic data which may be generated using any scripting language.
For today's round up, we thought to compile some free online real-time HTML editors that you can use to create interesting and appealing web pages and websites for free of cost. Therefore, here we have come up with a list of some free online real-time HTML editors that you can find on the internet. Basically, such types of online HTML editors offer numerous means of editing as well as creating HTML code lines, and are quite easily accessible. This is the reason why they are so popular.
So, without any further ado, we are presenting the complete list after the jump. We hope that you will like this collection. Check this out and get to pick one!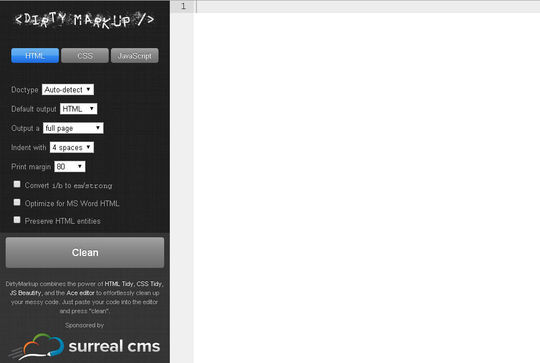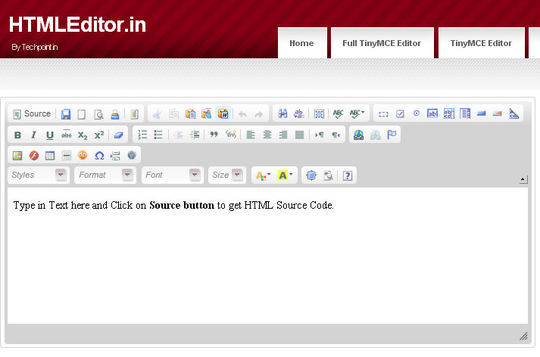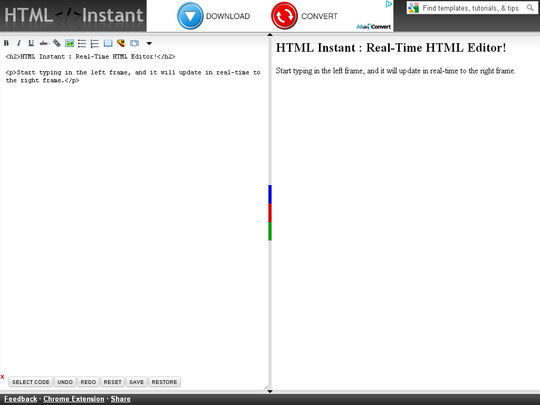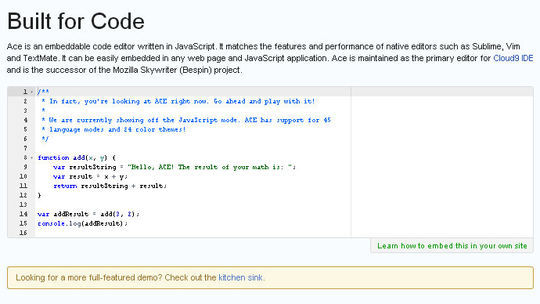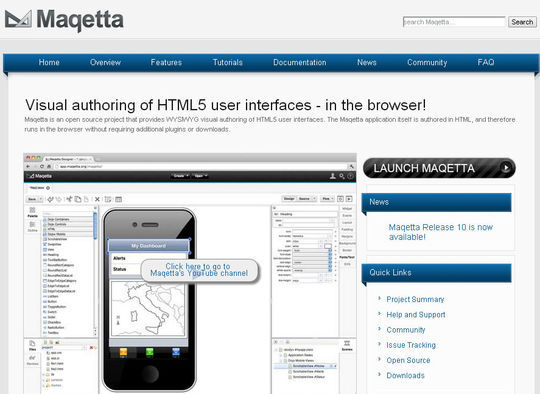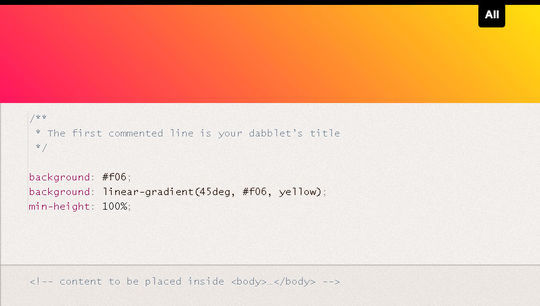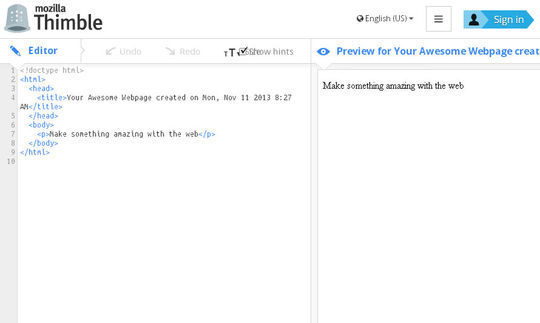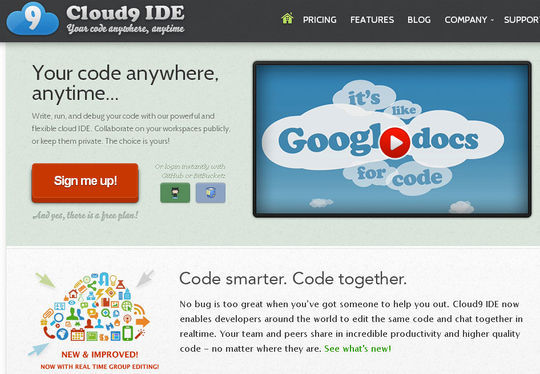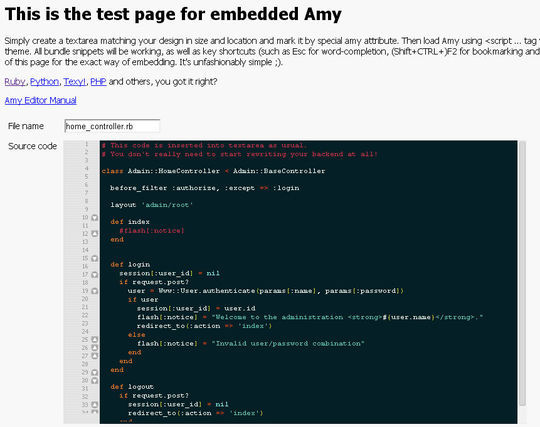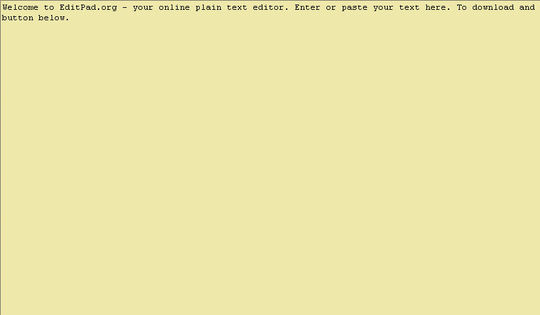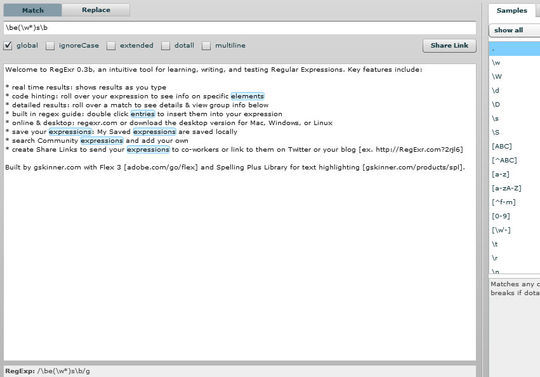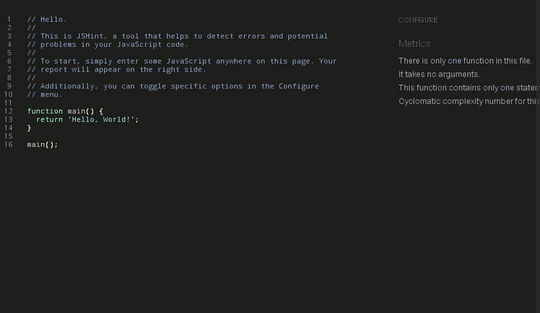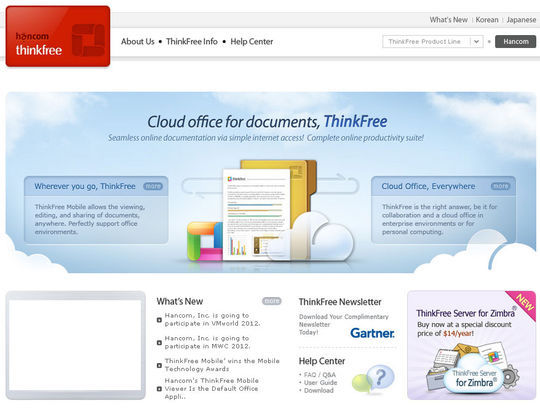 Free Online WYSIWYG HTML Editor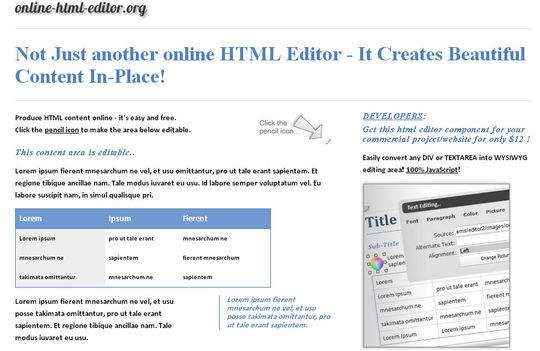 Today, we are showcasing 12 best social sharing plugins for the WordPress. If you are a blogger then WordPress is the best option for you and if you want more traffic on your blog then you should use social media sites. By using different social media websites, you can share your content with millions of users and thereby can get huge traffic on your blog. Your online earning can also be increased by using social media sites.
We hope this list would be of great assistance for the bloggers or writers. Enjoy this amazing collection everyone and feel free to share your opinions and comments with us via comment section below.
AddThis Share Buttons help drive traffic to your site by helping visitors share, bookmark and email your content to over 330 services.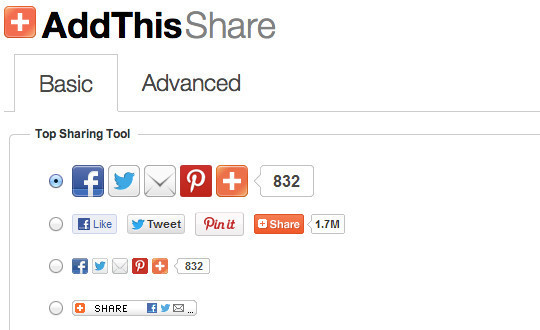 Share Buttons and Social Analytics
Social Charge your Content with ShareThis – features Social Analytics, CopyNShare, Open Graph Sharing, and the Hovering Bar!
Adds an attractive social bookmarking menu and related content widget to your posts, pages, index, or any combination of the three.
Easy 2 Use Plugin 2 Show SocialMedia Icons That Floats,Can Configure Social Icon Design,Order & Size at Plugin Settings, Suport Widget & Short.
Automatically publishes your new blog content to Social Networks. Auto-updates Twitter,Facebook,Linkedin,Tumblr,Diigo,Delicious.
Po.st boosts social sharing, provides detailed analytics and monetizes the sharing that is already happening on your site.
Super lightweight, simple, nice, modern looking and effective social sharing and following buttons and icons on your site without the extra burden.
Allow your visitors to comment and login with social networks like Twitter, Facebook, Paypal, LinkedIn, LiveJournal, OpenID, VKontakte, Google, Yahoo.
Let your users share via their accounts on popular social networks such as Facebook, Google, Twitter, LinkedIn, Vkontakte and over 80 more!
Share buttons for WordPress including AddToAny's universal sharing button, Facebook, Twitter, Google+, Pinterest, StumbleUpon and many more.
Adds links to all of your social media and sharing site profiles. Tons of icons come in 3 sizes, 4 icon styles, and 4 animations.
Slick social share buttons adds facebook, twitter, google +1, linkedin, digg, delicious, reddit, stumbleupon, buffer and pinterest pin it social media.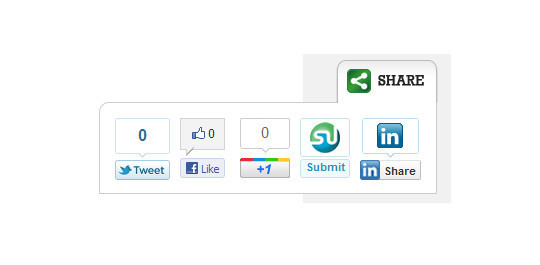 It has happened to all of us at one point or another. You write a 4,000 word report for your company and the next day when you open your computer you find it has been deleted by a virus. Or you took dozens of cool pictures of your birthday party and saved them on your computer's drive but your nephew deleted them by accident. Or maybe you were working on a project and your machine crashed and when you re-started the computer the file went missing as you hadn't saved it.
If you have suffered from any such setbacks we have a solution for you. It's called iSkysoft.
The company started in 2004 when a group of young and energetic computer lovers gathered together. They started developing multimedia software for Windows. But soon Apple started gaining more users, they discovered that there was a gap in the market as Mac users needed multimedia software and there were little solutions available then. By 2005 iSkysoft Studio had started developing multimedia software which seamlessly supported the Macintosh platform. Today iSkysoft Studio is working in diverse fields. They started with only DVD software for Mac but soon launched more products for videos, YouTube, iPad, iPod, and iPhone. In this article I will focus on their software which lets you do data recovery on Mac. Gone are the days when you needed professional help from experts of the field to recover your lost data.
Today things have changed. With iSkysoft Data Recovery for Mac, anybody can do the task himself without needing any coding knowledge. This software lets you recover lost files in just three simple steps: Scan, Preview and Recover. The software comes in four recovery modes which recover virtually all data loss cases. Using the latest powerful scanning algorithms, the software can scan any Mac based hard drive or external hard drive without deleting any data and allows you to recover images, videos, documents, music, archive files and email messages very quickly and easily. Let me show you how it's done. First of all the four methods of recovery allowed by the software are:
Lost data recovery
Raw data recovery
Partition recovery
Resume recovery
I deal with each one of them below.
1) Lost Data Recovery Lost Data Recovery mode allows you to recover lost data when it has been accidentally deleted by the pressing of Command and Delete keys together, deleted by emptying of the trash can, corrupted files, etc. When you click the Lost Data Recovery mode the window will appear like the one shown below.
You should now select the drive where you have lost your files and then you should click the Scan button on top to start the scanning process. In case your drive doesn't show in the list you should click the Refresh Drives button at the bottom and it should appear. When the scanning process is completed a new window will open up as shown below. Here you can preview the files before starting the recovery process. In order to recover them, check the files in the list and then click the Recover button to save the files where you desire. It is recommended that you don't save them in the same position where you lost them but in some other drives.
2) Raw Data Recovery You can use this Raw Data Recovery mode to perform a deeper scan and recover the files by their file signature or type. In this recovery mode you are allowed to recover up to 50 types of files which include PNG, JPG, MOV, M4V, M4A, MP3, PAGES, ZIP, and EML. The only disadvantage of this recovery method is that the original file names and file folders will remain unavailable.
Choose a drive or the complete disk as you want and then click the Scan button. In case you have lost or formatted a partition select the whole disk. You can also try Refresh Drives option if your partition is not in the list. When the scanning process is completed check the files you want and click on the Recover button to save them to an external storage device. 3) Partition Recovery In the main interface of the screen click Partition Recovery to use this recovery option. Choose the disk you wish to recover and then click on Search Partition on the top of the screen to start scanning the lost, formatted, resized and corrupted partitions.
4) Resume Recovery In some cases the scanning might take hours to complete. If for some reason you had to switch off your computer you can save the scan process until where it was completed and then resume it when you return. Click the Pause or Stop button first and then click the Save Scan Info button in order to save a .res file on your computer.
Go and check out the software and then let me know what you think in the comments below. Bonus for Readers: 5 lucky SmashingApps readers will be awarded with registration codes for iSkysoft Data Recovery for Mac. You just need to comment about this review here and share it on your social network, and then send the screenshot of it to iSkysoft's Facebook page. We'll then choose the lucky ones to send the codes.
In this round up, we are showcasing a list of 8 most essential Mac apps for the designers. This list is especially intended for those designers who are switching from Windows or using a Mac for the first time. However, experienced Mac users will also find these apps very useful. Development of different types of apps has made developers' lives easier.
So, browse through this collection and try exploring these apps and choose which one you would opt for. Do let us know what you think about this compilation. Your comments are always more than welcome. Enjoy!
Imagine is practical writing at its best. A simple, clean, readable layout and all you'd ever expect from a simple text editor, but so much more. You no longer need TextEdit, or Word. Imagine can do it all for you, in a faster, more beautiful package.
HandBrake is a tool for converting video from nearly any format to a selection of modern, widely supported codecs.
Alfred saves you time when you search for files online or on your Mac. Be more productive with hotkeys, keywords and file actions at your fingertips.
Anxiety is a super-lightweight To-do list application for Mac OS X Leopard that synchronizes with iCal and Mail. Its aim is to provide a streamlined, easily accessible interface to add and check off your tasks, while remaining poised to melt into the background at a moments notice.
Adium is a free instant messaging application for Mac OS X that can connect to AIM, MSN, XMPP (Jabber), Yahoo, and more.
Inkscape is a professional vector graphics editor for Windows, Mac OS X and Linux. It's free and open source.
Inkscape is a professional vector graphics editor for Windows, Mac OS X and Linux. It's free and open source.
In this round-up we are presenting 8 free and wonderful Page Analysis Tools. And if you use these tools they will surely help you with your SEO efforts. Page analysis plays a very important role in maximizing the effectiveness of the site when the web designers or developers are developing or maintaining the websites.
For the analyzing of web pages so many resources and tools are available in the internet but in this round-up you will find variety of different tools. Some tools will help you to analyze one specific aspect of a page while others tools will give an overall grade to the page as a whole. We hope that this collection proves to be the best and do let us know what you think about this compilation. Feel free to share your opinions and comments with us via comment section is below.
Research and compare backlinks with competitors for intelligent, targeted link building. Identify top pages, view social activity data, and analyze anchor text.
Discover how search engine spiders view your website using our free spider simulator tool.
Learn the number 1 reason you are not getting enough targeted traffic to your website.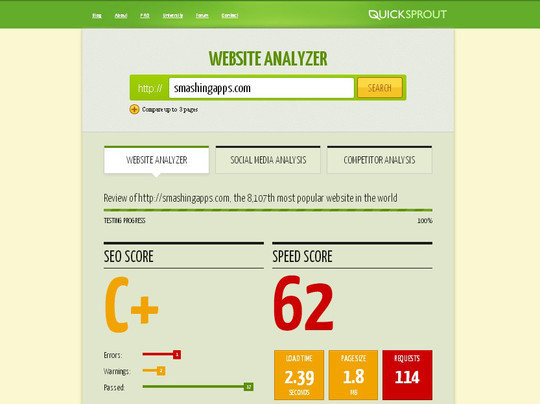 Try our free web site speed test to improve website performance. Enter a URL below to calculate page size, composition, and download time.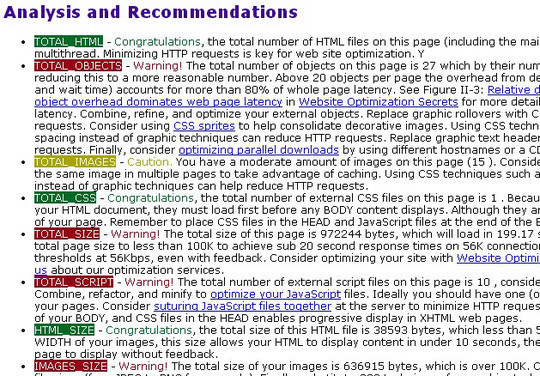 KnowEm allows you to check for the use of your brand, product, personal name or username instantly on over 500 popular and emerging social media websites.
Rapidly test your website for cross browser compatibility across 300+ browsers.
Want to know where your website ranks in the search results? Our Firefox Rank Checker extension allows you to easily check your website rankings in Google (US and international), Microsoft's Bing, & Yahoo Search.
Your content could be similar to other websites on the Internet, or pages from within your own website could be similar to each other (usually the case with dynamic product catalog pages).
This tool allows you to determine the percentage of similarity between two pages.
With the introduction of new technologies and usage of new innovative ways, web industry has totally changed the criteria of web development. Today, responsive website layouts are more popular as compared to traditional website layouts. This is because of the reason that responsive website layouts are more interactive and they engage the visitors for relatively longer period of time. This is the reason why developers are now creating responsive website layouts to a greater extent.
With responsive website layouts, today's websites are no more nifty looking websites rather they have been evolved and improved. Responsive website layouts are more reviving and refreshing and they also give life to your website design. Here is the complete collection for you of some amazingly flexible grid tools to help you create visually appealing and fully functional responsive websites. Let us have a look at this collection and enjoy! Feel free to share your opinions with us via comment section below.
A Responsive Web Design tool for creating grids by Erskine Design.
Just a simple calculator to help turn your PSD pixel perfection into the start of your responsive website.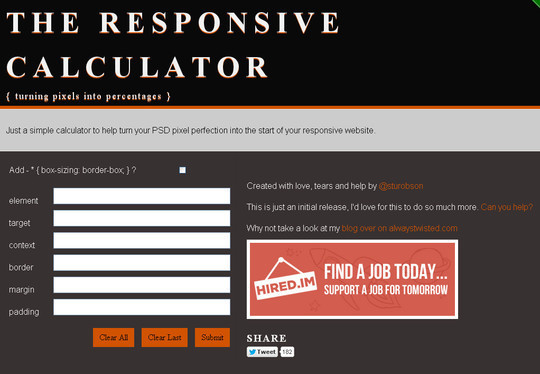 The Responsive Grid System isn't a framework. It's not a boilerplate either. It's a quick, easy & flexible way to create a responsive web site.
Set column and gutter widths, choose the number of columns, and switch between pixels and percentages.
SG is prepared for 4 distinct ranges of screen size: screens 720px, screens > than 985px, and screens > than 1235px. So people visiting your site will receive a layout that's tuned to the size of their browser window. Say goodbye to horizontal scrollbars.
A grid system for responsive web design. Includes folding columns, elastic gutters, a zoomable baseline grid, and a delightful grid overlay script.
Designing grids with Gridset is as easy as dragging guides in Photoshop or Fireworks. Gridset provides whatever you need: PNGs, a comprehensive cheat sheet and CSS.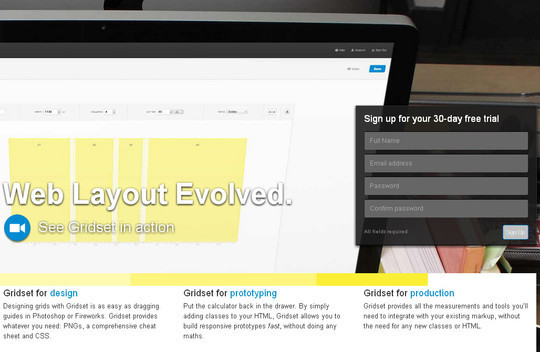 A responsive CSS grid system for rapid prototyping.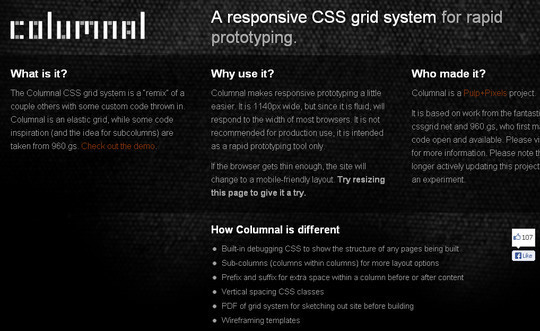 A responsive 960 grid from Paravel.
Susy: Semantic grids with a responsive touch.
320 and Up is a lightweight, easy to use and content first responsive web design boilerplate.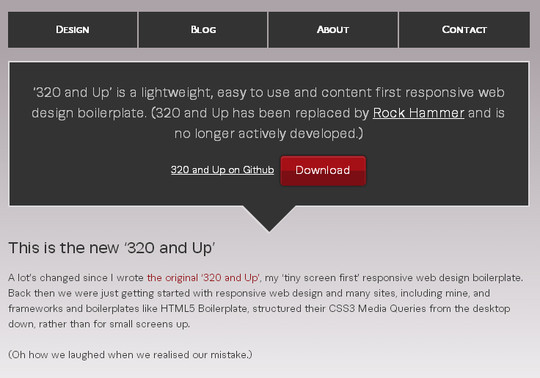 The jQuerin Grid Builder is a responsive code generator which outputs clean and semantic html & css code.