Tips and Tricks
We use our smartphones to make calls, send and receive text messages, take picture, shoot and view videos, play games, and use various applications. All of this, needless to say, considerably drains the phone's battery. If you do not take the right steps and modify your phone's settings appropriately, your phone will need charging every now and then.
Charging the phone every day is surely inconvenient for all phone owners. Thankfully there are a number of steps you can take to increase your iPhone's battery life. To check out what these tips are, read on the list below. Most of these tips apply to all smartphones; so even you own a smartphone other than iPhone, you will find these tips very helpful.
You are welcome to share if you know more useful tips to increase the battery life of smartphones which our readers/viewers may like. Do you want to be the first one to know the latest happenings at SmashingApps.com just subscribe to our rss feed and you can follow us on twitter and do not forget to become our fan on facebook as well.
1. Turn Off Bluetooth
Bluetooth is used to transfer data from or to your phone. Activating Bluetooth takes a significatnt toll on the battery life. Therefore whenever you are not using Bluetooth, turn it off. Moreover, if you have a choice between transferring the data between the phone and your computer, opt for the phone's cable instead of the Bluetooth connection.
2. Lower the Screen Brightness
Our phones are usually set at a brightness higher than the one we are comfortable with. By lowering the phone's brightness not only will you save the battery, but also make viewing your phone more comfortable.
3. Keep Phone Firmware, OS, and Applications Updated
Timely look for latest versions of your phone's firmware and OS. Moreover look for the latest versions for your installed applications. Usually new updates are less of a burden on the battery than their predecessors.
4. Turn off Wi-Fi
The principle behind turning off Wi-Fi is the same as turning off Bluetooth. By being on while you are not using it, Wi-Fi needlessly consumes battery power. Therefore keep the phone's Wi-Fi off while it is not in use.
5. Turn off GPS and Location services
GPS is another one of your phone's features that uses up the battery. All apps that have 'checking in' or location services use GPS. Thus by disabling these applications and by disabling GPS you will considerably improve the phone's battery life.
6. Reduce the auto-lock time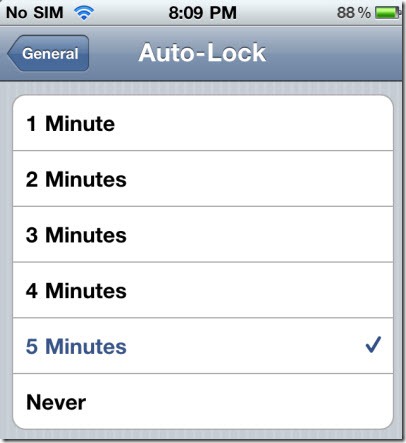 This might be a micro tip, but an important one nonetheless. If your phone auto-locks quicker, than the screen turns off at an earlier time. Each time this happens the phone's battery is saved up and in the end this accumulates to impressive battery savings.
7. Turn off Push mail and reduce data fetching time
Push mail forwards SMSs and other data from the server to your phone as soon as the data arrives.  Needless to say this requires an active connection that consumes battery power. Since most text messages are non-urgent, you can safely turn off push mail and reduce the data fetching time to, say, 15 minutes. This way you will receive text messages 15 minutes late, in the worst delay case, but considerably save the battery life of your phone.
8. Turn off needless sounds and vibrations
Each time the 'beep' sounds is made while you press a phone key, battery power is consumed. Any sound your phone produces drains the battery a little. The same applies to the phone's vibrations. Therefore disabling the unnecessary sounds and vibrations will also save your phone's battery.
9.  Disable the equalizer settings for the phone's music player
By playing music at a non-default settings, the phone puts in extra effort; this is done by consuming more battery power. Disabling the equalizer use only the default power from the phone's battery.
10. Complete a charge cycle each month
A charge cycle means charging your phone to the maximum level and then draining it to zero. Doing so every month ensures smooth functioning of the battery. Furthermore this increases the long term life of the battery.
Here we have gathered a round about of some amazing jQuery image galleries and sliders that we hope you will like. You must have seen many of these jQuery image galleries and sliders on different portfolio websites because they are easy and helpful in displaying images and photos than any other medium.
The most amazing thing about jQuery is that you don't have to be a techie to add jQuery to your website, you can easily add it even if you don't know much about JavaScript and jQuery. So let us take a look at this assortment. Feel free to share your opinion with us.
Create Fantastic Lightbox – Style Galleries and Slideshow
HTML5 Slideshow w/ Canvas & jQuery
AD Gallery, gallery plugin for jQuery
Animate Panning Slideshow with jQuery
Auto-Playing Featured Content Slider
Automatic Image Slider w/ CSS & jQuery
Create a Slick and Accessible Slideshow Using jQuery
Image Highlighting and Preview with jQuery
Photo Manipulation is a continually developing collaboration between photography, graphic design and digital editing. It is a process of mixing certain elements and produces an exceptional image that can influence even the most skilled set of eyes.
This is not as easy as it sounds; it requires a very creative set of skills in Photoshop and other tool and also a hell lot of patience. Photo manipulation is an excellent source of inspiration since designers have expressed their creativeness all the way through assorted aspects of design. Here we have collected some amazing examples of photo manipulation. Enjoy!
In this tutorial, artist will show you how to create your unique wallpapers using photo manipulation. Using some images you'll learn how to blend in different landscapes creating a surreal effect.
How to Create Glass Transparency in a Cute Photo Manipulation
In this tutorial We will learn a good technique for incorporating glass transparency into photo manipulations, while placing
In this tutorial, we will use the Layer Mask Tool and Liquify filter to "melt" the camera. Artist recommend you work with a tablet for this one (it makes your work easier), but if you don't have one it is also possible to go through this tutorial. Let's start!
Create a Nature Inspired Photo Manipulation
Design Dark Sea Ship Photomanipulation Scene
It is shown in this tutorial on how to make design a dark sea ship photo manipulation scene.
In this tutorial, you will learn how to create a fantasy landscape using some simple and easy techniques. Everyone with basic Photoshop skills can succeed to recreate this simple image using the most important thing in this kind of photo manipulation – the right stock. So let's go!
Design an Epic Fantasy Scene with Photoshop
In this tutorial we are going to create a photo manipulation inspired by Valhalla, one of Mariusz Karasiewicz`s works. He is an amazing artist and his work is absolutly stunning. I want to thank him for allowing me to write this tutorial.
In this tutorial, we're going to make a creative illustration in a style meant for a video game cover or sci-fi book cover. We'll create this with mostly photo manipulation techniques. With some cool Photoshop options you can turn all the photos you chose, into one stunning looking explosive cover.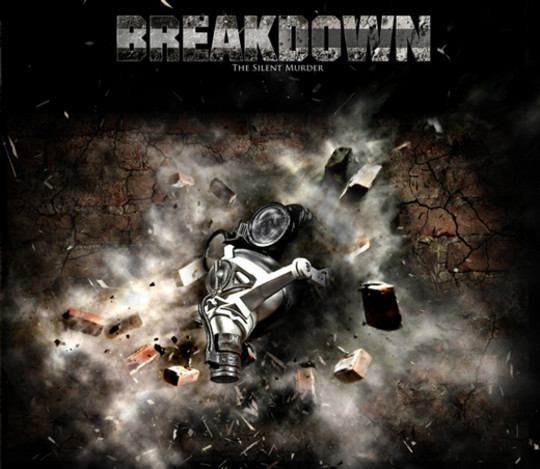 Create a breath taking scenery by combining two photos and applying several photo effects. When you follow this Photoshop tutorial, you'll learn masking techniques and several photo effects.
Animal King Photo Manipulation
In this photoshop tutorial, you'll learn how to mash up a series of photos in a highly creative poster based on a famous painting from the 1800's. Let's get started!
Making of the Magical Heroes of 10Steps.SG
Let us do something different this week! We will be creating a game poster with magical theme. This tutorial shows how to draw a sword from scratch and also introducing some of the latest high quality brushes on the internet.
How to Create a Photo Manipulation of a Flooded City Scene
In this tutorial, we will learn how to manipulate a simple photo into a flooding torrent of a scene. We'll use some relatively simple techniques to give this image a semi-realistic, stylized feel. Let's get started!
How to Create a Slice of Nature Photo Manipulation
Today I'm going to show you how to put together a complex tree illustration. The idea for this tutorial is to show a workflow from concept to finish, not just so you can copy this illustration, but so that you can take the ideas behind it and use them for any design you have. It's not just the finished design but the process we are after.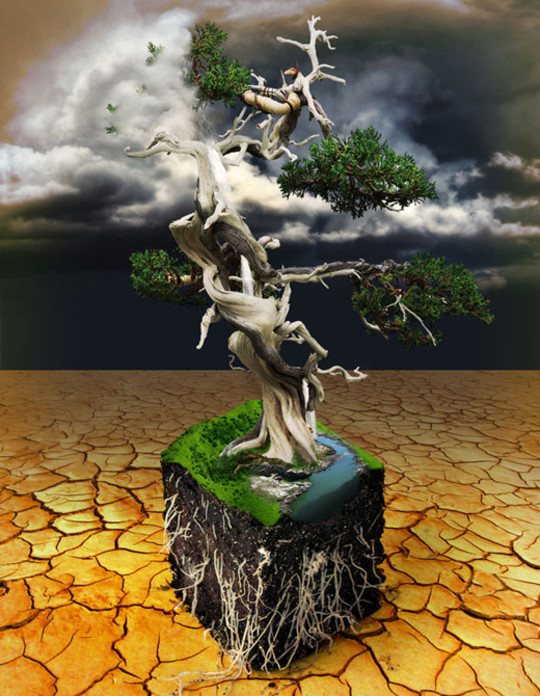 How To Create a Futuristic Sci-Fi Scene
In this tutorial, I will guide you through the steps to create a futuristic sci-fi scene. We will transform original pictures using Photoshop tools that will help to give the image a more spectacular look
Nearly all the designers and artists use, interact and rely on Photoshop and its tool for completing their design projects. Photoshop is being employed in all aspects of graphics designing. The majority of us don't yet realize it because of the spectacular practicality and integration of the environments.
One of the major use of Photoshop comes in creating stunning text effect which has been required in banners and logos. An attractive text effect on the banner or on the logo can attract the huge numbers of visitors, and therefore it is very important to have an appealing text effect which can only be accomplished with the help of Photoshop.
Keeping this in mind, we have assembled this post which contains 45 beautiful and useful Photoshop text effect tutorials which are cool and easy to follow.
Create Gold Ornamental Text in Photoshop
Ornamental text can be created in several ways. In this tutorial we will demonstrate how to combine several stock images to create some nice gold ornamental typography. Let's get started!
Design a Golden Flame Text Effect in Photoshop
In this tutorial, artist will show you the process involved in creating this golden flame text effect with soft smoke texture in Photoshop.
In this Photoshop tutorial artist will show you creative way how to displace the text and get an interesting effect on it.
Create Brilliant Glossy Typography in Photoshop
If you want to take your digital painting and illustration skills to the next level, then we have an awesome tutorial for you. Learn more after the jump!
Add Fantastic Color to 3D Text
In this tutorial, you will learn how to bring a simple text to life and place everything in fantastic, colored and glowing 3D space. Some neat techniques covered here will allow you to bring your artwork to the next level. Don't miss it!
Create Vibrant Typography in a Rough Cartoon Style
Today we are going to take a look at a well-known type of typography treatment. You will not only get an idea of how to create cool typography, but you will also learn how to give it a nice cartoon touch.
In this tutorial, We will be creating a game poster with magical theme. This tutorial shows how to draw a sword from scratch and also introducing some of the latest high quality brushes on the internet.
How to Create an Incredible Typographic Illustration
In thi tutorial we're going to take all the pieces of the puzzle and finalize them. It's all about realism here as we explore seamless integration of separate 3D objects into a single document. Learn how to add color, match luminosity, and add beautiful contrast to your renders.
Create Astonishing Nightclub Themed 3D Typography
3D graphics are often created using several applications. Today, we will use Photoshop, Illustrator, and Cinema 4D to create a stunning nightclub themed 3D composite. Let's get started!
On this Photoshop tutorial artist is going to show u how to make one interesting effect which he received by experimenting with Photoshop filters. In the end our effect will looks like cardiac rate.
How to Create a Gorgeous Glassy Text Effect
This text will be created using a series of shapes with different transparency and color effects. Let's get to it!
Create Insanely Realistic Metal Text in Photoshop
This Adobe Photoshop tutorial takes the simple "create metal text effect in Photoshop" that thousands of people teach all over the web and turns it on it's head! Adding polishes, shines, motion blurs, and oh yes… NINJA STARS. It's a must read.
Chained Text photoshop tutorial
Create an Extruded Glossy 3D Text Effect in Photoshop
Today, we will combine those two popular styles and create an extruded 3D glossy text effect in Photoshop. Let's get started!
Create a Metal Piece with a Graved Text
In this tutorial i am gonna show you how to create a piece of metal with a graved text on it.
Give a Medieval Game Logo a Rough Stone Look
In today's tutorial we will take a black and white logo and give it a rough stone look in just a few short steps using textures and layer styles. Let's get started!
Tutorials on creating metal type abound online, as do variations on simple liquid effects. Most are fairly short, offering a good foundation for the reader on how certain effects are achieved but fail to take that extra step (or few steps) to make the piece really shine.
Create Sparkling, Animated Text in Photoshop
In today's quick tip tutorial we will demonstrate how to create a sparkling text animation in Photoshop with just a few easy steps. Let's get started!
Create Metallic Text on a Concrete Background
In today's quick tip tutorial I will demonstrate how to create some cool metallic text on a slick concrete background. This can be done in just a few steps so let's get started!
Grungy Rusted Carbon Fiber Text Effect
In this Tutorial we will be creating a grungy rusted carbon fiber text effect. We will also be creating the accompanying rusted metal background effect seen in the preview.
How to Design a Print-Ready Flier with Photoshop and Illustrator
In this tutorial we are going to create 3D text and integrate it in a natural environment. We will not use any 3D programs, so all you need is Adobe Illustrator and Photoshop to create this effect.
Create a Steam Powered Typographic Treatment – Part II
In this tutorial, we'll generate realistic textures and create a fitting scene for our text. Let's get right to it!
How to Create 3D Text Blocks in Photoshop – Screencast
In this tutorial, I'll show you how to create a 3D Blocks text effect. You need to have Adobe Photoshop CS4 Extended to practice this tutorial. This will be fun and I'm sure you can do lots of cool things using this technique. Let's get started!
How to Create an Ice Text Effect with Photoshop
In this tutorial, you'll learn how to create an ice effect completely from scratch using special Photoshop Brushes.
In this Photoshop tutorial, you will learn how to create a glowing text effects form a scratch.
How to Create Eroded Metal Text with Photoshop
In this tutorial I'll show you how to create an eroded metal text effect. Throughout this tutorial we'll make use of various drawing techniques, channels, and patterns. Let's get started!
How to make a Typographic, Retro, Space Face
In this tutorial, artist will show you how to make a typographic face by using simple techniques. Using the Brush Tool and experimenting with light, you will get this amazing Typographic Space Face that looks like it's created by letters and an amazing explosion. Let's get started!
This tutorial is going to be a little more advanced than the other ones I have done. It shouldn't be a problem if you have been following along with our other tutorials or have a grasp of Photoshop. So lets begin.
How to Design a Stunning, 3D, Sunset Type Illustration
Today we're going to run through multiple platforms to create a warm and sunny typographic treatment. We'll use C4D to create the text, Illustrator for several decorative motifs, and Photoshop to bring them all together. Let's get our hands into creating this warm type illustration.
Create Detailed Letters of Gold and Diamond
This tutorial will show how we can create a set of detailed letters with gold and diamond. We will learn how to use the Polygonal tool to make a simple diamond and also introduce a convenient way to duplicate layers with minimal efforts.
Create a Stunning Text on Wild Fire Effect
Fire text is one of the most classic technique that you can see in Photoshop tutorials. In this tutorial artist is trying out another version here using some real fire images, mix with filters and blending methods. Here we go!
In this tutorial you will learn how to create text on fire, also I will explain all the techniques how to transform the text in right format.
A Slick Supernatural Text Effect
In this tutorial we'll be creating a smoky night effect on text to give it an eerie supernatural sort of feel. It's a good exercise in using the Wave distortion filter…
Design a Super Sleek Text Effect with Water Drop Texture
In this tutorial, artist will show you the steps he took to create the Super Sleek, eye-catching text effect with Water Drop Texture. This effect is simple but effective, and would be suitable for any water/rainy/ocean themed designs you're creating.
In this tutorial, we're going to create an icey-cold effect using layer styles and that you can apply to different objects. Then we'll put it on a nice background to give it some kick.
Stunning 3D effects in 30 minutes
Colorful Glowing Text Effect in Photoshop
Elegant 3D Text Effect in Photoshop
This tutorial you'll learn how to create an elegant 3D Text effect using simple the shape tool, layer styles and paths.
Brushed Silver Reflective Text Effect
In this Tutorial we will be creating a brushed silver reflective text effect. We will also be creating the accompanying abstract reflective watery background scene.
This tutorial shows you how to create a nice 3D text using only photoshop 7.
How to Create a Christmas card in Photoshop
In this tutorial, you'll learn how a Christmas card can be designed with Photoshop. You will learn, how to create Christmas ball, draw snowflakes, customize brushes etc. Let's get started!
In this tutorial artist will teach you how to create a similar type of effect using a letter or number. You'll learn some awesome techniques. Give it a go!
This tutorial will teach you how to create Starcraft theme wallpaper.
Create an Awesome 3D Text Effect
In the tutorial, I will show you the processes I used to Create an Awesome 3D Text Effect with Abstract Brush Decoration in Photoshop. This is an intermediate tutorial so some steps can be tricky, but why not have a try
WordPress is a highly popular blogging platform. Over the years the platform has seen countless improvements and today, it continues to improve the user experience it offers. Apart from being reliable and secure, WordPress offers great visual appeal through its countless themes.
Web developers have contributed a lot to WordPress by building themes for the platform. By spending time on visualizing a theme and then coding it, developers can share their brilliant blogging designs with other WordPress users. If you are a WordPress theme developer looking for a way to reduce the time spent on coding, check out the brilliant website WP-Snippets.
WP-Snippets is a free to use website with a fitting name. The site provides visitors with different snippets of code for WordPress themes. These snippets correspond to a variety of functions; ranging from "Remove Metadata Generator" to "Change Login Logo" you will find many snippets.
The snippets are listed in a tag cloud on the site's homepage. You can use the search bar to filter the snippets and find the one you are looking for.

Clicking on your snippet will take you to its page.
The snippet's page includes a brief description of the code. Scroll down and you will find the code itself. If any additional explanations or special instructions on how to use the snippet are required, they are included under the code.
You can share the snippet with your other WordPress developer friends via sharing the snippet's URL or directly Tweeting it using the button provided on the top right.
In conclusion, WP-Snippets is a must-bookmark website for WordPress theme developers.
Adobe Photoshop is a perfect tool to add flare to images and give them some nice effects which increase the beauty of that image. One of the commonly used effects in Photoshop is the lighting effect which is mainly used for creating the feeling of creativity, technology, magic, and fantasy.
In this post we have collected 35 most useful tutorials about creating lighting effect in Adobe Photoshop and we are sure after going thorough this post, you will be able to glow your artwork in a very creative manner. Feel free to share your opinion with us.
Create an Adrenaline Filled Car Chase Scene
In today's tutorial we are going to use many techniques to turn several stock photos into an action packed car chase scene with explosions and weapons fire.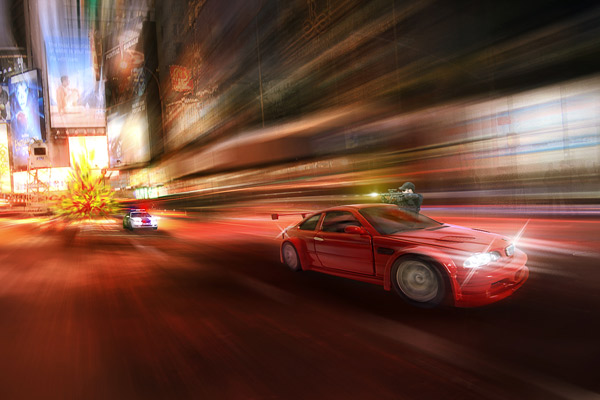 Design a Coldplay/Apple Inspired Portrait in Photoshop
This tutorial will show you how to create a portrait based on the style of the latest Coldplay / Apple Ad featuring "Viva la Vida"
Create a Futuristic Music Player Interface in Photoshop
This tutorial requires extensive knowledge of shading and lighting, as well as a lot of time. If there's one thing I learned, it's that lighting is the most critical aspect of these types of pieces. In today's tutorial I will show you how to create a futuristic non-functional interface.
In this tutorial I will show you how to create an easy and super quick text effect in Photoshop. We will play with Brushes, Blend Modes, basic filters like Blur and Liquify, and also text.
Creating 3D Lighting Effects Using Cinema 4D and Photoshop
In this tutorial we will go over how to create 3D text in Cinema 4D, render it out in regular and wireframe mode, then import it into Photoshop to add the final touches, which include all sorts of lighting effects.
This tutorial explains how to create a energetic, vibrant, colorful wallpaper.
How to Create a Realistic IES Lighting Effect
In this tutorial, artist will show you how to create a realistic IES (photometric) lighting effect. We'll be using Photoshop CS4 as well as some free plugins and software. Let's get started!
Mysterious hell gate, the connection between two worlds
This tutorial was comprised from some scene from that film. You may use this technique to create a poster for a similar film.
Create Abstract Landscape Art From a Photograph
Today, artist will demonstrate an alternative way to create abstract artistic pieces using a photo merely as inspiration. We will start by choosing and simplifying its components and then proceed to apply a retro-futuristic look. Let's get started!
Create a retro sci-fi movie poster
In this tutorial artist will show the simple process that is behind this composition. We will deal in particular with blending options and textures customization. This tutorial can be followed by Photoshop newbie without problems.
Create Awesome Abstract Photo Effect via Layer Masking and Custom Patterns
In this tutorial, artist will show you how you can Create this Awesome Abstract Photo Effect via Layer Masking and Custom Patterns. Some steps can be a little tricky, but why not have a try!
Change smoke into a dazzling unicorn
Use Photoshop CS5′s New feature – Puppet Warp to create a sexy Unicorn out of smoke, and add dazzling effects to finish!
Create a Magical Flaming Heart Illustration in Photoshop
The Warp feature in Photoshop can be a powerful tool if you know how to use it correctly. In today's tutorial we will demonstrate how to combine a few stock images to create a magical flaming heart illustration. Let's get started!
How to Create a Highly Detailed Hi-Tech Power Button
With this tutorial we will create a hi-tech style button that can be used in splash pages, applications or Powerpoint presentations. We will use Illustrator to create complex vectors and Photoshop to develop realistic effects.
Lighting effects are an effective way to add a detailed illustrative touch to a photo. Justin Maller demonstrates how to go about combining several lighting techniques
A step by step beautiful tutorial.
In this tutorial, we learn how to recreate that solar eclipse image in a slightly retro style using nothing but photoshop.
So in this tutorial we will create a composition from scratch first in Illustrator where we will play with shapes and the Blend Tool. After that in Photoshop we will add the light effects and the pattern overlay.
Here's a great effect that will bring some energy to your subject. We'll be wrapping this singer's arm with a glowing beam of light, adding sparkles, and adjusting the colors to make it all seem magical.
Design a Beautiful Cosmic Space Scene in Photoshop
Follow this step by step walkthrough of its creation in Photoshop, from the making of the planets, to the vibrant nebula and bright lens flares.
Design a Vibrant Blackberry Inspired Ad
The Blackberry Loves U2 TV promo features some awesome, bright and vibrant lighting effects. Let's take a look at recreating the style to produce a Blackberry inspired design of our own.
Create an Intense Movie Poster
In this tutorial, we're going to create a poster for a fictional movie called "Fugitive." The movie is meant to be a suspenseful thriller that features one's escape under the cover of darkness, despite man's attempt to capture the lone hero. Thin and cheesy plot? Check. Awesome opportunity to better your PSD skills? You got it!
Create a Simple Vibrant Light Effect in Photoshop
Starting away from the computer, we'll use a few household objects to create some photographic resources. Then follow this Adobe Photoshop tutorial to manipulate the images with various tools and techiques to produce a vibrant design made up of intense light streams effect.
This tutorial will teach you to create stunning effects using glows, loads of Colour Dodge, and lots and lots of neon – hot pinks and lemon yellows are prominent here. You'll also learn how to utilise white in all the right places, so that white areas look less like negative space and more like the result of added energy and light.
Add A Sparkle Trail To A Photo
In this Adobe Photoshop tutorial, we're going to learn how to add a sparkle trail to a photo, using a custom Photoshop sparkle brush we'll be creating.
In this tutorial, we're going to see how to engulf text in an explosion of light and color.
A step by step Fantasy Art Photopshop Tutorial.
Change your text into magic glowing sparkles
In this tutorial you learn how you can convert your normal text into magic glowing sparkles. Using stroke path and layer style it isn't so hard to get this texteffect
Design A Very Hot Winter Composition
A detailed and step by step tutorial.
This tutorial will mainly explore the brush engine and you will also learn how to create custom brushes and use them effectively, combined with some interesting layer styles.
This tutorial will teach you how to create creative and stylish fire lines in 10 easy steps!
Creating Energy Spheres in Photoshop
A step by step and beautitulf tutorial how to Creating Energy Spheres in Photoshop.
A wonderful step by step tutorial, in this you will learn how to create an abstract lightbulb.
This tutorial will show you how to create a fireworks effect using only Photoshop. I will not use any other images, everything will be created within photoshop.
Finding text on a webpage is something that can be helpful in a number of situations. In the web browser Mozilla Firefox you can search for text on a webpage by using the "Ctrl+F" key combination. This pops up a mini-window at the page's bottom from where you can search for a word or phrase. You can use the "Highlight All" option to highlight your search item wherever it is on the webpage.
Suppose you want to view the context each search item is used in. You would have to jump from one highlighted search item to another. This can be a problem especially if the results are many and spread out far over the webpage.
A solution to this is presented by "Find All."
Find All is a browser add-on for Firefox. With the add-on installed, the "Highlight All" option changes to "Find All." This "Find All" option lists all the search results in an easily navigable view which helps you compare the results.
This view also eliminates any special formatting and displays the results in simple text, making the comparison much easier.
You can access the add-on's options to modify the font size in which the results are displayed.
The options also let you change the highlighting color, choose to alternate the row background color, and display the "Highlight All" option along with the "Find All" option.
For people who use Firefox's search feature a lot, "Find All" will prove itself to be a very useful tool. Get "Find All" Firefox Add-on.
All computer owners want their machines to startup as fast as possible. Unfortunately there are some programs that initiate with your startup and slow down the overall process. A way out of this would be to put your computer in Hibernate / Sleep mode and never shut it down. But this technique does not speed up the startup – it only avoids it.
The best way to speed up your computer's startup, without changing its hardware, is to deselect some startup programs. One way to do this is pressing the "Windows Logo + R" key combination and typing in "msconfig" then heading over to the Startup tab.
From here you can deselect any startup entries you wish. But as you can see from the image above, you cannot tell which process is a necessary one and which process you can safely deselect.
All this is why Soluto is the best solution to eliminating startup programs in Windows.
Soluto is a freeware program for Windows operating systems. Although no system requirements are specified on the website's page, I tested the program on a Vista 32 bit machine and it ran flawlessly.
Once you download and install Soluto, it will require you to restart you computer. During the computer's startup, Soluto will run in the background and analyze how much time each startup service is taking. Then when you run Soluto, this analysis will be displayed.
At the top you can see an overall analysis of your startup i.e. the total time taken by the startup and the number of startup programs.

In the center of the program's window you will see startup programs categorized and color coded into three sections.
The first is the green section. Over here Soluto places startup program which you can easily remove from the startup list. Simply hover your mouse pointer over the green section and it will expand to display an individual startup program.
You will be able to see the application's name, description, and the time it takes to run. Keep your mouse pointer on the app for a little while longer or bring it down to the link that says "More" and you will see different ways in which you can tackle this startup program: you can either deselect the program by choosing "pause," delay its startup by choosing "delay," or keep it in the startup list by doing nothing or clicking on "In Boot."
The next section of startup programs is orange colored. It operates in the same way as the green section. But here, instead of programs that can safely be removed, a mixture of necessary and unnecessary programs can be found. Deselecting them is up to the user who can judge their importance on his own.
Finally, the gray category lists startup programs that are necessary for the system to run error-free. You should not tamper with the apps located in this section.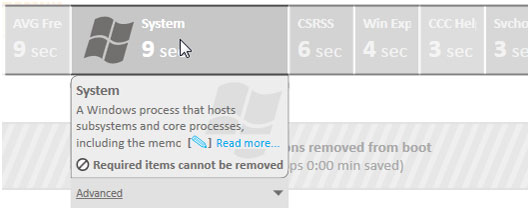 While you deselect apps through Soluto, you startup statistics on the top of the program keep changing. At the end of your modifications, you can view how much of an impact your changes have had on the startup time.
The program will also display another set of applications in the bottom right of the gray section. The apps in this newly created blue category will contain all the apps you deselected. From here you can choose to include any programs you had previously excluded from the startup process.
Once you have finalized everything, give your computer a restart and experience the new speed yourself. Soluto will monitor the new speed too and will record the results in a log. You can view the startup times history from the "History" button located in the bottom left of the program.
Overall, Soluto is a greatly user friendly and highly useful app which all Windows users need. Check out Soluto.
I use two computer machines – a desktop and a laptop. I run Windows on both. Whenever I create a new file on either machine, I back it up on the other. Many people use this system of manual backup which is quite time consuming. A much better alternative is automatically file synchronization and one of the best programs for this is Bvckup.
Bvckup is a program currently in its beta that works with Windows operating systems. The program has a number of interface and functionality features which set it apart from applications that perform the same auto-synching tasks.
After installing the program you can view it monitor your files from your System Tray.
When you open Bvckup, its window program readjusts to the compact view by default to occupy the minimum space on your desktop.
To enable the backing up a folder, you simple add a new backup job. This means selecting a name / description of the backup and selecting the source plus destination folders.
If there are files in the source folder which you want excluded from the synchronization process, Bvckup lets you specify these files.
You can also choose between scheduled backup or automatic backups whenever Bvckup picks up a change in the source folder. The program detects changes in the source folder by first inspecting changes in the local hard drive area. If no local changes are found, it saves time by not even reading that part of the hard disk thereby eliminating unnecessary spin-ups of idle hard drives. Moreover while backing up files, whenever possible only the modified portion of the file is copied instead of the entire file – this saves time.
A complete backup log is maintained which details all errors that occurred, if any.
In conclusion, Bvckup is a competent and user friendly file backup solution for Windows. You should hurry up in getting it because the program is only free as long as it in beta.
You can get Bvckup from www.bvckup.com
Over the course of your computer usage, data accumulates and sometimes it is spread out over different parts of your hard disk. Consequently your computer has to search for different places on the disk to access data. This is called disk fragmentation and considerably slows down your computer's overall performance.
On regular hard disks, regular disk defragmentation is highly advised. This process rearranges data and makes it easier for the computer to find what it is looking for. Windows Vista and 7 have built-in defragmentation features but for somebody new to the process, Smart Defrag is the best tool.
Smart Defrag is a tiny Windows compatible utility sized at only 1.8 MB. When you run the program, you can view all your hard drive partitions. Click on the partition you feel is responding slowly, and perform an analysis to see if any files require defragmentation.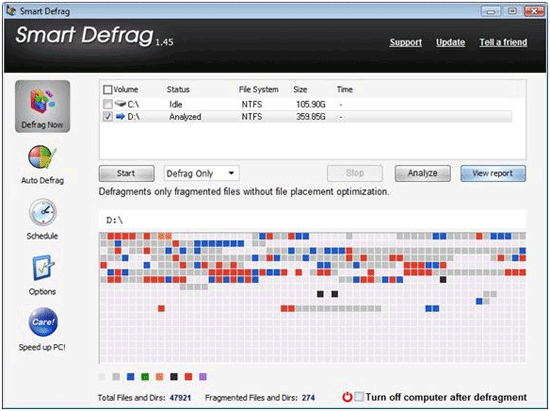 Once you click on "Analyze" your partition is thoroughly tested and the number of files that need defragmentation are shown.
Click "Go" on this window to begin the defragmentation process which will rearrange data on the drive.
If you would like a shortcut for the abovementioned process, you can simply access the program's "Auto Defrag" option which defrags your hard drive in the background, while your system is idle.
Auto Defrag will be the preferred choice for many people who used their computer almost the entire day.
Scheduled defragmentation can also be set up so that your drives are timely defragmented and you always experience optimum hard drive performance.
Having used a number of defragmentation tools, I found Smart Defrag to be a competent and speedy option to go with. Whether you are new to defragmentation or are familiar with it, Smart Defrag will excellently serve your needs.