Mobile Apps
For the sport lovers this post will be a treat for them. In this post, we are showcasing 16 best and wonderful free iPhone Sport Apps for your iPhone. All these sport applications are easy to use and easy to access. These free and wonderful iPhone sport applications give iPhone user a superb and amazing experience.
Smartphones like iPhone provides their users so many interesting and exciting applications and in this list sport applications is one of them. And these days sport applications is very popular in market. Almost every sport is present in this iPhone sport application. Check this out and get to pick one. Do let us know what you feel about this round up. We hope that you will like this collection. Enjoy!
FOX Sports brings you the most comprehensive sports app available. Why download multiple apps for each of your favorite sports, teams, your local sports market, plus apps to listen to sports radio? The FOX Sports app does all of this for free!
Are you a TRUE sports junkie? Do you feel embarrassed or ashamed when you don't know a little piece of trivia? Use Brainscape to become the smartest pro sports fan in the room.
The Best Sports App. Ever! theScore has been completely re-designed for the iPad and iPhone to give you the ultimate mobile sports experience. It is the must-have fantasy sports utility.
NBC Sports Talk brings you the latest news, rumors and analysis for all your favorite sports – all in one place.
CBS Sports Fantasy Football for iPad
The official, free CBS Sports Fantasy Football for iPad app is updated and redesigned for the 2012 season to give you all the tools you need to dominate your league this season.
It's even easier for you to manage your fantasy team anywhere, anytime: Set your lineup, add & drop players, view detailed player stats, rankings and trends. Plus get the latest fantasy player news customized for your leagues; as well as live access to the Fantasy Football Today live show.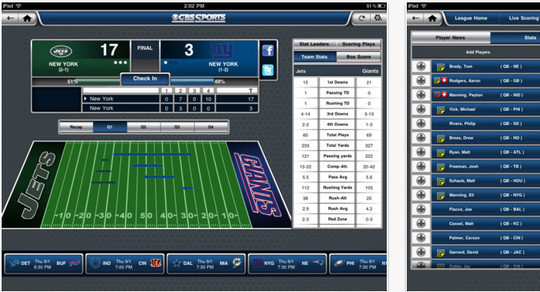 Sportacular 3.0 is designed to give sports fans their scores, news and stats as quickly as possible in a clean, beautiful layout. Experience fast, personalized, and easy access to live scores and information on your favorite teams, players, and leagues. More Yahoo! Sports content has been added throughout the app to make Sportacular the single tap answer to all of your sports needs.
MLB PrePlay is the official prediction game of Major League Baseball. Use it to predict the outcome of every game and every at-bat of the 2013 Season!
ACC Sports Official Application of The Atlantic Coast Conference
ACC Sports is your official source for Atlantic Coast Conference sports on the iPhone & iPad.
Mobile PWTorch will keep you up to date with what's happening in the world of Professional Wrestling from the recognized leader in pro wrestling journalism since 1987. A passionate staff of expert reporters and analysts provide not just the headlines of the day, but analysis to put those stories in perspective.
ESPN ScoreCenter brings you scores, news and standings from sports leagues, teams and players around the world. The new app makes it easier than ever to follow your favorite teams wherever, whenever. Stay up to date on the latest scores with personalized scoreboards and alerts. Follow the nation's top stories with in-depth coverage and analysis.
The official ESPNcricinfo App brings you the most comprehensive cricket coverage from around the world.
Watch live PGA Tour golf from your iOS devices with Golf Channel's Golf Live Extra app; find out what's on and view the schedule for upcoming tournaments.
CBS Sports — Your go-to source for NCAA College Basketball Tournament coverage and more.
FCBWorld updated with new design, services and exclusive content. Don't miss a single piece of news about the Club and download this official Club application. Download the latest update and begin enjoying all the Club news as it happens – the first team, the sections, player profiles, complete stats history and honours…
Call It: Football – Play in Real-Time
Call It: Football is a REAL-TIME game that allows you to play as you're watching US professional football LIVE on TV. It makes watching live football more competitive, social and fun.
College Football Scoreboard gives you up to the minute college football scores, schedules and all the latest news stories, for the following conferences: ACC, Big 12, Big East, Big Ten, Conference USA, Mountain West, Pac-12 and SEC- plus Top 25 schools.
With this collection, we want to share some amazing and extremely handy apps for entrepreneurs that they can use from their iPhones. Everybody believes that an entrepreneur organizes a business venture and assumes the risk for it and he must have to create an impact with a budget as low as possible. Using different applications on smartphones and on iPhones has become a common trend and therefore, many entrepreneurs are also using different apps on their iPhones as they have also become tech-savvy.
In this collection, you will find a list of 12 free to use iPhone apps that are especially designed for entrepreneurs keeping their needs in mind. Here is the complete list for you. Hope you will enjoy it.
Venmo is the #1 rated app to pay people. It's fast, secure and free.
Dragon Dictation is an easy-to-use voice recognition application powered by Dragon® NaturallySpeaking® that allows you to easily speak and instantly see your text or email messages. In fact, it's up to five (5) times faster than typing on the keyboard.
Get peace of mind while traveling, by having all your plans in one place. No more frantic searching for confirmation emails in your inbox – or worse yet – hunting down that pesky manila folder. TripIt is an easier way to organize and share travel.
Say "hello" to friends and family with an instant message, voice or video call on Skype for free. There's so much you can do, right from the palm of your hand.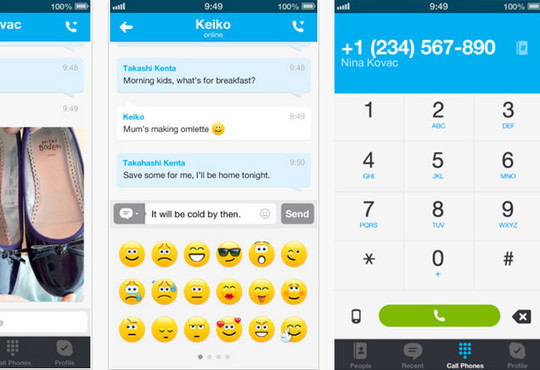 Consistently rated as the #1 app for business travelers and road warriors, Expensify does expense reports that don't suck! We do this by automating your entire expense reporting process.
Navigate your world with Google Maps, now available for iPhone. Get comprehensive, accurate and easy-to-use maps with built-in Google local search, voice guided turn-by-turn navigation, public transit directions, Street View and more. Use Google Maps to discover great places to eat, drink, shop and play, with ratings and reviews from people you trust. Sign in to save your favorite places and quickly access all your past searches and directions from your computer, right on your phone.
Keeping up with friends is faster than ever, See what friends are up to, Share updates, photos and videos, Get notified when friends like and comment on your posts, Text, chat and have group conversations, Play games and use your favorite apps.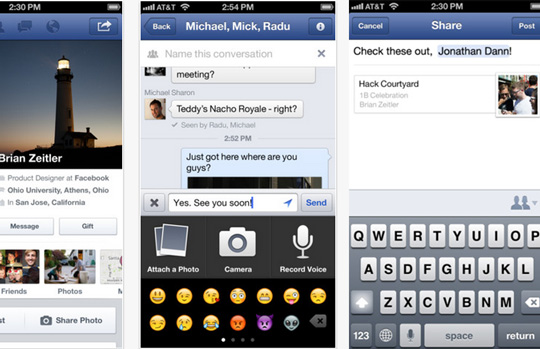 Slice – Save Money & Track Your Packages
Shop online a lot? Discover what many users say is "a must-have app for online shoppers".
Get on-the-go access to your professional network with the LinkedIn app for iPad and iPhone.
Eliminate the frustration and save time when joining conference calls from your iPhone with this simple, mobile business app. MobileDay integrates with your iPhone's Calendar, Dialer, FaceTime, Email, text messaging (SMS), Maps, and Contacts to provide you with One-Touch access into any voice conference call.
Effortlessly discover stories based on your interests. As soon as you sign up with Facebook, Twitter or G+, we start learning about you and connecting you with the most interesting stories. Prismatic is a smart personal newsfeed with simple layouts that creates a delightful reading experience.
Capture and share your ideas with Catch! Jot down text, snap a photo, or record voice notes on the go, then sync them across all your devices with a Catch.com account. Organize your notes into Spaces and share those Spaces with your friends and colleagues.
Just got your new iPhone? Or looking for some health apps for your iPhone that can assist you in staying fit? If your answer is yes then look no further. In this collection, we are showcasing a list of 13 useful and most widely used iPhone health apps to help you stay fit. With our busy life schedules, we hardly have got time for exercising, therefore neglecting our health. For this reason, it is good to have some health apps on your iPhone that can help you keep track of your health.
Here we are presenting some iPhone apps that you can download on your iPhone and can take advantage of them to stay fit. Many mobile users spend their leisure by playing games on their phones whereas it is far better if they spend their time with such apps that can have beneficial effects on their health. Enjoy!
The most popular running app on iTunes just got even more motivating. Now you can add friends and see how you stack up. Keep tabs on who's logging the most runs and miles, then get out there and beat them.
RunKeeper – GPS Track Running Walking Cycling
Join the more than 14 million people who are using RunKeeper to turn their phone into a personal trainer in their pocket! Track your runs, walks, bike rides, hikes, and more using the GPS in your iPhone.
Fooducate – Diet Tracker & Healthy Food Nutrition Scanner
Lose weight, eat real food, and track your progress. Fooducate grades your food, explains what's really inside each product, and offers healthier alternatives. We've got the largest database of UPCs – over 200,000 unique products and growing.
Most people just know the "Basic Crunch" … it's SO BORING and most people do it wrong. Ab Workouts Free will TALK you through lots of fun & effective exercises to get those abs in shape… and for FREE!
Run with Map My Run – Workout Tracking and Calorie Counter
Built to help runners, joggers, and walkers of all ability levels and ages. Easily track pace, distance, calories, time with audio alerts and much more!
Calorie Counter & Diet Tracker by MyNetDiary
MyNetDiary is the fastest, easiest, and smartest iPhone calorie counter. The list of features is large – over 30 screens, including FREE barcode scanner. Most importantly – MyNetDiary is very easy to use.
Ready to get serious about weight loss? Lose It! can help you make your goal a reality. Chosen by millions, Lose It! provides a seamless, supportive weight loss program. Download Lose It! today for a personalized and connected experience.
HealthTap — free doctor answers to medical and health questions
HealthTap is the best and fastest way to quickly get great answers and very useful tips from reputable doctor anytime, anywhere. And astonishingly it's all free!
Hearing Loss Myth: Hearing loss affects only "old people" and is merely a sign of aging. Actually it is the reverse of what most people think. The majority (65%) of people with hearing loss are younger than age 65. There are more than six million people in the U.S. between the ages of 18 and 44 with hearing loss, and nearly one and a half million are school age. Hearing loss affects all age groups.
This is the free, ad supported version of Calorie Tracker and does not include synchronization between devices or with the LIVESTRONG.COM website. If you upgrade to the full version later, your data will be migrated automatically.
Take Weight Watchers Mobile along to help you stay in control and make smart and satisfying food choices. We've added brand new interactive tools so you can tap into the stick-with-it power of the new Weight Watchers 360 program anytime, anywhere.
FertilityFriend.com's Free Menstrual Calendar is a simple and easy to use calendar designed to predict your menstrual cycles and possible fertile days.
Period Tracker is the SIMPLEST period tracking app and now, it's CUTER than ever!
If you set the target to reduce some weight or burn some calories but the problem is that you do not have much time for this purpose. So, you do not have to worry anymore because in this collection, we are showcasing some remarkable and free iPhone Apps that will help you lose those extra pounds. You can easily achieve your fitness goal with these free and amazing iPhone Apps. We know that putting on weight is quite easy as compared to losing it, and this tough task becomes even more tougher when you have a tough schedule.
With this collection, hopefully everybody will find something interesting as well as useful for herself or himself. We hope that you will like this assortment. Feel free to share your opinion with us via comment section below. Your comments are always more than welcome. Enjoy this amazing collection everyone. Let us have a look!
Ready to get serious about weight loss? Lose It! can help you make your goal a reality.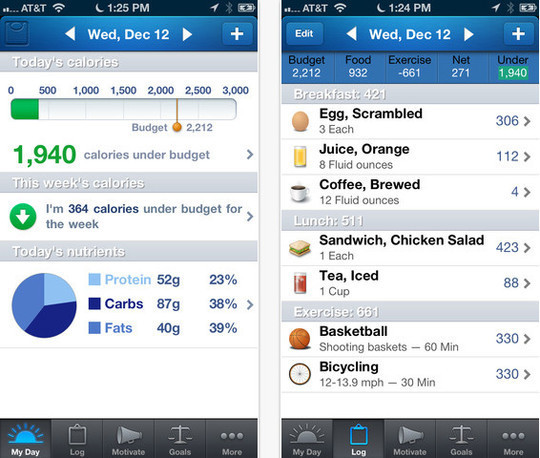 YOUR IDEAL WEIGHT is an app that estimates what you should ideally weigh, based on your Body Mass Index (what doctors recommend) and what people would like to weigh, based on height and age.
Fitter Fitness Calculator & Weight Tracker
Personal Daily Weight Tracker and BMI, BMR, Body Fat% & Waist to Hip Ratio Manager.
Take Weight Watchers Mobile along to help you stay in control and make smart and satisfying food choices. We've added brand new interactive tools so you can tap into the stick-with-it power of the new Weight Watchers 360 program anytime, anywhere.
The 40.30.30 iPhone App lets you quickly calculate the percentage of calories in a food from the three macronutrient groups: carbohydrates, protein, and fat.
The most popular software pedometer for the iPhone and iPod Touch is back in the App Store and avalable world-wide.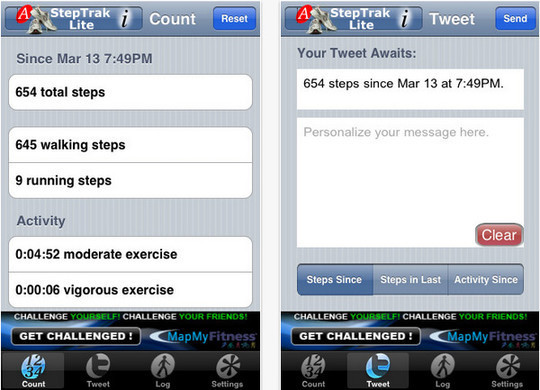 This is the Lite Version with limited functions. To enjoy all functions, please download A+ Weight Manager — Track your ideal weight!!
Calorie Counter, the diet tracker from the #1 health website Everyday Health, makes reaching your goal weight easier than ever! With this calorie and fitness tracker, you can log your weight, count calories and important nutrients, stay up-to-date with a live feed of weight-loss tips, access to over a thousand healthy recipes, and get motivated with in-app support groups of thousands of other dieters!
The Ultimate Cardio Workout Companion. Map your outdoor runs and bike rides with GPS. Record your time, distance, and speed.
If you have a health condition like diabetes, information about what you eat can be important. GoMeals® was developed to help you make healthy lifestyle choices at home or on the go. Now GoMeals includes tools for eating healthy, staying active, and tracking your blood glucose levels.
ULTIMATE Exercise Journal, 320+ Exercises
Body Fitness is the Top FREE Fitness App in over 35 countries – USA, UK, Canada, Italy, Germany, France, Australia… download Body Fitness and get into shape today.
The most incredible Fitness application and completely free. Over 250 exercises, more than any other app. Create and log your own routines or choose from 120 programs, ranging from 6 to 60 minutes and suitable for any fitness level.
Fitocracy motivates and empowers you to succeed at fitness and level up in real life. We make exercise fun! Track your workouts, earn points, unlock achievements, beat quests, and slay the laziness dragon. Join the best fitness community on the planet and become the person you were meant to be.
The free version, GAIN Strength, builds personalized workout programs from 350+ exercises and a variety of popular training styles – strength training, plyometrics, calisthenics and yoga. Workouts are algorithmically tailored to your fitness level, goal, equipment and schedule (in real-time).
Free fitness GPS game for weight loss, better health, strength training, mPoints & Kiip rewards – daily goal to exercise, lose weight & gain motivation
Calorie Counter & Diet Tracker by MyFitnessPal
Lose weight with MyFitnessPal, the fastest and easiest to use calorie counter. With the largest food database of any calorie counter (over 2 million foods), and amazingly fast food and exercise entry, we'll help you take those extra pounds off! There is no faster or easier diet tracking app than MyFitnessPal. Period.
Let this app help you keep track of your weight and view your progress visually.
Weight Watchers Barcode Scanner US
The Weight Watchers Barcode Scanner uses the latest technology to take the guesswork out of shopping for foods that will help you stay on track. Whether you're in the supermarket, at home, or on the go, you can easily scan foods to help make smarter decisions. Just scan a barcode with the app to find the PointsPlus value (all you need is an internet connection).
Lose weight, eat real food, and track your progress. Fooducate grades your food, explains what's really inside each product, and offers healthier alternatives. We've got the largest database of UPCs – over 200,000 unique products and growing.
This is the most comprehensive weight loss application that consists of weight loss simulation (on your own photo!), a personalized BMI chart, a customized exercise plan, and a diet recommendation all in one app. Some of the main features include:
As we all know that iPhones have many varieties of apps and one of them is iPhone Weather App so if you want to check the weather forecasting you can easily do this with your iPhone app. For this purpose, we are showcasing 20 best and free Weather iPhone App that will surely help and please you. We hope that you will like this assortment. Feel free to share your opinion with us. Enjoy!
Access the world's largest network of real-time weather sensors for forecasts, alerts and more. The Fastest and Most Targeted Alerts. More Accurate Forecasts. Neighborhood-level Weather in Real-Time. Come experience the WeatherBug difference!
The Weather Channel provides you with the most accurate and relevant weather information whenever, wherever, and however you want it. With over 200 meteorologists and, our ultra-local TruPoint(sm) forecasting technology, we provide you with information you need to plan the best day possible.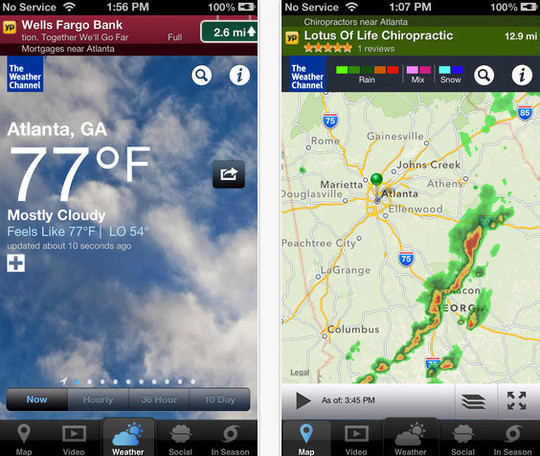 Get current and precise weather conditions (METAR) as well as weather forecasts (TAF), which are used by pilots for their flight preparations. You can choose worldwide airport weather stations from the built-in database by either name, ICAO code, or based on your current location. Data will be shown in its original format or fully decoded into easy understandable texts.
MyRadar is the fastest, easiest-to-use, weather application that displays animated weather radar around your current location, allowing you to quickly see what weather is coming your way. Just start the app, and your location pops up with animated weather, allowing you to easily see if rain is headed your way.
Is it warm at Baker Beach? Should I wear layers in the Mission? SF Climates displays the weather in San Francisco's microclimates on a pocket-sized map of the City.
AccuWeather for iPhone is free and users tell us it is their "Go-to weather app." From what to wear to how to travel, they say they, "Can't live without it," and it is, "Better than any other."
Super Weather, the new extraordinary Clock and Weather app with weather forecasts, HD animations, and changeable skins. Look no further – this is the most exciting and refined Clock & Weather app for your iPhone or iPod Touch!
Never dress for the right weather? This application will tell you what you should wear based off of the weather where you are.
Abc27 is proud to announce a full featured weather app for the iPhone and iPod touch platforms.
Quakes – Earthquake Notifications
Want to see the latest earthquakes? Download this app to visualize and get notified of earthquake data. Browse the seismograph chart, map or list to show when and where an earthquake has occurred. You can sort earthquakes alphabetically, by time, by magnitude or by distance at any location.
Need to know when the sun goes up and down where you are right now? This application tells you that. You can also look into the future when the sun goes up and down on a certain date and at a particular location.
Temperature Finder quickly and accurately calculates the outdoor air temperature at your current location.
Quick Temperature – The Free Thermometer
Quick Temperature is a thermometer useful for all temperature-reading occasions. Simply press the sensor and watch Quick Temperature work its magic and give you immediate results.
Realtree's Weather Base Station
The Realtree Weather Base Station application is a first of its kind mobile application, created for hunters, fisherman, and other outdoorsman in the United States. The application provides key information for fisherman and for hunters to plan their hunt. Users can get radar and weather information including moon phases for free.
Professional Weather Report application. Live weather backgrounds display, Global cities weather report, and the world clock display.
The new MSW mobile app provides long range surf forecasts for over 2,500 beaches across the globe. Our forecast includes the MSW star rating, swell height, swell period, swell direction, wind strength, wind direction and temperature. MSW Mobile Pro users will get additional attributes; wind gust speed, atmospheric pressure, forecast accuracy % and benefit from an additional 3 days (extending the forecast to a full 10 days).
Weather HD, the most beautiful and enjoyable weather app ever. Stunning 3D weather maps – depicting cloud cover, heat and radar like you have never seen before.
Sunrise Sunset Lite is a simple and easy to use appliation that displays important sun times such as: Sunrise, Sunset, Civil twilight begin(Dawn), Sun transit(Solar noon) and Civil twilight end(Dusk)
ForeFlight Mobile is the critically acclaimed flight planning, flight support, and electronic flight bag ("EFB") app for pilots. ForeFlight is FAA QICP certified.
Best selling weather radar app now FREE! Simple, fast, easy to use, gorgeous animated graphics. Includes full animated coverage of the entire U.S., as well as the latest radar imagery across the globe overlaid on three styles of scrollable, zoomable maps.
This is the twenty first century; this is the world of advanced technology. You know every day new technology is introduced and every technology is better and faster than the old one. iPhones are the latest trend and they are very popular because iPhones are smart, elegant and if you use iPhone apps in the right way they make your life easier. There are many iPhone apps that every parent should have because iPhone is the technology that they want their children to use in the most appropriate manner.
In this post,we are presenting 9 iPhone and iPad free apps that every parent should have for their children. We hope that this collection proves to be the best and will help your child. Enjoy!!
SimpleDraw allows for quick and easy drawing and doodling. Designed with instant usability in mind, this application will allow you to start drawing right away without any bothersome start menus, splash screens, or ads.
MyHomework keeps students organized.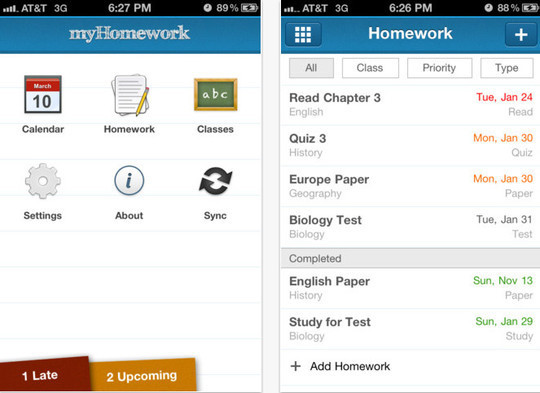 Buddy the Bus #1: There's Always Tomorrow
Hop aboard and enjoy the ride with Buddy the Bus as you listen, read and learn. This charming story, introduces your child to Buddy — the big city bus with an even bigger heart. Turn story time into a fun, educational and interactive adventure.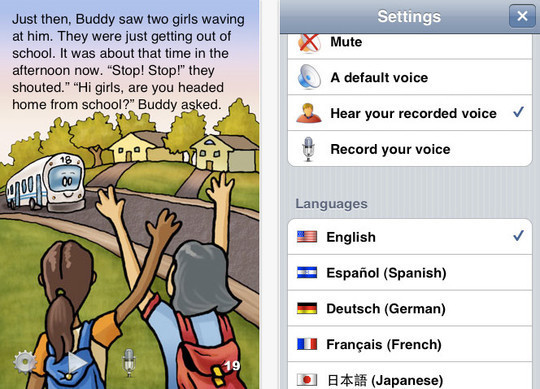 If you are working on phonics for your kids, this is the best application to have.
Shutterfly for iPhone allows you to get mobile with your memories—so you can upload, view and share your favorite pictures, wherever you are.
KidStatz LITE is the free, lite version of the award-winning application, KidStatz. KidStatz provides a quick and easy way to record accurate and detailed information about your child so that you are prepared should the worst happen to one of your children.
Create your own unique shows with animation and audio in real time! simply pick out your actors and backdrops, drag them on to the stage, and tap record. Your movements and audio will be recorded in real time for playback later.
Doodle Buddy for iPad – Paint, Draw, Scribble, Sketch – It's Addictive!
Doodle Buddy for iPad is the most fun you can have with your finger–heck, it's the most fun you can have with all your fingers! Finger paint with thousands of colors and drop in playful stamps.
StoryLines for Schools is an award-winning game of 'telephone' with pictures. Featured by KQED's MindShift in their "10 Awesome Apps for Learning", and by Apple as a "New & Noteworthy" education App. Learn new vocabulary and language concepts that are grade-appropriate, and spark your creativity in a safe, enjoyable manner.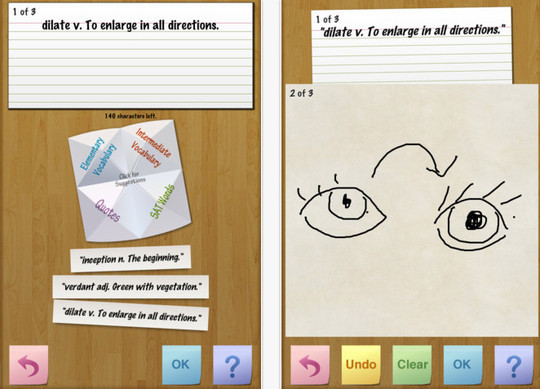 In this round up, we are showcasing a list of free iPhone apps that you can use on a daily basis and improve your daily efficiency. iPhone is not just a mobile phone rather it is more than that. It is a small device that makes your life easier. Furthermore, the iPhone apps are there to further assist this smart device to improve your efficiency. Though there are number of apps available for the iPhone; some are free while some are not. Therefore, sorting through all the available apps is a difficult thing to do.
Therefore, we are presenting free iPhone apps that you can use on a daily basis and make your life more organized and productive. The list contains a variety of apps. So, take a look and enjoy!
Dropbox is a free service that lets you bring all your photos, docs, and videos anywhere. Any file you save to your Dropbox is accessible from all your computers, iPhone, iPad and even the Dropbox website!
thetrainline.com is the UK's leading independent train ticket retailer. Our mobile app helps you check train times (updated throughout the day) and ticket prices as well as buy train tickets for all train companies to all national rail destinations. You can buy train tickets up to 10 minutes before you travel – and collect from over 1000 stations.
Access professional-grade news and market data from Thomson Reuters, the world's leading source for intelligent information for businesses and professionals. Thomson Reuters News Pro for iPhone gives you knowledge to act, with fast on or offline access to the latest breaking news, pictures and video, together with extensive global financial data, corporate information and interactive financial charting.
Wherever you are, Twitter brings you closer.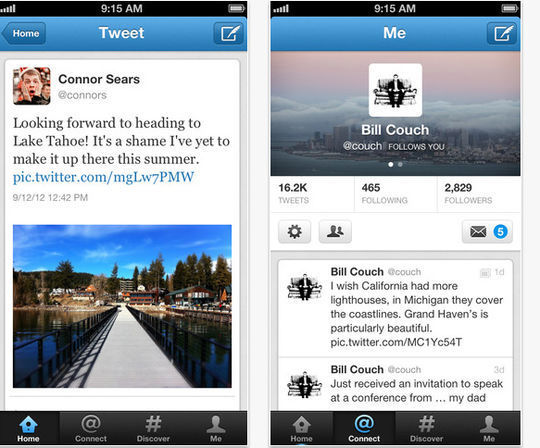 Accessing Wikipedia has never been faster and easier than with Wikipanion, designed for easy, search, navigation and display of Wikipedia entries. Streamline your browsing with history grouped by visit date, and bookmarking that not only bookmarks individual entries, but individual sections within an entry. Featuring intelligent features such as: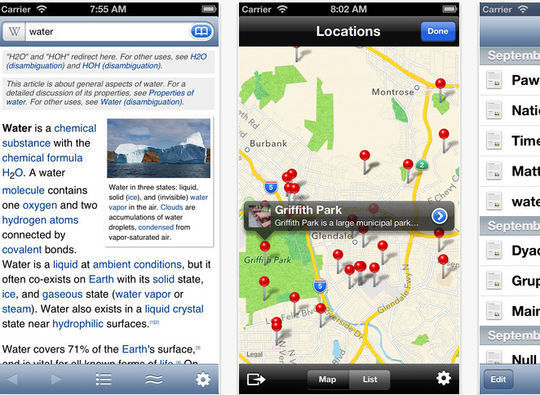 Evernote is an easy-to-use, free app that helps you remember everything across all of the devices you use. Stay organized, save your ideas and improve productivity. Evernote lets you take notes, capture photos, create to-do lists, record voice reminders–and makes these notes completely searchable, whether you are at home, at work, or on the go.
The Kindle app is optimized for the iPad, iPhone, and iPod touch, giving users the ability to read Kindle books, newspapers, magazines and PDFs on a beautiful, easy-to-use interface. You'll have access to over 900,000* books in the Kindle Store. Amazon Whispersync automatically syncs your last page read, bookmarks, notes, and highlights across devices (including Kindle), so you can pick up your book where you left off on another device.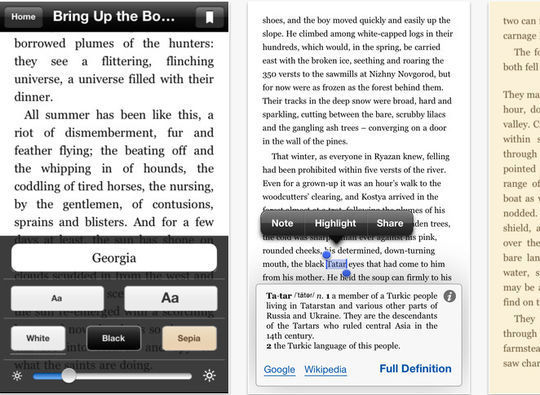 AroundMe allows you to quickly find out information about your surroundings. How many times have you found yourself in need of finding the closest Gas Station? AroundMe quickly identifies your position and allows you to choose the nearest Bank, Bar, Gas Station, Hospital, Hotel, Movie Theatre, Restaurant, Supermarket, Theatre and Taxi.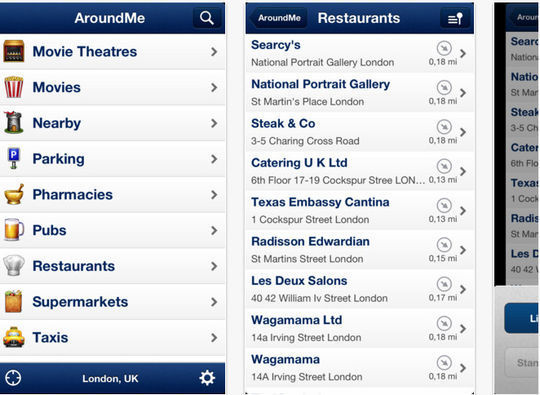 Dictionary.com – Dictionary & Thesaurus
Top-rated app with trusted reference content from Dictionary.com & Thesaurus.com. WORKS OFFLINE – no Internet connection needed when searching words.
Adobe Photoshop Express software lets you use simple gestures to quickly edit and share photos from your mobile device.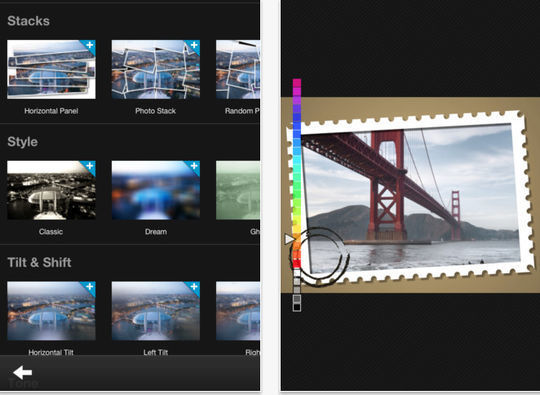 Here we are presenting a great collection of 6 truly amazing and awesome apps for iPad Retina display. I am sure many of you who already have an iPad 3 or those who are planning to get one must be aware of the famous and most amazing Retina Display of the iPad 3.
Retina display is different and better than any other display of any touchscreen present out there. The retina display boasts a resolution of 2048 x 1536 with 3.1 million pixels making it even better than a 1080p HDTV. In this collection, we are presenting 6 awesome iPad 3 apps for the Retina Display. Enjoy!
Fly around the planet with a swipe of your finger with Google Earth for iPhone, iPad, and iPod touch. Explore distant lands or reacquaint yourself with your childhood home. Search for cities, places, and businesses. Browse layers including roads, borders, places, photos and more. Visit the Earth Gallery to find exciting maps such as real-time earthquakes, planes in flight, hiking trails, city tours, and more.
Call, video call and instant message anyone else on Skype for free with Skype for your iPhone or iPod touch.
Netflix is the world's leading subscription service for watching TV episodes and movies on your phone. This Netflix mobile application delivers the best experience anywhere, anytime.
Evernote is an easy-to-use, free app that helps you remember everything across all of the devices you use. Stay organized, save your ideas and improve productivity. Evernote lets you take notes, capture photos, create to-do lists, record voice reminders–and makes these notes completely searchable, whether you are at home, at work, or on the go.
Try a Times Digital Subscription and get your first week free* to enjoy the award-winning journalism of The New York Times with the enhanced NYTimes app for iPad.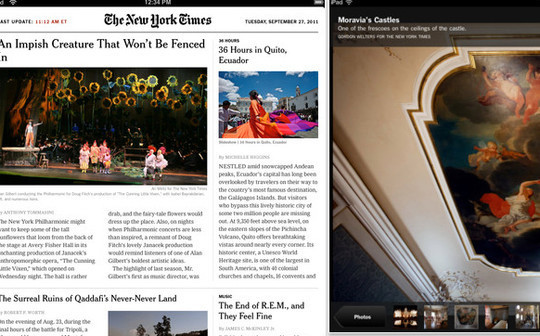 With the plethora of iPad apps available in the market, it has become quite easy to manage your work and improve your productivity. Although people working in the web design and development field spend most of their time on their PCs and laptops and they would hardly get time to check their iPads. But having some handy iPad apps without doubt help them to become more productive by managing their work in a better way.
Here we have put together some useful and extremely helpful iPad applications that will enhance your productivity and let you manage your work quite easily. Some of them are free to download while some of them are paid. Enjoy!
Capture what matters with Catch – now with shared and private Streams, Catch is a free feature-packed app that allows you to capture your ideas and experiences across all your devices with secure auto-syncing to the cloud. Capture photos, jot notes, record voice memos and map your location.
Evernote is an easy-to-use, free app that helps you remember everything across all of the devices you use. Stay organized, save your ideas and improve productivity. Evernote lets you take notes, capture photos, create to-do lists, record voice reminders–and makes these notes completely searchable, whether you are at home, at work, or on the go.
Dropbox is a free service that lets you bring all your photos, docs, and videos anywhere. After you install Dropbox on your computer, any file you save to your Dropbox will automatically save to all your computers, your iPhone and iPad and even the Dropbox website! With the Dropbox app, you can take everything that matters to you on the go.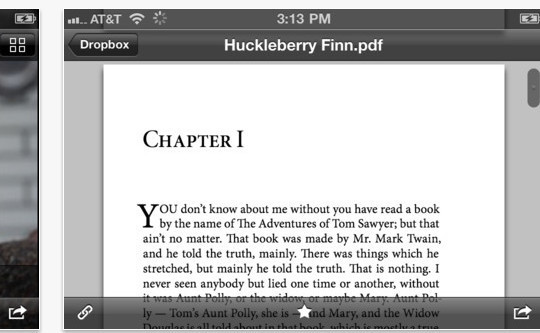 With this app you can turn easily your data into interactive visual charts.
Take your documents anywhere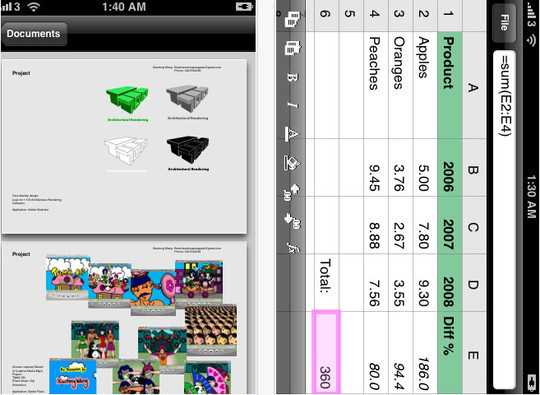 People are using Simplenote to keep notes, lists, ideas and more. Your notes automatically synchronize with your computer and all your devices. It's extremely easy to use. For those who want more power, you can also use tags, pins, versions, and sharing.
Intuitive TaskManager with cloud sync accross iPhone, iPod, iPad and web interface.
At this time, we have come with another electrifying collection of some of the very astonishing iPad apps for web designers and developers. The iPad without a doubt is very helpful in particular for those people whose career are online designing, freelancing and others. We compiled this post especially for web designers, developers as well as for graphic designers because they are the people who are responsible to create visually appealing website while making sure that they work well.
In this round up, you will notice a compilation of some of the Best and Free iPad Apps for web designers as well as developers. These apps will certainly assist in making the job much easier. So, try exploring these apps and choose which one you would opt for.
MedCommons Prototyper is a free utility to assist designers and developers building SplitView layouts and an easy way to present web content on the iPad.
Palettes is a powerful iOS productivity tool for creating and maintaining color palettes. Turn your iOS device into a portable color creation tool. Now you can create a color palette anywhere at anytime. Great for creating color schemes. Grab colors from a photograph, a website, or add colors using any one of 5 color models. Quickly find matching colors with support for many different color schemes.
Dropbox is a free service that lets you bring all your photos, docs, and videos anywhere. After you install Dropbox on your computer, any file you save to your Dropbox will automatically save to all your computers, your iPhone and iPad and even the Dropbox website! With the Dropbox app, you can take everything that matters to you on the go.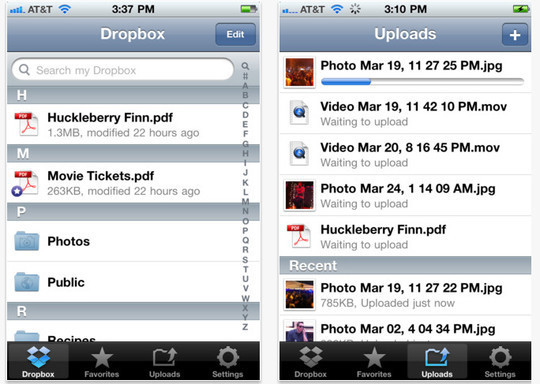 Take Photobucket with you on your iPhone! Upload all your special moments directly to your Photobucket albums. Existing photos AND VIDEOS can be uploaded from your camera roll, and new shots and clips can be uploaded from within the camera app.
Ever seen a great font in a magazine ad, poster, or on the web and wondered what font it is? Whip out your phone and snap a photo, and WhatTheFont Mobile will identify that font in seconds!
Discover is a mobile file manager application that allows you to manage, store, view and transfer files with other computers or iPhones, within the same Wi-Fi network. It also allows you to access local or public servers on the Internet, both within or without Wi-Fi connections.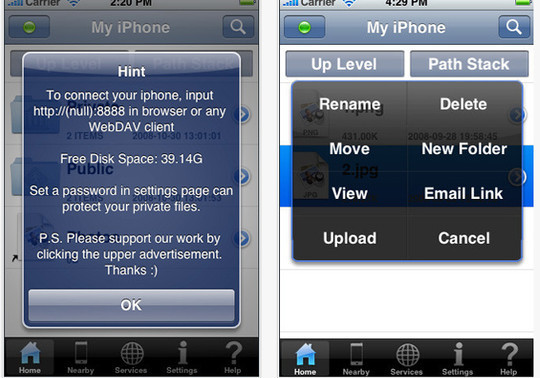 PhotoPad is an easy to use, premium photo editing app. Originally designed for the iPad, PhotoPad now works on the iPad, iPod touch, and the iPhone.
Cool Hunting is synonymous with seeking inspiration. Our global team of editors and contributors sift through innovations in design, technology, art and culture to create our award-winning publication, consisting of daily updates and weekly mini-documentaries.
Quickoffice Lite – view office documents for free
View Microsoft Office files on your iPhone or iPod Touch and manage files on device and in the cloud. Also, try editing features for free and upgrade in-app to save your edits.