Mobile Apps
In the last few months, we have seen so many new and latest iPads, tablets and smartphones that were introduced in the market. All these latest iPads and tablets offer so many amazing features and awesome applications. These days Windows 8 tablets, Android tablets and iPads are very famous and popular in the market. Android tablets are so much popular these days that various companies are producing different types of Android tablets. An android tablet offers some really cool and superb applications.
If you are searching for some essential and cool apps for your Android tablet; then have a look at this collection. In this collection, you will see some awesome and essential applications for your Android tablets. These entire apps are easy to use and when you use these apps it will be the fun. So check this out and get to pick one. And do let us know what you feel about this round up.
Evernote is an easy-to-use, free app that helps you remember everything across all of the devices you use. Stay organized, save your ideas and improve productivity. Evernote lets you take notes, capture photos, create to-do lists, record voice reminders–and makes these notes completely searchable, whether you are at home, at work, or on the go.
Flipboard brings together world news and social news in a beautiful magazine designed for your Android phone and tablet. Once you pick a few topics, your Flipboard is built and you can instantly start flipping through the pages of news you care about and stories and photos friends are sharing. And with Flipboard 2.0, when you find things that you want to save for later or collect into your own 'magazine' on Flipboard, just tap the "plus" + button on any item.
ASTRO File Manager with Clouds
ASTRO Cloud & File Manager has over 70 million downloads worldwide! Organize, view and retrieve all of your pictures, music, videos, documents or other files regardless of where they are located.
With Google Drive, you can store all your files in one place, so you can access them from anywhere and share them with others.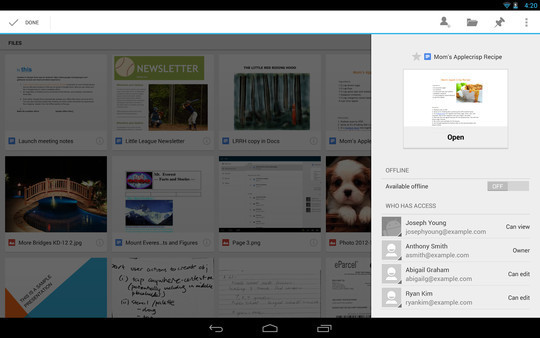 CamCard – Business Card Reader
CamCard reads business cards and save instantly to phone Contacts. It syncs all your cards across smartphones, tablets, computers and the web app.
With Cloud Print for Android you can: Print from any compatible Android device to any Google Cloud Print connected printer, Share a picture or a document from apps like Gallery directly to Cloud Print, Track the status of your print jobs.
Sync Your eBooks—The Kindle app lets you read the same book across devices and automatically syncs where you left off so you can start reading on one device and pick up where you left off on another device. The app syncs your furthest page read, bookmarks, notes, and highlights between Android, PC, Mac, iPad, iPhone, iPod touch, BlackBerry, Windows Phone 8, and any of our Kindle devices using our Whispersync technology.
New update brings Android KitKat support and a beautiful new UI for tablets & phones! Are you tired of using multiple apps for syncing and listening to music, radio & podcasts? With over 80 thousand 5 star ratings, doubleTwist Music Player is the best all-in-one podcast, radio, sync and music player app.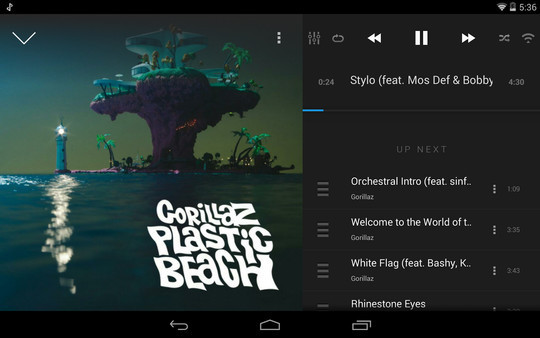 Kingsoft Office is the only mobile Office with full-features FREE. Support for running on Android 2.1 and above system. User-friendly & nice UI interface! Users from over 200 countries and regions around the world are using it. The Average Rating of Kingsoft Office is up to 4.6 stars! Whether in a small cell phone screen or on a large screen on the Tablet, Kingsoft Office has a superior performance!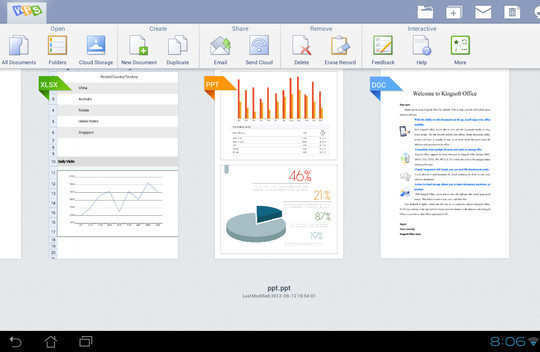 In 2013, we see a huge increase in mobile application world and every day lots of new, interesting and wonderful Mobile Applications are introducing. Competition is very tough that's why every application developers and designing companies are trying to find out some tools to develop some incredible and exciting mobile application which also easily grabs the millions of mobile customer's attraction. Wireframing is the solution of designers search.
For this purpose, we are showcasing in this post 11 amazing and outstanding tools for Mobile Applications Wireframing. All these amazing tools give superb and wonderful support to the Mobile applications. We hope that you will like this assortment. Feel free to share your opinion with us. Enjoy!
The best platform to define mobile and web apps with rich interactive wireframes.
Create animated interactions easier and faster, make UI items draggable, apply new touch, mobile and web compatible gestures and start capturing data and doing simple calculations.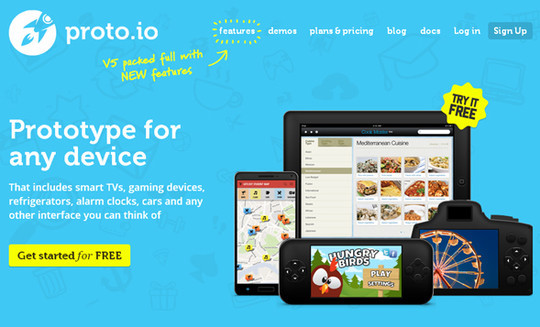 iOS 7 library, mockup rebranding, widget groups, action timeline and new plans.
Framer can help you to quickly build interactions and animations. Built for designers and integrates with Photoshop. Great alternative to Quartz Composer, Flash or Keynote.
EightShapes Blocks is a toolkit for user experience designers to modularize, communicate, and deliver annotated HTML prototypes.
Create iPhone mockups with your style and rock your audience.
Good software doesn't need to be complex. That's why HotGloo is really intuitive and easy to use. You will feel at home immediately.
The fastest UI prototyping and interaction design tool – helps you quickly and simply explore and create functional, animated UI prototypes while maintaining the focus on user experience at every step. With Indigo Studio you can create storyboards with over 100 different scenes, wireframes with built-in interactive controls, and prototypes for your desktop, web, and mobile apps – all with no coding necessary!
Mockingbird is an online tool that makes it easy for you to create, link together, preview, and share mockups of your website or application.
Accelerate Mobile Innovation in the Enterprise. The only cloud-based platform with visual development tools and integrated backend services
Mockup Builder is a prototyping solution that helps design software or websites while reducing the time and cost spent on the negotiation stage. Identify your requirements and get the job done right!
There are times when managing your finances becomes a tough job may be because it is something that is not taught in school or universities. But hey, relax! It is not that difficult either. Thanks to the new technology. Today, we have some very smart applications that will help you manage your finances efficiently. Not only these apps let you control your finances but they will also help you spend within your budget. Consequently, such finance management apps may also help you keep some savings at the end of the month.
Keeping this in mind, here we are showcasing a list of 9 most useful and excellent Android apps that will help you in managing your finances. We hope that you will like this collection and find these apps useful for you. So, take a better control of your expenditure with these Android apps. Enjoy!
Open-source personal finance manager, Multiple accounts, multiple currencies, Home currency and exchange rates, Transfers with downloadable rates, Scheduled & recurring transactions and much much more.
Cash is personal finance accounting application, freely and available for all android devices. Designed to be easy to use, yet powerful and flexible, Cash allows you to track bank accounts, stocks, income and expenses. As quick and intuitive to use as a checkbook register, it is based on professional accounting principles to ensure balanced books and accurate reports(similar to GnuCash, Microsoft Money, Quicken).
Personal finance management, budget, bills, income and expense tracker. Famous budget tracking app for Android! Find out where your money goes! Plan your budget and savings. Enjoy the fastest way to track daily expenses using a comprehensive one-screen view of your finances. Improve your skills with a unique, game-like feel.
The one of best tools for keeping accounts, efficiently tracking each expense report, AndroMoney is a personal finance tool for use on your mobile phone. By using this tool, we hope you can better manage your wealth.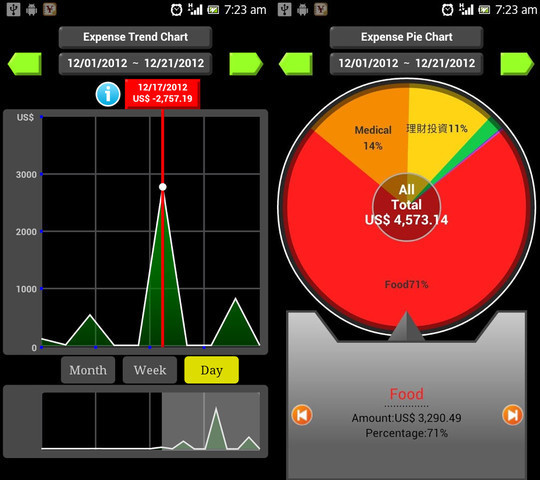 Expense manager is great application for managing your expenses and incomes.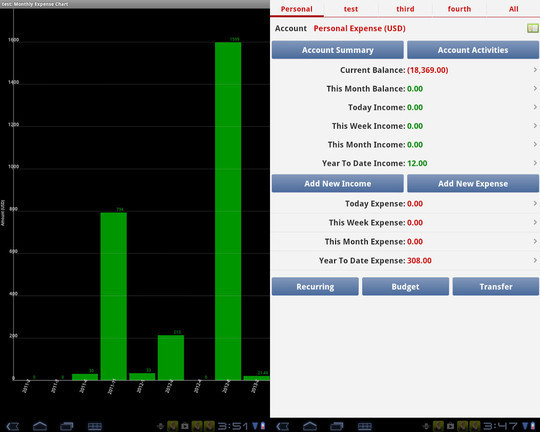 Money Tracker is application to control your daily expenses and save money that you might miss at the end of month. Specify desired monthly budget, and then easily control everyday expenses in our application. Enter daily all expenses, and your end of month balance is immediately calculated. You can see whether your expense is over the budget or is in the limit.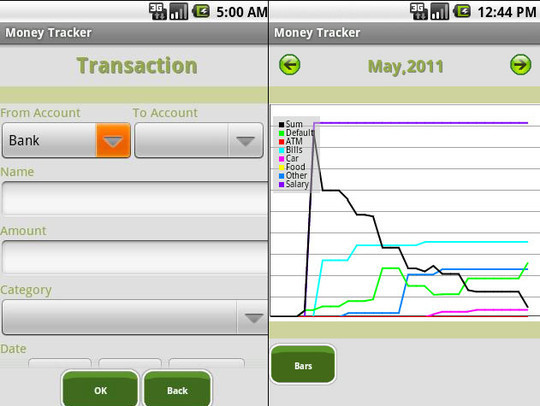 CWMoney is a Finance Management Software for Android, This Free Version have almost full function, it's easy to record daily expense, income money.
If you've already tried all other similar programs, I assure you this is the best. It has all the useful features to keep your personal finances, some of them you will not find in any other program.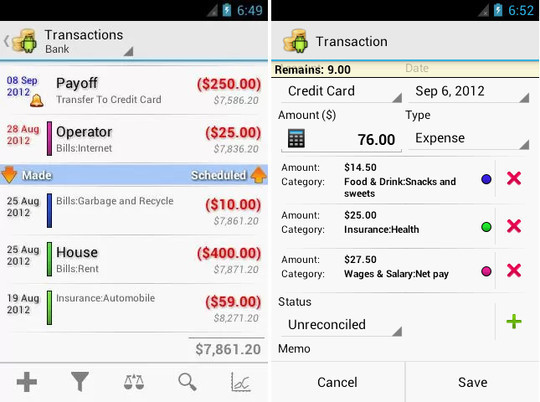 Simple and minimalistic budget planner / money tracker. Keep track of all incomes and expenses or just check how much money you spend on your hobbies or bad habits!
In this post, we have collected 11 free tools that will let you annotate you PDF document. Many people use PDF files and read documents in PDF format, and even when they do not use PDF regularly, they often come across such files once or twice in their lives. Many PDF readers are there but none of them offer any option to annotate your document. Therefore, we have compiled this post.
In this post, you will find some free resources to annotate your PDF documents. With these tools, you can add text notes, bookmark a section, highlight or underline text very easily. We hope that you will like this collection and find them useful.
The UPAD app takes notes to another level. Your notes become more striking than a printed page. And you'll be completely intrigued.
Pdf Review is an annotation tool for pdf that has an ordered list containing the feedback and notes without obfuscating the original pdf. It supports the full review workflow. Reviewers can easily add feedback with a single tap and send an organized report to the author.
Adobe® Reader® is the free, trusted leader for reliably viewing and interacting with PDF documents across platforms and devices.
DocAS lets you take note, sketch your ideas, annotate PDFs, convert other document format to PDF, do presentation, read documents, record your meetings and classes, and share your notes/documents on your iPad, All-in-One.
AnnotDoc Lite, viewing MS Office doc and PDF with annotations
AnnotDoc is the ONLY iPad app that supports annotation on MS Word and MS PowerPoint! In addition, it supports annotation on PDF as well. Reached Top 1 in some App Stores!
PDF Max is the 5-star rated, full-featured PDF app used & trusted by millions of iPhone/iPad users world-wide. It designed for those people who're looking for a full-featured PDF annotating, form-filling & note-taking app.
This app is simply excellent! Functionalities are very well designed and usability is very good and simple. It is extremely useful for classes and study.
Mendeley is academic software that indexes and organizes all of your PDF documents and research papers into your own personal digital library. It gathers document details from your PDFs allowing you to effortlessly search, organize and cite.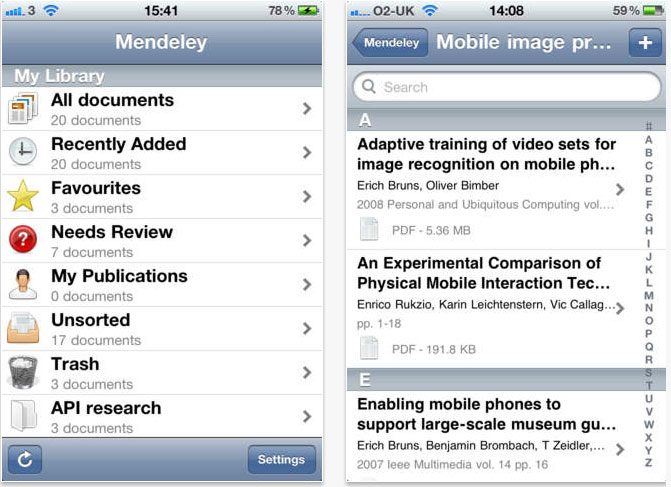 GoodNotes lets you take handwritten notes, sketch diagrams, mark-up PDFs and organize them on a beautiful bookshelf. Turn pages with a swipe, highlight or add notes to any page, and share your notes with anyone. GoodNotes will automatically save your notes and has full backup function to prevent data loss.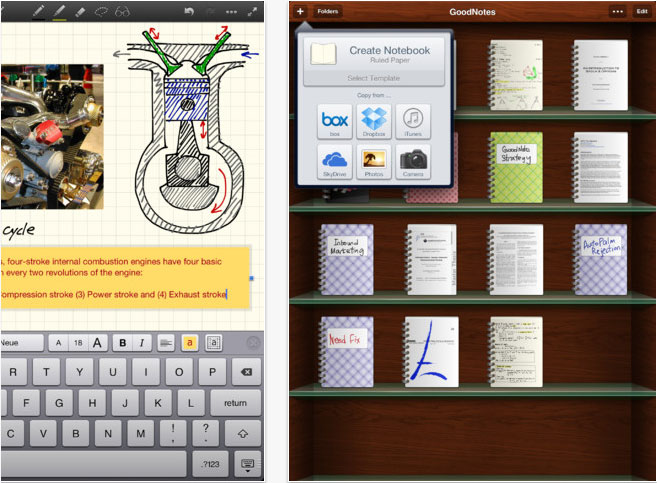 SignNow – Sign and Fill PDF & Word Documents
Need to sign a document? Need to get someone's signature on a document? SignNow makes it easy to do both for free, and forget about printing, scanning, or faxing.
DocuSign Ink – Sign PDF & Documents
Sign documents and get signatures quickly and easily from your iPad or iPhone. A must-have app that will save you time and eliminate the need to print, fax or mail documents and forms for signature.
We see new and improved smartphones and touchscreen mobile phones with the every passing day. With the advent of touchscreen mobile phones, more and more people are getting dependent on them and smartphones have become inseparable part of our lives. There are loads of phones available in the market but Apple iPhone still holds its position that no one can compete, at least till now. Moreover, the availability of a huge amount of apps for iPhone makes it even more powerful.
There are some apps for iPhone that make it more than a phone. Many businessmen, entrepreneurs and designers are using iPhones mainly because of the powerful apps available for iPhone. Font apps are among one of them that are of special interest for the designers. Many designers are using iPhone font apps to select fonts for their designs. Here, we have also gathered 12 most useful and of course free to use font apps for iPhones as well as for iPads. We hope that you will like this collection and enjoy. Feel free to share your opinions with us via comment section below.
Textizer Fun Looking Text Fonts
Textizer converts words and names into different symbols that you can post to Twitter, Facebook, instagram, email, iMessage, etc.
Create your custom fonts and use them to write messages and send them via email, SMS or copy and paste them in other apps.
Phonto is a simple application that allows you to add text to pictures.
Font Dresser Free is a mini font editor. Besides text-editing, it can also save the texts in the format of photo or send them out by emails. Meanwhile, the camera is turn-on when you're editing the words.
This is a Unicode font browser, color browser, and keyboard keystroke browser useful for Web designers, software developers, colorists, font fans, X windows users, and people customizing the AirMote Remote Control app. It's free and iAd-supported.
Super Txt – free colors, fonts, emojis for texting
Make beautiful texts to impress your friends with cool art and custom colors. Send them with the Messages app by pasting in. Send to Facebook, Twitter, Text Free, Email, etc, using clipboard or 'save as photo'.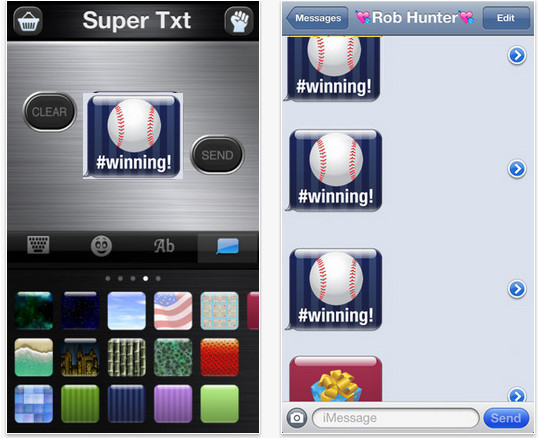 Identify the fonts in a photo or web graphic! Ever seen a great font in a magazine ad, poster, or on the web and wondered what font it is? Whip out your iPhone and snap a photo, and WhatTheFont will identify that font in seconds!
Font Designer lets you browse and view all of the fonts available on your device. This is useful if you are an iOS developer or iOS UI designer.
Typefaces is a font viewer for iPhone and iPad. This application shows you all the fonts in your device and all the glyphs included those fonts.
Font Gallery Preview is an app to list all available fonts in iOS and give you a preview. We hope that this app will be helpful to iOS developers and designers.
OVER 24 different fonts that can be used everywhere you can type a message (Email, iMessage, social networking apps, whatsapp, line, sina weibo…)
Displays all of the fonts on the device. The initial list is the font families, then each font (normal, bold, oblique) within the family, then details about the font.
There are loads of apps available for iPhone ranging from fun to business apps. Almost every iPhone user is using some of these iPhone apps either for fun and passing their leisure time or for some work. For this round up, we are presenting 17 free and extremely useful iPhone apps that can help you boost your online business productivity significantly. App store is the place you can get all these awesome apps from. It is also one of the biggest selling points of the iPhones.
Tons of new apps are added to app store on a daily basis and there are literally hundreds of apps that are available on app store for the users. Some of them are paid while some are free to use. For this collection, we are presenting 17 iPhone apps that are free and will help in increasing online business productivity.
Pageonce is the award-winning, app that organizes & tracks your cash, credit cards, and pays your bills – all for FREE*! Trusted and loved by over 7.5 million people, Pageonce provides a secure way to manage your money on the go.
LockBox lets you store and protect sensitive info such as credit card numbers, bank accounts, passwords, pin numbers, private notes, and any other secret information on your iPhone or iPod Touch.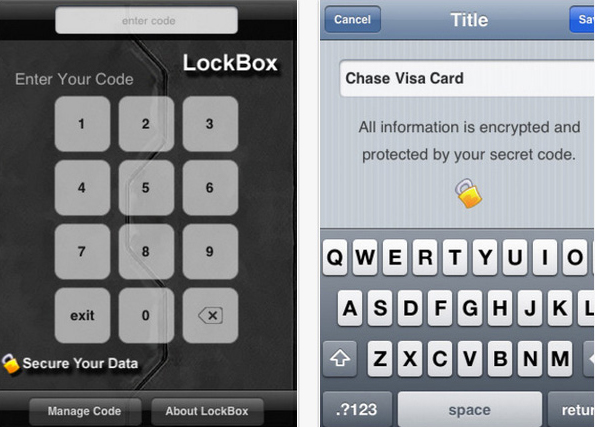 Evernote is an easy-to-use, free app that helps you remember everything across all of the devices you use. Stay organized, save your ideas and improve productivity. Evernote lets you take notes, capture photos, create to-do lists, record voice reminders–and makes these notes completely searchable, whether you are at home, at work, or on the go.
Remotely control your PCs and Macs over WiFi/3G with the free LogMeIn app on your iPad or iPhone. It works with LogMeIn's free award-winning software installed on as many computers as you like. You can remotely access your files, run your applications and control your desktops from anywhere. With everything at your fingertips, you're finally free to go.
iXpenseIt simplifies daily expense tracking and monthly budgeting. With iXpenseIt, it's never been easier to stay current on your budget or for business users, to get faster reimbursements. Store photo receipts is a snap. Enter expense data anywhere, anytime within seconds. Powerful reporting provides insight to where your money went and find new ways to save.
Chat on Facebook, Google Talk, Live Messenger, Yahoo!, ICQ, and more. IM+ features free texting, Off-the-Record messaging as in-app purchase, group chats, multimedia sending and much more. IM+ has all your messaging needs covered, regardless of whether you want to stay in touch with your IM contacts or socialize with people around you with Neighbors geo-social network.
Bloomberg PROFESSIONAL subscribers, please download the Bloomberg Anywhere App. Get instant access to all your business and finance news, market data and portfolio tracking tools from the most trusted source financial professionals around the world rely upon.
iTalk Recorder is a full-featured recording app with a streamlined and intuitive user interface. Press the big red button to record; press it again to stop. You can append to existing recordings, choose from three levels of recording quality (11.025, 22.05, or 44.10 kHz sample rates), and manage your recordings, all with just a fingertip.
ScanBizCards Lite Business Card Scanner + Reader
The only business card reader offering BOTH the choice to scan cards in seconds right on your phone – or submit instead for 100% accurate human transcription! The only business card reader with cloud backup & sync across multiple devices + web-based access to cards from any browser.
Accept credit cards and run your business anywhere with Square Register on your iPhone, iPad, or iPod Touch. Square's free card reader, simple pricing, and smart business tools make it easy for you to do what you love and get paid. Pay just 2.75% per swipe for Visa, American Express, MasterCard and Discover. No monthly fees or merchant contracts. Funds from swiped payments are deposited into your bank account in 1-2 business days.
JobAware: Job search just got smarter
JobAware is free! Join over 100,000 people who successfully find jobs using JobAware.
Stay connected to the premier job search website to discover the latest jobs that meet your needs. Get Monster.com Jobs for iPhone, which allows you to search, view and apply to jobs- whenever you want and wherever you want. You can even be alerted when new jobs are available!
ADP Mobile Solutions is an integrated employee self service mobile solution that helps you stay connected to your company's information anytime, from anywhere. This application revolutionizes the way organizations deliver payroll, time & attendance, benefits and other vital HR information to employees by providing easy, 24/7 on-the-go access from their iOS mobile devices. All of the information is delivered using the same safe, secure world-class technology that ADP uses every day to deliver information and services to approximately 570,000 clients around the world.
Pages Manager helps admins connect with their audience and keep up with activity on multiple Pages, all in one place.
Accept credit cards and run your business anywhere with Square Register on your iPhone, iPad, or iPod Touch. Square's free card reader, simple pricing, and smart business tools make it easy for you to do what you love and get paid. Pay just 2.75% per swipe for Visa, American Express, MasterCard and Discover. No monthly fees or merchant contracts. Funds from swiped payments are deposited into your bank account in 1-2 business days.
PayPal Here is a free app combined with a pocket-sized encrypted card reader. With it, you can support any form of payment on your iPhone – wherever you are, even on the go.
SignEasy : Sign and Fill Documents (PDF, Excel, Word, Email)
A simple, convenient and secure way to sign and return documents from your iPhone and iPad. Sign from your office, home and on-the-go or collect signatures from anyone anywhere.
For the sport lovers this post will be a treat for them. In this post, we are showcasing 16 best and wonderful free iPhone Sport Apps for your iPhone. All these sport applications are easy to use and easy to access. These free and wonderful iPhone sport applications give iPhone user a superb and amazing experience.
Smartphones like iPhone provides their users so many interesting and exciting applications and in this list sport applications is one of them. And these days sport applications is very popular in market. Almost every sport is present in this iPhone sport application. Check this out and get to pick one. Do let us know what you feel about this round up. We hope that you will like this collection. Enjoy!
FOX Sports brings you the most comprehensive sports app available. Why download multiple apps for each of your favorite sports, teams, your local sports market, plus apps to listen to sports radio? The FOX Sports app does all of this for free!
Are you a TRUE sports junkie? Do you feel embarrassed or ashamed when you don't know a little piece of trivia? Use Brainscape to become the smartest pro sports fan in the room.
The Best Sports App. Ever! theScore has been completely re-designed for the iPad and iPhone to give you the ultimate mobile sports experience. It is the must-have fantasy sports utility.
NBC Sports Talk brings you the latest news, rumors and analysis for all your favorite sports – all in one place.
CBS Sports Fantasy Football for iPad
The official, free CBS Sports Fantasy Football for iPad app is updated and redesigned for the 2012 season to give you all the tools you need to dominate your league this season.
It's even easier for you to manage your fantasy team anywhere, anytime: Set your lineup, add & drop players, view detailed player stats, rankings and trends. Plus get the latest fantasy player news customized for your leagues; as well as live access to the Fantasy Football Today live show.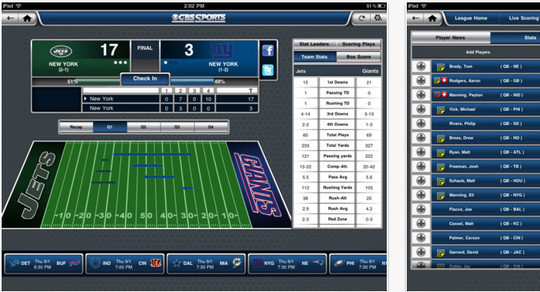 Sportacular 3.0 is designed to give sports fans their scores, news and stats as quickly as possible in a clean, beautiful layout. Experience fast, personalized, and easy access to live scores and information on your favorite teams, players, and leagues. More Yahoo! Sports content has been added throughout the app to make Sportacular the single tap answer to all of your sports needs.
MLB PrePlay is the official prediction game of Major League Baseball. Use it to predict the outcome of every game and every at-bat of the 2013 Season!
ACC Sports Official Application of The Atlantic Coast Conference
ACC Sports is your official source for Atlantic Coast Conference sports on the iPhone & iPad.
Mobile PWTorch will keep you up to date with what's happening in the world of Professional Wrestling from the recognized leader in pro wrestling journalism since 1987. A passionate staff of expert reporters and analysts provide not just the headlines of the day, but analysis to put those stories in perspective.
ESPN ScoreCenter brings you scores, news and standings from sports leagues, teams and players around the world. The new app makes it easier than ever to follow your favorite teams wherever, whenever. Stay up to date on the latest scores with personalized scoreboards and alerts. Follow the nation's top stories with in-depth coverage and analysis.
The official ESPNcricinfo App brings you the most comprehensive cricket coverage from around the world.
Watch live PGA Tour golf from your iOS devices with Golf Channel's Golf Live Extra app; find out what's on and view the schedule for upcoming tournaments.
CBS Sports — Your go-to source for NCAA College Basketball Tournament coverage and more.
FCBWorld updated with new design, services and exclusive content. Don't miss a single piece of news about the Club and download this official Club application. Download the latest update and begin enjoying all the Club news as it happens – the first team, the sections, player profiles, complete stats history and honours…
Call It: Football – Play in Real-Time
Call It: Football is a REAL-TIME game that allows you to play as you're watching US professional football LIVE on TV. It makes watching live football more competitive, social and fun.
College Football Scoreboard gives you up to the minute college football scores, schedules and all the latest news stories, for the following conferences: ACC, Big 12, Big East, Big Ten, Conference USA, Mountain West, Pac-12 and SEC- plus Top 25 schools.
With this collection, we want to share some amazing and extremely handy apps for entrepreneurs that they can use from their iPhones. Everybody believes that an entrepreneur organizes a business venture and assumes the risk for it and he must have to create an impact with a budget as low as possible. Using different applications on smartphones and on iPhones has become a common trend and therefore, many entrepreneurs are also using different apps on their iPhones as they have also become tech-savvy.
In this collection, you will find a list of 12 free to use iPhone apps that are especially designed for entrepreneurs keeping their needs in mind. Here is the complete list for you. Hope you will enjoy it.
Venmo is the #1 rated app to pay people. It's fast, secure and free.
Dragon Dictation is an easy-to-use voice recognition application powered by Dragon® NaturallySpeaking® that allows you to easily speak and instantly see your text or email messages. In fact, it's up to five (5) times faster than typing on the keyboard.
Get peace of mind while traveling, by having all your plans in one place. No more frantic searching for confirmation emails in your inbox – or worse yet – hunting down that pesky manila folder. TripIt is an easier way to organize and share travel.
Say "hello" to friends and family with an instant message, voice or video call on Skype for free. There's so much you can do, right from the palm of your hand.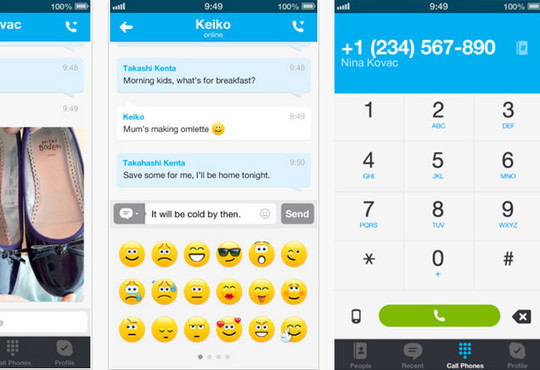 Consistently rated as the #1 app for business travelers and road warriors, Expensify does expense reports that don't suck! We do this by automating your entire expense reporting process.
Navigate your world with Google Maps, now available for iPhone. Get comprehensive, accurate and easy-to-use maps with built-in Google local search, voice guided turn-by-turn navigation, public transit directions, Street View and more. Use Google Maps to discover great places to eat, drink, shop and play, with ratings and reviews from people you trust. Sign in to save your favorite places and quickly access all your past searches and directions from your computer, right on your phone.
Keeping up with friends is faster than ever, See what friends are up to, Share updates, photos and videos, Get notified when friends like and comment on your posts, Text, chat and have group conversations, Play games and use your favorite apps.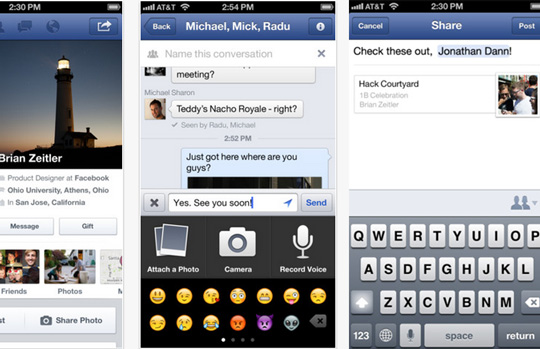 Slice – Save Money & Track Your Packages
Shop online a lot? Discover what many users say is "a must-have app for online shoppers".
Get on-the-go access to your professional network with the LinkedIn app for iPad and iPhone.
Eliminate the frustration and save time when joining conference calls from your iPhone with this simple, mobile business app. MobileDay integrates with your iPhone's Calendar, Dialer, FaceTime, Email, text messaging (SMS), Maps, and Contacts to provide you with One-Touch access into any voice conference call.
Effortlessly discover stories based on your interests. As soon as you sign up with Facebook, Twitter or G+, we start learning about you and connecting you with the most interesting stories. Prismatic is a smart personal newsfeed with simple layouts that creates a delightful reading experience.
Capture and share your ideas with Catch! Jot down text, snap a photo, or record voice notes on the go, then sync them across all your devices with a Catch.com account. Organize your notes into Spaces and share those Spaces with your friends and colleagues.
Just got your new iPhone? Or looking for some health apps for your iPhone that can assist you in staying fit? If your answer is yes then look no further. In this collection, we are showcasing a list of 13 useful and most widely used iPhone health apps to help you stay fit. With our busy life schedules, we hardly have got time for exercising, therefore neglecting our health. For this reason, it is good to have some health apps on your iPhone that can help you keep track of your health.
Here we are presenting some iPhone apps that you can download on your iPhone and can take advantage of them to stay fit. Many mobile users spend their leisure by playing games on their phones whereas it is far better if they spend their time with such apps that can have beneficial effects on their health. Enjoy!
The most popular running app on iTunes just got even more motivating. Now you can add friends and see how you stack up. Keep tabs on who's logging the most runs and miles, then get out there and beat them.
RunKeeper – GPS Track Running Walking Cycling
Join the more than 14 million people who are using RunKeeper to turn their phone into a personal trainer in their pocket! Track your runs, walks, bike rides, hikes, and more using the GPS in your iPhone.
Fooducate – Diet Tracker & Healthy Food Nutrition Scanner
Lose weight, eat real food, and track your progress. Fooducate grades your food, explains what's really inside each product, and offers healthier alternatives. We've got the largest database of UPCs – over 200,000 unique products and growing.
Most people just know the "Basic Crunch" … it's SO BORING and most people do it wrong. Ab Workouts Free will TALK you through lots of fun & effective exercises to get those abs in shape… and for FREE!
Run with Map My Run – Workout Tracking and Calorie Counter
Built to help runners, joggers, and walkers of all ability levels and ages. Easily track pace, distance, calories, time with audio alerts and much more!
Calorie Counter & Diet Tracker by MyNetDiary
MyNetDiary is the fastest, easiest, and smartest iPhone calorie counter. The list of features is large – over 30 screens, including FREE barcode scanner. Most importantly – MyNetDiary is very easy to use.
Ready to get serious about weight loss? Lose It! can help you make your goal a reality. Chosen by millions, Lose It! provides a seamless, supportive weight loss program. Download Lose It! today for a personalized and connected experience.
HealthTap — free doctor answers to medical and health questions
HealthTap is the best and fastest way to quickly get great answers and very useful tips from reputable doctor anytime, anywhere. And astonishingly it's all free!
Hearing Loss Myth: Hearing loss affects only "old people" and is merely a sign of aging. Actually it is the reverse of what most people think. The majority (65%) of people with hearing loss are younger than age 65. There are more than six million people in the U.S. between the ages of 18 and 44 with hearing loss, and nearly one and a half million are school age. Hearing loss affects all age groups.
This is the free, ad supported version of Calorie Tracker and does not include synchronization between devices or with the LIVESTRONG.COM website. If you upgrade to the full version later, your data will be migrated automatically.
Take Weight Watchers Mobile along to help you stay in control and make smart and satisfying food choices. We've added brand new interactive tools so you can tap into the stick-with-it power of the new Weight Watchers 360 program anytime, anywhere.
FertilityFriend.com's Free Menstrual Calendar is a simple and easy to use calendar designed to predict your menstrual cycles and possible fertile days.
Period Tracker is the SIMPLEST period tracking app and now, it's CUTER than ever!
If you set the target to reduce some weight or burn some calories but the problem is that you do not have much time for this purpose. So, you do not have to worry anymore because in this collection, we are showcasing some remarkable and free iPhone Apps that will help you lose those extra pounds. You can easily achieve your fitness goal with these free and amazing iPhone Apps. We know that putting on weight is quite easy as compared to losing it, and this tough task becomes even more tougher when you have a tough schedule.
With this collection, hopefully everybody will find something interesting as well as useful for herself or himself. We hope that you will like this assortment. Feel free to share your opinion with us via comment section below. Your comments are always more than welcome. Enjoy this amazing collection everyone. Let us have a look!
Ready to get serious about weight loss? Lose It! can help you make your goal a reality.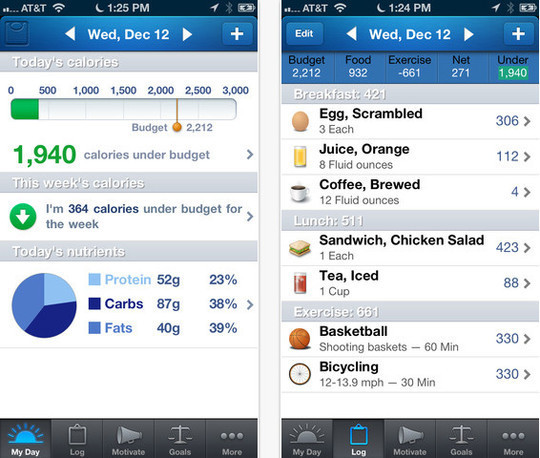 YOUR IDEAL WEIGHT is an app that estimates what you should ideally weigh, based on your Body Mass Index (what doctors recommend) and what people would like to weigh, based on height and age.
Fitter Fitness Calculator & Weight Tracker
Personal Daily Weight Tracker and BMI, BMR, Body Fat% & Waist to Hip Ratio Manager.
Take Weight Watchers Mobile along to help you stay in control and make smart and satisfying food choices. We've added brand new interactive tools so you can tap into the stick-with-it power of the new Weight Watchers 360 program anytime, anywhere.
The 40.30.30 iPhone App lets you quickly calculate the percentage of calories in a food from the three macronutrient groups: carbohydrates, protein, and fat.
The most popular software pedometer for the iPhone and iPod Touch is back in the App Store and avalable world-wide.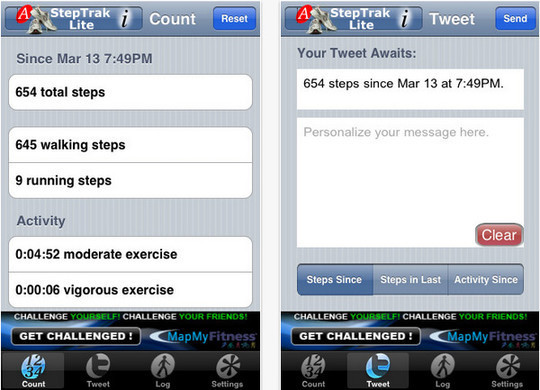 This is the Lite Version with limited functions. To enjoy all functions, please download A+ Weight Manager — Track your ideal weight!!
Calorie Counter, the diet tracker from the #1 health website Everyday Health, makes reaching your goal weight easier than ever! With this calorie and fitness tracker, you can log your weight, count calories and important nutrients, stay up-to-date with a live feed of weight-loss tips, access to over a thousand healthy recipes, and get motivated with in-app support groups of thousands of other dieters!
The Ultimate Cardio Workout Companion. Map your outdoor runs and bike rides with GPS. Record your time, distance, and speed.
If you have a health condition like diabetes, information about what you eat can be important. GoMeals® was developed to help you make healthy lifestyle choices at home or on the go. Now GoMeals includes tools for eating healthy, staying active, and tracking your blood glucose levels.
ULTIMATE Exercise Journal, 320+ Exercises
Body Fitness is the Top FREE Fitness App in over 35 countries – USA, UK, Canada, Italy, Germany, France, Australia… download Body Fitness and get into shape today.
The most incredible Fitness application and completely free. Over 250 exercises, more than any other app. Create and log your own routines or choose from 120 programs, ranging from 6 to 60 minutes and suitable for any fitness level.
Fitocracy motivates and empowers you to succeed at fitness and level up in real life. We make exercise fun! Track your workouts, earn points, unlock achievements, beat quests, and slay the laziness dragon. Join the best fitness community on the planet and become the person you were meant to be.
The free version, GAIN Strength, builds personalized workout programs from 350+ exercises and a variety of popular training styles – strength training, plyometrics, calisthenics and yoga. Workouts are algorithmically tailored to your fitness level, goal, equipment and schedule (in real-time).
Free fitness GPS game for weight loss, better health, strength training, mPoints & Kiip rewards – daily goal to exercise, lose weight & gain motivation
Calorie Counter & Diet Tracker by MyFitnessPal
Lose weight with MyFitnessPal, the fastest and easiest to use calorie counter. With the largest food database of any calorie counter (over 2 million foods), and amazingly fast food and exercise entry, we'll help you take those extra pounds off! There is no faster or easier diet tracking app than MyFitnessPal. Period.
Let this app help you keep track of your weight and view your progress visually.
Weight Watchers Barcode Scanner US
The Weight Watchers Barcode Scanner uses the latest technology to take the guesswork out of shopping for foods that will help you stay on track. Whether you're in the supermarket, at home, or on the go, you can easily scan foods to help make smarter decisions. Just scan a barcode with the app to find the PointsPlus value (all you need is an internet connection).
Lose weight, eat real food, and track your progress. Fooducate grades your food, explains what's really inside each product, and offers healthier alternatives. We've got the largest database of UPCs – over 200,000 unique products and growing.
This is the most comprehensive weight loss application that consists of weight loss simulation (on your own photo!), a personalized BMI chart, a customized exercise plan, and a diet recommendation all in one app. Some of the main features include: