Mobile Apps
This time we are presenting a collection of 7 free mobile applications for testing frameworks. This post is useful for the developers and designers who need to check their framework. Mobile apps are the toughest in terms of bug fixing but luckily we have these testing tools that make sure that our mobile apps are working perfectly before they are launched.
So, look into this collection and get the benefit from these mobile app testing frameworks. These mobile app testing frameworks are categorized into 2 main groups. One for testing individual elements within an app, and is called Unit Testing; while the other to test the app at the UI level and is called Functional Testing Framework. Enjoy and stay creative!
Appium is an open source test automation framework for use with native and hybrid mobile apps.It drives iOS and Android apps using the WebDriver JSON wire protocol.
The Mobile Testing Framework (MTF) is an alpha-state open source project to automate GUI/System tests for iPhone/iPad applications.MTF is based on the automation tool Sikuli which allows to interact with the User interface with python scripts and screenshots.
Fliptest Easily create and manage A/B tests for iOS apps.
Kiwi is a Behavior Driven Development library for iOS development. The goal is to provide a BDD library that is exquisitely simple to setup and use.
Frank allows you to write structured text test/acceptance tests/requirements (using Cucumber) and have them execute against your iOS application.
KIF, which stands for Keep It Functional, is an iOS integration test framework. It allows for easy automation of iOS apps by leveraging the accessibility attributes that the OS makes available for those with visual disabilities.
Calabash enables you to write and execute automated acceptance tests of mobile apps. Calabash is cross-platform, supporting Android and iOS native apps. It is open source and free, and has a company, Xamarin, backing and developing it.
Are you looking for some iPhone and Android mockup PSDs designs for your current project? If you are struggling with finding out some high quality PSD iPhone mockup designs, then stop looking any further. In this post, we have put together 40 exceptional and high quality iPhone and Android mockup PSD designs for you. All these PSD designs are free to use, but we would encourage you to read the terms and conditions before using them for commercial purpose.
With this collection, we aimed to help graphic designers in creating usable and user friendly iPhone mockup designs. We hope that this compilation will help you get what you need for your project. You can share your opinions with us via comment section below. Also let us know if we have missed any good resource. Enjoy!
iPhone Mockup Psds:
3D View iPhone 5S Psd Vector Mockup
3D iPhone 5 Psd Vector Mockup v2
Transparent iPhone Mockup + PSD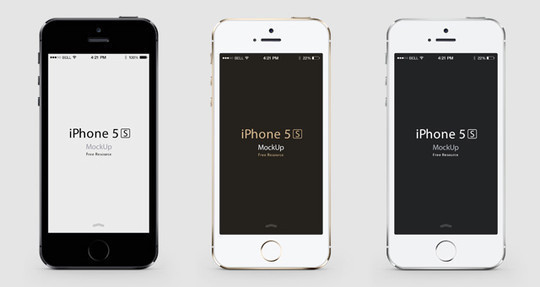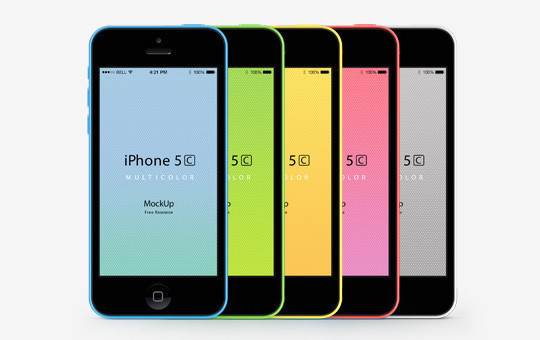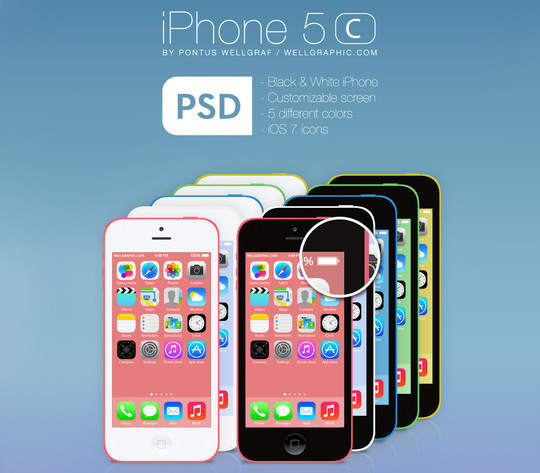 iOS7 & semi-flat iPhone 5 mockup
iPhone 5 Psd Flat Design Mockup
Apple iPhone 5 Vectorized Mockup
High Resolution iPhone 4/4S PSD Template
Free PSD – Application Perspective Screen Mock Ups 2
Flat Devices – iPhone 6 & iPad Mini
FREE PSDs – iGravertical Screen Layers + iOS 7 Screen Converter
iPhone 5 black and white blank templates (PSD)
Android Mockup Psds:
Android GUI: 1000+ Fully Editable PSD Elements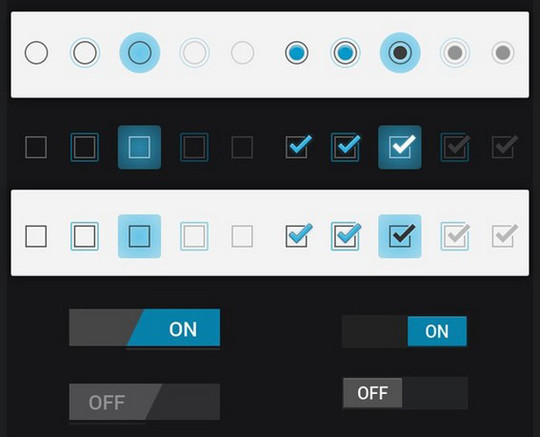 Android 4.0+ ICS/JB GUI Design Kits in PSD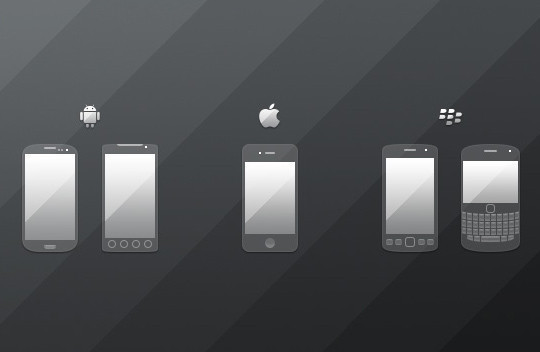 Android GUI Set free Photoshop files
Nexus Screen Android UI Design Kit PSD Mockups
Android 4+ UI Design PSD Free Download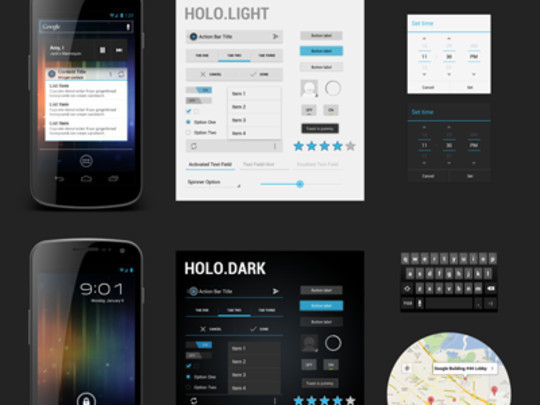 In today's business environment, smartphones and tablets represent far more than just user end-point devices. Their portability and user-friendly nature have allowed designers to be able to track ideas, sketch and stay organized from anywhere. Furthermore, App stores have also contributed to this ease.
With the availability of thousands of Apps, designers have now many options to keep their work on the go wherever they go. Below, we have collected 40 most essential apps for the designers and creatives of all sorts. So what do you think? What did we miss? Which apps do you like the most and why? Leave us a comment and let us know what you think about this compilation
iPhone Apps
Trovi is a unique new mobile app that lets you share and shout about your favourite local businesses.
Ikonica is an essential tool for iOS app designers, developers and owners. It let's you easily test different icon designs on springboard and in various backgrounds and sizes.
With a single touch your iPhone turns into a top accurate ruler.
M.dot app lets you create a mobile-optimized website for you and your business. On your own domain, in 5 minutes.
Fontli is a social network for Typography enthusiasts to broadcast their passion through pictures taken from a mobile device. What makes Fontli different from other photo sharing applications is its typography centric features. Users can spot a typeface by simple photo tagging and Fontli gives additional information on the Typeface such as Designer/Foundry info and other pictures tagged with it.
Evernote is an easy-to-use, free app that helps you remember everything across all of the devices you use. Stay organized, save your ideas and improve productivity.
Color Expert contains powerful tools to help artists and designers identify, translate, capture and showcase color.
A fun procedural drawing tool.
A wonderful reference app suitable for anyone who deals with colors, including: web designers, bloggers, print designers and virtually anyone who uses colors to publish.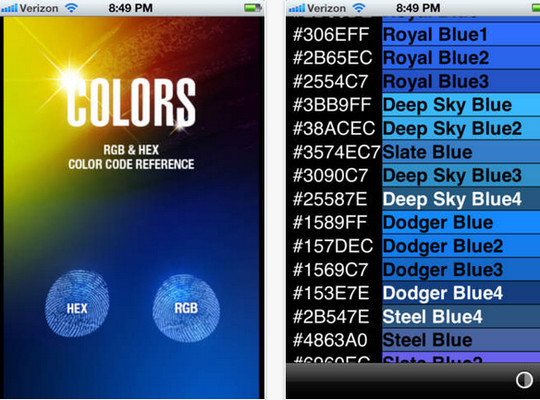 PicLab HD is a powerful design studio in the palm of your hands. Create beautiful photos by adding text, artwork, light leaks, textures, grains, photo filters, adjustments, and much more to your photos – while using one of the most beautiful and simplest interfaces to date.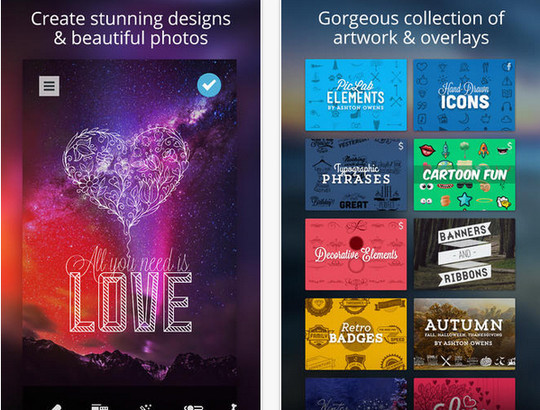 A painting app focusing on natural brusheffects and smooth, pleasant workflow.
Fontest is a developer and typography tool that helps you quickly preview how your favorite fonts are rendered on Android.
Pattrn is an unique wallpaper app for phones and tablets that gives you access to the huge collection of patterns created by the COLOURlovers community.
Runner up for Most Innovative Game Design on the Indie Showcase at Casual Connect USA 2013!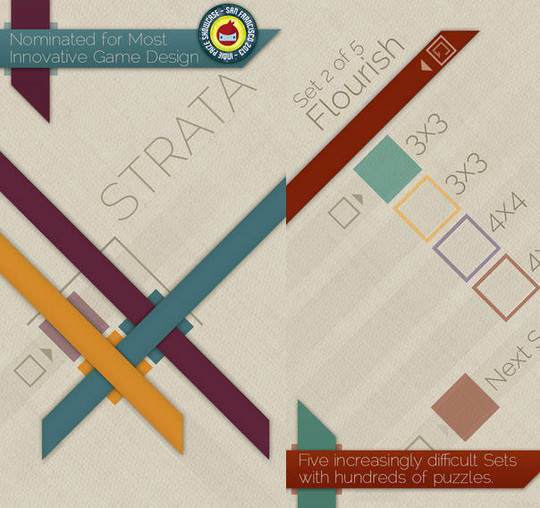 Create your own icons on your Home Screen using Iconical.
Files allows you to store and view files on your iPad, iPhone or iPod touch. Connect to Files via Wi-Fi from any Mac or PC and drag and drop files straight from the Finder or Windows Explorer, as you would with any other shared folder.
Adobe Kuler is a fun and simple way to capture inspiring color combinations wherever you see them.
Adobe® Ideas gives you the ability to draw freeform vector illustrations wherever you are. Replace your pen and paper with a huge virtual canvas, customizable brushes, and pressure sensitive stylus support.
Create and View your Photoshop Canvas Live on your iPhone over WiFi! Save to camera roll!
Find out for yourself what has made SketchBook Pro the industry standard for digital sketching!
Your images with unlimited possibilities.
Create a mobile website for your business or yourself from an iPhone.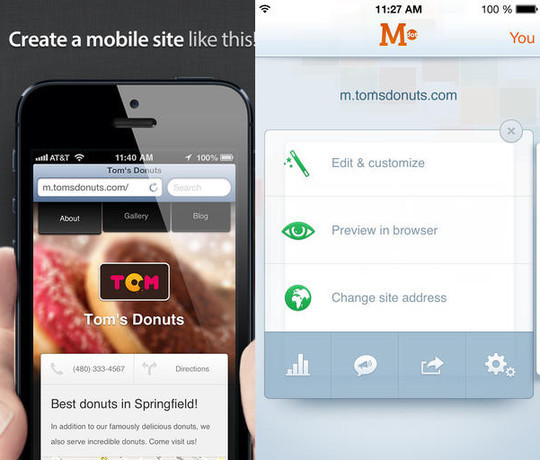 dotdotdot is a social reading application for ebooks and long-format webtexts.
Blux Camera Pro has PEAR Technology that can verbally recommend the best scene mode for the lighting, subject, time of day, and weather. Now you don't have to be a professional photographer to easily and effortlessly capture the perfect image every time!
Marksta allows you to watermark your photography, adding text or a logo directly from your iPhone or iPad. Add a copyright notice to your images before sharing them to Facebook, Twitter, Instagram, Tumblr, Flickr, etc. Or add your Twitter name, or your website address. Whatever you want to write, Marksta makes it simple and fast. And now you can add and edit IPTC and caption information too.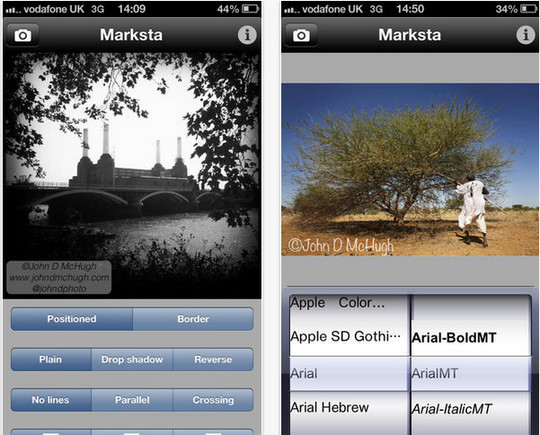 Repix – Inspiring Photo Editor
Repix is more than a photo editor. It's a creative tool that lets you turn ordinary photos into masterpieces.
Introduced by official App Store Facebook.
Now your pictures can have a thousand words with Path On. Use crazy fonts to decorate your pictures with words, quotes, and lyrics, and share it with your friends.
Chop up and distort your photos. Break up your photos into tiles then nudge, scale, rotate and delete the tiles to create artistic photocollages or use the warp mode to make people's faces look weird.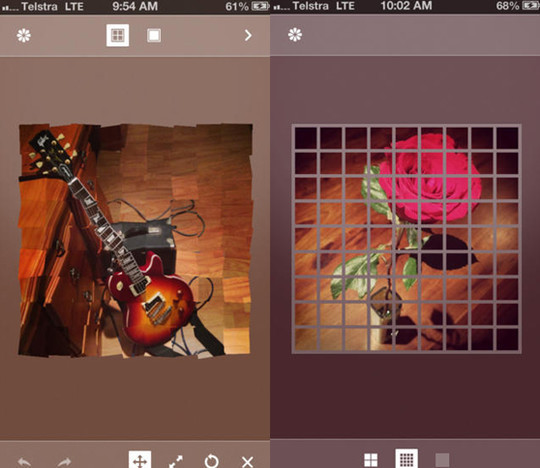 Android Apps
Asssist Widget brings all your favourite Dribbble shots right to your home screen.Shots are updated at configurable periods from the "popular", "everyone" and "debut" shots.
Easily find color palettes and schemes for any design project. Whether you're a web designer or just looking to paint your son's room, you'll find some of the best color palettes/schemes available.
Predefined room shapes as well as free drawing of a room shape with S-Pen or touch.
Simply generate color palettes to match source colors in HEX and RGB values. Color theory mode creates palettes based on traditional color theories, while shade mode generates palettes which are variations of a single hue. Quick and simple to use, color buddy is the color expert in your pocket.
FxCamera is a free, easy and creative camera app. With over 30 filters to choose from,we will assure you that every photo will turn out to be your favorite.
Typomapp – Navigate Typography
Featuring about 500 typographers from Gutenberg to the present day and more than 100 type foundries around the world, Typomapp can help you discover new things about typography or organize your knowledge in the field of letters. It is an unique approach in learning typography, correlating history and geography.
The app is designed to install beautiful fonts on your phone. You can download and use hundreds of fonts to cutify your phone. It 's easy to change system font! Beautiful fonts,Beautiful mood!
Access to thousands of colors, palettes and patterns. Share the colors and their hex code with your clients and friends.
Just like the printed IKEA catalog, the 2014 digital IKEA catalog is packed with inspiration, home furnishing knowledge and ideas for free. This year, there's a special focus on ideas for creating a better everyday life for families with children.
Explore a large variety of interior solutions created by professional architects and designers for your entire house or apartment. Browse through hundreds of photos of real interiors to find something special for every room in your house: we collected the best ideas for your living room, bedroom, kitchen, kids' room and more! Build the home of your dreams!
AutoCAD 360 is a free, easy-to-use drawing and drafting mobile app that allows you to view, edit, and share AutoCAD drawings—anytime, anywhere.
Colour Scheme PRO Asian Paints
ColourSchemePRO is an easy way to create custom colour combinations. Pick a colour from the 1800 Asian Paints Colour Spectra fandeck shades and allow the app to guide you to the perfect Monochromatic, Analagous or Complementary colour combinations.
A Really Great Dribbble Client For Android.
iDeviant for Android is handcrafted application for flawless browsing in Deviations on DeviantArt. Application allows user go through 100 million submissions from 14.5 million members and their 140,000 submissions per day in many Categories from Photography, 3D design, Comics,Flash animations to Poetry.
In this post, we are presenting mobile app development tools for you that can make your mobile app development tasks easier and quicker. These day Mobile app development tools are getting very famous because these tools are very helpful in creating mobile apps. Developing apps for the mobile device is an interesting job and finding out useful tools that will make your job easier makes this interesting job even more interesting and appealing.
Here we collected 12 best mobile app development tools that will help you a lot and by the using of these tools you can easily achieve your aim. Check out this collection and feel free to share your opinion about this post. I hope that you will like this collection.
Sencha Touch, a high-performance HTML5 mobile application framework, is the cornerstone of the Sencha HTML5 platform. Built for enabling world-class user experiences, Sencha Touch is the only framework that enables developers to build powerful apps that work on iOS, Android, BlackBerry, Windows Phone, and more.
MobileNation provides a powerful drag-and-drop environment for designing bespoke mobile applications all within your web browser. Whether you're a novice or expert, you can quickly use MobileNation to design your very own custom mobile apps.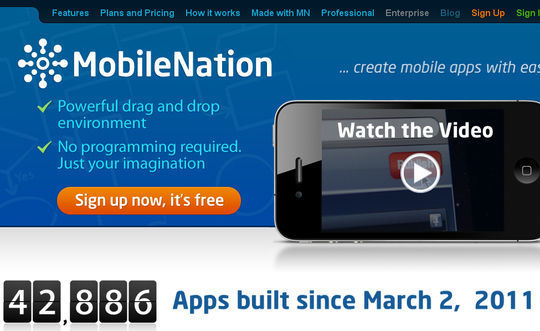 AppMakr enables anyone to build rich content based apps using a point and click solution.
Accelerate Mobile Innovation in the Enterprise, The only cloud-based platform with visual development tools and integrated backend services.
Free JavaScript Mobile Framework for HTML5 Web Apps.
PhoneGap is a free and open source framework that allows you to create mobile apps using standardized web APIs for the platforms you care about.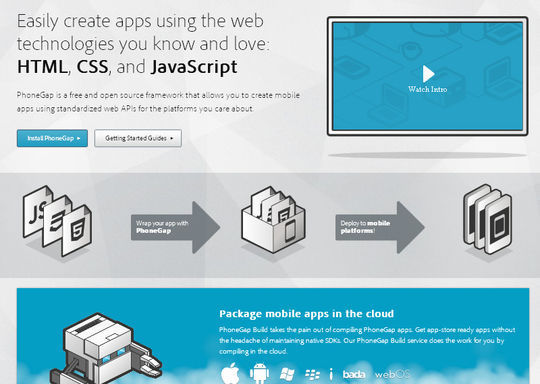 Fone Frame is a mobile framework that creates web pages for smartphones like Android & iPhone. foneFrame displays HTML5, XML, RSS, & SSI files as mobile web pages.
Tabris is a Java framework written by Java developers for Java developers to build mobile apps. It uses standard JavaEE technology to create an application on a server. Native clients act as a player for the applications's UI.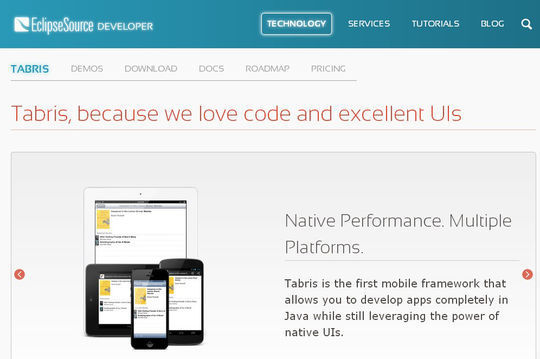 Make and distribute custom mobile web apps for iPhone and Android smartphones.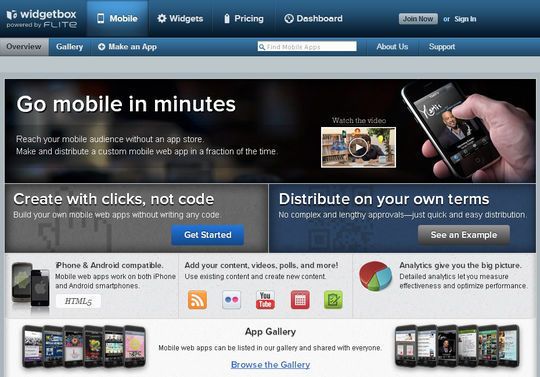 DragonRAD is a cross-platform mobile application development tool for building, deploying, managing, and securing mobile enterprise applications.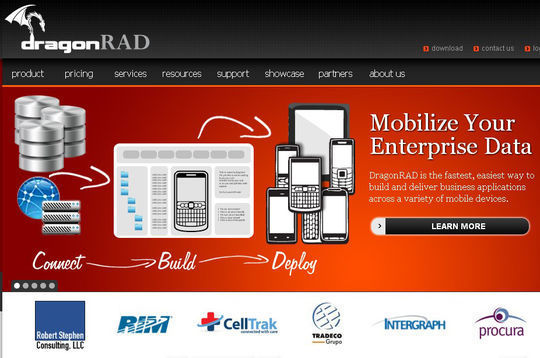 Appscend provides all the tools you need to create & manage awesome B2C & B2E native apps.
Focus on creating unique & engaging apps on any platform. We take care of everything else your app needs, from the core of your app to analytics and push notifications.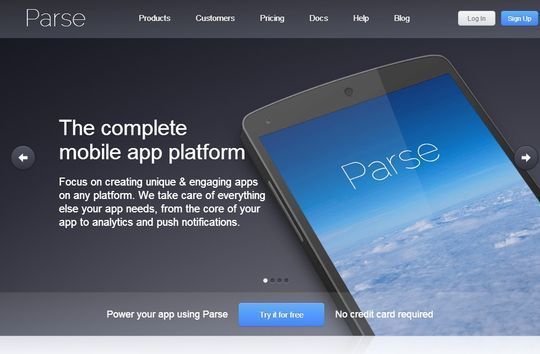 iPhone has created a huge buzz in the market and increasingly more and more mobile users are switching to iPhone. The reason is simple; the availability of highly polished and user friendly apps on iOS that make life easier and using mobile phone more fun. Many entrepreneurs prefer iPhone mainly because of the available apps.
If you are designing an app for iPhone and looking for some resources then look further as we have put together a collection of 14 free PSD resources for your download that will help you in designing iPhone apps. We hope that you will find this collection useful for you. Enjoy!
AppView: Free iPhone App UI Theme
Retina iOS App Icon Template PSD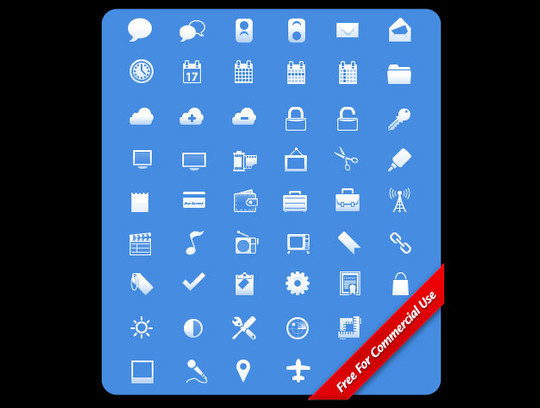 iPhone Interface with Slider Selector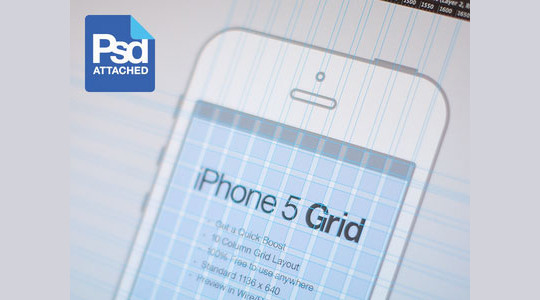 For all those typography lovers, this post is particularly designed for them. If they are looking for some cool typography apps then look no further as here we are presenting 13 best typography apps that will become your best friend. We all know how much of a hot commodity typography are to the design and development community and to anyone in general who tends to have some sense of good design. Typography can create an un-measureable impact and it can be both positive and negative. Therefore, it is very important to use typography quite carefully.
Typography is one of the strongest pillars for words. If the words are right, and they appear in the right format, no image or video can surpass them. Below, you will find 13 best typography apps some of them are free while some are premium, but they all worth your time. Have a look!
Fontroid is a world's first social font service that creates best handwriting font with everyone. Let's draw your own font everywhere with a mobile phone. Upload your best work and share the font with the people all over the world. The most popular font is available from the website (fontroid.com) in the TrueType format.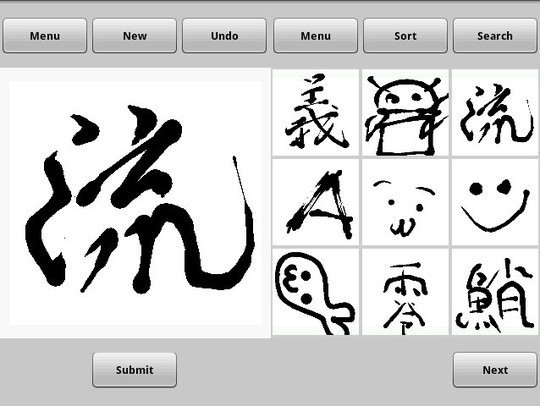 Add beautiful typography, apply stunning filters and photo effects, and add an ever-growing collection of shapes, light FX, textures, borders, patterns, and more to your photos and share them to your favorite social networks!
Live Wallpaper that display Typography. Text, Size, and Color is random.
Create, edit and share images using fonts from world-renowned type foundry House Industries.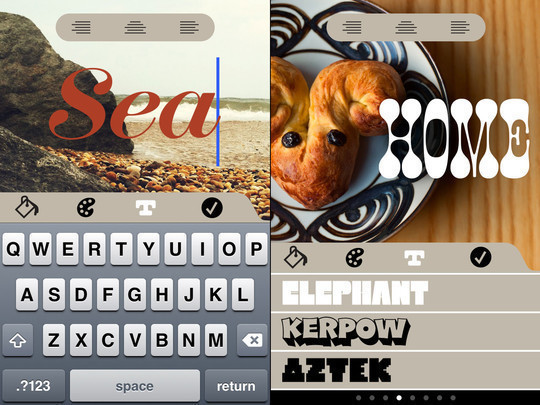 This is a Unicode font browser, color browser, and keyboard keystroke browser useful for Web designers, software developers, colorists, font fans, X windows users, and people customizing the AirMote Remote Control app. It's free and iAd-supported.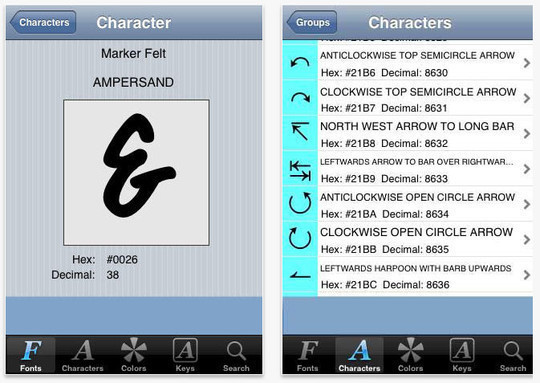 Typography Insight – New ways of learning & teaching typefaces.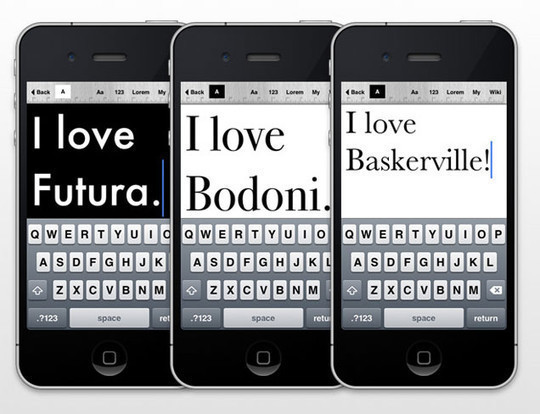 Helvetica vs. Arial is a fun and simple app for designers by designers. It tests and teaches your eye for the typographic details of the two most used typefaces in the world: Helvetica and Arial.
Simple style, Typo Pink Go Locker Theme, designed by Namu studio, is available now!
Add beautiful typography, apply stunning filters and photo effects, and add an ever-growing collection of shapes, light FX, textures, borders, patterns, and more to your photos and share them to your favorite social networks!
Fonts is a free application that displays information about the fonts on your iPhone. This is primarily useful to other developers to see what different fonts will look like in their own applications.
A type diff tool that visually contrasts the differences between two fonts.
Fontest is a developer and typography tool that helps you quickly preview how your favorite fonts are rendered on Android.
Over is the app for adding text and artwork to your photos. Designed with mobile creatives in mind, Over features standard and custom-made fonts and well-crafted artwork combined with a sleek design, easy-to-use functionality, and immediate sharing ability.
Here, we have come up with yet another useful list of Android widgets, and this time we are focusing on clocks and calendar widgets. Android platform is getting popular all over the world and is one of the reasons of the popularity of smartphones. Widgets basically are the iconic feature of the Android Operating System that are used in order to dress up the Android devices home screens. Or you can say that widgets are used to personalize Android devices for your use.
Widgets are there not only for improving the functionality of your Android devices but also to make them look pretty awesome as well. These days, widgets are designed in a pretty stylish manner without compromising on their functionality. Here is the complete list for you. Feel free to share your opinions with us via comment section below. Enjoy!
Opensource digital style clock widget. Based around the Cowon D3 clock.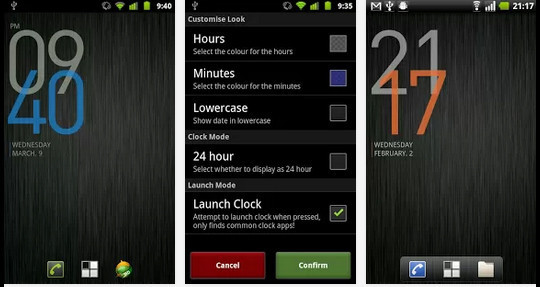 Minimalistic Text is a widget app that displays information in a minimalistic way. It can be configured to display time, date, battery and weather information. The layout of the widget is highly customizable through the layout editor.
DashClock is a replacement lock screen clock widget for Android 4.2+ phones and tablets. It also exposes additional status items called extensions.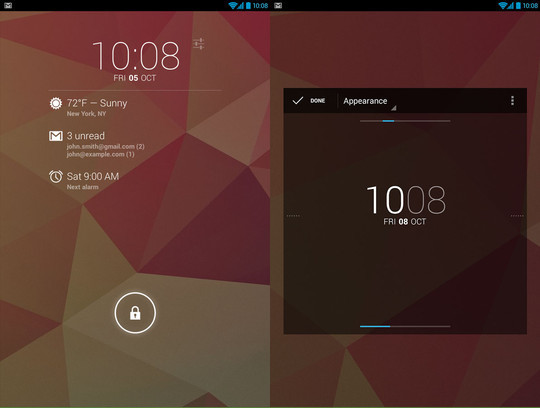 Are you running Android 4.0 or later? Please check out also Zooper Widget for more complex customization! Small (<200kb), fully configurable and extremely battery efficient WIDGET with clock, weather, battery status, world clock, uptime, network status and much more.
Free 14 Square & Circle Jelly Bean Clocks Widget with 7 Colors: Black, White, Holo Blue, Green, Red, Pink, and Yellow.
MIUI Analog Clock in 3 sizes, 4×3, 2×2, 1×1. Touch to launch Alarm Clock.
Neon look, glowing and great feel. Combination of analog and digital clock. Plus! It has complete yet useful additional information.
MIUI Evolution Reload Digital Weather clock widget with Calendar, Time, System info,weather & forecast A Digital Clock widget with size 4×2.
A digital, text or word clock widget with many options.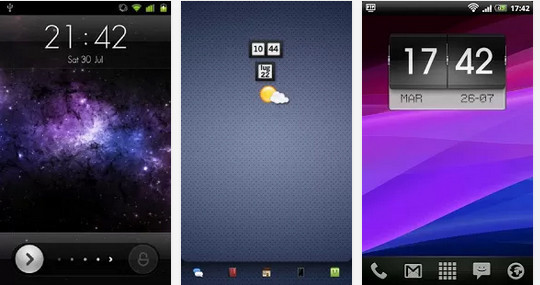 Lock screen widget support added for 4.2 devices, Most logic for desktop clock & live wallpaper already in app.
Super sexy, liney home screen clock with the date and today's weather.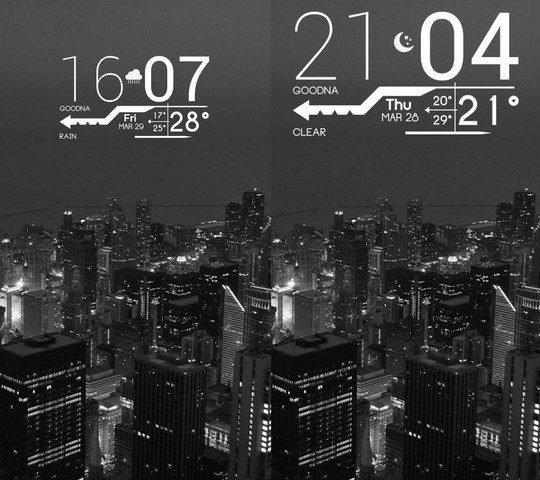 Simple digital clock widget for your homescreen. The power of this widget is in variety of customization options.
D-Clock Widget is simple digital clock widget.
A minimal date & time UCCW widget, Widget showing current date, date of week and current time.
This widget calendar is analog of standard calendar widget, support a lot of configuration options: Different skins, Possibility to choose which calendars to show, Font style and background customization, Show or hide current day of month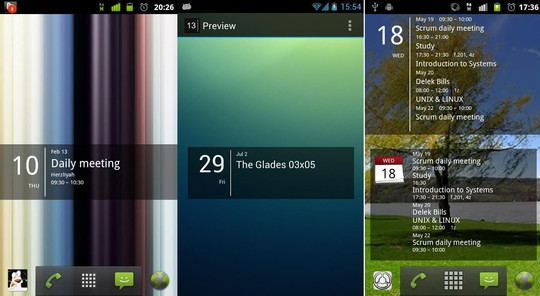 In the last few months, we have seen so many new and latest iPads, tablets and smartphones that were introduced in the market. All these latest iPads and tablets offer so many amazing features and awesome applications. These days Windows 8 tablets, Android tablets and iPads are very famous and popular in the market. Android tablets are so much popular these days that various companies are producing different types of Android tablets. An android tablet offers some really cool and superb applications.
If you are searching for some essential and cool apps for your Android tablet; then have a look at this collection. In this collection, you will see some awesome and essential applications for your Android tablets. These entire apps are easy to use and when you use these apps it will be the fun. So check this out and get to pick one. And do let us know what you feel about this round up.
Evernote is an easy-to-use, free app that helps you remember everything across all of the devices you use. Stay organized, save your ideas and improve productivity. Evernote lets you take notes, capture photos, create to-do lists, record voice reminders–and makes these notes completely searchable, whether you are at home, at work, or on the go.
Flipboard brings together world news and social news in a beautiful magazine designed for your Android phone and tablet. Once you pick a few topics, your Flipboard is built and you can instantly start flipping through the pages of news you care about and stories and photos friends are sharing. And with Flipboard 2.0, when you find things that you want to save for later or collect into your own 'magazine' on Flipboard, just tap the "plus" + button on any item.
ASTRO File Manager with Clouds
ASTRO Cloud & File Manager has over 70 million downloads worldwide! Organize, view and retrieve all of your pictures, music, videos, documents or other files regardless of where they are located.
With Google Drive, you can store all your files in one place, so you can access them from anywhere and share them with others.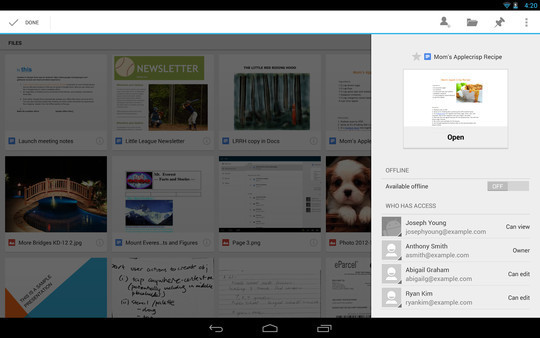 CamCard – Business Card Reader
CamCard reads business cards and save instantly to phone Contacts. It syncs all your cards across smartphones, tablets, computers and the web app.
With Cloud Print for Android you can: Print from any compatible Android device to any Google Cloud Print connected printer, Share a picture or a document from apps like Gallery directly to Cloud Print, Track the status of your print jobs.
Sync Your eBooks—The Kindle app lets you read the same book across devices and automatically syncs where you left off so you can start reading on one device and pick up where you left off on another device. The app syncs your furthest page read, bookmarks, notes, and highlights between Android, PC, Mac, iPad, iPhone, iPod touch, BlackBerry, Windows Phone 8, and any of our Kindle devices using our Whispersync technology.
New update brings Android KitKat support and a beautiful new UI for tablets & phones! Are you tired of using multiple apps for syncing and listening to music, radio & podcasts? With over 80 thousand 5 star ratings, doubleTwist Music Player is the best all-in-one podcast, radio, sync and music player app.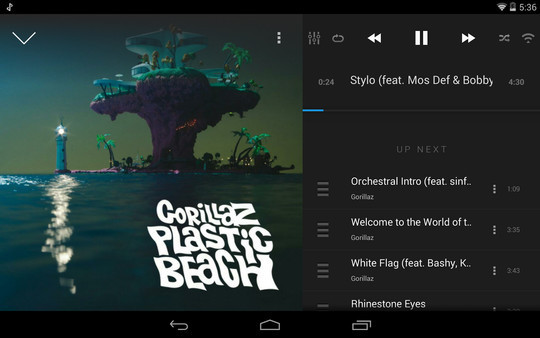 Kingsoft Office is the only mobile Office with full-features FREE. Support for running on Android 2.1 and above system. User-friendly & nice UI interface! Users from over 200 countries and regions around the world are using it. The Average Rating of Kingsoft Office is up to 4.6 stars! Whether in a small cell phone screen or on a large screen on the Tablet, Kingsoft Office has a superior performance!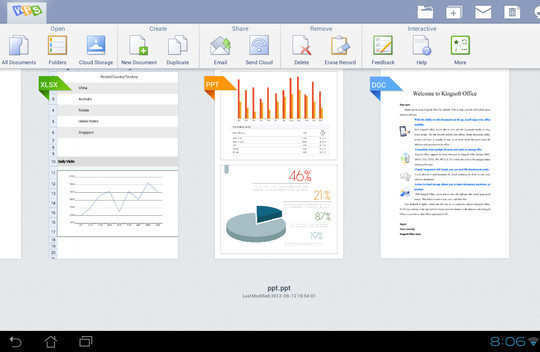 In 2013, we see a huge increase in mobile application world and every day lots of new, interesting and wonderful Mobile Applications are introducing. Competition is very tough that's why every application developers and designing companies are trying to find out some tools to develop some incredible and exciting mobile application which also easily grabs the millions of mobile customer's attraction. Wireframing is the solution of designers search.
For this purpose, we are showcasing in this post 11 amazing and outstanding tools for Mobile Applications Wireframing. All these amazing tools give superb and wonderful support to the Mobile applications. We hope that you will like this assortment. Feel free to share your opinion with us. Enjoy!
The best platform to define mobile and web apps with rich interactive wireframes.
Create animated interactions easier and faster, make UI items draggable, apply new touch, mobile and web compatible gestures and start capturing data and doing simple calculations.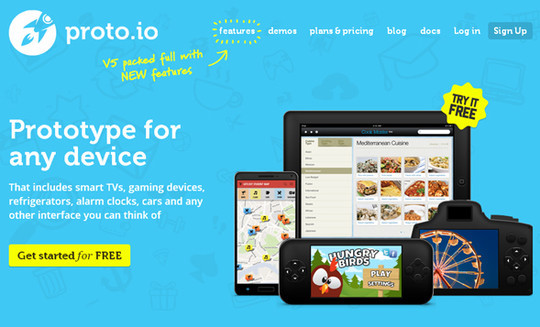 iOS 7 library, mockup rebranding, widget groups, action timeline and new plans.
Framer can help you to quickly build interactions and animations. Built for designers and integrates with Photoshop. Great alternative to Quartz Composer, Flash or Keynote.
EightShapes Blocks is a toolkit for user experience designers to modularize, communicate, and deliver annotated HTML prototypes.
Create iPhone mockups with your style and rock your audience.
Good software doesn't need to be complex. That's why HotGloo is really intuitive and easy to use. You will feel at home immediately.
The fastest UI prototyping and interaction design tool – helps you quickly and simply explore and create functional, animated UI prototypes while maintaining the focus on user experience at every step. With Indigo Studio you can create storyboards with over 100 different scenes, wireframes with built-in interactive controls, and prototypes for your desktop, web, and mobile apps – all with no coding necessary!
Mockingbird is an online tool that makes it easy for you to create, link together, preview, and share mockups of your website or application.
Accelerate Mobile Innovation in the Enterprise. The only cloud-based platform with visual development tools and integrated backend services
Mockup Builder is a prototyping solution that helps design software or websites while reducing the time and cost spent on the negotiation stage. Identify your requirements and get the job done right!
There are times when managing your finances becomes a tough job may be because it is something that is not taught in school or universities. But hey, relax! It is not that difficult either. Thanks to the new technology. Today, we have some very smart applications that will help you manage your finances efficiently. Not only these apps let you control your finances but they will also help you spend within your budget. Consequently, such finance management apps may also help you keep some savings at the end of the month.
Keeping this in mind, here we are showcasing a list of 9 most useful and excellent Android apps that will help you in managing your finances. We hope that you will like this collection and find these apps useful for you. So, take a better control of your expenditure with these Android apps. Enjoy!
Open-source personal finance manager, Multiple accounts, multiple currencies, Home currency and exchange rates, Transfers with downloadable rates, Scheduled & recurring transactions and much much more.
Cash is personal finance accounting application, freely and available for all android devices. Designed to be easy to use, yet powerful and flexible, Cash allows you to track bank accounts, stocks, income and expenses. As quick and intuitive to use as a checkbook register, it is based on professional accounting principles to ensure balanced books and accurate reports(similar to GnuCash, Microsoft Money, Quicken).
Personal finance management, budget, bills, income and expense tracker. Famous budget tracking app for Android! Find out where your money goes! Plan your budget and savings. Enjoy the fastest way to track daily expenses using a comprehensive one-screen view of your finances. Improve your skills with a unique, game-like feel.
The one of best tools for keeping accounts, efficiently tracking each expense report, AndroMoney is a personal finance tool for use on your mobile phone. By using this tool, we hope you can better manage your wealth.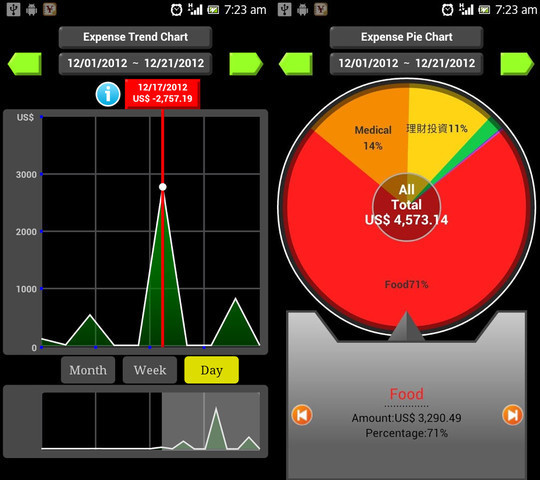 Expense manager is great application for managing your expenses and incomes.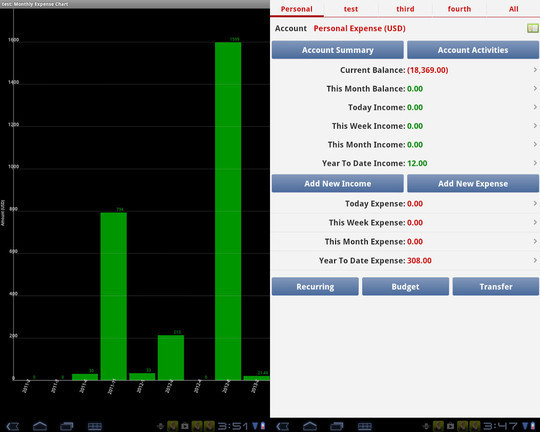 Money Tracker is application to control your daily expenses and save money that you might miss at the end of month. Specify desired monthly budget, and then easily control everyday expenses in our application. Enter daily all expenses, and your end of month balance is immediately calculated. You can see whether your expense is over the budget or is in the limit.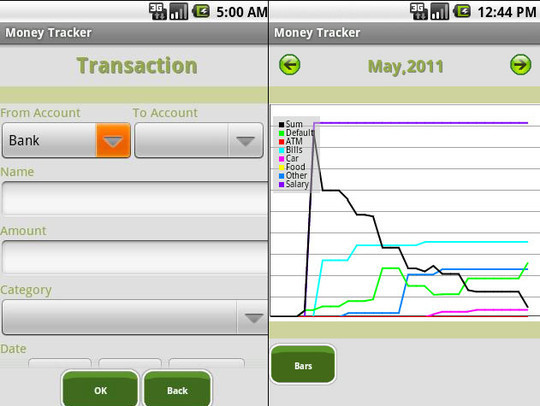 CWMoney is a Finance Management Software for Android, This Free Version have almost full function, it's easy to record daily expense, income money.
If you've already tried all other similar programs, I assure you this is the best. It has all the useful features to keep your personal finances, some of them you will not find in any other program.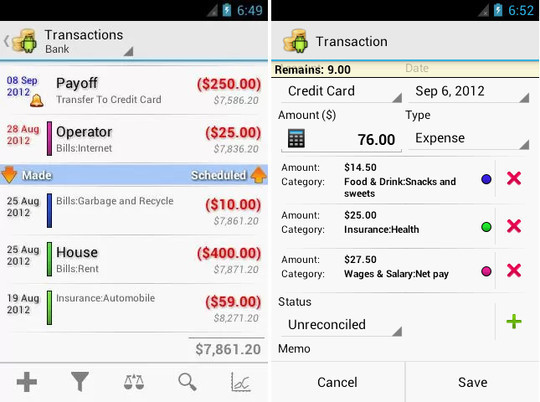 Simple and minimalistic budget planner / money tracker. Keep track of all incomes and expenses or just check how much money you spend on your hobbies or bad habits!