Javascripts
Are you interested in creating a single page layout website? Do you need to know something about plugins that help you create such websites? If yes then you are at right place. Here we are discussing 7 jQuery plugins that help you creating page scrolling layout – characteristic layout for a single page website. Page scrolling techniques are of two types: one is browser scrollbar dependent and the other user action dependent. Regardless of what type of scrolling techniques you want to use, these plugins will help you achieve page scrolling effect quite effortlessly.
We hope that these plugins will not only save your time but will also satisfy your needs so that you will not be required to reinvent the wheel again. Speak your mind and let us know your opinion about this compilation. Enjoy!
With this plugin you can create layout with the famous NikeBetterWorld style.
Page Scroller lets you know where you are on a page while providing a simple smooth scroll navigation. Organize your site into easily digested sections. Use a CSS navigation skin or create your own.
The jQuery plugin for doing cool scrolly stuff.
A jQuery plugin for making scrolling presentation decks.
With ScrollTo you can easily scroll various elements and the screen itself.
With this jQuery plugin you can create a parallax scrolling effects to any scrolling element.
It's a plugin for defining custom scroll paths. It uses canvas flavored syntax to draw lines and arcs. It comes with a custom scrollbar. It also does rotations in supported browsers.
A countdown timer is the first thing that comes to a developer's mind whenever the website is down for maintenance and there is a requirement to inform the visitors about the upcoming special events. Countdown timer scripts are there to help developers in informing their visitors about the specific events no matter how long their website will be down.
In this round up, you will discover 16 essential countdown timer scripts that you may need one day. So, it's better to keep them in your tool kit for the time of need. Here is the full collection after the jump. Enjoy!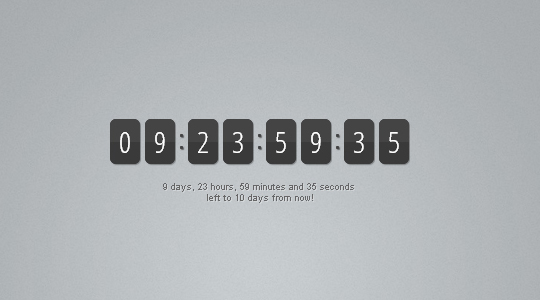 Add a Countdown Timer on Your Website
Countdown Timer With ActionScript 3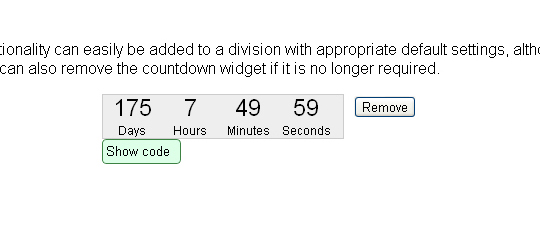 Countdown Timer In ActionScript
Flexible and Easy "Countdown" Clock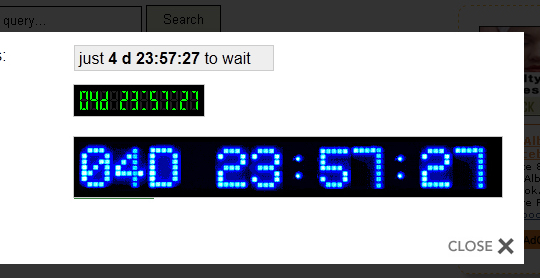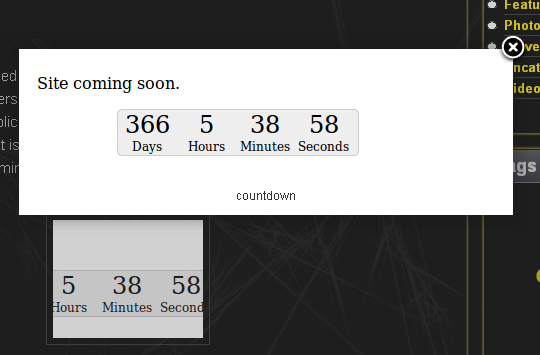 In this collection, we are presenting a complete list of some amazingly stylish and appealing jQuery plugins for creating image and multimedia galleries. It goes without saying that jQuery is the first option that strikes your mind when it comes to showcasing a variety of creative stuff on your website. With the help of jQuery plugins, you can easily showcase your stuff to the world even without being technical savvy.
So, enjoy looking into this collection and have more fun using them in your websites. We hope that these plugins prove helpful for you and save your time and energy. Enjoy!
Micro Image Gallery A jQuery Plugin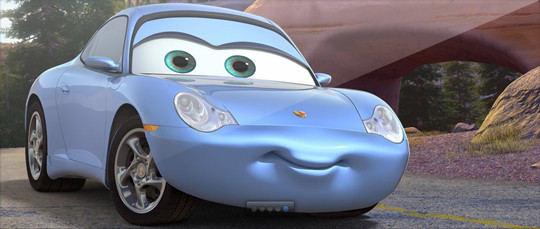 Making a Mosaic Slideshow With jQuery & CSS
An HTML5 Slideshow w/ Canvas & jQuery
Awkward Showcase – A jQuery Plugin
ZOOM – jQuery photo gallery plugin
A web form on your website is one of the most important and crucial elements that you cannot neglect if you really want your website to go beyond your expectations. The main reason is that web form is the way your visitors and clients can contact you with their queries and suggestions. Thus, having a visually appealing and completely function web form is important for every website.
Thanks to jQuery plugins, now you can easily create aesthetically appealing and functional web forms without much effort. We have already published a post about jQuery Forms and in this round up, we will showcase another 10 classy jQuery plugins that you can use to enhance the beauty and appeal of your web forms. Here is the complete list. Enjoy!
jQuery Credit Card Validation Plug in
Creating a Neon Blink Effect for your Forms Using jQuery
jQuery Simple Validation Plugin
Turn any webform into a powerful wizard with jQuery
Fancy Sliding Form with jQuery
jQuery plugin Targeting Usability for Password Masking on Forms
jQuery does not need any introduction rather it is the most widely used technology in the web and graphic designing world. You can create loads of great things with the help of jQuery Live action. In addition, plentiful jQuery plugins are available on the internet that make it possible to create slideshows, forms, animations and various other excellent effects without much effort.
Below, we are presenting 10 truly amazing and great jQuery plugins for 360 degree image rotation. So, if you want your products to be seen from all angles then you should check out these jQuery plugins. So, don't miss the opportunity to try and test the matchless features of these great plugins. Enjoy!
AJAX-ZOOM is a unique tool to present 360° product images on the web. Users can rotate the VR 360 object, also on Z-axis (3D multirow). Additionally deep zoom on every frame (the sprite contains a set of single images of the same object). The adoption of image tiles technology (image pyramid) allows the usage of high resolution images without compression.
Reel 1.2 is an established jQuery plugin which takes an ordinary image tag and transforms it into a gorgeous interactive 360° object movie, panorama or stop-motion animation.
Dopeless Rotate is Jquery plugin for 360 degree product visualisation.
JQuery Plugin For Rotating Image
This amazing and useful jQuery plugin allows you to rotate an image by clicking and moving the mouse.
Spritespin is a jQuery plugin that enables sprite animation in your website. It takes an array of images or a stiched sprite sheet and is able to play these images frame by frame. This results in an animation. The aim of this plugin is to provide a 360 degree view of some kind of product. There is no flash needed. Everything is done with javascript and the jQuery framework.
You can rotate the image either by clicking, mousemoving or by setting it to rotate in auto With this plugin.
The image cube functionality can easily be added to a division with appropriate default settings. It then displays the images contained within the targetted division in a cycle every two seconds. A random rotation is chosen each time to move to the next image. Highlights and shadows are used to enhance the 3D effect.
j360 is a jQuery plugin designed to display 360 view of product using a set of images.
Displaying a 360° view of a sequences of images or panorama. It is simple, lightweight, no flash needed, no extra css need, fast and compatible with all major browsers and touches devices. It has been tested on Android browsers, Ipad browser, IE 6,7,8,9 , Firefox, Chrome, Safari and Opera.
Flip is a jQuery plugin that will flip easily your elements in four directions.
Here we are presenting 11 jQuery plugins for you to improve your typography. With jQuery plugins, you can implement superb things on your website quite easily. In this round up, we have put together some jQuery plugins that will allow you a better control on your website for web typography. We all know that typography is an important element in a web design and achieving a high level of typographic style can make your web design look eve more stunning and attention grabbing.
Here is the complete collection. Browse through this collection and do share your opinion with us via comment section below.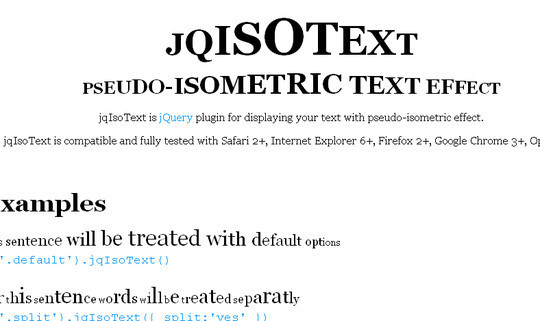 jMetronome: Using jQuery to keep typographic rhythm
In this round up, we are showcasing a wonderful collection of some useful jQuery navigation plugins and tutorials that will definitely help you improve your website visibility and let you spice up your website more effectively. jQuery is a wonderful creation and its plugins have been designed to help you keep your content more organized and interactive for your website users.
Here in this collection, you will discover some handy plugins and useful tutorials that will assist you in your work. We hope that you will like this collection and find it helpful for you. Do let us what you feel about this collection. Let us take a look at this compilation.
A Stylish Navigation Menu With jQuery
Making a Fresh Content Accordion
Create a Slick Tabbed Content Area using CSS & jQuery
jQuery Tabbed Interface / Tabbed Structure Menu Tutorial
Create a Cool Animated Navigation with CSS and jQuery
Vertical Flyout JavaScript Menu
Use Sprites to Create an Awesomeness-Filled Navigation Menu
How to Make a Smooth Animated Menu with jQuery

Drop down menu with Nested Submenus
Create a Cool Animated Menu with jQuery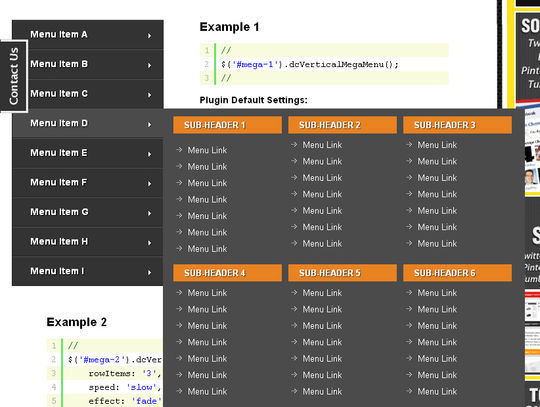 Sweet AJAX Tabs With jQuery 1.4 & CSS3
Fancy Sliding Form with jQuery
AutoSprites – A jQuery Menu Plugin
Creating a Floating HTML Menu Using jQuery and CSS
Using jQuery for Background Image Animations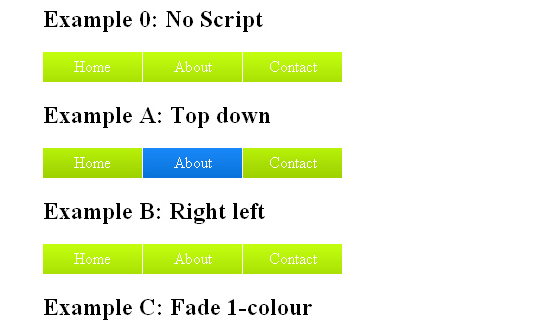 Vertical Scroll Menu with jQuery Tutorial
Easy to Style jQuery Drop Down Menu Tutorial
How To Create A Keypress Navigation Using jQuery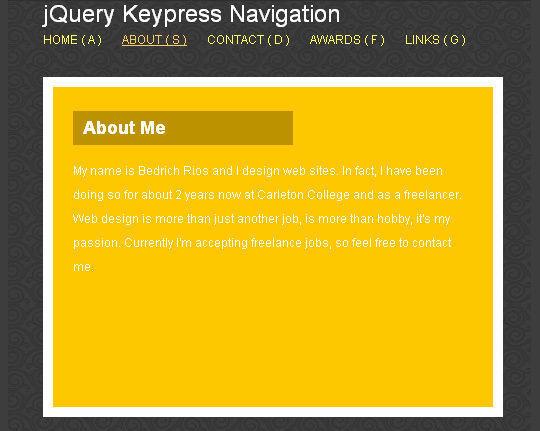 Outside the Box Navigation with jQuery
'Mootools Homepage' Inspired Navigation Effect Using jQuery
Beautiful Slide Out Navigation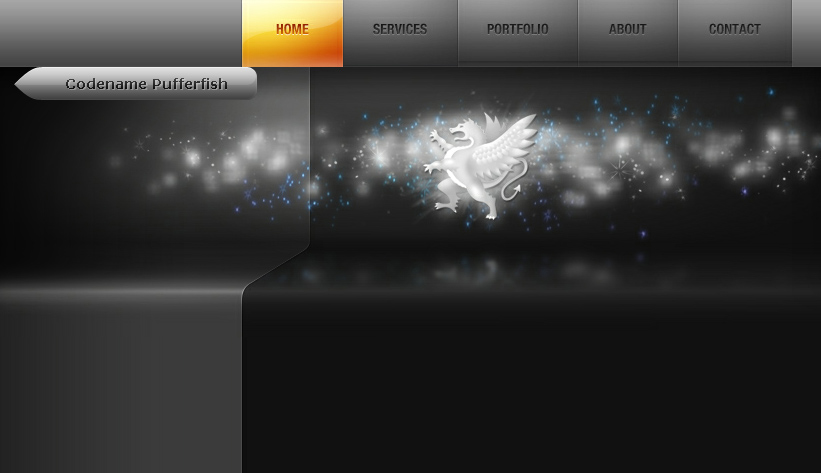 jQuery Horizontal Tooltips menu tutorials
MultiColor Animated DropDown Menu
Create a Good Looking Floating Menu with jQuery Easing
jQuery has become one of the most accepted JavaScript library that has been used all over the world. For this reason, many people all around the world are interested in learning this wonderful creation of the technology. Tutorials is the best thing on the internet to learn from. This time, we are specifically presenting some fresh tutorials that were recently released. These tutorials will cover different aspects of jQuery that you can use to make your creation even more powerful and interactive.
Here is the complete list of fresh jQuery tutorials for you. We hope that you will find this collection helpful for you and will learn loads of interesting and useful techniques from them. Enjoy looking into this collection and have more fun using them in your work.
Create a Beautiful Password Strength Meter
Create a Sticky Navigation Header Using jQuery Waypoints
Swatch Box with CSS3 and jQuery
Fullscreen Slit Slider with jQuery and CSS3
How to Create an Video Player in jQuery, HTML5 & CSS3
Orman Clark's Vertical Navigation Menu: The CSS3 Version
How to Create a Slider Plugin with jQuery
Create A Minimal Single Page Portfolio With HTML5/CSS3
Curving Text with CSS3 and jQuery
Making a Page Flip Magazine with turn.js
Making an Impressive Product Showcase with CSS3
Apple-like Login Form with CSS 3D Transforms
CSS3 Multilevel Menu with Transition and Animation
Change Image on Click with jQuery
How to Create a CSS3-Only Tab Control Using the :target Selector
How to Code a jQuery Rolodex-Style Countdown Ticker
Building an E-mail Request Invite Form with jQuery
Interactive Menu with CSS3 & jQuery
Create an Audio Player in HTML5 & CSS3
How to Create Login Form with CSS3 and jQuery
Animated Web Banners with CSS3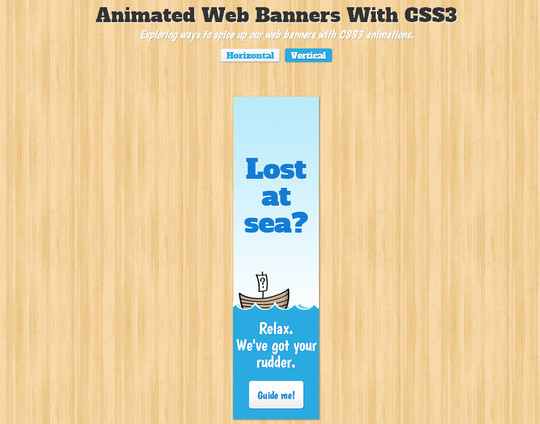 Create Calendar using jQuery and CSS3
Login and Registration Form with Html5 and CSS3
How to Create an Image Slider using jQuery and CSS3
Pretty Simple Content Slider with jQuery and CSS3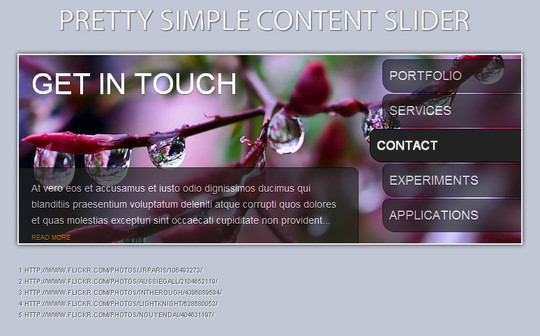 Parallax Contenet Slider with jQuery
How to Create an Upload Form using jQuery and PHP
Conclusion
We hope that you will find this collection of useful tutorials helpful for you. These jQuery tutorials are designed to help you use jQuery more proficiently and effectively. Without any further ado, here we are presenting the complete list of some fresh jQuery tutorials that were released in 2012. Enjoy!
jQuery is simply miraculous as you can discover plugins to achieve almost anything you want. It makes your work uncomplicated and fast. Therefore, developers constantly look for fresh and useful jQuery plugins along with step by step tutorials to learn using jQuery in a more proficient manner.
In this article, we are showcasing a group of exciting and breathtaking jQuery plugins for your use. jQuery is the most prominent and well known Javascript framework that goes together with many amazing features as well as it is quite easy to be used.
You can bring these plugins into play to put in stunning effects and functionality in your next project. These plugins will also assist you in carrying out your task effortlessly.
jQuery Clean and Simple Tooltips: gips
Free Multi-Node Range and Data Slider: JQ Slider
Shiny Knob Control with jQuery and CSS3
Arctext.js – Curving Text with CSS3 and jQuery
jQuery Plugin for On-demand Search Box: SeacrhMeme
Vertical Sliding Accordion with jQuery
Multi Level Hierarchical jQuery Menu: jQSimpleMenu
Fullscreen Image 3D Effect with CSS3 and jQuery
jQuery Strong Password Plugin: Power PWChecker
Thumbnail Proximity Effect with jQuery and CSS3
Item Blur Effect with CSS3 and jQuery
Lateral On-Scroll Sliding with jQuery
Typography Effects with CSS3 and jQuery
Making a jQuery Countdown Timer
jQuery PointPoint – A Plugin For Pointing To Things
Shuffle Letters Effect: a jQuery Plugin
Wave Display Effect with jQuery
jTable A JQuery plugin to create AJAX based CRUD tables
jPList : jQuery List Handling plugin
Portfolio Image Navigation with jQuery
Image Gallery with Integrated Social Networking Links
Horizontal Bar Graph with CSS3 and jQuery
Create a Windows-like Interface with jQuery UI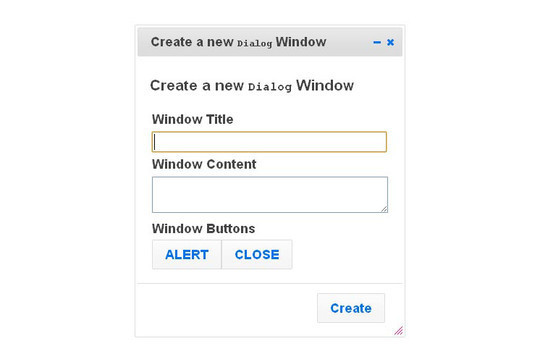 How to Build an RSS Reader with jQuery Mobile
With so many collections of jQuery image and content sliders and slideshows, sometimes it gets quite confusing which one to use. So, we thought to compile a fresh collection of some of the best jQuery image and content sliders and slideshows that you will find useful for you. We especially designed this collection for those people or developers who are in search of some innovative and fresh jQuery slider plugins and scripts in order that they can use them in their new projects for free.
Here is the showcase of some of the best and the freshest jQuery slider plugins with the intention that you can make the most of them in developing astonishing image and content sliders. We hope that this collection proves to be the best. Enjoy!
Responsive Image Gallery with Thumbnail Carousel
Slicebox – A fresh 3D image slider with graceful fallback
Photobooth with PHP, jQuery and CSS3
Lateral On-Scroll Sliding with jQuery
Awkward Showcase – A jQuery Plugin
Elastislide – A Responsive jQuery Carousel Plugin
Circular Content Carousel with jQuery
Elastic Image Slideshow with Thumbnail Preview
Responsive jQuery Slider Plugin Flexslider
Bubble Slideshow Effect with jQuery
Coding a Rotating Image Slideshow w/ CSS3 and jQuery
Fullscreen Slideshow with HTML5 Audio and jQuery
Responsive Thumbnail Gallery Plugin
Fullscreen Background Image Slideshow with CSS3
Scrollbar Visibility with JSCROLLPANE
How to Make Auto-Advancing Slideshows