Blogging
WordPress is the world's most popular blogging platform where thousands of users register everyday and launch their blogs. The main attraction and comfort of using WordPress is the ability to launch a blog within a matter of minutes. While maintaining a blog it is very important to promote it on social media networks like Digg, Reddit, Stumble and a lot more. If you're looking for WordPress plugins that automatically adds social networking buttons with every article that you write then We have compiled the perfect list for you guys.
Below are some of the most useful and popular WordPress plugins that will let you and your readers promote your articles easily.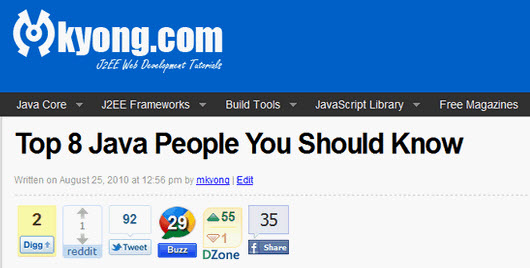 As the name suggests Digg Digg plugin allows you to post articles on various social media networks. Currently it integrates with Digg, Reddit,  Dzone, Yahoo Buzz, Twitter, TweetMeme, Topsy, Facebook Share / Like, StumbleUpon, Delicious, Sphinn, Google Buzz buttons, Designbump,The web blend and BogEngage. Other than that you can place your buttons according to your theme's display.
Social Media Page is another WordPress plugin that serves the same task. Once installed you can easily add a list of links to your social media profiles on a page or post of your choice through the use of a simple tag. In addition to that a widget is also added so that you can display this list of links in the side menu of the site.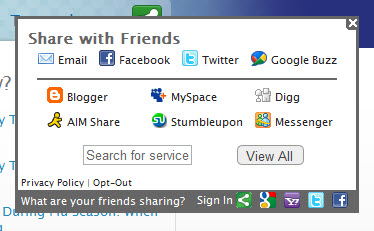 ShareThis is a very popular WordPress plugin currently used by over 850,000 sites. This plugin allows users to share content through email and moer than 50 social networkings including Digg, Stumbleupon, Twitter, Buzz and Facebook.
Offering great interface Gregarious WordPress Plugin allows seamless integration between your WordPress Blog and social bookmarking sites such as Digg.com, Del.icio.us, Reddit and more.  It is the ultimate social bookmarking plugin for WordPress users.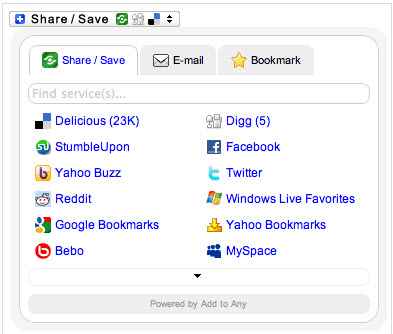 AddToANy is dedicated to helping people around the world share, bookmark, and email articles using mutilple social networking services like Twitter, Facebook, Digg, and many more. It comes with a customizable Smart Meny, which places the services visitors use at the top of the menu, based on each visitor's browsing and usage history.
If you have more suggestion do not hesitate to use the comment box below and mention them.
WordPress is a highly popular blogging platform. Over the years the platform has seen countless improvements and today, it continues to improve the user experience it offers. Apart from being reliable and secure, WordPress offers great visual appeal through its countless themes.
Web developers have contributed a lot to WordPress by building themes for the platform. By spending time on visualizing a theme and then coding it, developers can share their brilliant blogging designs with other WordPress users. If you are a WordPress theme developer looking for a way to reduce the time spent on coding, check out the brilliant website WP-Snippets.
WP-Snippets is a free to use website with a fitting name. The site provides visitors with different snippets of code for WordPress themes. These snippets correspond to a variety of functions; ranging from "Remove Metadata Generator" to "Change Login Logo" you will find many snippets.
The snippets are listed in a tag cloud on the site's homepage. You can use the search bar to filter the snippets and find the one you are looking for.

Clicking on your snippet will take you to its page.
The snippet's page includes a brief description of the code. Scroll down and you will find the code itself. If any additional explanations or special instructions on how to use the snippet are required, they are included under the code.
You can share the snippet with your other WordPress developer friends via sharing the snippet's URL or directly Tweeting it using the button provided on the top right.
In conclusion, WP-Snippets is a must-bookmark website for WordPress theme developers.
As a blogger myself, I have noticed that many people have started picking up blogging as a profession and are trying to use their talent to gain popularity. Recently, someone shared a spectacular road-map illustration on how to gain fame through blogging. This illustration was shared by Dave Walker from We Blog Cartoons and I found the illustration quite funny.
We would love to know what you are thinking while viewing this illustration. Do you want to be the first one to know the latest happenings at SmashingApps.com just subscribe to our rss feed and you can follow us on twitter.
Getting your site's visitors to interact with one another can have many benefits. Site visitors will talk to one another and develop a site community which discusses site changes and lets you know what is going good and what needs improvement.
One way to enable visitor interaction is by providing online instant messaging features. Envolve does exactly that for your site.
Envolve introduces Facebook-like chat to your website. Through the insertion of a few lines of code, you will easily get a chat interface in the bottom right of your site like the one displayed in the image above.
I was pleasantly surprised to see how easy Envolve had made its usage for webmasters. The first step is to click the big green button you will see on the site's homepage. The button says "Install it on my site."
The next step is to enter you site's URL and name.
After providing your name and email address, you select your site's platform. You can choose a simple HTML based site or any one of WordPress, Blogger, or TypePad.
Each site type is basically a tab. Clicking on any tab will generate the corresponding code beneath.
In the case of HTML, the code appears as:
Clicking on any tab / site platform, will also display a short passage of instructions explaining where to use the generated code. You can see the HTML instructions and code in the images above. Clicking on the WordPress tab will display a view like this:
Like mentioned earlier, Envolve makes its usage very user friendly for site runners and blog owners. Whether you are running a massive site or a private blog, Envolve can help you in getting your audience to talk to one another. Check out Envolve.
RSS feeds are a great way to catch up on website updates. You can simply have the RSS feed view all the latest material on a site without having to look for it manually. However reading many RSS feeds can get a little too tiresome for the eyes because of the extensive reading. To ease your management of RSS feeds, give BlogRadio a try.
BlogRadio is a freeware desktop application based on Adobe Air. The tool gathers your RSS updates and reads them out for you. It uses great text-to-speech techniques to produce almost natural male / female reading voices.
To get started with BlogRadio you will first need to download it. Since it is based on Air, it is multiplatform and can be used by Windows, Mac, and Linux computer users. After installation this is what BlogRadio will look like:
(* You can resize the window to suit your monitor's resolution and view all BlogRadio's buttons.)
Initially, BlogRadio's main pane will be empty. You will need to use the "Add" button under the left pane of RSS feeds add new feeds.
After you have successfully added the feed, the updates will be shown in the left pane.
You can highlight any entry and its corresponding updates will be shown to the right, in the middle pane.
In this pane, you can click on any entry and use the button under this pane to start the reading.
Each entry will take a short amount of time to load up before it can be played so you might have to wait a while, depending on the speed of your connection.
To change the voice the feed is being read in, use the "Test the Voices!" button in the top row of buttons.
This button will show you options of voice which you can test out and select.
In conclusion, if you use RSS feeds and are looking for a way to improve their convenience level, BlogRadio will not disappoint.
Visit BlogRadio @ www.podblogr.com and get its desktop application.
These days we all are noticing that thousands of new blogs are starting every day to get in the race of influential blog of the industry. But only few of them could survive and stay in the battlefield fighting with existing giants. Well, I know this is not possible to fight but yes they at least try to find their place in the market. Well, to be honest many of the blogs owners really dont know how to get the word out about them and inspire their first time visitors to come again to create a strong community.
A friend of mine Syed Balkhi at WPBeginner recently created and launched a really useful and directive slideshow to make the new blog owners lives easier than ever. As the title of slideshow says everything "I've Got a Blog, Now What Do I Do?", it would be enough good if someone will really want to do something to establish their blog in decent period as after reading this you guys would not need to invent the wheel again. huh! I mean he put all of his experience and mature understanding in this slideshow to deliver the actual knowledge that anyone could wish.
This slideshow consist worth-checking 50 slides which covers decision to start a blog to setting up and launching then content selection to excellent copywriting. After this, using all the possible platforms to spread out the word about your blog like getting you active on social media e.g. twitter, digg, reddit, stumbleupon etc for getting massive feedback on your posts. In short, it has so many things that you can learn to enhance your blog's future and increase your reader base.
I've Got a Blog, Now What Do I Do?
I've Got a Blog, Now What Do I Do? – Presentation Transcript
I've Got a Blog, Now What Do I Do?
The Holy Grail of Blogging
Syed Balkhi
Founder of WPBeginner.com
@wpbeginner
What is WPBeginner?
WordPress resource site launched on July 4th, 2009.
In less than a year, this site has been mentioned in Wired Magazine, Webmonkey, Mashable.com, Problogger.net, Smashing Magazine, and others.
Top twitter users like Robert Scoble, Darren Rowse, Jeremy Schoemaker, John Chow, Neil Patel, Mashable, and countless others have retweeted @WPBeginner.
Right Now:
This site has a Google Pagerank of 6.
Alexa Rank of 13,000.
Over 50,000 backlinks.
Total Social Media and RSS Following of over 34,000 users.
All in less than a YEAR with $0 spent on advertising.
To Rent Or To OWN??
Credit: Seier and Paddy
DID YOU GET IT RIGHT?
GOALS, GOALS, GOALS
"A brand should strive to own a word in the mind of the consumer."
Al Reis and Laura Reis
Don't make it Confusing!
Del.icio.us
vs.
Delicious.com
Credit: Tinypoems
PEOPLE ARE SHALLOW!
Credit: Prakhar
CONTENT IS KING
Must Have WordPressPlugins

Akismet
All in one SEO Pack
Contact Form 7
WP Super Cache
WP-DB Backup
Subscribe to Comments
Google XML Sitemap
Comment Redirect

All of these plugins are free and can be found in the WordPressPlugin Directory.

Thank YOU
Analytics
(S)(E)(O)
Write for the peopleNOT the bots…
Website's don't link to other websites. It is the people who point to other people's work.
User (SEO) Friendly URLs
/%category%/%postname%/
Use AIOSEO Properly
Link Baiting

List Posts
Contest / Giveaways
Free Tools
Controversy / Attacks
Be the First (NEWS)

Credit: Toon Refugee

BEAUTIFUL DESIGNS CAN GET YOU A BACKLINK
SEO Checklist

XML Sitemap
Semantic Web Markups <h1><h2>
Image Tags (Alt="")
Rel=nofollow
Limit External Links
Increase Internal Linking (Related Posts)

WHY SOCIAL MEDIA?
"Word of Mouth Advertisement is the most effective form of advertisement"
TO GET CONNECTED.
TO GET NEW USERS.
TO INTERACT WITH READERS.
TWITTER
TWITTER CHECKLIST

Custom Background.
Good Profile Photo.
Multiple Profiles??
Interesting Tweets.
Use Hashtag
Retweet Button
Don't Whore Yourself.

It's not about the Quantity.
Eat. Sleep. Tweet.
SCHEDULE YOUR TWEETS
Twitter can be distracting.
Use Hootsuite.com or Tweetdeck to schedule tweets.
Twitter is the 2nd highest traffic source on WPBeginner.
Twit-baiting
Check out @wpbeginner if you have any questions related to #WordPress
Win a free copy of @templatic#WordPress Themes from @wpbeginner – http://bit.ly/aaNjVo (Simply RT to Enter)
"Twitter Search is the best place to find new clients."
FACEBOOK
"Facebook is the opiate of the masses."
- Karl Marx (Modified)
FACEBOOK CHECKLIST

Fan Page.
Custom Fan Page URL.
Custom Landing Page.
Facebook Share Button.
Facebook Like Button.
Don't SPAM other fan pages.

DIGG. SU. REDDIT.
THE DIGG/Reddit EFFECT
#1 Rule, don't abuse digg or reddit.
Don't submit your own content.
Neither Digg nor Reddit has any SEO advantages.
"Not every article deserves to be bookmarked"
BLOG COMMENTS
Advantages
Top Commentator Backlinks.
Brand Identity due to Gravatar.
Connection with the Blogger (That's how I met Darren Rowse).
More Exposure and Traffic.
GUEST BLOGGING
Nice way of Stealing traffic and bringing it to your website.
Guaranteed Exposure
Get Paid to increase your reputation and get traffic to your website.
Forums
Digitalpoint Forums
Problogger Forums (Paid Access)
Namepros Forums
Sitepoint Forums
WPTavern Community
NETWORK!!

Exchange Backlinks.
Retweet each other.
Guest Blogging.
Social Media Votes.

REVISIT YOUR GOALS
TIME TO QUIT? (EXIT STRATEGY)
PERSONAL & PROFESSIONAL
Build TWO brands.
@syedbalkhi and @wpbeginner
Leverage them to help each other grow.
Great exit strategy and excellent for new startups.
Resources

http://www.wpbeginner.com/

http://www.balkhis.com/for-starters/how-to-launch-a-new-blog-successfully/

http://problogger.net/

http://mashable.com/

http://fuelyourblogging.com/

Who am I? How to Reach me?
Syed Balkhi
Founder of WPBeginner.com
CEO of Uzzz Productions (uzzz.net)
Contact:
Email: admin@wpbeginner.com
Twitter: @wpbeginner / @syedbalkhi
Facebook: http://facebook.com/wpbeginner
Are you running a website? One of the best ways to attract more traffic is to personalize your website. Most site owners do this by adding an "about me" section. While this is fine, sharing your musical preferences with the visiting community will help them relate to you. This in turn, will form loyal site followers.
Now imagine sharing music by adding great quality songs in a web player on your website. Visitors can listen to the songs and purchase tracks / albums in this player widget. To make things even better, you get a percentage of each track / album sale. If it were not for BuyWidget, that scenario would have sounded too good to be true.
BuyWidget is a simple tool for your website that performs all the functions mentioned above. You sign for an account on the site, create a playlist of songs, and get the widget which should be added to your site.
The playlist can contain as many songs as you want. You can add songs by searching for artist, genre, album, and song. Once a playlist has been formed you can always change it, make additions to it, and reorder the tracks easily. The code you obtain for the widget is HTML and can be placed wherever on your site, according to your preference.
Visitors can play the songs from the BuyWidget player and hear the best sounds because the songs are in MP3 format, at 296 kbps or higher. You get 7% of the sale of each track or album.
BuyWidget is an excellent concept that will satisfy a lot of site owners by adding a new source of revenue to their income. The best part about all of it is that you need not pay BuyWidget any signup or subscription fees. Click here to visit the site.
With so many blogs around in the blogosphere, it becomes really difficult to get the right taste of news you want to read daily. If you love reading about computers, technology and geek stuff, you will find a lot of blogs which claim to serve interesting content and provide the information you are looking for.
Let's face it – not all blogs are fun to read because they focus on "what brings business" and not on what the reader actually wants to read. Techi.com is a technology blog, but with a different genre – you will love reading the posts without getting bored.
What Techi.com is all about
Techi.com is a blog that serves fresh technology news, funky new design stuff, in-depth editorial articles, and reviews. Not the kind of stuff that makes it to the newspapers, but just the kind of stuff that millions of people love to read every day. It started as a technology blog where you will now find everything – from gadgets to software reviews, from designing tips to Technology news, from Google to gaming and so on.
The interesting thing about Techi is that the writers are not corporate sell outs, they don't write about the usual boring stuff to attract business and prospects. Rather they focus on building a community around their blog by making the content interesting. The posts are written in a very friendly tone and they don't appear sarcastic any way.
The Interface of Techi
Techi has a very clean and clear interface; you won't find junk stuff lying here and there in the design. The fonts are bigger, the colours make it easy to read and they have a very sober layout. If you are a regular reader of Techi, you are already aware of the site's look and feel, if this is the first time you are going to visit Techi – you will see something like the following:
The home page of Techi.com contains the latest posts published in reverse chronological order, the latest post being displayed at the top. You can use the paginated buttons to dig deeper and see the archive for posts written on an earlier date.
The Topics Covered
Techi.com mainly focuses on technology news and editorials, the main topics include the following:
Apple
Design
Facebook
Gadgets
Gaming
Google
Hardware
Lifestyle
Microsoft
Mobile
Robotics
Software
Technology
Twitter
I like the idea of lesser categories because the lesser the categories are, the more focussed is the content. You don't see random posts coming out every now and then, they have a balanced posting frequency and you can expect the latest tech news arriving with the morning coffee in your hand. Here is how the category section looks:
The widget is actually very interesting, you click a topic icon and can see what are the latest posts on that topic. The widget slides the categories panel to the left and shows the latest posts from the selected category, without reloading the page. Neat!
Lesser categories don't mean they leave the important ones – you will find gadget reviews, news about Apple, what's happening on Facebook and so on. The site also includes mobile reviews so you can check the mobile reviews section before deciding to buy the latest handset.
You can also use the scrolling tag cloud to dig deeper into a particular topic. Tags help you to find content easily, and the tag cloud implemented in their site is absolutely brilliant. It works simple – you hover the mouse over an alphabet and the corresponding tags are shown,  pick a tag, click it and read the posts.
Besides the tags and categories, you can also read the editorial topics here or try some videos in the Techi.com video section. They also offer a separate RSS feed for the video podcasts here,  hence it's easy to see all the videos and screencasts at one place.
The Most Popular Posts at Techi
Techi has a "Popular posts" section included in the sidebar, which looks like the following
The section includes a list of posts that are currently popular among the site's readers and visitors; you can click the link to read an article. Some of the currently popular articles which are worth a read include Unboxing the iPad 3G, Some Fascinating Twitter stats and Expo 2010 Shanghai report.
Besides the popular posts, if you want to have a sneak peek at the current trends and read some cool stuff, head over to the home page and have a look at the "Cool Tech" Section. The "Cool Tech" Section looks like the following and includes productivity tips on geekery and lifehacking.
Audience Profile
Although the site has a global audience, the maximum visitors come from United States, Canada, United Kingdom and other European countries. This includes Portugal, Belgium, Switzerland and Germany. The site is also a trusted source of news in Middle Eastern countries and Asian sub continent because visitors from India, China and Saudi Arabia like to read the published reviews and blog posts.
Here are the Alexa traffic details for techi.com:
Subscription options
If you want to read the content of Techi.com on a daily basis, I suggest you to subscribe to the site. Basic subscriptions options are available which includes – subscribing to the RSS feed so that you can read the blog posts in an RSS reader like Bloglines, Google reader , News gator. But if you prefer to read the articles in your email inbox, you can opt in for the email newsletter instead.
Connect with Techi.com on Social Sites
Techi.com have an active social media presence and you can follow the site's Facebook fan page. Make sure you also follow Techi on Twitter and Google buzz to get the latest updates as they happen.
Advertising Options
If you are an Advertiser and want to advertise about your product in Techi.com, just send an email at advertising@techi.com. The site is read by bloggers, geeks, tech enthusiasts and has a very targeted audience. Techi.com has a couple of advertising spots available and you will always get a good return of your investment.
Do you own a website or blog? Does your job involve search engine optimization of any sort? If you answered yes, then Firefox should be your default internet browser. I say this because of Firefox's amazing array of add-ons to make life easier for bloggers and webmasters.
If you need some convincing, then read on my gathered list of 5 add-ons which will greatly help you do your job once you switch over to Firefox. If Firefox is already your default browser of choice, then just read each entry carefully and see how each add-on can enhance Firefox for your web tasks.
You are welcome if you want to share more must have firefox extensions that our readers/viewers may like. Do you want to be the first one to know the latest happenings at  smashingApps.com just subscribe to our rss feed and you can follow us on twitter as well.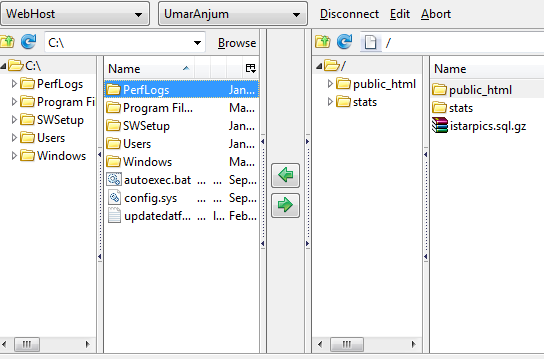 If you are not using FireFTP, then there is a good chance that you are using a full-fledged FTP client (because lightweight ones simply do not offer complete FTP features). FireFTP however, is one light FTP client in the form of a Firefox add-on. Along with transferring your files quickly and efficiently, FireFTP also includes more advanced features such as directory comparison, syncing directories while navigating, SFTP, SSL encryption, search/filtering, integrity checks, remote editing, drag & drop, and file hashing. The best part is that is does not slow down Firefox at all.
This extension is a must-have for anybody whose work involves search engine optimization. SeoQuake obtains and investigates many important SEO parameters of the internet project under study. We can save these parameters for future work and compare them with the results obtained for other competitive projects.
A website's name is a very important factor to consider while creating a website. We cannot simply think of a name, we have to check for its availability as well. Doman Availability Search add-on lets us do so easily. Supported TLDs include COM, NET, ORG, BIZ, CO.UK, ORG.UK, MOBI, INFO, TV, WS, IN, ME, US, CC, BZ, CA, CN, EU, and DE.
Promoting our site or blog over social media networks could not get any easier with Shareaholic. It is an award-winning add-on that has been downloaded over 1 million times by people looking for a customizable, light-weight method of sharing virtually any web page. The supported range of networks is more than impressive and we can share on them with simple mouse clicks.
Finding out about the location of a site can be helpful in eliminating doubts regarding security. On the Firefox address bar, Flagfox places the country flag of the currently open website's server. We can click on this Flag to pull up a geographical map of that location and other information regarding the site such as the city and IP address.
If you have a blog or work with non-profit websites, you need to read this post! UPrinting.com, an online printing company, is now offering two excellent sponsorship programs.
The first program sponsors bloggers with advertising revenue, sponsored giveaways and product reviews. The second program sponsors non-profits, charities and educational organizations with printing services, saving them thousands of dollars a year! Read on to learn how you can get your blog or non-profit website sponsored by UPrinting.com.
Blog Sponsorships
Finding a blog sponsor is easy with UPrinting.com! Bloggers of all types are welcome to join the program and have the opportunity to promote UPrinting's services while expanding their own readership. The sponsorship offers bloggers free products to giveaway that are useful for designers, photographers and business people. Custom printed products such as business cards, single poster printing and canvas prints. For bloggers that qualify for BuySellAds banner advertising program, UPrinting works almost exclusively with their sponsored bloggers and provide a steady source of income. In addition, members are given a full support system within UPrinting's private social network for bloggers and a dedicated sponsorship team to assist with blog promotions. Apply today or share this program with bloggers you admire.
Non-Profit Sponsorships
In a tough economy, non-profit organizations are vulnerable to financial hardship. Everyday operating expenses can be difficult to maintain. For those in need of non-profit printing sponsorship, UPrinting.com offers their UCommunity program. The program has worked with organizations like Heart Gallery of America, The Red Cross and Reef Check to support non-profit marketing and awareness campaigns with sponsored printing.

Applying for non-profit sponsorship is easy. Simply fill out the application form, select a sponsorship level and submit a copy of your 501(c)(3) certificate!
For more information on these programs, call 1-800-381-3441 to speak with marketing relations or visit www.uprinting.com