Blogging
Do you want to increase your WordPress websites traffic? If your answer is yes then you should use Pinterest Plugins. These Pinterest Plugins will make your WordPress site more exciting and lively. Website users can easily generate events, interests, hobbies, and much more with these Pinterest Plugins.
In this post, we are sharing 15 awesome and useful Pinterest Plugins for WordPress website. With these WordPress plugins, you can get your posts, images and even your website pinned over in the Pinterest network. You can also tell us what you think about this post and share your precious opinions with us via comment section below. Check this out and get to pick one!
| Download )
A must have plugin that adds a Pinterest badge for linking your blog to your pinterest profile and showing your number of followers.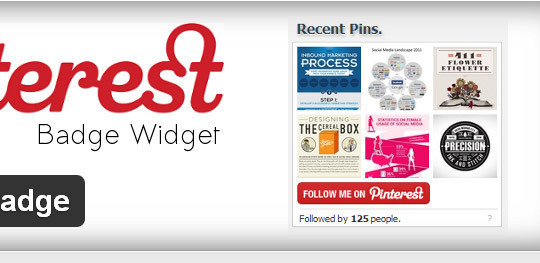 Pinterest Image Pinner From Collective Bias
| Download )
Extremely lightweight jquery based plugin. Adds "Pin This" button to all images.
| Download )
Pin It On Pinterest places a Pin It button at the end of your posts, and allows you to predetermine what gets "Pinned" at Pinterest.
| Download )
Block selected posts and pages from getting pinned on Pinterest.
| Download )
A widget to display thumbnails and titles of the latest Pinterest Pins from a specific user via their Pinterest RSS feed.
| Download )
Add a Pinterest "Follow" button to your sidebar with this widget.
| Download )
A simple must-have widget for the Pinterest addict! Displays thumbnails of your latest Pinterest pins on your website.
| Download )
A plugin to show off images, captions, and links from your latest Pinterest activity.
| Download )
Easily add a Pinterest "Pin It" Button to your site and encourage your visitors pin your awesome content.
| Download )
Let people share (pin) images from any page of your site on Pinterest.
| Download )
Add Pinterest to the NextGEN Gallery plugin.
| Download )
Show the Pinterest "Pin It" button on top of your images, only when people move their mouse over the image.
| Download )
A must have plugin that adds a Pinterest badge on your blog to your pinterest profile and showing your number of followers and recent pins.
Pinterest Pin It Button For Images
| Download )
Add a "Pin It" button over your images, so users can add it to Pinterest easily.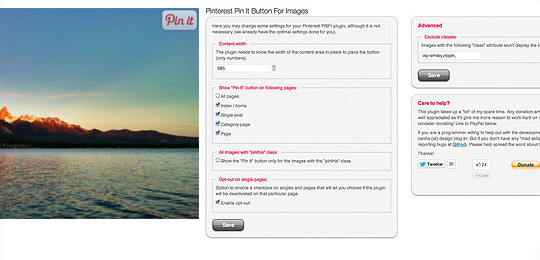 | Download )
Adds Pinterest button to individual images for one by one image pinning. Enjoy
Are you looking for some plugins that will help you insert Google Adsense to your WordPress blog or website? If your answer is yes and you have not found out anything useful till now then stop looking any further. We are presenting a useful collection of some high quality and best WordPress plugins for adding the Google Adsense ads to your website or blog.
Google Adsense does not need any introduction, or does it? Well, it is the most popular and widely accepted online contextual advertising program. With proper custom integration, you can easily and effortlessly increase your Adsense earning. So, try exploring these plugins and choose which one you would opt for. Enjoy!
This plugin allows implementation of Google AdSense to your website.
Blogger is the most commonly used and very popular blogging platform that is easy to use and customize as well. With the help of beautiful templates, you can make your blog look exactly what you like. The design of any blog is one of the key factors to its success. Choosing a suitable and visually appealing template for your blog can make a big difference.
In this round up, we are showcasing a collection of 45+ free but exceptionally beautiful and creative Blogger templates. All the templates listed below are free to use. These templates all are a bit more corporate and business-oriented than others, but they are all excellent quality templates. Feel free to share your opinions and comments with us via comment section below. Have fun!!
Design Office Blogger Template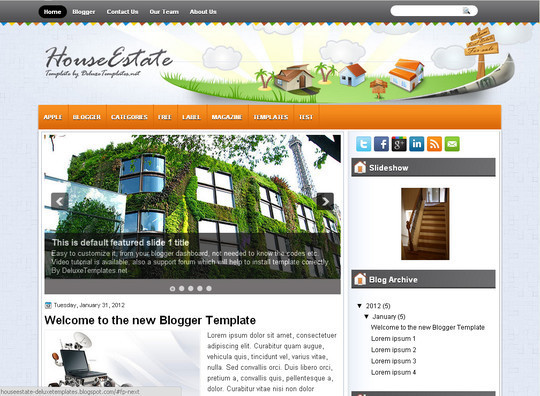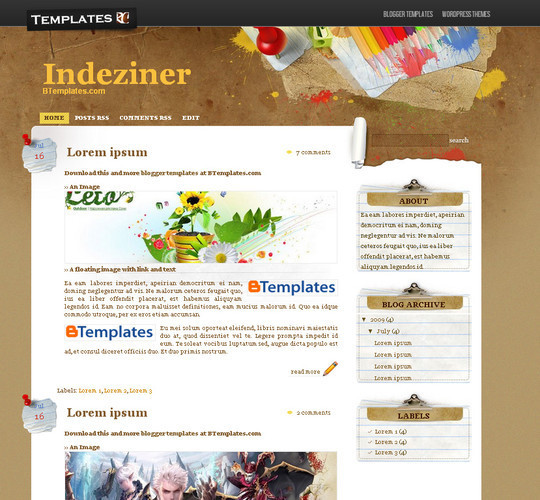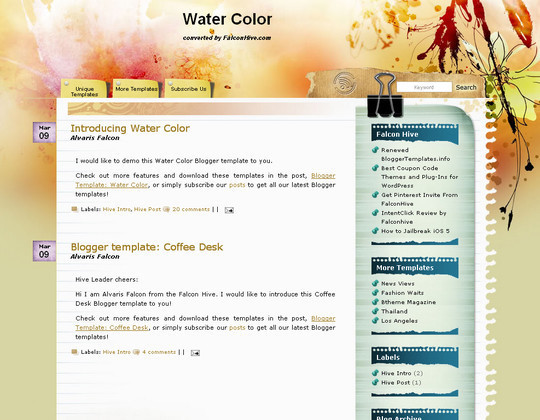 Android Mania Blogger Template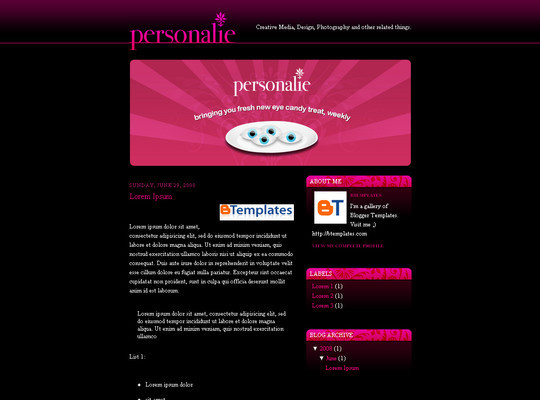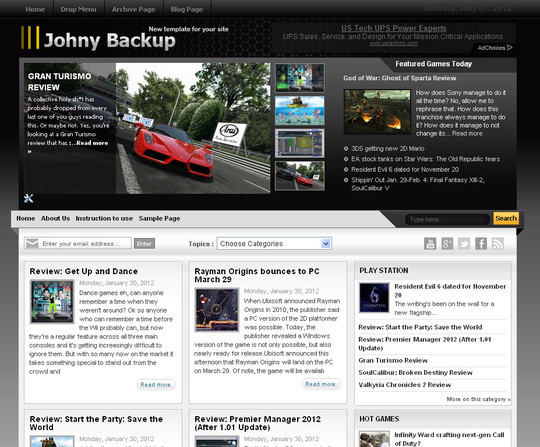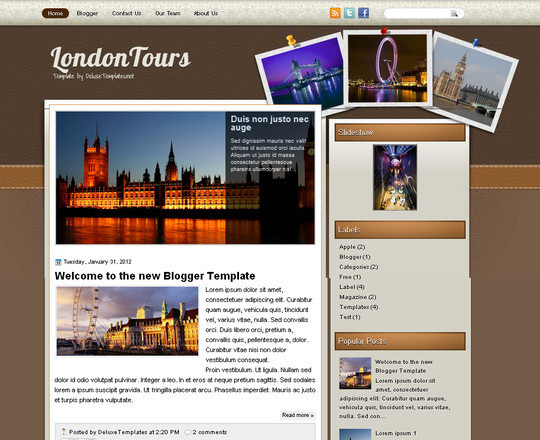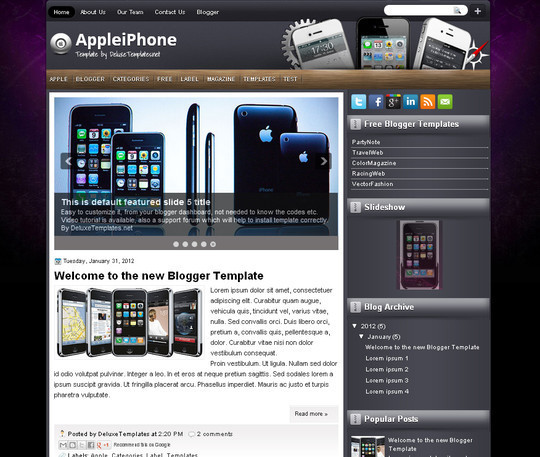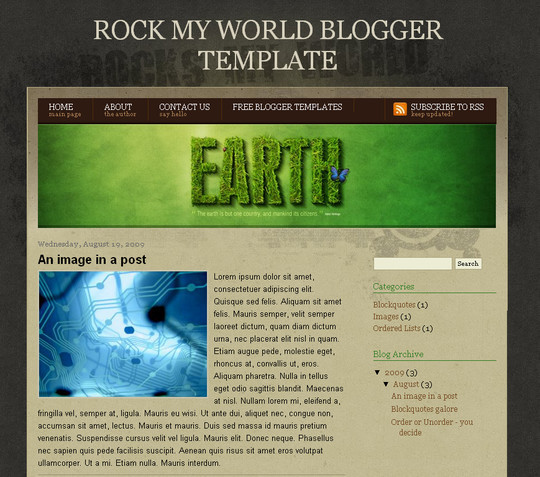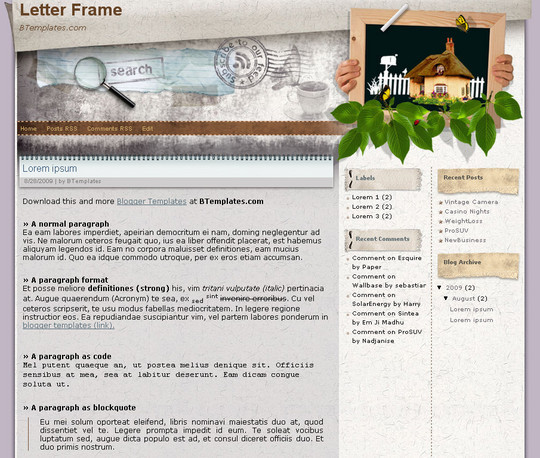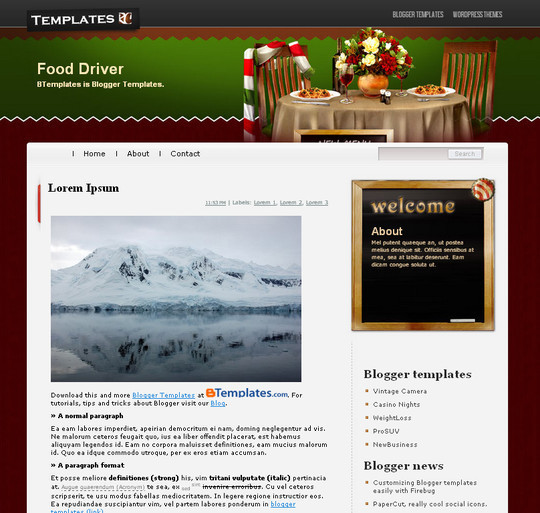 Calendar New York Blogger Template
Interlinking can be defined as one of the best ways to keep your visitors stay longer and let them navigate different pages of your website. It is the way that provides your visitors an opportunity to explore your website more based on their interest. Apart from that more page requests bring about good ranking for you as well as this also increases crawl rate.
Along with this we also have some of the best WordPress plugins that will help you with interlinking on your blog posts. We hope that these plugins will make interlinking easier for you and provides your blog content a good quality. Do let us know what do you think about this compilation. Enjoy interlinking!
SEO Smart Links can automatically link keywords and phrases in your posts and comments with corresponding posts, pages, categories and tags on your blog.
Insights brings a powerful new way to write your blog posts. It increases productivity and at the same time the appeal of your posts.
Offer your Blog visitors more information by placing external related links to every post in your blog, and also increase your blog accessibility.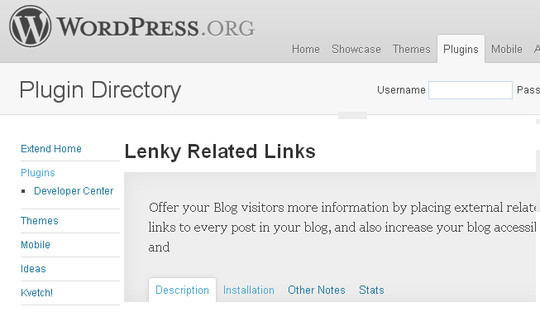 Create internal Wiki-style links in your WordPress blog. Easy to use and once you've started you won't be able to live without it.
InterLinking is a simple tool that helps you to link a specific keyword with respective URL throughout the blog.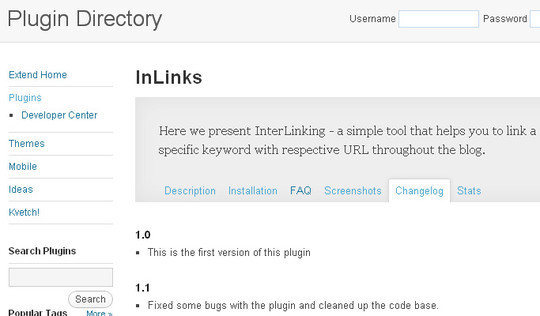 Typography is the most important element of any web design that holds great significance. Typography is one of the basic and fundamental parts of any web design that can enhance the attractiveness and elegance of your design. This is the reason why designers pay special attention to font selection. Today, let us show you some amazing examples of informative typography related blogs that will help you in fulfilling your typography needs.
In this round up, you will notice that creativity and simplicity in font type can make your designs look stunningly beautiful and visually appealing. We hope that you will like this assortment. Your comments are always more than welcome, so feel free to share your opinion with us.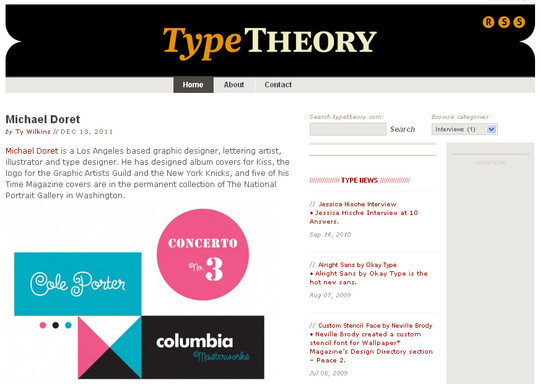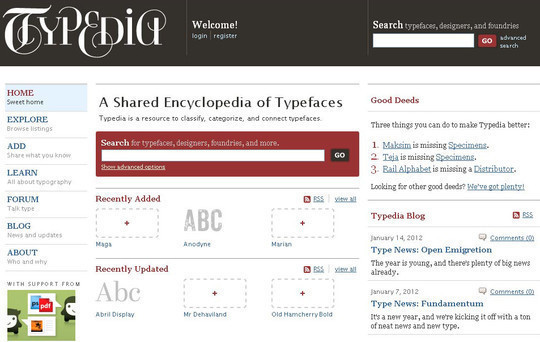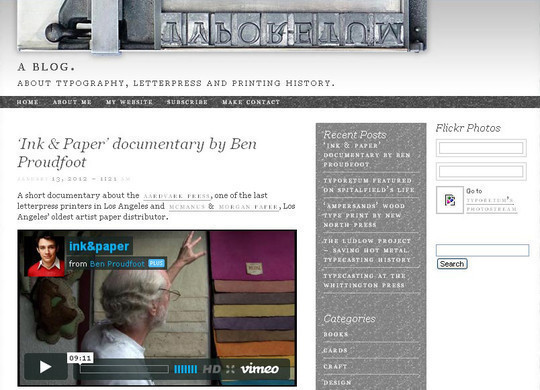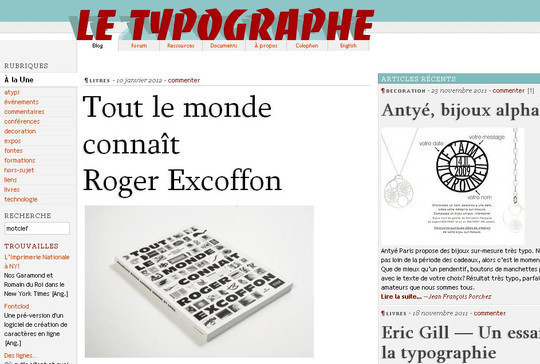 No doubt in that, that WordPress is the most famous and popular platform for blogging that has been used by millions of bloggers all over the world. But sometime it just does not meet with some of your specific needs and you find yourself helpless as there is no other good option to go for. Therefore, we present 8 best alternatives to WordPress as a blogging platform. These are the 8 solutions that will help you get your own advanced blogging solution.
The list below is based on the 8 CMS's (Content Management Systems) that offers loads of options as well as features however it's essential that you weigh pro's and con's before making any decision. Check this out and get to pick one!
Tumblr lets you effortlessly share anything. Post text, photos, quotes, links, music, and videos, from your browser, phone, desktop, email, or wherever you happen to be. You can customize everything, from colors, to your theme's HTML.
Drupal is an open source content management platform powering millions of websites and applications. It's built, used, and supported by an active and diverse community of people around the world.
Joomla is one of the world' s most popular open source CMS (content management system). With millions of websites running on Joomla, the software is used by individuals, small & medium-sized businesses, and large organizations worldwide to easily create & build a variety of websites & web-enabled applications.
Blogger is a blog-publishing service that allows private or multi-user blogs with time-stamped entries. It was created by Pyra Labs, which was bought by Google in 2003. Generally, the blogs are hosted by Google at a subdomain of blogspot.com.
Serendipity is a PHP-powered weblog application which gives the user an easy way to maintain an online diary, weblog or even a complete homepage. While the default package is designed for the casual blogger, Serendipity offers a flexible, expandable and easy-to-use framework with the power for professional applications.
A powerful free blog/CMS engine you can install on your own website. b2evolution is an advanced weblog tool, i-e software allowing you to run your own blogs, newsfeeds or even photo streams.
CushyCMS is a fast, simple and free content management system that aims to make life easier for web designers by simplifying content management.
Croogo is a free and open source content management system, built on top of CakePHP framework.
Google Buzz is the relatively new social networking tool introduced by Google that has been gaining huge popularity among internet users. You can use Google Buzz for sharing photos, videos, comments, status messages and links that are ordered in "conversations" and visible in the user's inbox. Google has integrated Google Buzz into Gmail making it easier for their users to use it.
Here, we are listing down a free collection of some creatively designed Google Buzz icons for you. The collection also contains PSD files that you can modify according to your own needs. With these icons you can set your website apart from other similar websites. Enjoy!
Google Buzz Social Icons for Bloggers and Designers
PSD of glossy google buzz button icon
24 Free Exclusive Google Buzz Icons
The reason why WordPress is preferred by majority of bloggers is due to the number of plugins available for it. If you browse WordPress plugins database, you will notice that the number of plugins available for WordPress are endless. There are plugins which help you improve SEO of your blogs, integrate social networks, submit your blogs to different search engines, manage sitemaps, display popular posts and much more. However, using too many plugins may have a negative effect on your host so it is really important that you choose the plugins which you really need.
For that purpose, we have gathered a list of some useful WordPress plugins which a blogger or website owner can use. You are welcome if you want to share more useful wordpress plugins that our readers/viewers may like. Do you want to be the first one to know the latest happenings at SmashingApps.com, just subscribe to our rss feed and you can follow us on twitter and follow us on Digg as well to get updated.
Google XML Sitemaps generate special XML sitemap which will help search engines like Google, Bing, Yahoo and Ask.com to better index your blog. Sitemaps make it easy for crawlers to check the structure of your site and retrieve relevant data efficiently. It notifies all the search engine every time a new post is made on the blog.
This plugin generates static html files from your dynamic WordPress blog. After a html file is generated your web server will serve that file instead of processing the comparatively heavier and more expensive WordPress PHP scripts. It helps to reduce the load on the website as well this way so that your website does not face any down time.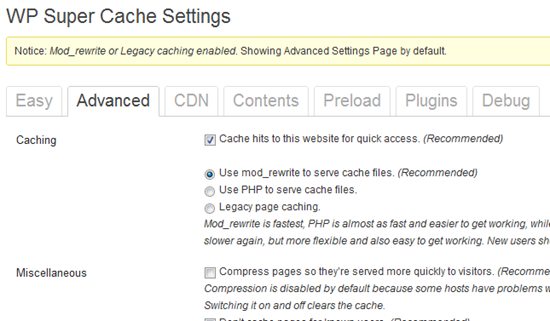 Digg Digg is an excellent wordpress plugin which helps users integrate different social networking buttons on your wordpress blog. It supports almost all the popular social networking websites including Digg, LinkedIn, Google +1, Reddit, dDone, Twitter, TweetMeme, Topsy, Yahoo Buzz, facebook share, facebook like, StumbleUpon, Delicious, Sphinn, Google Buzz, Designbump, WebBlend, BlogEngage and Serpd.
Wp- DBManager allows users to optimize database, repair database, backup database, restore database, delete backup database, drop/empty tables and run selected queries. With DBManager, users can easily schedule backup and optimizing/repairing of WordPress blog.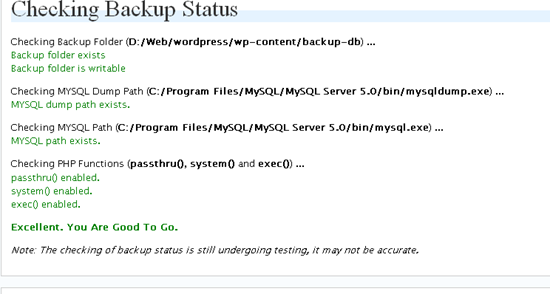 I started using Insights few months back and I must say its an excellent plugin which every blogger should try. With Insights, users can easily find and interlink posts on their blogs, insert YouTube videos, insert Flickr images and much more.
With SEO Smart Links, users can automatically link keywords and phrases in your posts and comments with corresponding posts, pages, categories and tags on your blog.
Akismet is one of the most important plugin for every wordpress users. What this plugin does is that it checks the comments against the Akismet web service to see if they look like spam or not and lets you review the spam it catches under your blog's "Comments" admin screen.
Contact Form 7 is another useful plugin which helps users create contact forms for their wordpress blogs. With Contact Form 7, users can manage multiple contact forms, plus you can customize the form and the mail contents flexibly with simple markup. The form supports Ajax-powered submitting, CAPTCHA, Akismet spam filtering and so on.
With FD Feedburner plugin, webmasters can redirect the main feed and optionally the comments feed seamlessly and transparently to Feedburner.com. It can easily setup new hidden feeds, modify .htaccess files, or asking users to migrate to a new feed, without modifying the template of your website.
Just like All in on SEO, yoast is another good WordPress SEO plugin that helps users optimize their page titles, meta descriptions and keywords to XML sitemaps, and loads of optimization options in between.

Yet Another Related Posts Plugin (YARPP) for WordPress gives you a list of posts and/or pages related to the current entry, introducing the reader to other relevant content on your site.
Google Analytics plugin helps u track your blog easily and with lots of metadata: views per author & category, automatic tracking of outbound clicks and pageviews.
Page Navi adds better pave navigation interface to your wordpress blog and replaces older and newer posts with page numbers.
LinkWithin is an excellent related post widget which adds related posts with thumbnails to your blog posts.
EO Friendly Images is a WordPress optimization plugin which automatically updates all images with proper ALT and TITLE attributes. If your images do not have ALT and TITLE already set, SEO Friendly Images will add them according the options you set.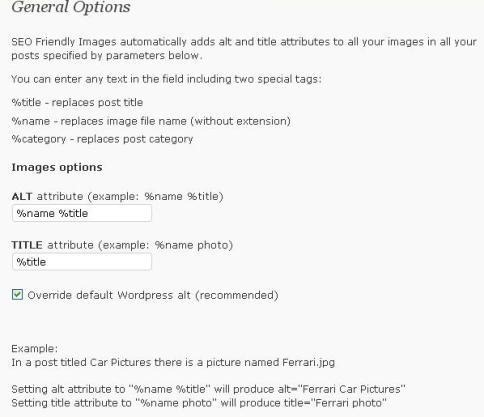 If we missed any plugin, please share with us using the comments section below.
Creating a good content is not an easy task and most of the time you might get stuck to create something that would stand out in the crowd. Few people around always steal others ideas, and fill up their online blog posting needs but few are those intelligent guys who extract a creative idea from the same content which gets copied so many times by various people.
I recently found this illustration here which demonstrate the above situation very creatively with full of humor in it. We would love to know what you are thinking while viewing this message from Microsoft. Do you want to be the first one to know the latest happenings at SmashingApps.com just subscribe to our rss feed and you can follow us on twitter.
Today, we are going to take a look on few of the best of 2010 collection for designers and developers that we think you would really like to bookmark for 2011. We hope you guys will like this stunning collection of inspiration, resources, tutorials and showcases of design related stuffs. Just take a look at them and share your thought's here.
You are welcome if you want to share more cool best of 2010 collection that our readers/viewers may like. Do you want to be the first one to know the latest happenings at  SmashingApps.com just subscribe to our rss feed and you can follow us on twitter as well.