Blogging
Knowledge is a treasure and we can enrich our know-how in many different ways and reading books is one of them. Reading books is the best way to gain knowledge that endows us with a comprehensive understanding regarding different aspects of life which in turn gives us the confidence to deal with different problems and find out appropriate solutions as well. With the advancements in the sector of Information Technology, the concept of reading e-books has also gained huge acceptance.
For this collection, we are presenting 13 free and the best e-books that will enhance your knowledge about blogging. These e-books are useful for the newcomers as well as for the seasoned bloggers. Here is the full list. Enjoy!
Why Your Blog is Your Social Media Hub
The Corporate Weblog Manifesto
How to Monitor Your Social Media Presence
New version of Handbook for Bloggers and Cyber Dissidents
Here we are presenting a superb collection of some very useful and handy WordPress Twitter plugins for you. WordPress Twitter plugins can be crucial for social media marketing and therefore, any business either online or offline should not overlook its importance. Twitter is a powerful marketing tool and with the help of WordPress Twitter plugins, the tedious task of social media marketing can be reduced exponentially.
With this collection, we are showcasing a useful assortment of some free WordPress Twitter plugins for you so that you can download them and simplify your work process. Resources such as WordPress plugins are meant to expedite your work flow by allowing you carry out certain actions quickly thus helping you to improve your productivity as well.
Add a widget to your sidebar to show your latest tweet(s) with style and without JavaScript! Retweet, Favorite and Reply links are available.
Twitter Fans (Like Box for Twitter)
This plugin lets you display your twitter followers in the sidebar (or anywhere else in the theme). The display is similar to Facebook's Like Box.
Adds a sidebar widget to display Twitter updates (uses the Javascript Twitter 'widgets')
Twitter Tweets Box is a Widgets let you display Twitter updates on your website.
Twitter is big. Too big to ignore if you're a blogger. It's a great way to connect with your readers, and promote your blog a bit.
Twitter Mentions as Comments scours Twitter for people talking about your site & silently inserts their Tweets alongside your existing comments.
Brought to you by MailChimp, Social is a lightweight plugin that handles a lot of the heavy lifting of making your blog seamlessly integrate with social networking sites Twitter and Facebook.
NextScripts: Social Networks Auto-Poster
This plugin automatically publishes posts from your blog to your Social Network accounts such as Facebook, Twitter, Google+(Google Plus), Blogger, Tumblr, LiveJournal, FriendFeed, DreamWidth, Delicious, Diigo, Instapaper, Stumbleupon, LinkedIn, Pinterest, Plurk, VKontakte(VK.com), YouTube, WordPress, etc.
WordTwit keeps track of when you publish new posts, and automatically informs your followers by pushing out a tweet to twitter in the format you specify. All links are automatically converted to tiny URLs to save space.
Creates a floating box with a follow me twitter. Without the need to modify the template.
Easily embed tweets in your posts and pages by posting the tweet URL on a line by itself or by using a shortcode provided by the Twitter interface.
Share&Get it! automatically provides you with either Facebook fans or Twitter followers in return for downloadable files. Once you've installed Share&Get it ! on your WordPress website, your number of visitors will dramatically increase in no time. To obtain such great results, you only need to copy/paste the shortcodes you get when setting up the buttons.
Plugin to tweet about your old posts to get more hits for them and keep them alive.
Displays your latest pictures from TwitPic in the sidebar of your blog. The plugin is widget ready and comes with many configuration options!
Display tweets from one or more Twitter accounts using a WordPress widget. Compatible with version 1.1 of the Twitter API.
Display timeline for Tweets from an individual user, a user's favorites, Twitter lists, or any search query or hashtag as a widget in your sidebar.
WordPress IDX is the leading IDX / MLS real estate search plugin for WordPress sites. Elegant interface, great SEO and excellent lead capture.
WordPress.org Plugin/Theme Information Embed
A WordPress plugin that allows you to embed realtime information about plugins or themes from WordPress.org into posts and pages simply by pasting in the URL to the plugin into your post or page.
Better than Twitter's own widgets – Tweet Blender is tag-aware and has support for multiple authors, lists, hashtags, and keywords all blended together. The plugin can show tweets from just one user or a list of users (as all other Twitter plugins do); however, it can also show tweets for a topic which you can define via Twitter hashtag or keyword.
Tweet&Get it ! is an automatic process to get Twitter followers in exchange for a downloadable file.
This widget will display the most recent tweets for any twitter user who has their tweets set as public. Show up to 20 tweets. Include a link to your twitter profile and a twitter icon or your profile picture.
Shortcode for the official Twitter Widgets.
Uses the twitter goodies widgets API to create offical twitter widgets (profiles, lists, faves and search) straight from your control panel.
This is a WordPress plugin to show your Twitter badge as a widget with easy personalization.
TweetRoll displays your Twitter details and the avatars of some of your friends, together with the ability to monitise your Twitter stream.
Monitor the Twitter API and be alerted when it is down.
Evergreen Post Tweeter enables you to automatically tweet out links to old posts based upon a tag or tags.
Allow your commentators to include their Twitter username along with their comment so a follow-me link can be displayed with their details on the list.
Twitter Comments system. Automatically retrieve Twitter Replies and/or Twitter Retweets to your Blog's Posts using WP built-in comment system.
Twitter Feed Widget will display your tweets using ajax and jquery. It shows one tweet at a time and loops through an specified number of tweets and time interval. IMPORTANT the twitter feed currently only works with non-private(public) twitter accounts.
Add a sidebarwidget with your twitter timeline to your WordPress-Blog.
Add a Twitter "Follow" button to your WordPress website.
Twitter Widget with Sentiment Analysis
Shows latest tweets for any keyword, hashtag or, your handle along with sentiment analysis. It also starts to show trend lines if there is enough volume.
Adds a sidebar widget to display Twitter updates using the more-reliable Google Ajax API.
A Simple Twitter Tweets display widget, using Twitter OAth and API v1.1 and backup up so it always displays your Tweets.
This plugin will install the official Twitter Button provided by Twitter to your WordPress-Blog.
Easily embed tweets in your posts and pages by posting the tweet URL on a line by itself or by using a shortcode provided by the Twitter interface.
This plugin allow you to grab your tweets from twitter and show your theme's sidebar as widget.
Display the latest updates for any twitter user in a widget. Automatically embeds links to @users, #hashtags and urls.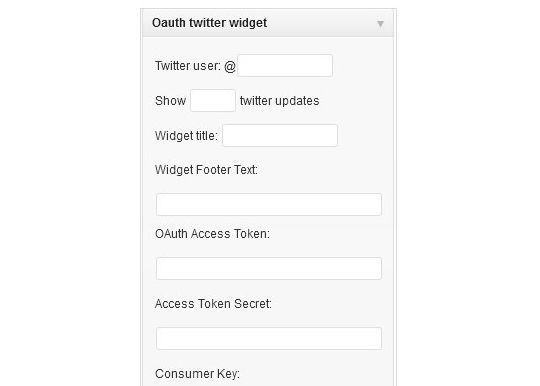 WordPress themes are everywhere and there is literally a huge plethora of themes available for the WordPress users to choose from. One of the main reasons of WordPress popularity is the availability of high quality and quite flexible themes that can make any website truly captivating.
In this day and age, 3 column WordPress themes are getting very popular and this is the reason why we have compiled this collection of 40 excellent 3 column WordPress themes for you.
We have already published a post about 3 Column WordPress Themes and today's collection also will be useful for you. All the themes presented in this collection are free to download. So, enjoy everyone!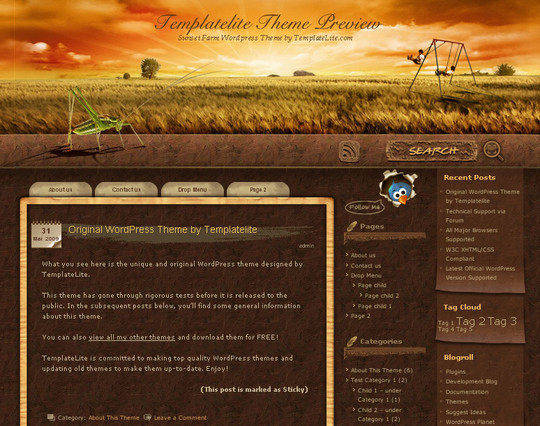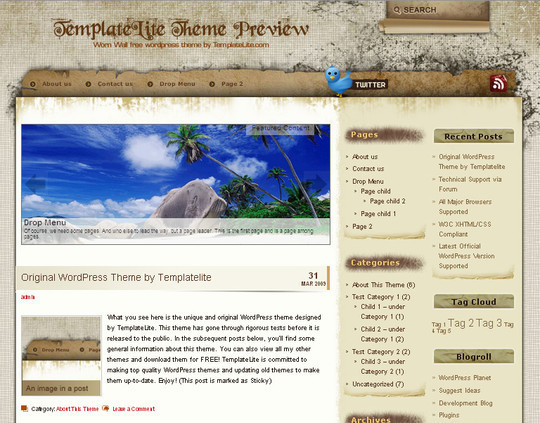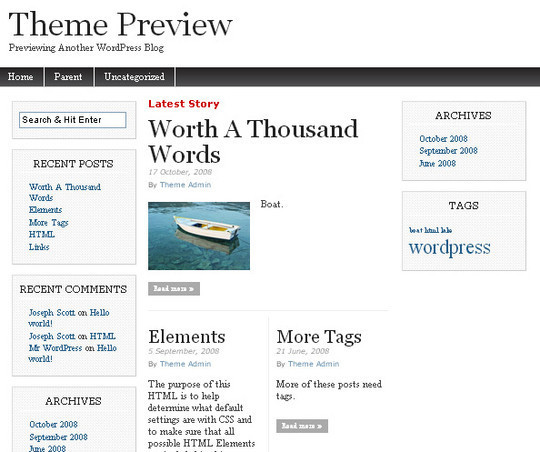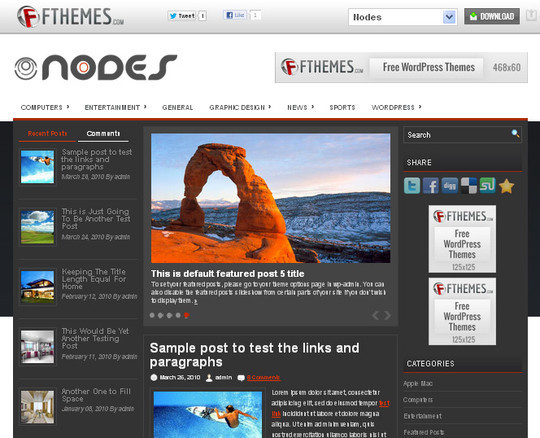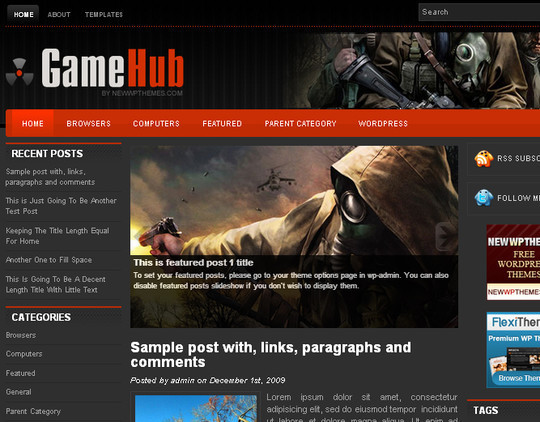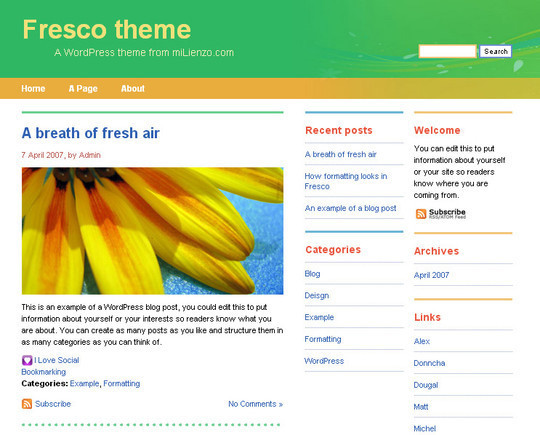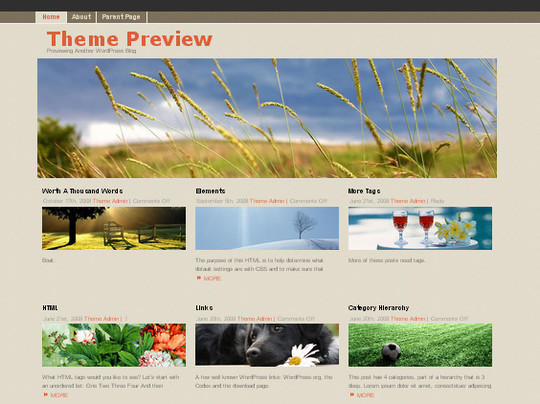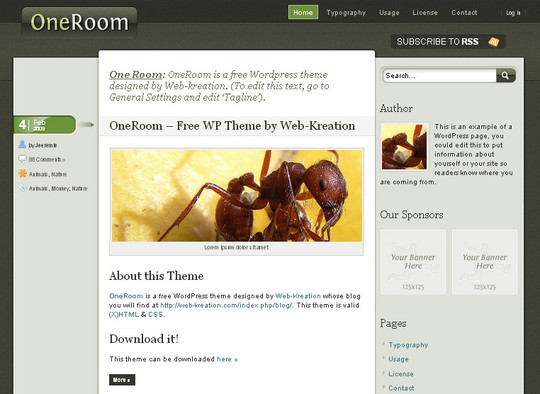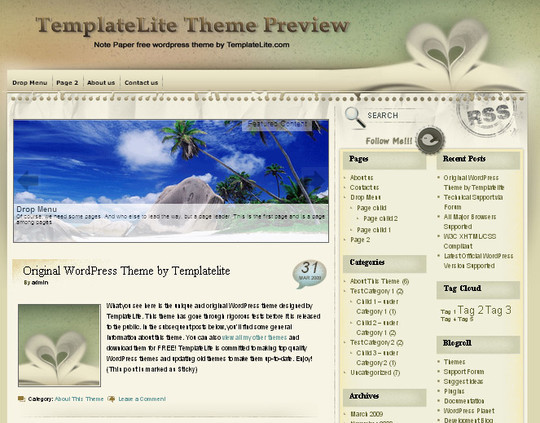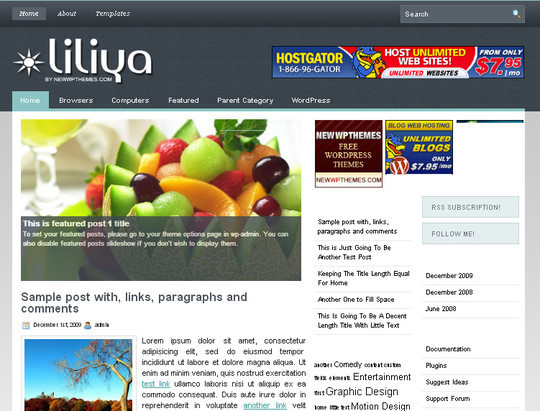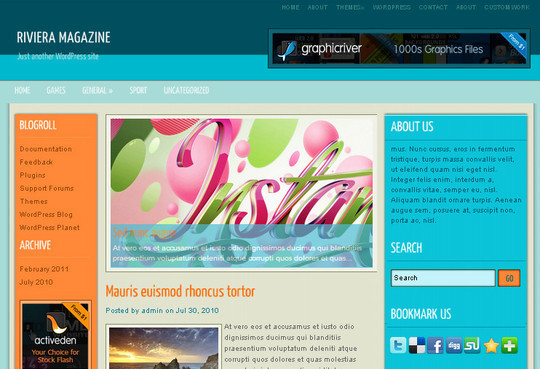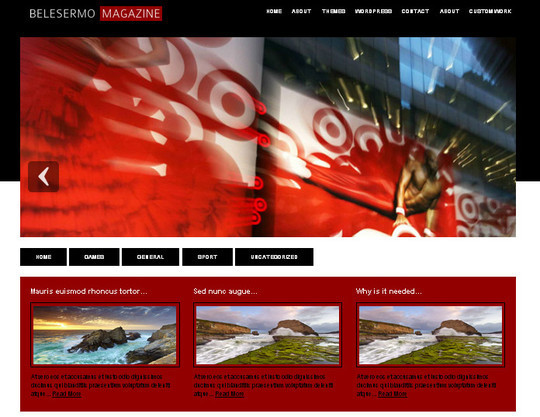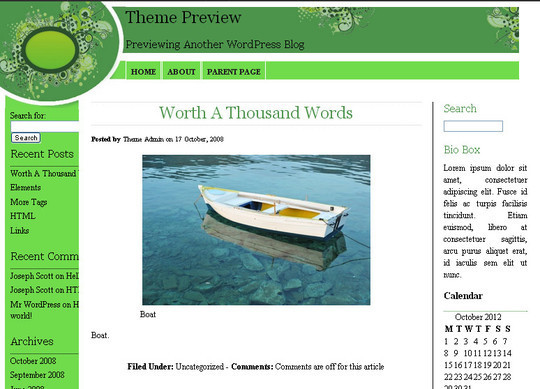 As we all know very well that WordPress is a well-known and free blogging site. And with the time WordPress has become more famous and improved. WordPress introduced so many interesting and amazing features but now WordPress is also introducing some other outstanding applications and plugins especially for social media sites.
In this assortment, we are showcasing some useful and outstanding WordPress Chat Plugins. Have a look at these stunning WordPress chat Plugins. If you want to download these WordPress chat plugins you can download them without any cost. You can also tell us what you think about this post and share your precious opinions with us via comment section below. Enjoy and have fun everyone!!!!!
ClickDesk Live Support – Live Chat
ClickDesk is a value combo of best wordpress live chat, help desk, voice chat and social toolbar for your website. Install it Free today!
Envolve Chat – A customizable chat toolbar for your website.
Self hosted WordPress chat plugin supporting private chat, chat rooms, avatars, user list, words filtering, smilies, caching plugins and more.
Zopim is an award winning chat solution that helps website owners to engage their visitors and convert customers into fans!
WP Chatblazer is a plugin to allow you to embed a Chatblazer application to chat on a WordPress page. Embed instant messaging and video chat directly.
The AVChat Video Chat Plugin for WordPress is designed to increase members engagement and web site revenues with a stunning video chat solution.
Start chatting to your site's visitors and FACEBOOK fans from any device including mobile phone . FREE account with unlimited chats.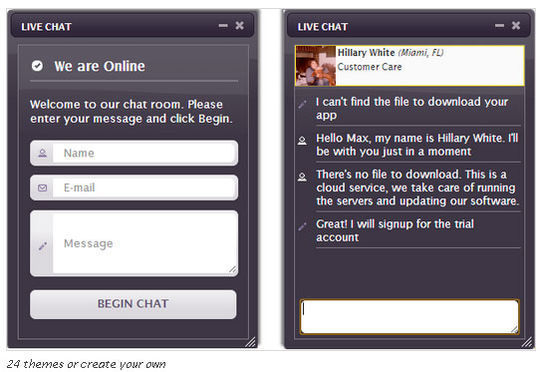 Through Banckle Live Chat Plugin, you can effectively communicate and conduct live chat sessions with the visitors of your WordPress website.
Acobot Live Chat & Contact Form
Enhance your WordPress with a virtual robot in 3 minutes or less and boost your sales like never before. It's simple, easy and fast.
Live Chat with Multimedia Tools
Add live chat with multimedia tools to your site.
Chat with your website visitors.
Add live chat support and real-time monitoring onto your WordPress website with Ultimate Live Chat from UltimateLiveChat.com
Barc Chat provides a simple yet feature rich chat room for your whole community to interact in real-time directly on your site.
Do you want to increase your WordPress websites traffic? If your answer is yes then you should use Pinterest Plugins. These Pinterest Plugins will make your WordPress site more exciting and lively. Website users can easily generate events, interests, hobbies, and much more with these Pinterest Plugins.
In this post, we are sharing 15 awesome and useful Pinterest Plugins for WordPress website. With these WordPress plugins, you can get your posts, images and even your website pinned over in the Pinterest network. You can also tell us what you think about this post and share your precious opinions with us via comment section below. Check this out and get to pick one!
| Download )
A must have plugin that adds a Pinterest badge for linking your blog to your pinterest profile and showing your number of followers.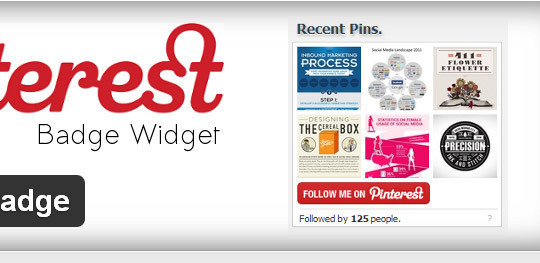 Pinterest Image Pinner From Collective Bias
| Download )
Extremely lightweight jquery based plugin. Adds "Pin This" button to all images.
| Download )
Pin It On Pinterest places a Pin It button at the end of your posts, and allows you to predetermine what gets "Pinned" at Pinterest.
| Download )
Block selected posts and pages from getting pinned on Pinterest.
| Download )
A widget to display thumbnails and titles of the latest Pinterest Pins from a specific user via their Pinterest RSS feed.
| Download )
Add a Pinterest "Follow" button to your sidebar with this widget.
| Download )
A simple must-have widget for the Pinterest addict! Displays thumbnails of your latest Pinterest pins on your website.
| Download )
A plugin to show off images, captions, and links from your latest Pinterest activity.
| Download )
Easily add a Pinterest "Pin It" Button to your site and encourage your visitors pin your awesome content.
| Download )
Let people share (pin) images from any page of your site on Pinterest.
| Download )
Add Pinterest to the NextGEN Gallery plugin.
| Download )
Show the Pinterest "Pin It" button on top of your images, only when people move their mouse over the image.
| Download )
A must have plugin that adds a Pinterest badge on your blog to your pinterest profile and showing your number of followers and recent pins.
Pinterest Pin It Button For Images
| Download )
Add a "Pin It" button over your images, so users can add it to Pinterest easily.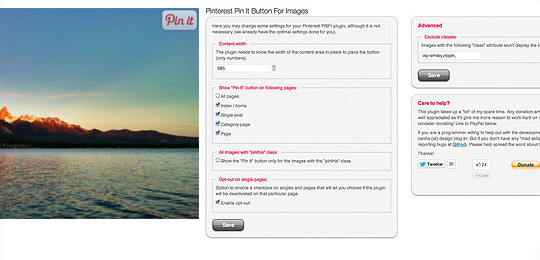 | Download )
Adds Pinterest button to individual images for one by one image pinning. Enjoy
Are you looking for some plugins that will help you insert Google Adsense to your WordPress blog or website? If your answer is yes and you have not found out anything useful till now then stop looking any further. We are presenting a useful collection of some high quality and best WordPress plugins for adding the Google Adsense ads to your website or blog.
Google Adsense does not need any introduction, or does it? Well, it is the most popular and widely accepted online contextual advertising program. With proper custom integration, you can easily and effortlessly increase your Adsense earning. So, try exploring these plugins and choose which one you would opt for. Enjoy!
This plugin allows implementation of Google AdSense to your website.
Blogger is the most commonly used and very popular blogging platform that is easy to use and customize as well. With the help of beautiful templates, you can make your blog look exactly what you like. The design of any blog is one of the key factors to its success. Choosing a suitable and visually appealing template for your blog can make a big difference.
In this round up, we are showcasing a collection of 45+ free but exceptionally beautiful and creative Blogger templates. All the templates listed below are free to use. These templates all are a bit more corporate and business-oriented than others, but they are all excellent quality templates. Feel free to share your opinions and comments with us via comment section below. Have fun!!
Design Office Blogger Template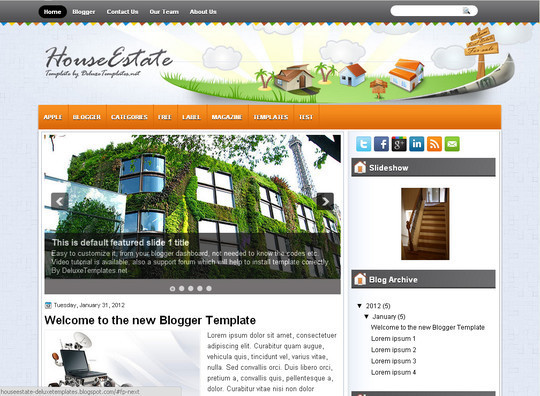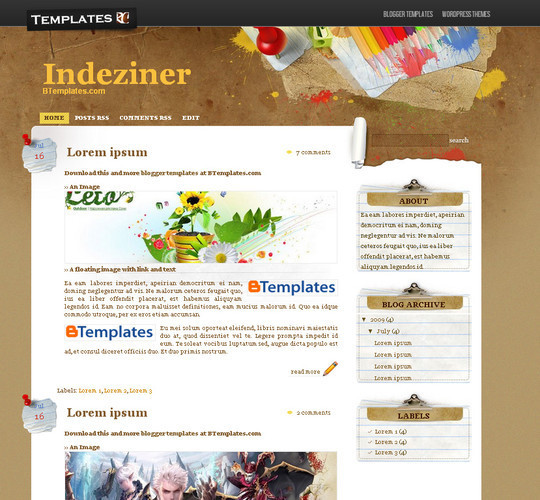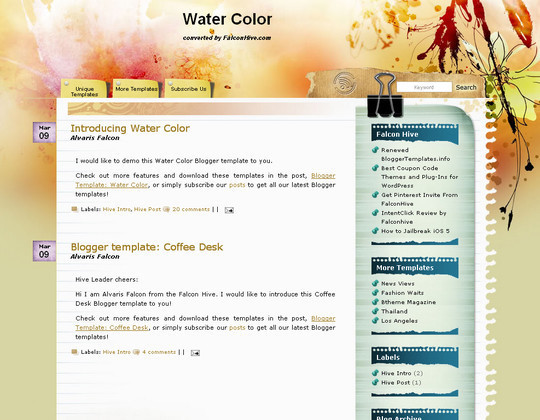 Android Mania Blogger Template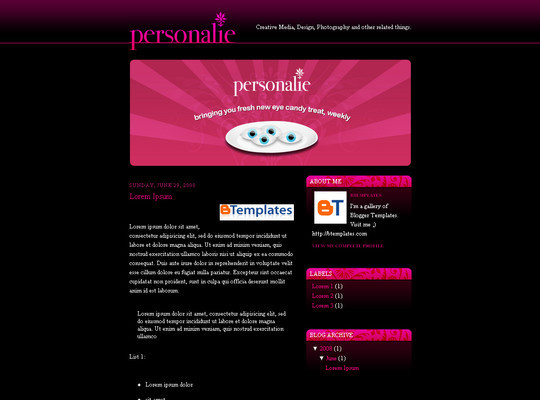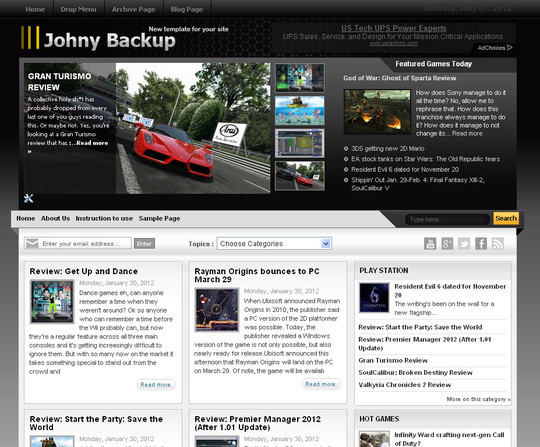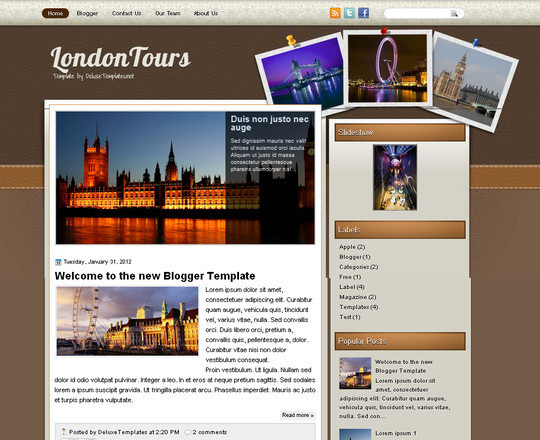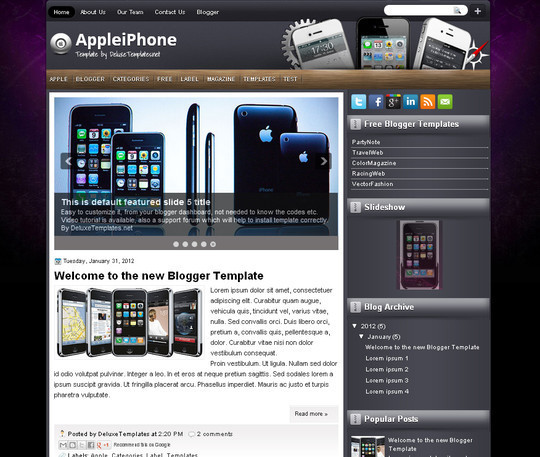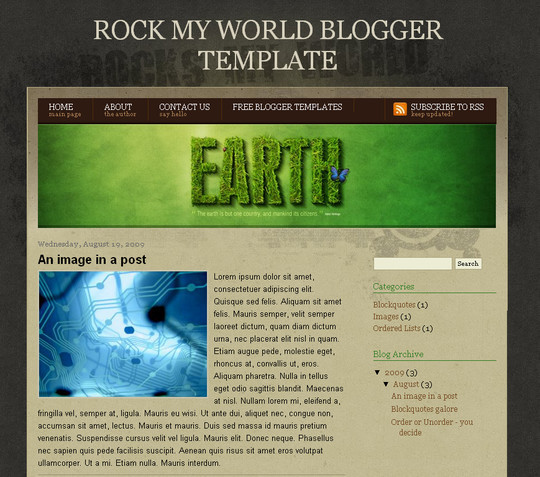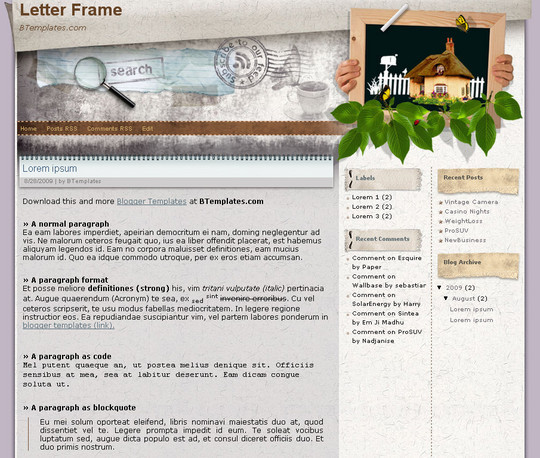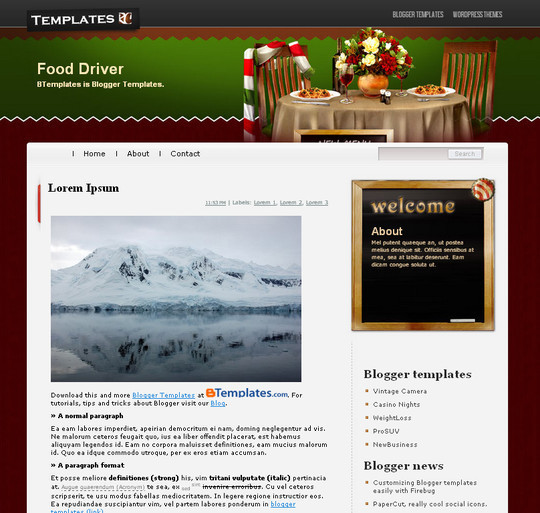 Calendar New York Blogger Template
Interlinking can be defined as one of the best ways to keep your visitors stay longer and let them navigate different pages of your website. It is the way that provides your visitors an opportunity to explore your website more based on their interest. Apart from that more page requests bring about good ranking for you as well as this also increases crawl rate.
Along with this we also have some of the best WordPress plugins that will help you with interlinking on your blog posts. We hope that these plugins will make interlinking easier for you and provides your blog content a good quality. Do let us know what do you think about this compilation. Enjoy interlinking!
SEO Smart Links can automatically link keywords and phrases in your posts and comments with corresponding posts, pages, categories and tags on your blog.
Insights brings a powerful new way to write your blog posts. It increases productivity and at the same time the appeal of your posts.
Offer your Blog visitors more information by placing external related links to every post in your blog, and also increase your blog accessibility.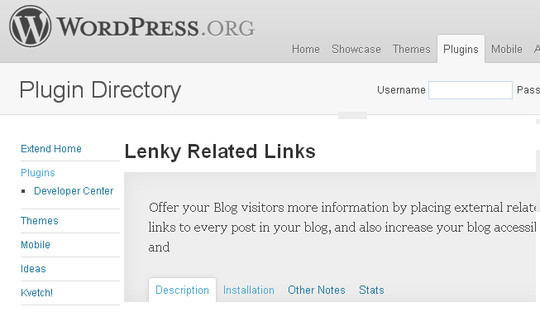 Create internal Wiki-style links in your WordPress blog. Easy to use and once you've started you won't be able to live without it.
InterLinking is a simple tool that helps you to link a specific keyword with respective URL throughout the blog.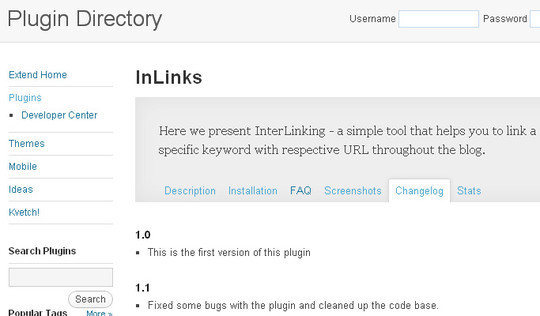 Typography is the most important element of any web design that holds great significance. Typography is one of the basic and fundamental parts of any web design that can enhance the attractiveness and elegance of your design. This is the reason why designers pay special attention to font selection. Today, let us show you some amazing examples of informative typography related blogs that will help you in fulfilling your typography needs.
In this round up, you will notice that creativity and simplicity in font type can make your designs look stunningly beautiful and visually appealing. We hope that you will like this assortment. Your comments are always more than welcome, so feel free to share your opinion with us.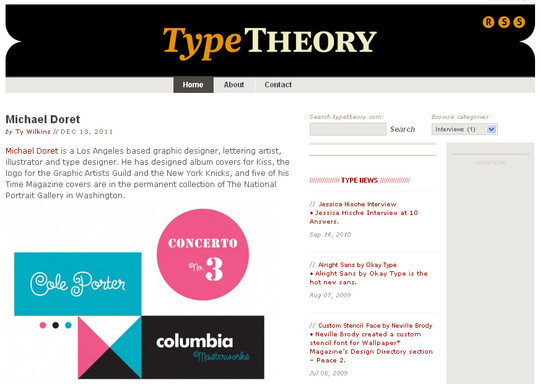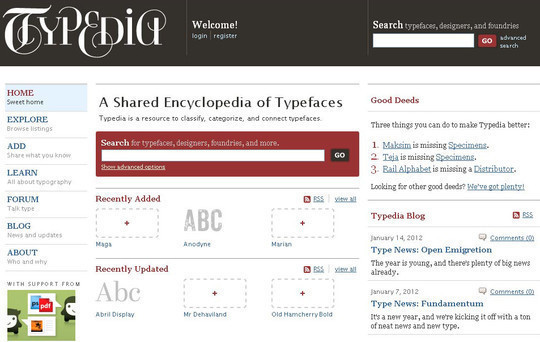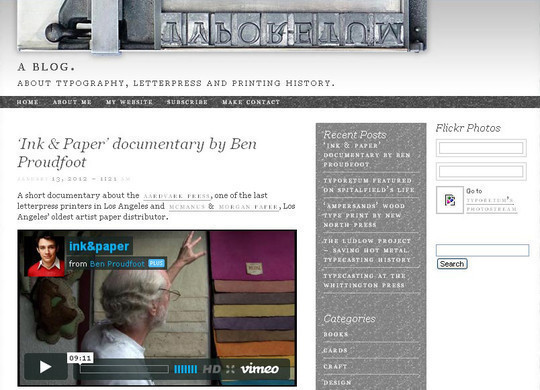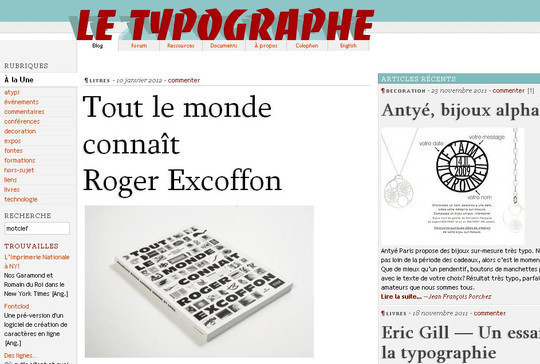 No doubt in that, that WordPress is the most famous and popular platform for blogging that has been used by millions of bloggers all over the world. But sometime it just does not meet with some of your specific needs and you find yourself helpless as there is no other good option to go for. Therefore, we present 8 best alternatives to WordPress as a blogging platform. These are the 8 solutions that will help you get your own advanced blogging solution.
The list below is based on the 8 CMS's (Content Management Systems) that offers loads of options as well as features however it's essential that you weigh pro's and con's before making any decision. Check this out and get to pick one!
Tumblr lets you effortlessly share anything. Post text, photos, quotes, links, music, and videos, from your browser, phone, desktop, email, or wherever you happen to be. You can customize everything, from colors, to your theme's HTML.
Drupal is an open source content management platform powering millions of websites and applications. It's built, used, and supported by an active and diverse community of people around the world.
Joomla is one of the world' s most popular open source CMS (content management system). With millions of websites running on Joomla, the software is used by individuals, small & medium-sized businesses, and large organizations worldwide to easily create & build a variety of websites & web-enabled applications.
Blogger is a blog-publishing service that allows private or multi-user blogs with time-stamped entries. It was created by Pyra Labs, which was bought by Google in 2003. Generally, the blogs are hosted by Google at a subdomain of blogspot.com.
Serendipity is a PHP-powered weblog application which gives the user an easy way to maintain an online diary, weblog or even a complete homepage. While the default package is designed for the casual blogger, Serendipity offers a flexible, expandable and easy-to-use framework with the power for professional applications.
A powerful free blog/CMS engine you can install on your own website. b2evolution is an advanced weblog tool, i-e software allowing you to run your own blogs, newsfeeds or even photo streams.
CushyCMS is a fast, simple and free content management system that aims to make life easier for web designers by simplifying content management.
Croogo is a free and open source content management system, built on top of CakePHP framework.